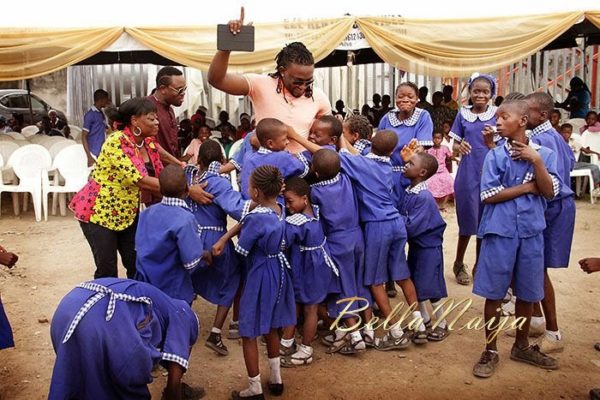 Uti Nwachukwu once again helps put smiles on the faces of the less privileged.
The second edition of his charity event with celebrities – Uti Leads the Stars was held at the Calabar Hall, Surulere, Lagos on Friday 20th December 2013 in Lagos.
Uti Leads the Stars was created in 2011 by the Nigerian TV personality/actor and his fan club executives with a mission to help use celebrities to encourage their friends, families and fans to cater to the needy by providing food, clothes and household items.
The gathering was hosted by media superstar Denrele Edun and a Redeemed Christian Church of God pastor, Pastor Ayotunde Alao, who both made sure the blind, the deaf and dumb at the event had a swell time.
Celebrities and personalities present at the event include Big Brother Africa stars Melvin Oduah and Beverly Osu as well as Frank Oshodi,  IK Ogbonna, Kenneth Okolie, Ezinne Akudo, Yolanda Okereke, Chuddy K, Yomi Casual, Chris Okagbue, Michael Nwachukwu, Morachi and Ace.
All attendees were gifted bags of rice, clothes, shoes, and a whole lot more.
See these photos!
On the event, Uti has this to say;
"I feel so so blessed. I'm so happy that God has used me as a platform to continue to care for victims of the society. It is Christmas time and it's a season to be thankful, sacrificial and generous. This is my own way of saying thank you to God for such a wonderfully successful year.

2013 has been the best career year thus far and also a year of personal emancipation. I'm so grateful to God for His grace and mercies. Hence Uti Leads the Stars was revisited, I feel really honored that some of my friends came through for me. The ones I least expected to.

Melvin and Ace really touched me with their redeemed pledges. The major surprise of the day was Chris Okagbue who dumb founded me with his donations and Ezinne who also left us feeling speechless. Thank you so much guys.

To all the people who gave us food, drinks and amenities for free or with massive discounts, may God refill and multiply all you have supported with. Normally I would not allow press in or let this out because I fear God and I do not want to be hypocritical, but people need to see and hear so that next year more people will come out and support this cause and be encouraged to redeem their pledges also.

That being said a big thanks to Daviva, Golden Penny 2Jays Cooking, Semils and others who surprised me that day with unannounced donations. To my mentor in South Africa who supported us financially. Thank you.

To my brother from my Village Hon Friday who also supported God bless you. To all my friends who gave their own portions, Ovie, David, Awele, the students who sent their widows might.

Words cannot express my gratitude. I am totally honored and I pray that you all harvest in hundred folds the seeds you have all sown. I'm still short of words.  Finally to the wonderful women that run the Uti Fan Club (UFC); Pat, Oby, Ify and Joy. You are all angels sent by God to make sure we execute his will. Thank you Ladies.

I count you all as part of my blessings. There's so much to say but I'll stop here by asking all out there to Pray for God to empower this initiate so we can reach out to more. Thank you and God bless. Merry Christmas"