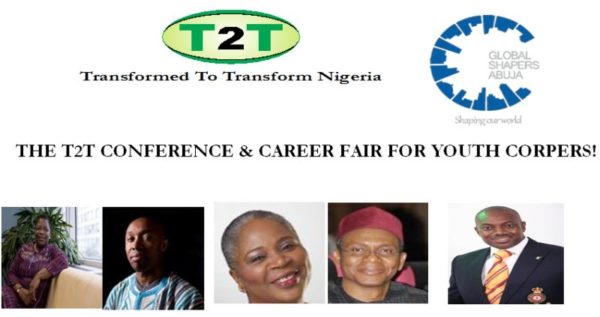 250 Youth Corpers who are passionate about making a difference in the Nigerian society will gather in Abuja for a 1-day leadership conference and career fair in Abuja called The T2T (Transformed To Transform) Nigeria Conference. Are you a Youth Corper? Do you desire to be a part of Nigeria's transformation? Are you looking for a post-NYSC job? Then the T2T Conference & Career Fair might be for you.
Speakers at the conference will include Obiageli Ezekwesili (Former Vice President, World Bank Africa), Dr. Chidi Odinkalu (Chair, National Human Rights Commission), Mallam Nasir El-Rufai (Former Minister of the Federal Capital Territory), legendary singer Onyeka Onwenu, and others from the private sector. There will also be a special video presentation from Fela Durotoye (CEO, Gemstone Group) at the conference.
During the Career Fair organized in collaboration with The World Economic Forum's Abuja Global Shapers, participants of the conference will get to network with employers from the public and private sector, and will have access to free skill training such as CV reviews and on-site interview training. All participants will also be able to sign up with the Abuja Global Shapers to gain access to its free Employability Skills Workshop (a year round series that focuses on increasing participants' chances of becoming gainfully employed).
Participation in the conference (including lunch) is completely FREE but is strictly by invitation. Interested Youth Corpers must fill an application form and submit their CVs at: www.t2tnigeria.com by Wednesday 15th January 2014.
Upon application, selected applicants will be invited to participate in the Conference and Career Fair. Batch A Corpers are particularly encouraged to attend. (The first 50 Corpers that apply & are selected will get a free pre-conference CV review from the Abuja Global Shapers)
Date: Wednesday 22nd January 2014
Venue: The Yar'adua center, 1 Memorial Drive, Central Business District (Opposite Sheraton Hotel and Towers), Abuja
To get more information connect with The T2T Team via Twitter @T2TNigeria | Like them on Facebook: Facebook.com/T2TNigeria | Email: @T2TNigeria  [email protected]
______________________________________________________________________________________
Sponsored Content