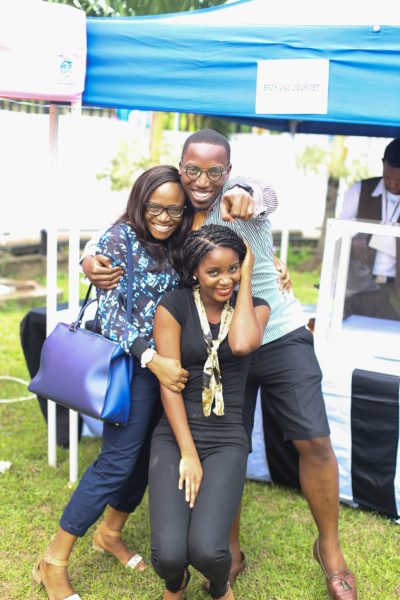 "A bite from an infected mosquito causes malaria, the biggest killer disease in human history". On Friday 18th April 2014, the Deutsche Bank Charity Food Fair, held at Osbourne Estate Park, Ikoyi, Lagos bit back against Malaria.
The event, which had a live performance from Davido, had yummy treats like cookies and sea food, a fun photo booth, games and a bouncy castle for the kids and more – all present to give guests a fun experience and spread the word about Malaria. The vent was hosted by Master of Ceremonies, Tosin Odunfa.
Fisayo Taiwo said in her speech – "I've always wanted to support a charity but found it difficult to decide on a particular one. The perfect opportunity came when Deutsche bank (the company I work for) chose to support Malaria No More as one of it's charities of the the year. I saw this as a platform to organise an event in Nigeria on behalf of Deutsche Bank, to support this charity since Malaria is a pressing problem in Nigeria. The idea of a food fair came to mind and I began planning with the help of colleagues.
I contacted the most prominent chefs and caterers in Nigeria and they were all very excited and supportive of the idea.
Astoria, Chef Fregz, Eros and Gourmet, HeyEater, IamcookieJar, Sprinkled and Spiced, Oleander, Moo Diary, Tae Suites, GoBananas, Rum and Passion, Simply Delicious, Divine Touches Cake, Cocktails by Yinka, all came together as food vendors to make Malaria no More".
Yummy bites and eats!
Grab a plate…come get some grub!
The event would not have been the same without Davido's performance and that of amazing live band – Shugaband as they kept everyone on their feet.
"I'd like to say a big thank you to Zapphaire Events for assisting in putting everything together and also to Tent Services for all the materials they provided on the day. I'd also like to thank Demilade Roberts Photography for capturing all the great moments of the day. Finally, I'd like to thank God for making everything turn out the way it did from the start to the finish" said Fisayo Taiwo.
DazzleBooth were also present to allow guests have a fun photobooth experience.
________________________________________________________________________
Sponsored Content