In a recent interview, Actors Guild of Nigeria president Ibinabo Fiberesima spoke candidly about the infamous day when she had an accident which caused the life of a medical doctor Giwa Suraj in 2006.
Ibinabo spent three months and three days in jail and is currently appealing the case. If you missed the story, click here
A few hours ago, Ibinabo responded to a question on her official Facebook page about being an "ex-convict".
The question was – "Madam President, why do you seem to shy away from the accusations by some people that you are an ex-convict? or is it true? Why don't you come all out and follow them bumper to bumper?
Ibinabo replied that she is sorry about the doctor's death and will never answer questions surrounding it again.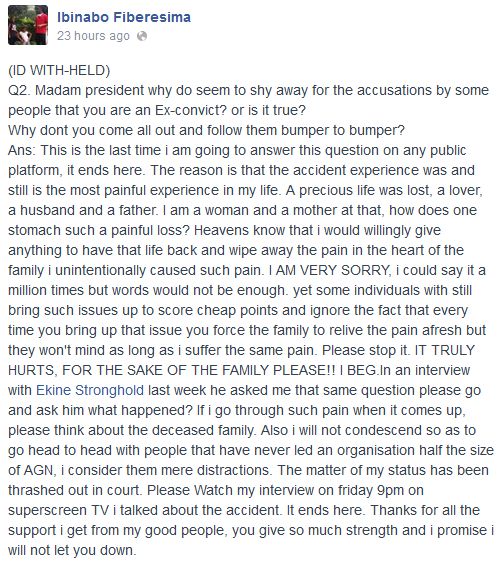 "This is the last time I am going to answer this question on any public platform, it ends here.

The reason is that the accident experience was and still is the most painful experience in my life. A precious life was lost, a lover, a husband and a father. I am a woman and a mother at that, how does one stomach such a painful loss?

Heavens know that I would willingly give anything to have that life back and wipe away the pain in the heart of the family I unintentionally caused such pain.

I AM VERY SORRY, I could say it a million times but words would not be enough, yet some individuals with still bring such issues up to score cheap points and ignore the fact that every time you bring up that issue you force the family to relive the pain afresh but they won't mind as long as I suffer the same pain.

Please stop it. IT TRULY HURTS, FOR THE SAKE OF THE FAMILY PLEASE!! I BEG.In an interview with Ekine Stronghold last week he asked me that same question please go and ask him what happened? If I go through such pain when it comes up, please think about the deceased family.

Also I will not condescend so as to go head to head with people that have never led an organization half the size of AGN, I consider them mere distractions. The matter of my status has been thrashed out in court.

Please Watch my interview on Friday 9pm on Superscreen TV, I talked about the accident. It ends here. Thanks for all the support I get from my good people, you give so much strength and I promise I will not let you down."