Adunola and Bode met during his Christmas holiday and although the bride never imagined a long distance relationship, she soon changed her mind. A few years later, Bode orchestrated a magical proposal on the beach in Banjul.
Their Lagos wedding was captured by DuduGuy Photography and we're elated to share on this beautiful Monday morning!
Enjoy and be inspired!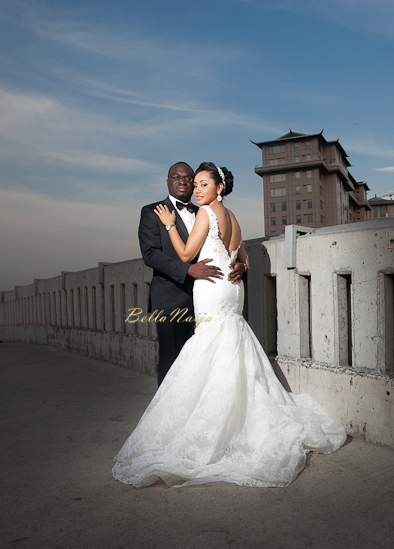 How We Met
by Adunola, the bride
We met in December, 2007 through a mutual friend. I had just gotten out of a relationship at the time and Olabode was like a breath of fresh air. We were inseparable for the 3 weeks he was around for, almost like we had known each other all our lives and then he went away to complete his Masters. I had never been a believer in long distance relationships but to my surprise nothing changed. We spoke everyday (more than twice each day), talked over MSN Messenger, text messages, whatever we had to keep in touch, just like that a year went by and he was back. Fast forward four years later, in October 2012 we went away to the Gambia for a few days and there he popped the question.
The Proposal
by Bode, the groom
Due to our busy schedules, we had a 3 day break in October 2012 and decided to go away for some 'R&R'. We flew to Banjul, The Gambia and stayed at the Coco Ocean Resort & Spa; a beautiful slice of paradise overlooking the Atlantic Ocean.
The Rings! (Yes two Rings)
After several painstaking months looking for the perfect ring, I decided on what I felt was the perfect ring for an immaculate woman; designed with a multi-diamond center encircled by 4 tapered baguette diamonds and 82 round diamonds. Unfortunately I could not get this special ring to Lagos before leaving for Banjul due to some circumstances beyond my control however I hatched a cunning plan to get a second ring just for the proposal.
The Proposal
by Adunola
We were in Banjul, the Gambia for the weekend and the night before were going to leave, Bode asked that we have dinner out but I wanted to order in because I was tired. I eventually gave in and to my surprise we were having a candle lit dinner in a private cabana by the beach. The waves of the ocean, music, it was beautiful (I still didn't think anything of it). After dinner it took forever for the waiter to bring the bill and Bode was acting a bit jittery, then I noticed a couple of waiters walking towards our table holding cards up saying, "ADUNOLA WILL YOU MARRY ME?" as I turned to Bode he was on one knee holding a ring and asked if I'll make him the happiest man alive and be his wife and the mother of his kids. I was so shy, in tears and of course I said YES!!!
Right after, Bode said the proposal ring wasn't the engagement ring and that I will understand when we got back to Lagos. Touch down Lagos, on the way to mine from the airport Bode was holding a small red box he opened it and there it was, The Ring! it was stunning, shining from all angles, my very own Eiffel Tower (that's what I call it, because it looks like the Eiffel Tower)… I immediately understood why that was just the proposal ring… It was an amazing 3 days.
The bride played a big role in planning her wedding! She has this advice for other couples:
Enjoy the planning together, yes brides involve your groom in the planning the day is all about you both! Try not to sweat the small stuff, you can't control everything. Just enjoy your day to the fullest, you only get married once (at least that's the plan) so have FUN!
The couple was overwhelmed when they saw their friends and family share in their beautiful day, genuine joy & happiness all around…
BellaNaija Weddings wishes Adunola and Bode a lifetime of joy as One!
***
White Wedding
The groom's suit had the couple's names embroidered in the inner pocket of the tuxedo. It read: "Adun & Bode 6th December 2013"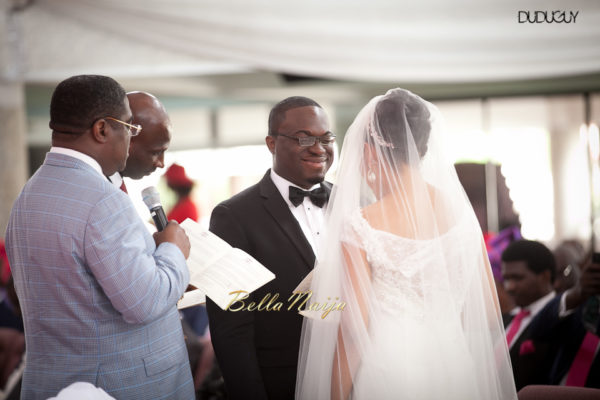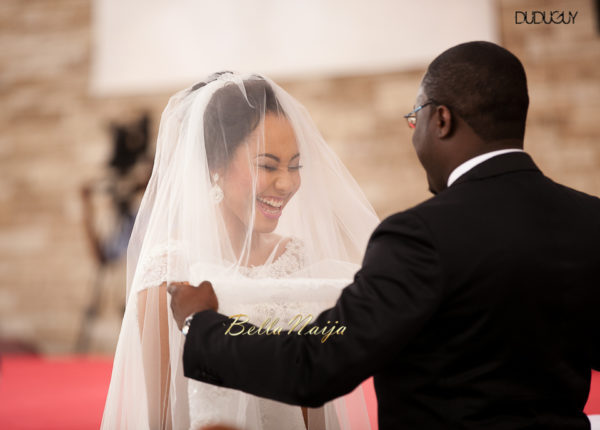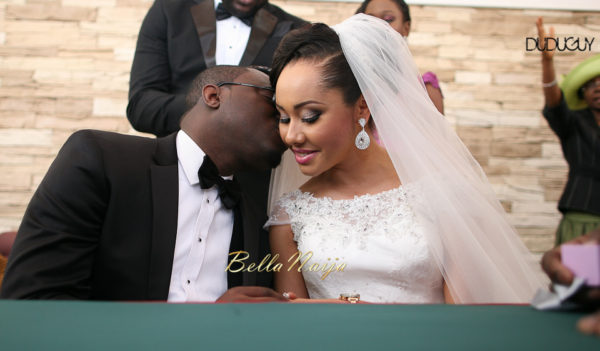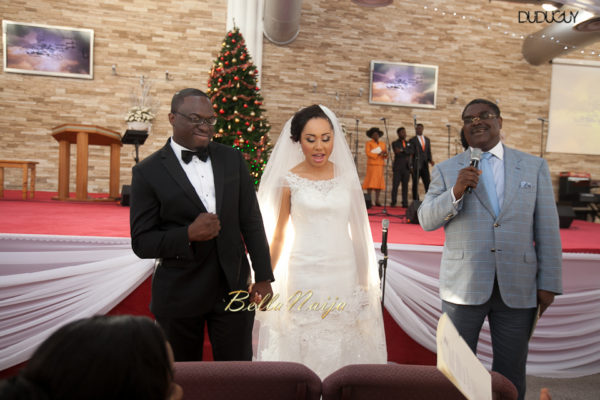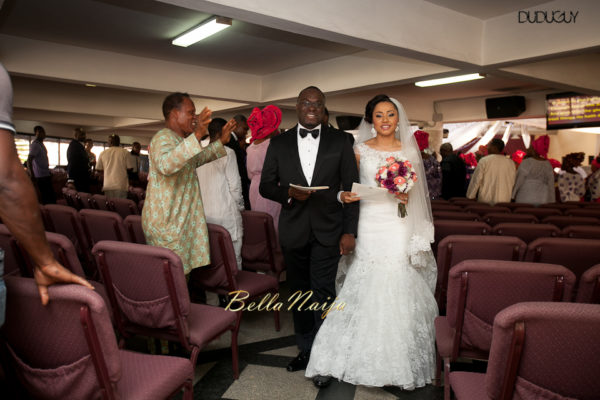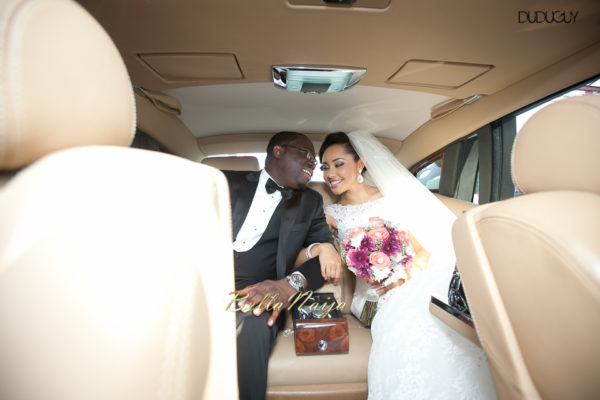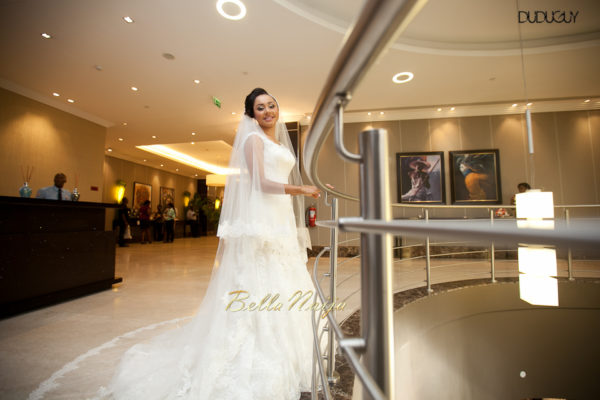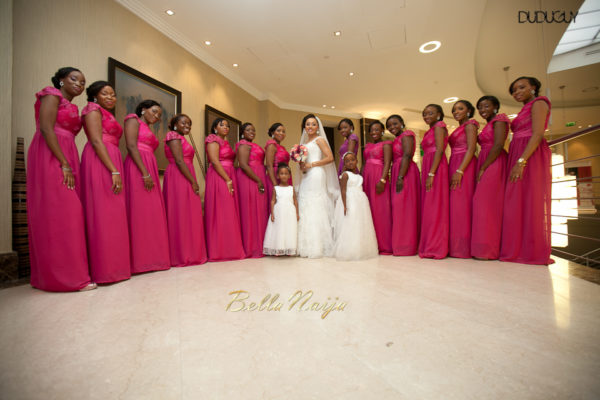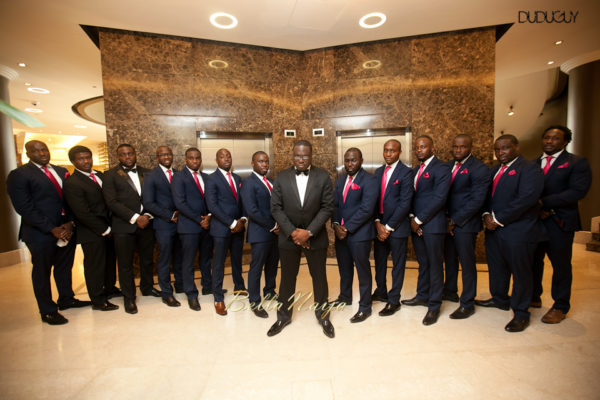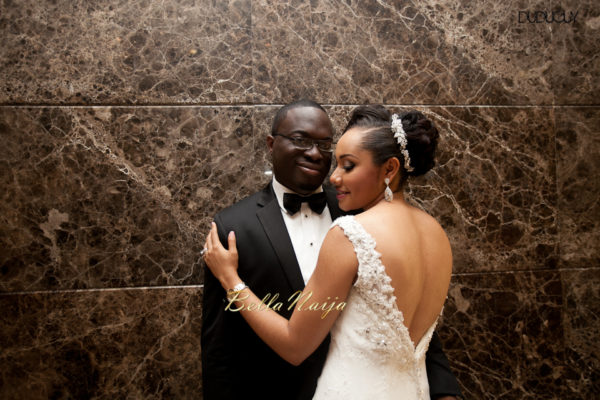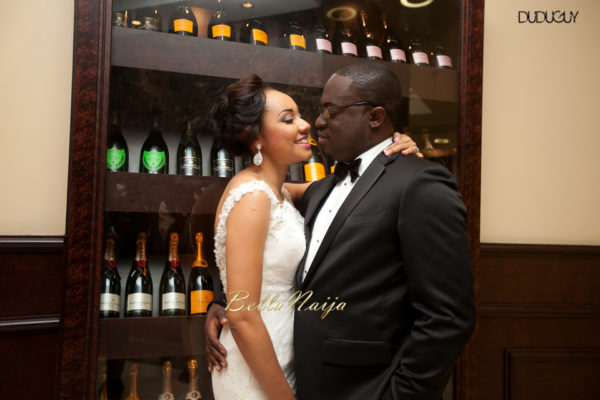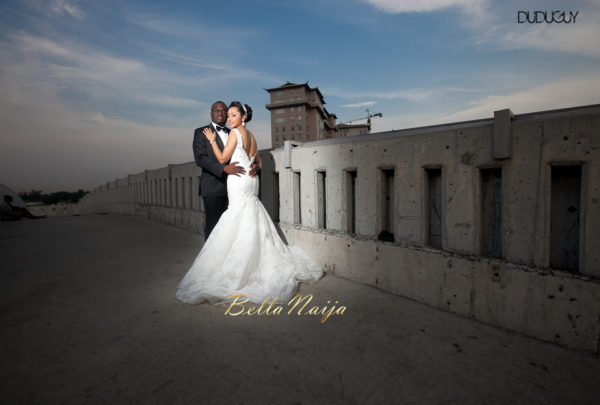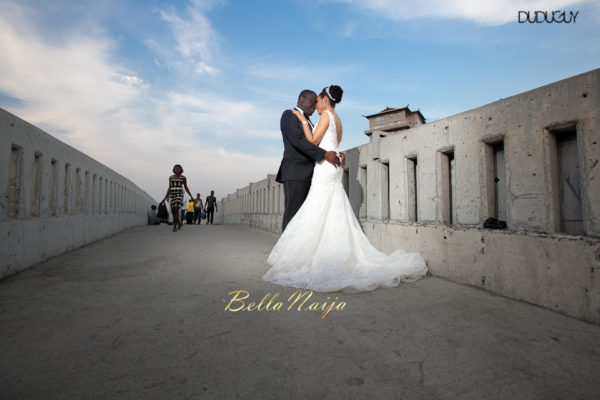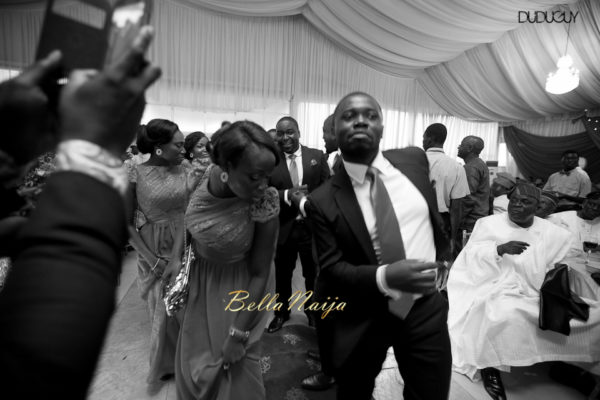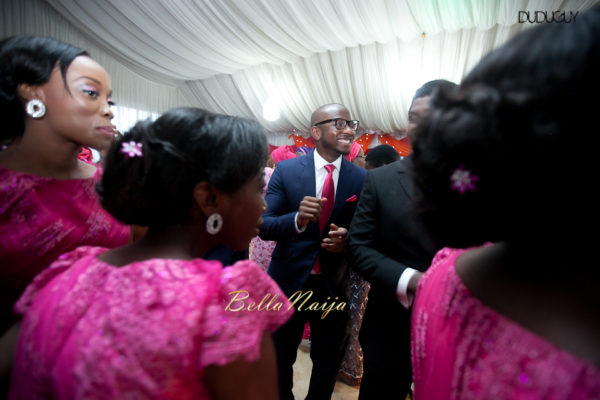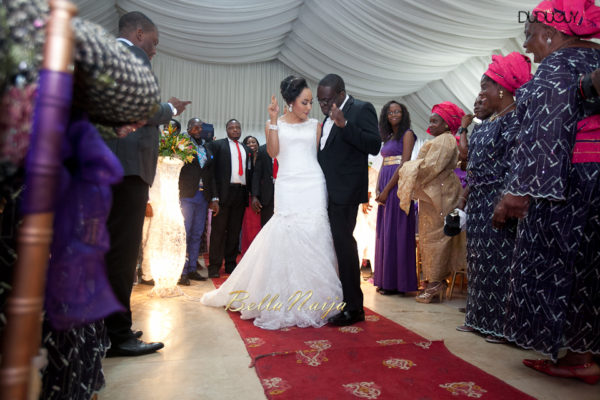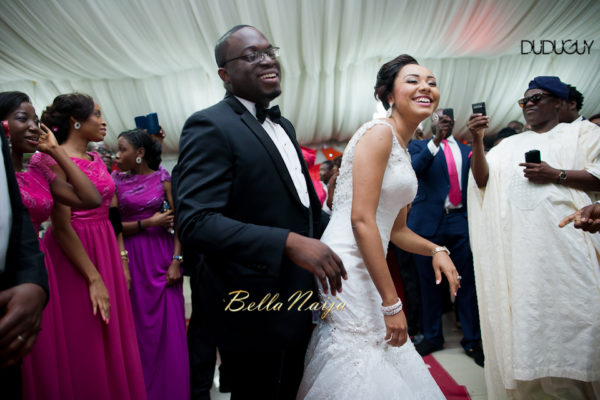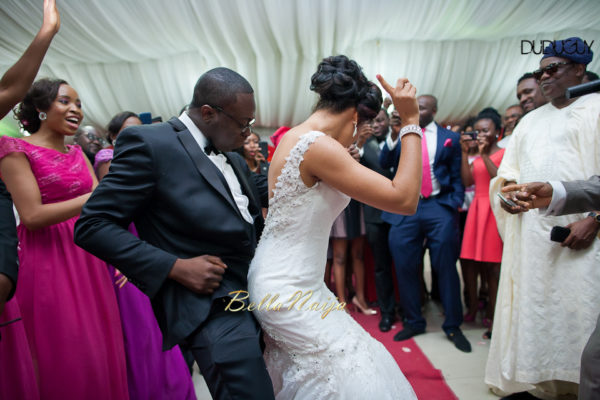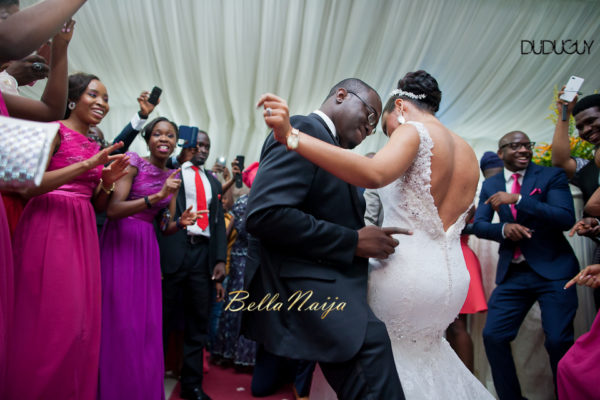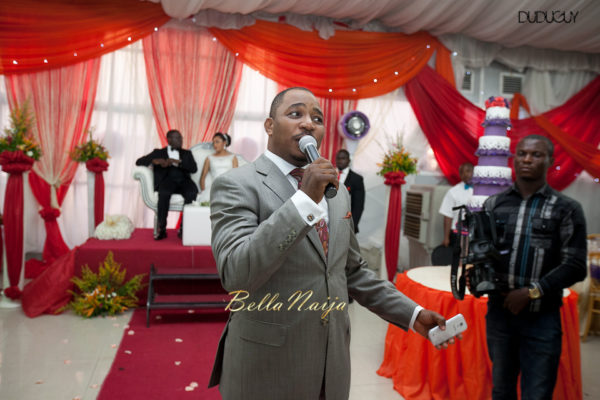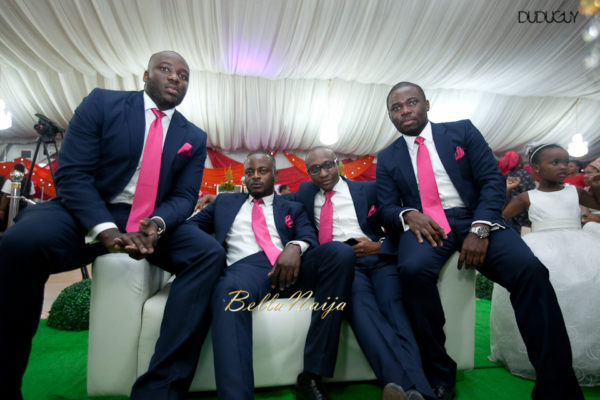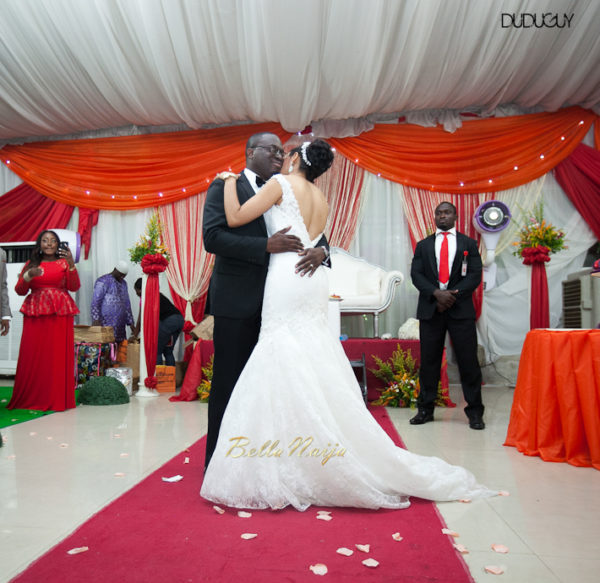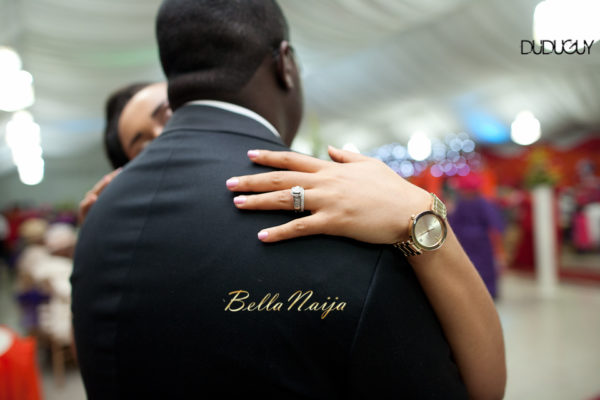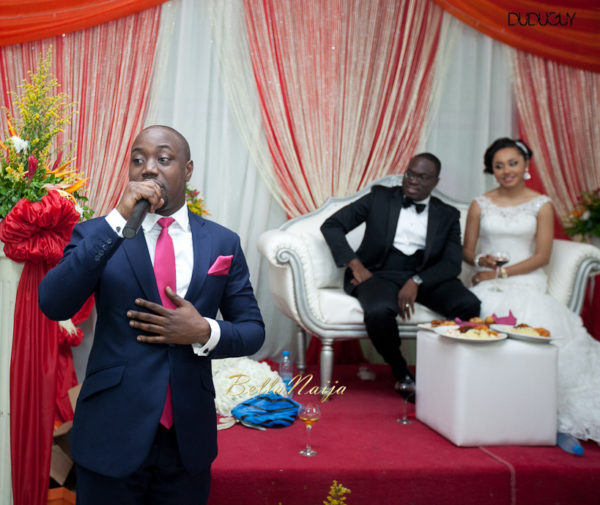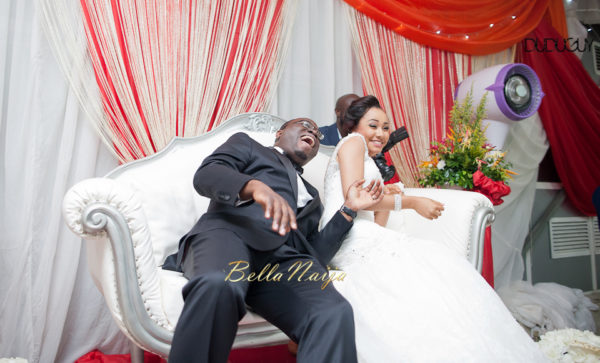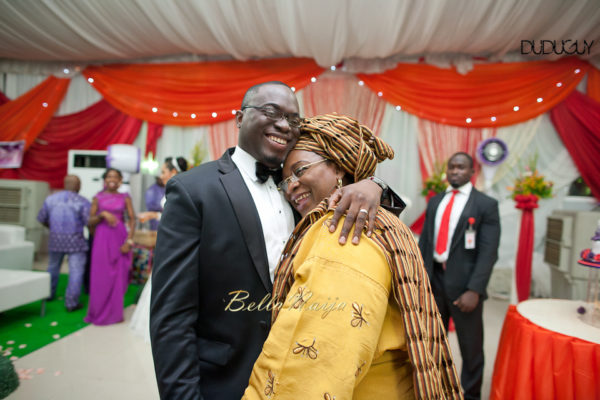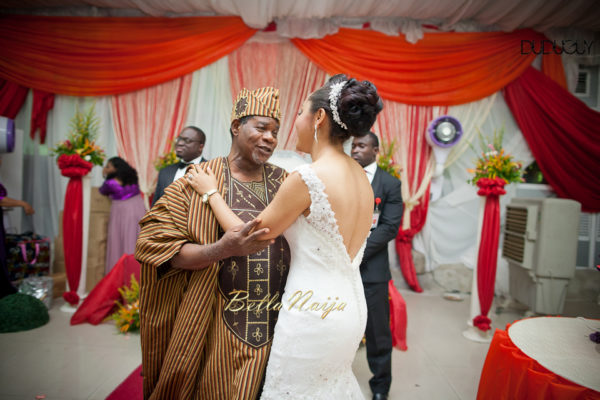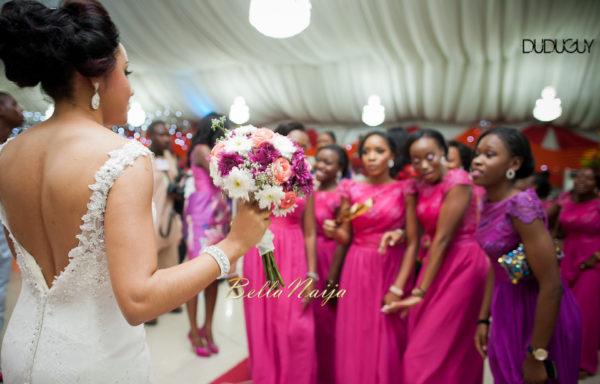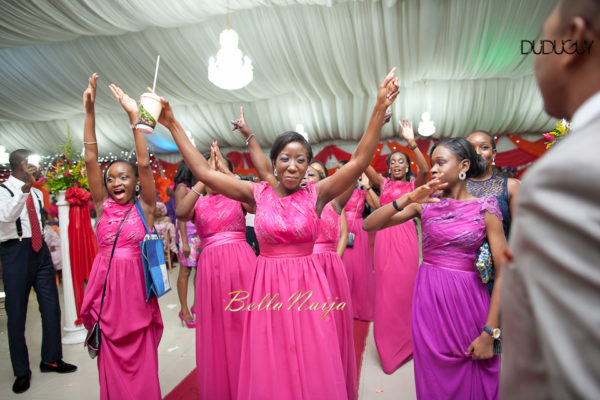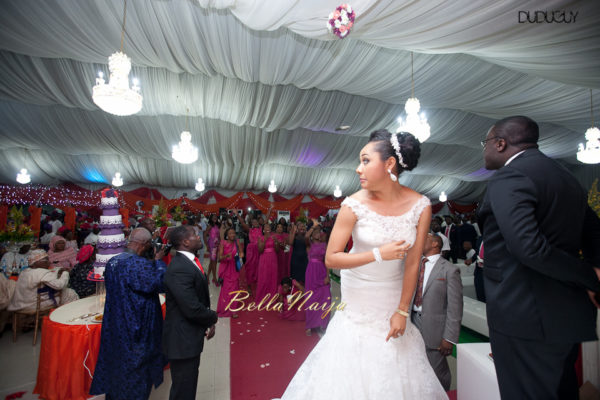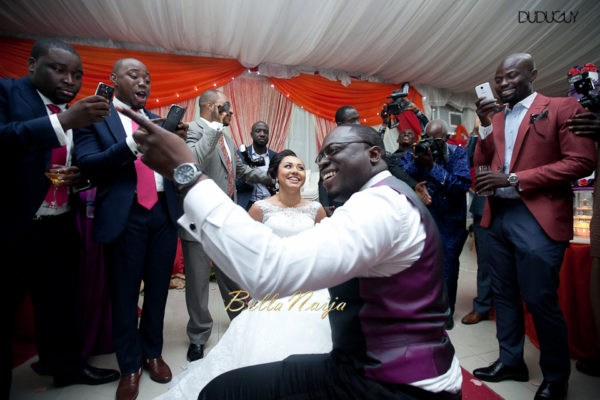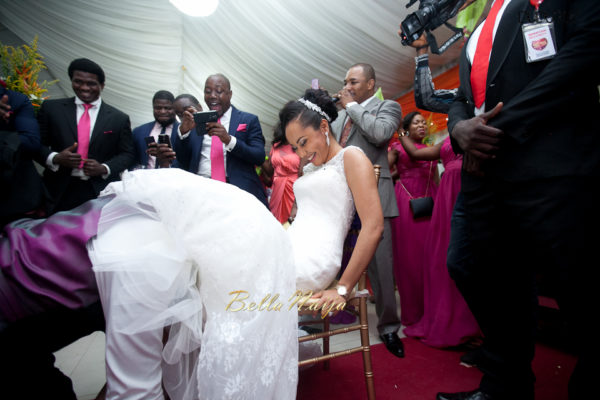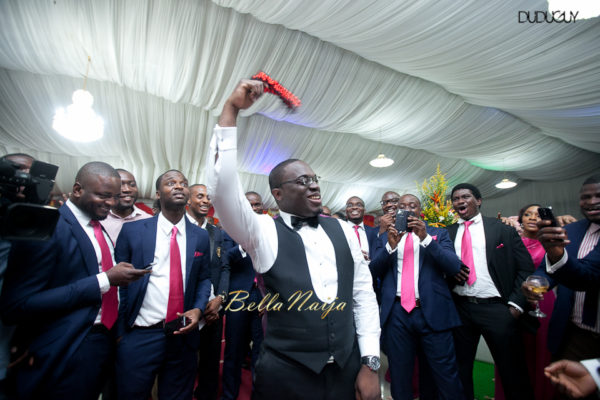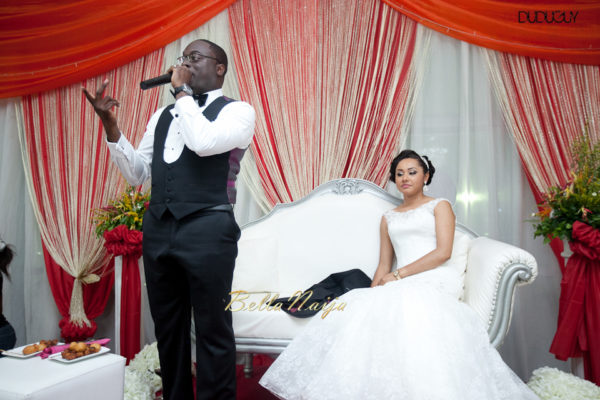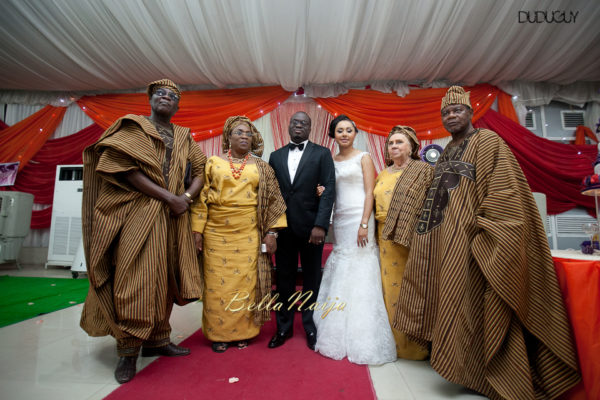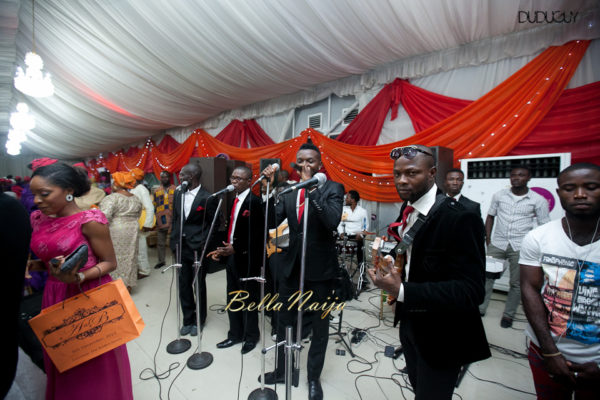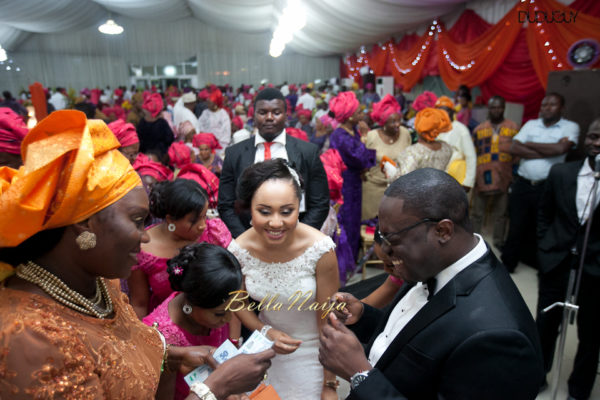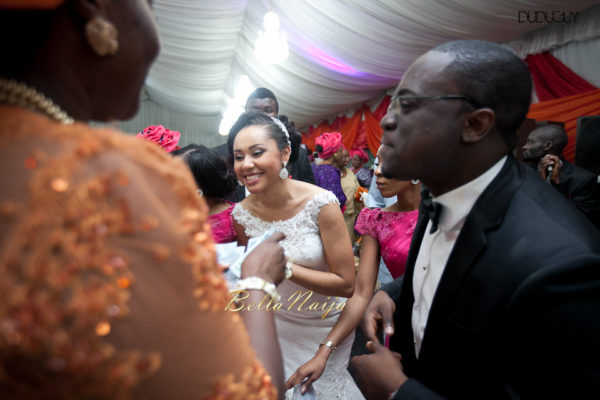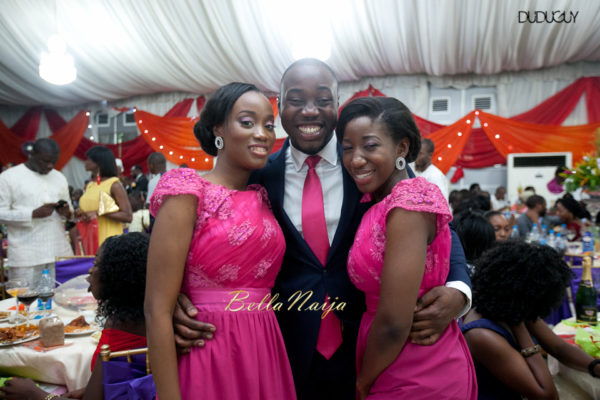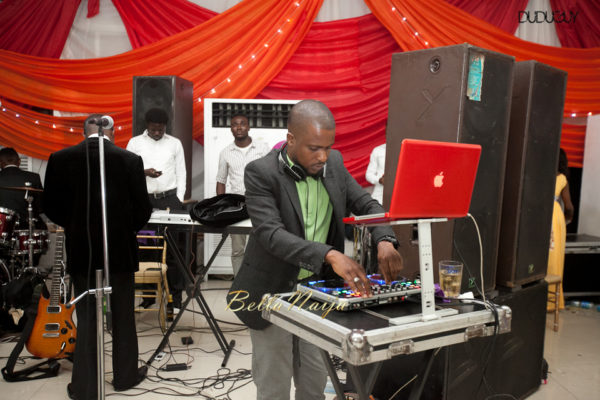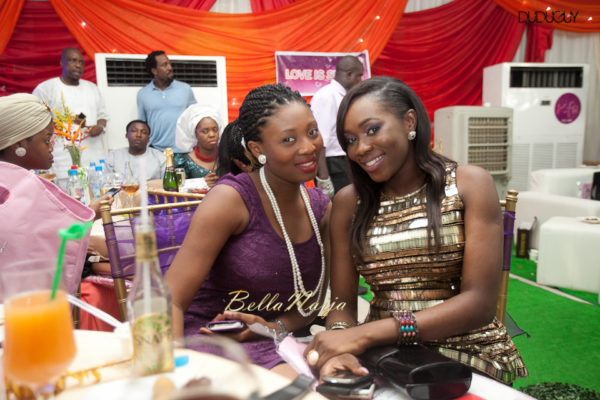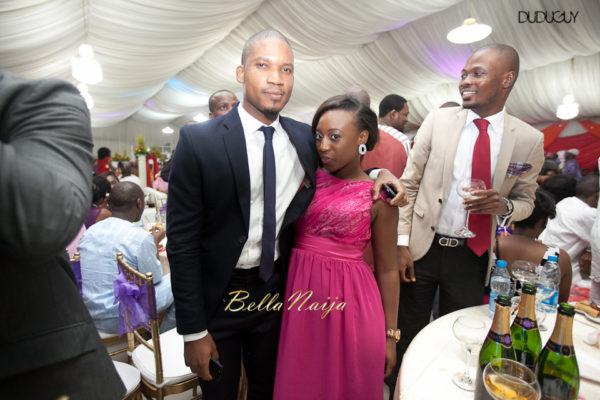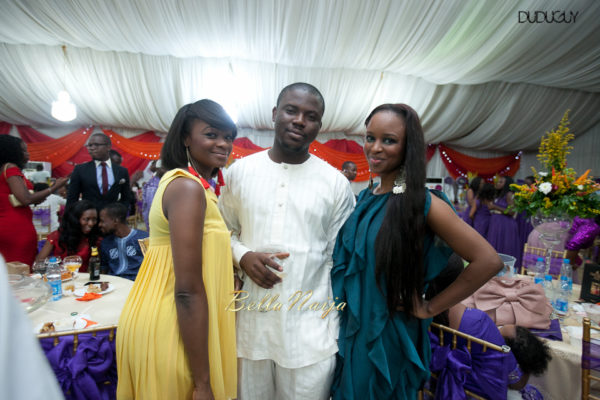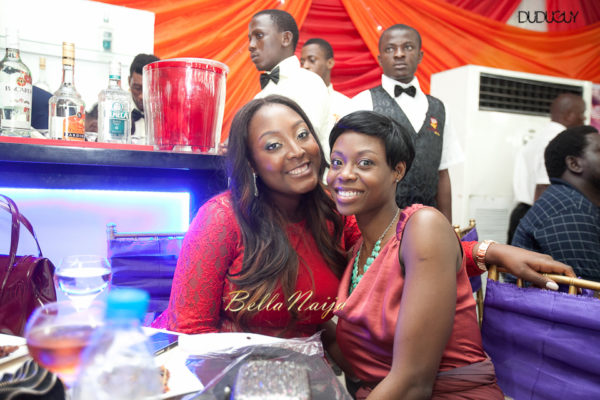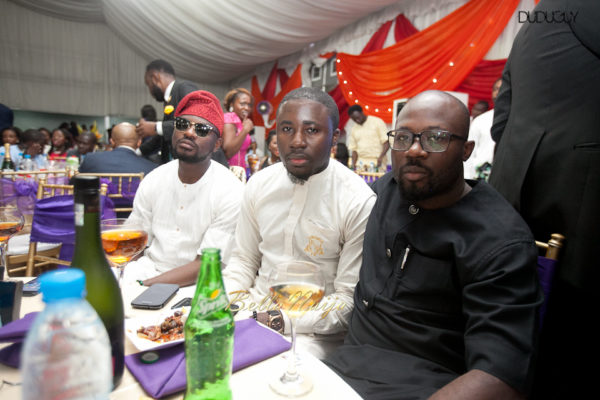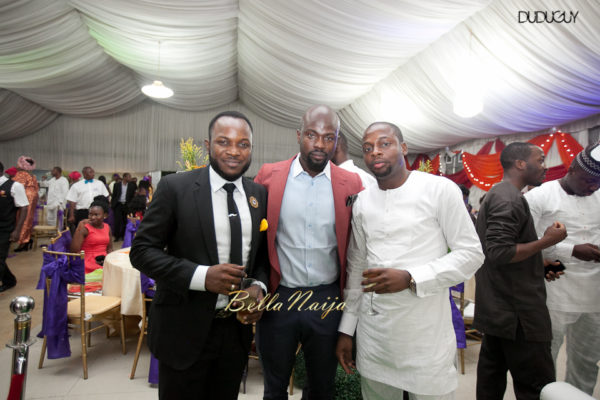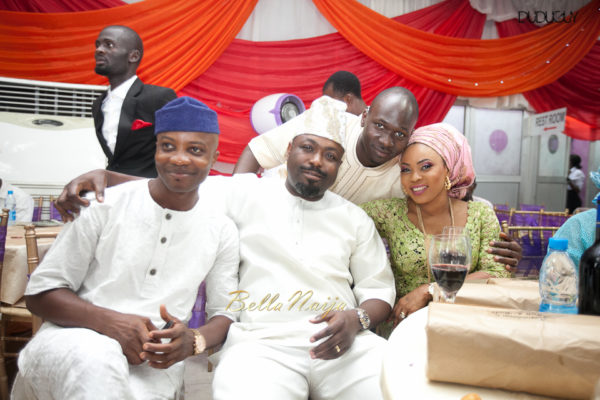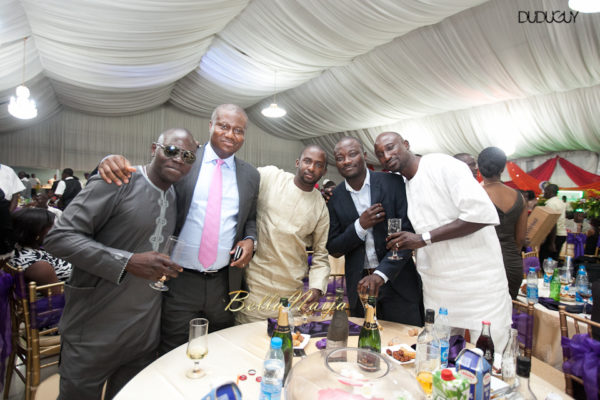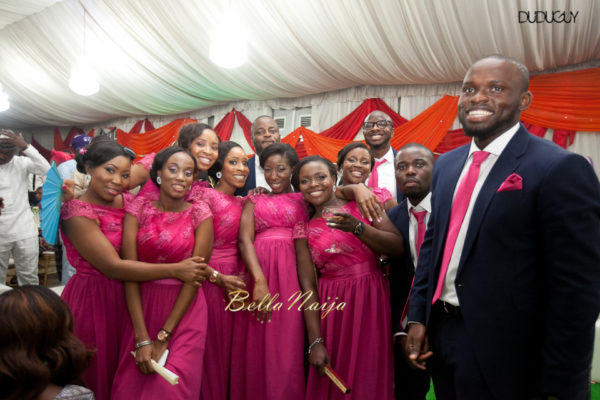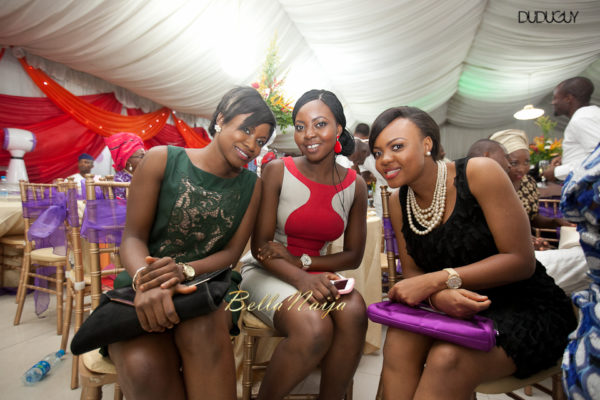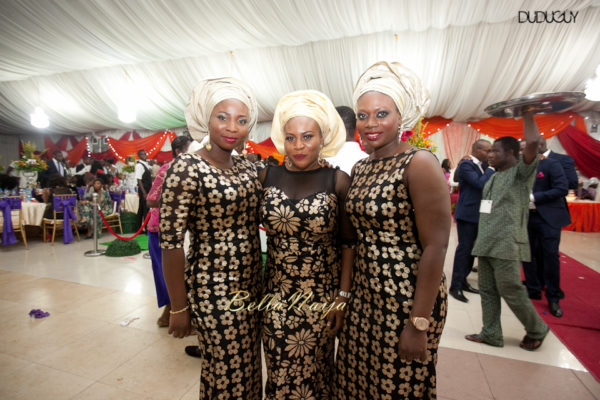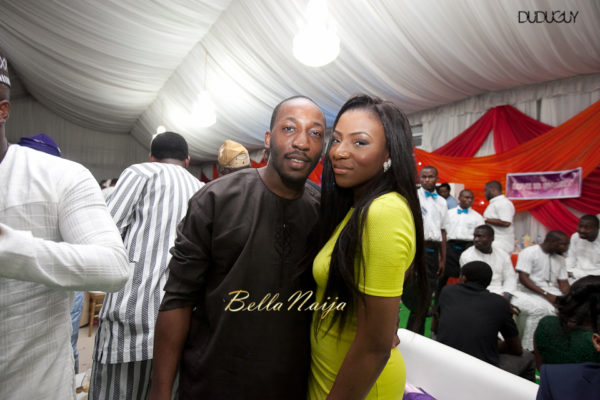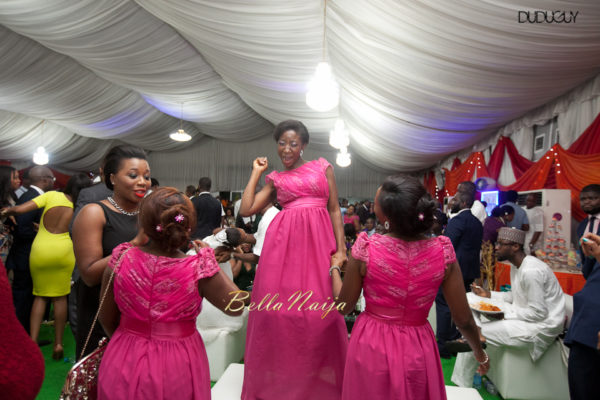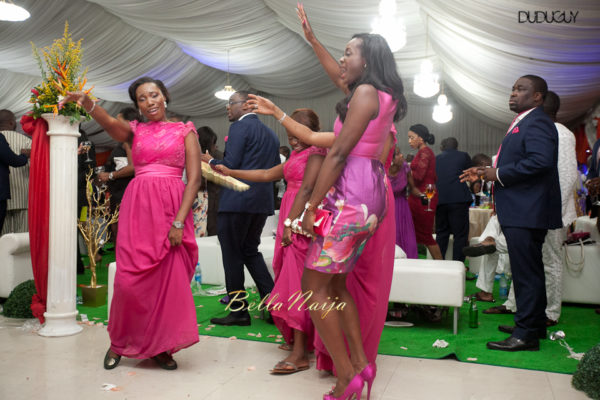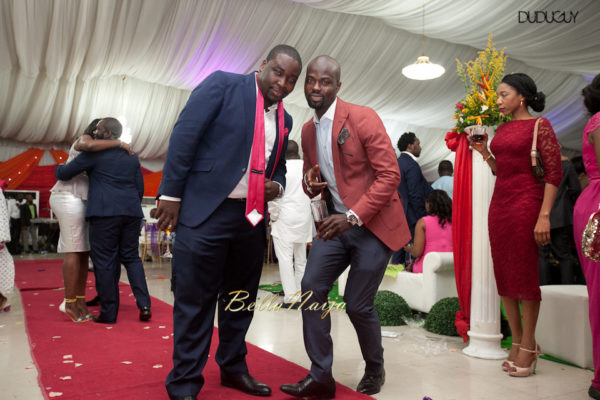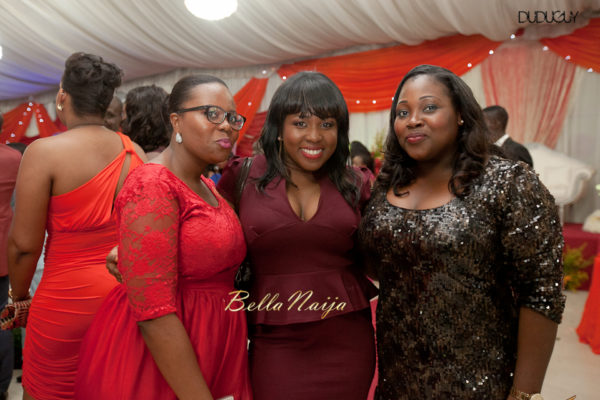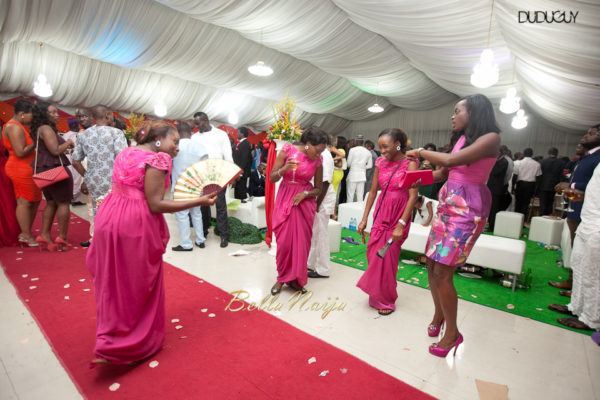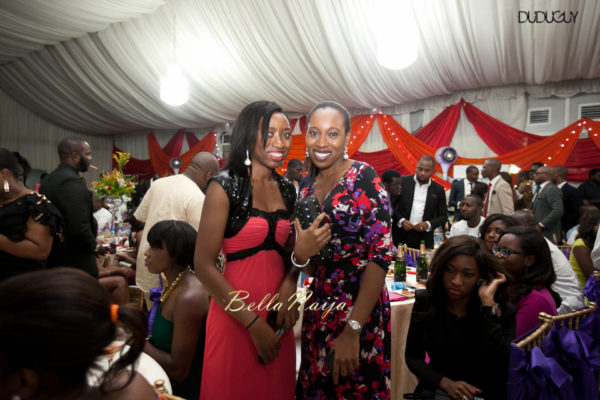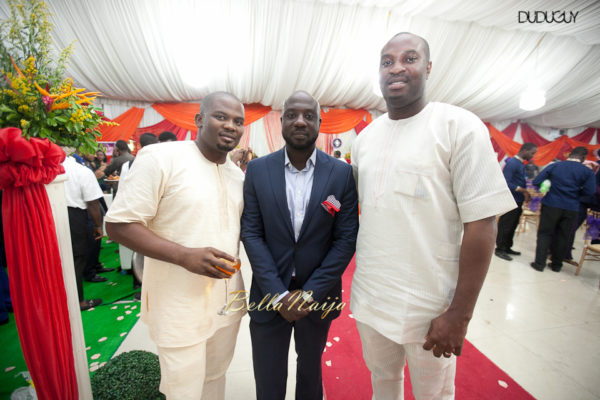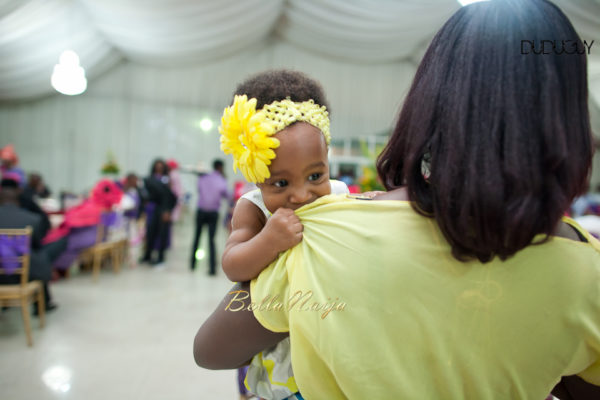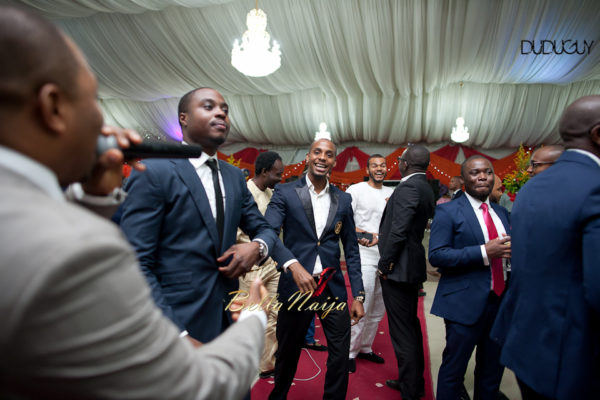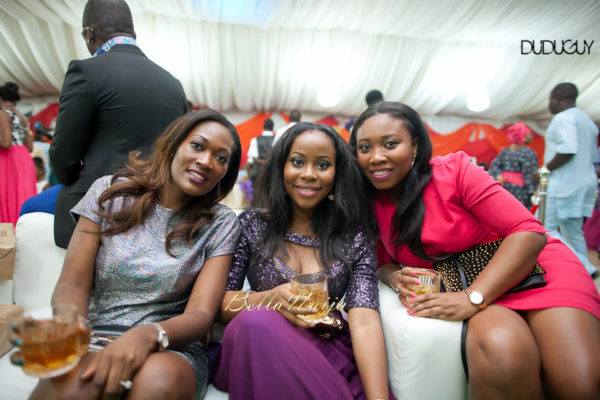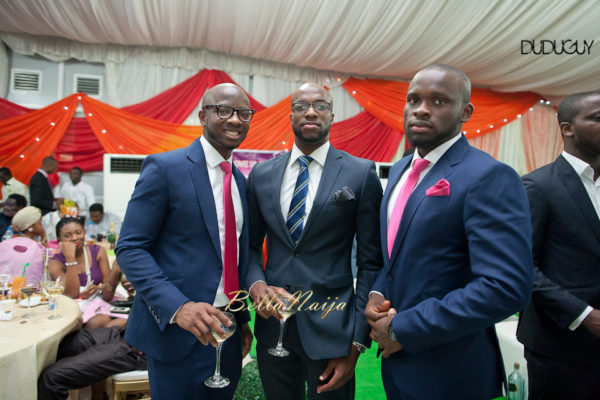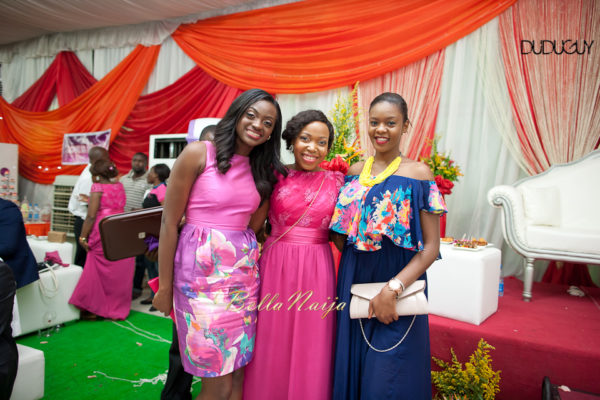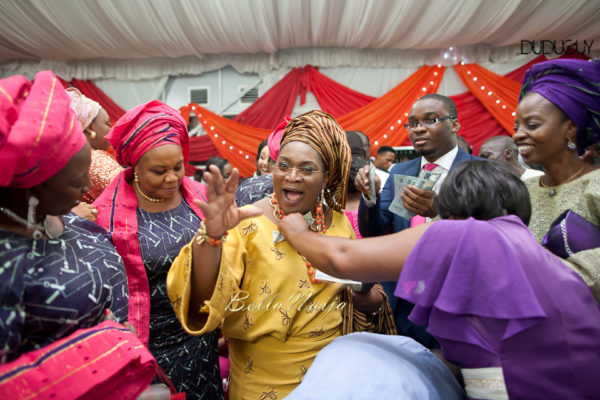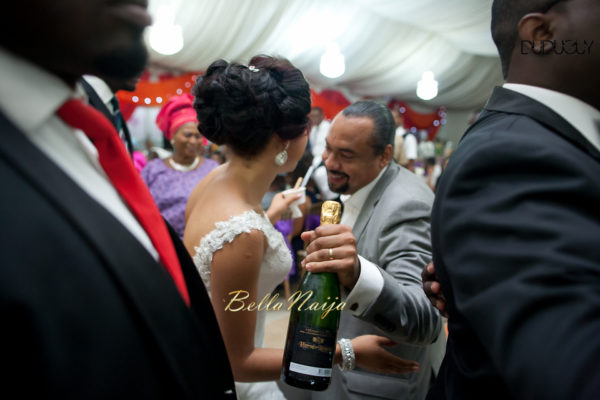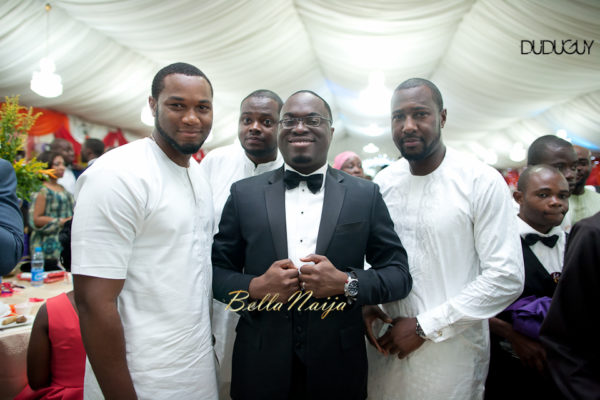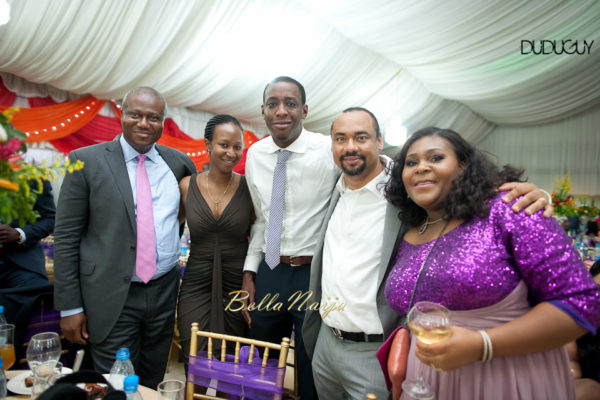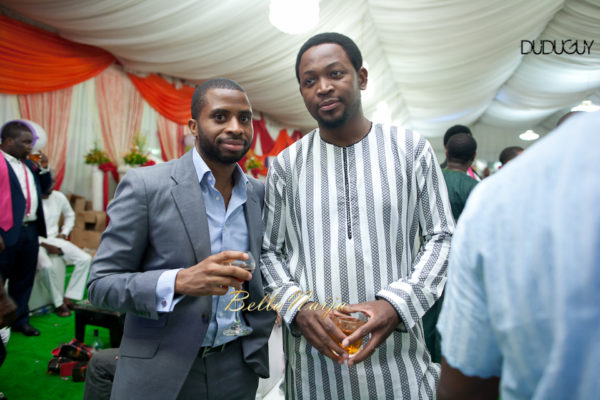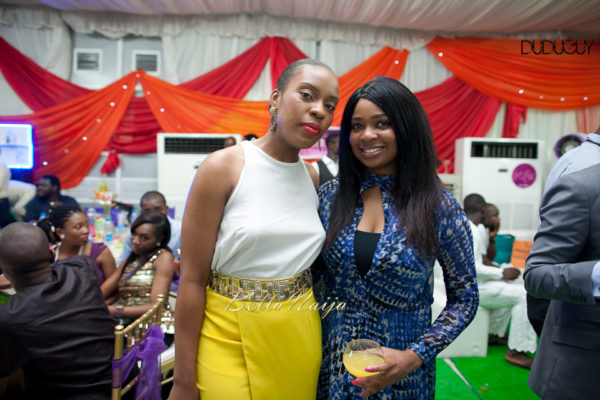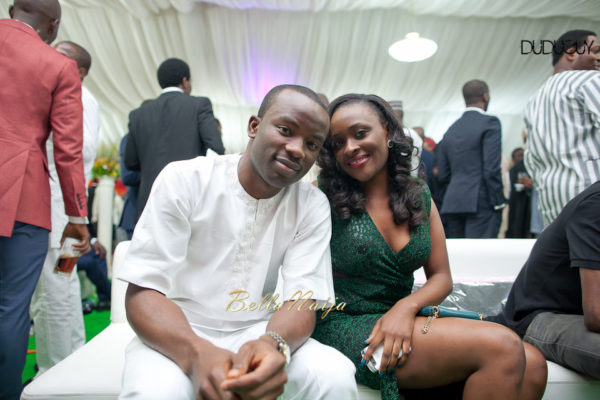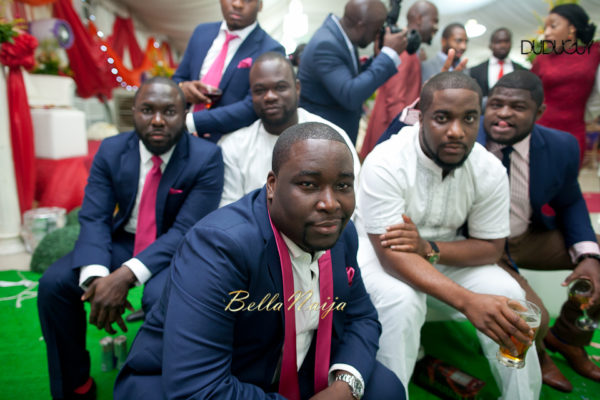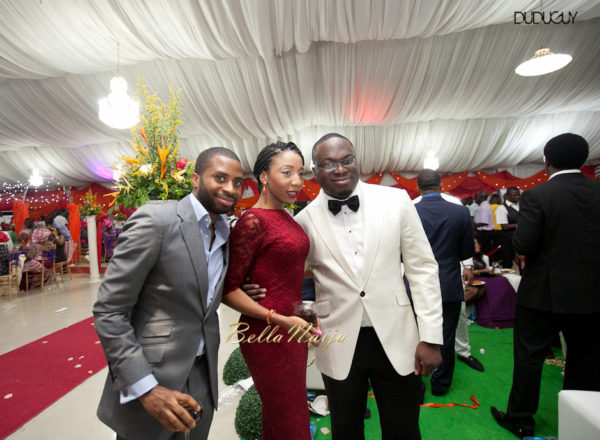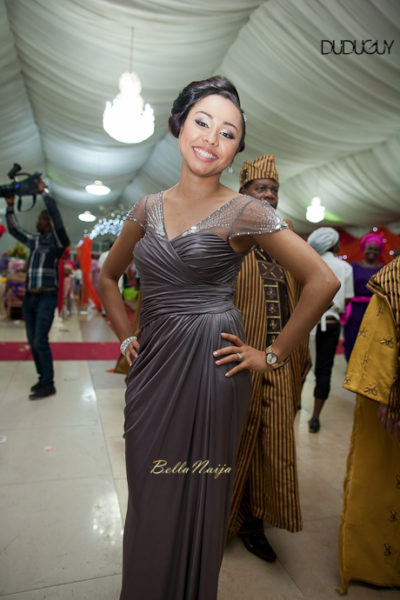 Traditional Engagement
The Traditional Engagement had a Russian theme to celebrate the bride's heritage (her mother is Russian) – "From Russia with Love" with the colours of the Russian flag as the colours of the day. The decor theme was a mix of both cultures (Russian and Nigerian: Yoruba) with Vodka bottles wrapped with beads in a as the center pieces and the hostesses dressed in replica traditional Russian attires.
***
Photography: Duduguy Photography | info (at) duduguyphotography.com | instagram.com/duduguy1
Wedding Info
Traditional Date: Wednesday, 4th December 2013
White Wedding Date: Friday, 6th December 2013
Traditional Venue: 10 Degrees Event Centre Billingsway, Oregun, Ikeja, Lagos
White Wedding Venue: Church; R.C.C.G. The City Of David, Dipeolu Estate off Ligali Ayonride, V/I Lagos
Reception: KFA Event Place Lekki-Epe Expressway, Lekki, Lagos
Traditional Colours: White, Blue & Red (representing Russia)
Wedding Colours: Tangerine, Red, Fuchsia and Aubergine
Wedding Attire
Traditional
Couples Aso-Oke: Bisbod
Coral beads & Pearl Necklace: Lola Ladipo for LL Krafts (08065395970; Instagram @lolameansjewelry)
Lace: Ellapride Fabrics
Make up & Gele: Banke Meshida-Lawal for BM Pro | instagram.com/banksbmpro
White Wedding
Wedding Dress: Sophia Tolli Wiress
Groom's Suit: Bespoke Black Single Button, Notch lapel Tuxedo by Indochino
Groomsmen: Navy Blue suits by Kimono Kollections
Bridesmaids Dresses: Toju Foyeh
Hair & Makeup: Banke Meshida-Lawal for BM Pro | instagram.com/banksbmpro
Bouquets:
Hand-tied bouquet – Demi Edozien for The Quail Florists
Cascading bouquet – Mrs Bimbo Ososami for Didem of Beauty
Vendors
Wedding Planners: Bride & Efe Ogundowole
Wedding Coordinator: Efe Ogundowole for Enspired Concepts | 08022228229 | Instagram: enspired_ruskette | Website: http://enspiredparties.com
Decor: Demi Edozien for The Quail Florists | 08029293266
Invitations: The Wedding Store
Traditional
Traditional Cake: Mrs Iyabo Ladipo for Double Portion Bakery | 08065395970
Food: Wine & Gold Services Limited
Drinks: RAH Cool Ice
Cocktails: Juiced Bee
Security: Spartan
Band: Faith Band
Dessert: Ooh la la
White Wedding
White Wedding Cake: Anna's Sweet Treats | Funmi Ajayi 08030471014 | annassweettreats (at) gmail.com
Food: Wine & Gold Services Limited
Drinks: TAGG Drinks
Cocktails: Juiced Bee
Security: Spartan
Band: SOJ
Yoghurt: Gâterie Yoghurt
MC: Tee-A
Dessert: Ooh la la
DJ: DJ SB