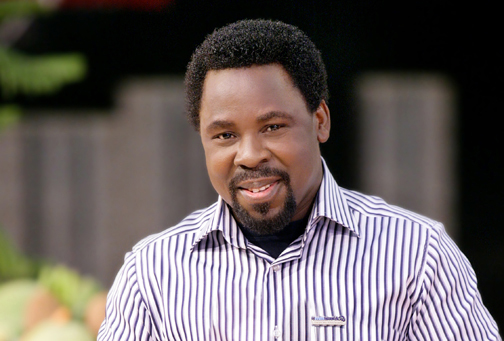 …And the Synagogue Church controversy continues.
This past weekend, Nicholas Ibekwe, an investigative reporter, released what is purported to be audio evidence of T.B Joshua bribing journalists. And now, he is speaking out on why he decided to make the audio recording public.
Here's a quick recap of what is in the audio recording: A man said to be T.B Joshua, is heard offering N770,000 (which would amount to N50,000 per person) to journalists who are covering the building collapse,  to "fuel their car." Joshua is then heard telling journalists what angle to take the stories from, emphasizing that they should focus more on reporting about the survivors than the casualties.
According to Ibekwe, he was the only journalist who did not accept the money.
Hear the audio here:
On his blog, Ibekwe shares his motive behind sharing the audio. Read excerpts:
I had recorded the audio six days before posting it on Twitter. To be sincere, I didn't think much of it until Saturday morning (I'd explain later). I was intently watching the way the collapsed building was being played out in the media after the rather disappointing way Lagos State Governor, Babatunde Fashola, dodged reporters through a back door after his private meeting with TB Joshua on September 14. I observed that Nigerian media were being too gentle on TB Joshua despite the glaring irregularities surrounding the collapse. I read more reports about the hovering craft" and how Boko Haram could've sabotaged the building and other poppycock the televangelist wanted the world to believe.

Very little was reported about the structural defects of the building. Not much was written about the fact that the building originally had 2 floors and was being illegally refurbished with 4 additional floors when it collapsed. We didn't come hard on the Synagogue Church goons who attacked first responders. We didn't highlight the fact that many of those that perished could have been saved if NEMA officials weren't barred from the site for almost three days! We didn't make an issue of the fact that our colleagues who had gone to report the collapsed building were molested on Saturday.

So when I woke up last Saturday morning and saw the picture of Jonathan shaking hands with a grinning TB Joshua with headlines like "Jonathan consoles TB Joshua," I said damn it! I couldn't stomach this blatant impunity…
Read the full write-up on nicholasibekwe.wordpress.com