The Nigerian actress and reality TV star got married to her Dutch husband a few years ago after quite a scandal that many thought would rock their marriage.
Five years and two lovely kids later, Anita Hogan is making a return to the Nigerian movie industry.
In a chat with Encomium Weekly, she talks about how her marriage has been so far as well as her plans to fully come back into the Nigerian movie industry with a reality TV show called 'Koko's Diary'.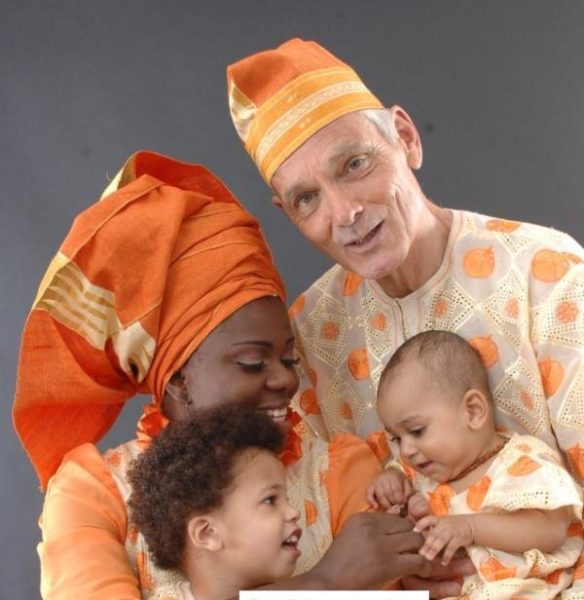 Read excerpts from her interview below:
You've been away for five years now, how does it feel to be back? It feels really good, it feels very pleasant to be back. Thank God, I can still do what I love doing most again.
Did you at all miss Nigeria and Nollywood? Yes, I did, this is home. There is a saying that wherever and whenever a bird is flying, the teeth is always pointing to the ground. It means, no matter the height, it will still land on the ground. No matter where I go, my feet are always pointing back to Nigeria. That is my home and my comfort zone. I miss home and of course, my work. What I studied is what I have always learnt to do.
While you were away, what were you doing? When you get married to an European or when you migrate, you have to integrate, learn their language and culture, take certain exams. What I do and I am still doing is inculcating the Dutch culture, language and perfecting the language, studying the society, integrating into the society. I have done a couple of professional exams in the language. Also, I have my own family, it is still young, any child that is young requires time and dedication. So, I have to dedicate time for my children, my husband.
Is there any challenging role Anita Hogan is yet to play? Yes, naturally. I am a very witty person, I like to crack jokes. I like to add a twist of comedy to whatever I do, I have never gotten a role that put in that serious, no smile, no nonsense attitude, boxing me in a corner, bringing out that serious role in me. I have done a couple of action movies.
Are there roles you will reject now because you are married? No, there are no roles like that. I can still take any role.
The industry you left five years ago is no more the same, how will you compare the industry you left then to what applies now? I wouldn't lie, the industry has seriously been upgraded. You can now see new faces, the industry is becoming an actual business, people are now taking acting serious. Before you could be an actress and still engage in other part time jobs. People who act now, do it as their major source of living.
How will you describe marriage? Marriage is fun and very challenging. I am saying this for all the young people out there who do fasting and prayer to get married. They should continue fasting and praying when they get in there, because the higher you go, the tougher it becomes. As a single person, you are free, nobody is questioning you but once you get married, that is when you have to be more prayerful because you have to be more active, more innovative, more creative. You have to pull out all the tricks on your cap to be able to cope. You can't say you know it all because you have read all the books. To me, marriage is an activity that has to keep moving, it is a car that has to keep running. It is full of fun but very challenging, it is what every woman should look forward to.
Is your husband relocating to Nigeria? No, I am not in that kind of marriage. Everybody has their role, he will come over when he's required to come. Our home will be in Holland. I will be travelling often, and I need to come to Nigeria for one thing or the other. He is the man, I am following him, he will give me space to express myself and he has given me an ultimatum. If what I am doing is not bringing in money, I shouldn't do it.
Do you feel vindicated because of the picture issue you had before your marriage? A lot of people thought the marriage will not work out but you are happy in it and the marriage is also doing fine? Marriage is not something you can see at once, you can't know it all. So saying I am vindicated should not come in. Marriage cannot vindicate me. It is me and my person that should vindicate me, how I am able to carry myself.
You can read up her full interview here.
Photo Credit: Encomium