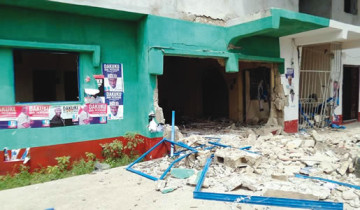 An explosion occurred on Sunday at the All Progressives Congress (APC) secretariat in Abam Ama, Okrika Local Government Area of Rivers State.
Unidentified individuals threw dynamites into the three-storey APC secretariat around 3am on that day, Punch reports.
Commenting on the incident, APC chairman of the Okrika Local Government area described the attack as "a deliberate provocation by our opponents, the Peoples Democratic Party, to draw the APC into a battle that could destabilise our LGA."
Police authorities are currently conducting investigations into the incident.
Photo Credit: Punch/Chukwudi Akasike