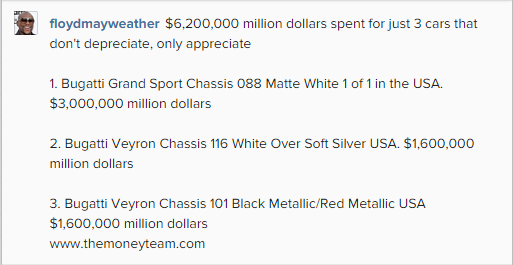 I woke up in a new Bugatti! – is what Floyd Mayweather probably sings when he wakes up.
The American professional boxer has been showing off his new toys on Instagram. This morning he showed off his three latest additions – a Bugatti Grand Sport Chassis 088, a Bugatti Veyron Chassis 116 and a Bugatti Veyron Chassis 101.
Yesterday he shared about 7 new toys – just another day in the life of the rich and famous.
His personal assistant posted some videos and captioned "Love him or hate him…he has earned what he's got through hard work & dedication. This is motivation for those who get "IT" And come to think of it, this isn't all…many didn't make this video. #blessed & #gratefulto work for @floydmayweather who does so much to give back with no public announcements needed.#TBE #TMT #motivation #hardworkanddedication"
Photo Credit: Instagram