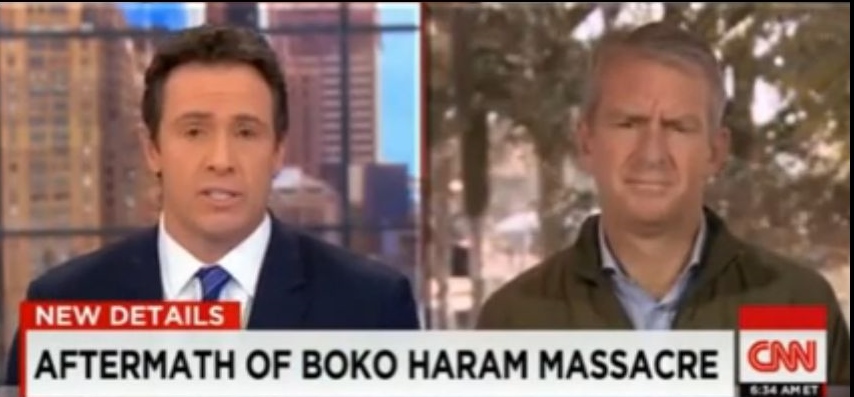 Why has Boko Haram continued to kill and destroy the lives of thousands of innocent Nigerians despite the military's intervention? What gives them the confidence to fearlessly perpetrate their incessant acts of violence?
These are the frustrating questions many Nigerians and the world at large continue to ponder.
A recent CNN report detailing the deplorable conditions Nigerian soldiers face, has provided some insight into plausible answers to the aforementioned questions.
Some Nigerian soldiers reportedly told CNN's Nic Robertson that they are "outgunned, outmanned and outresourced by Boko Haram" and this is the reason why they are powerless against the insurgents. The soldiers are said to have also expressed that the situation is so bad that they even have to purchase their own uniforms, due to insufficient resources.
Consequently, the soldiers continue to experience severely low morale.
Watch the report here:
The Nigerian military has condemned the report via the Defence Headquarters' Facebook Page:
ON THE ORCHESTRATED CNN REPORT ON A PURPORTED INTERVIEW WITH A SOLDIER

The Federal Government and the Mlitary Leadership are concerned, committed and focused on the ongoing fight against terror. The orchestrated blackmail propaganda by entrenched interests as clearly illustrated by the ultra-biased CNN report will not deter the Military.
If it is true that a Nigerian Soldier will willfully go against the rules by speaking without due authorization and misinform the foreign media, then it indicates how deeply committed and how far the interest of these enemies of Nigeria and humanity have gone in trying to undermine and destroy the Military.
The motive of this satanic CNN report should be of concern to all patriots and Nigeria's well wishers. We believe that appropriate security agencies will also work on the root of this blackmail against the nation. The fight is not for the Military alone.
***
BellaNaijarians, what is your take on the situation? Where do we go from here?