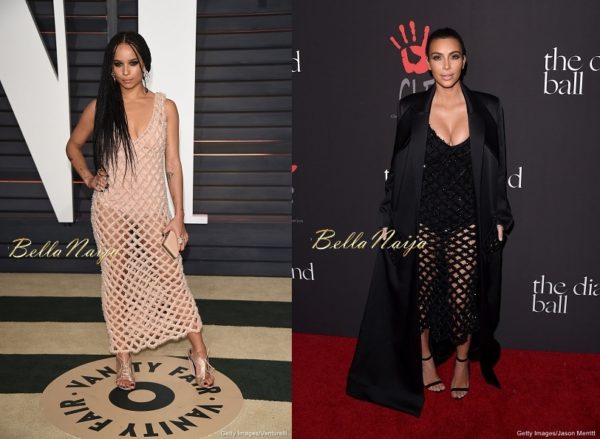 Hi BN Style lovers!
It's time again for 'BN Pick Your Fave' and this time we have two stylish Hollywood stars – singer & actress Zoe Kravitz and reality TV star Kim Kardashian-West.
The Look
Both ladies rocked a look from Balenciaga's Spring 2015 collection – a beige (for Zoe) and black (for Kim) Lattice Cut Out Dress.
Kim Kardashian-West
Kim K first rocked this look a few weeks ago for the Inaugural Diamond Ball presented by Rihanna and The Clara Lionel Foundation.
She rocked her off the runway look with a floor length coat. She accessorized with simple sandals. For her beauty look Kim kept things natural with a nude lip and her hair slicked back in a small bun.
Zoe Kravitz
Zoe Kravitz attended Sunday's Vanity Fair Oscar party in the beige version of the dress with a bodysuit of the same colour underneath.
Zoe opted for metallic lace up sandals and a nude clutch as her accessories and for her beauty look she had box braids, smokey eyes and a nude lip.
Which look is your fave?
By the way, here's a fun fact for you! Both ladies attended their individual events with their mothers.
Photo Credit: Getty Images | Fashionfav.com