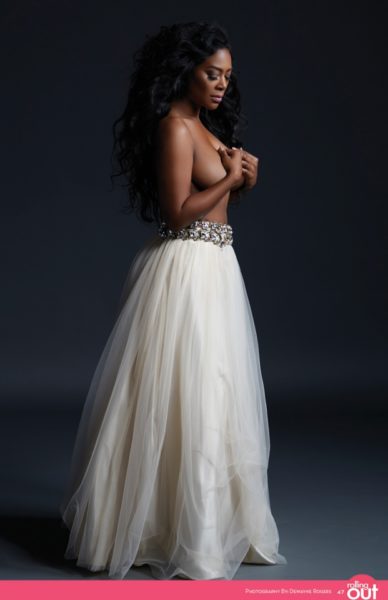 Kenya Summer Moore, an American actress, model, author, television personality, producer and former Miss USA, is featured in the new issue of RollingOut magazine where she is called a 'natural beauty'.
The 44-year-old talks about how she is currently in a good place, still on a high from her run on "Celebrity Apprentice"; loving life as the most talked about cast member of "The Real Housewives of Atlanta" and more.
Read excerpts from her interview below:
On family: For me everything is about the future of my family. Every decision that I'm making right now is about securing my brand, parlaying that into what that means to family down the road. When "Real Housewives" is over … when the last show is over, what will I have left?
At the end of the day, I am an aspirational brand that people want to buy into. People want beautiful hair, beautiful skin and they want to feel good about themselves — you know, workout gear and workout videos and things that just make you feel good when you see more products, and that's just what I'm building to — and that's not only securing a future for myself but for my family and my kids.
On being America's sweetheart: I mean you know I'm one of those people especially [before] I started "Real Housewives" I was never attacked, I was never attacked in the press or no one ever said negative things about me, I was just kind of like a version of America's sweetheart. No one really bothered me and I never bothered anybody else, and then that changed when I came on board such a powerful machine like "Real Housewives." There are people and our fans that are very invested in the show and they make up their mind about you right away, and unfortunately, it can go either way and I've been someone in the beginning that was very polarizing —  either you love me or you hate me. … In the beginning, yeah, it did really bother me because I wasn't used to it and I just had to stop reading the blogs, stop reading the comments, I just stopped all of that and it was a lot better for me. Now I feel like I've just come into my own and so many amazing things are happening for me. … I have all these calls from people who want to work with me who don't care about all of that stuff that they read; they just know that I'm doing what I can do and that I'm a talented girl. That is what I focus on and that is what the really biggest reward has been in this whole process.
You can read up more from her interview here.
Photo Credit: RollingOut magazine