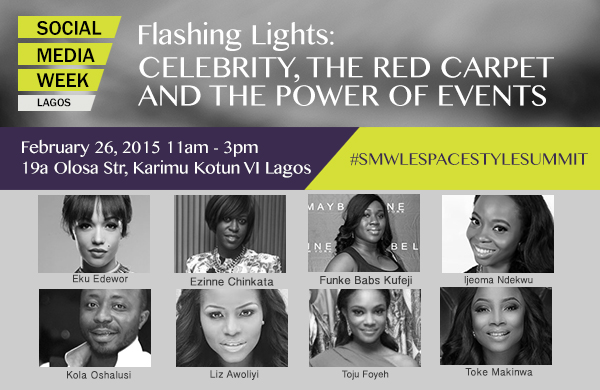 Social Media Week Lagos 2015 has been so much fun!
Here's the lowdown on activities for Day 4 of the event.
If you think  #SMWLagos has been amazing so far – wait until you see what's coming up today.
BellaNaija's very own Style Editor-at-Large Ijeoma Ndekwu and our Photography partner Kola Oshalusi of Insigna Media will be on the "Flashing Lights" panel of the L'Espace Style Summit (see schedule below). Don't miss it!
To register or find out more info, click HERE
Community Pop Up Showcase
Time: 8:00 AM – 2:00 PM
Hosted by: Strengthening Advocacy & Community Engagement
Venue: Pencom Innovators Stage @ SMW Lagos Campus
#smwLagosInnovators Breakfast
Time: 8:30 AM – 10:00 AM
Hosted by Strengthening Advocacy & Civic Engagement
Pencom Innovators Stage @ SMW Lagos Campus
#smwInnovators Breakfast: Strengthening Advocacy & Civic Engagement
Time: 9:00 AM – 10:00 AM
Hosted by: Strengthening Advocacy & Civic Engagement
Venue: Pencom Innovators Stage @ SMW Lagos Campus
The Blogger, The Law & The Brand
Time: 9:00 AM – 10:15 AM
Hosted by: Olorisupergal
Venue: Landmark Centre – SMW Masterclass Suite
A4AI Presents: Connecting Africans… Shooting the Experts!
Time: 9:00 AM – 10:00 AM
Hosted by: The Alliance for Affordable Internet (A4AI)
Venue: Landmark Centre – SMW Experience Stage
Social Media – The Game Changer for Greatness
Time: 10:00 AM – 2:00 PM
Hosted by: DoTheDream Youth Development Initiative
Venue: United Nations Information Centre
MASTERCLASS: Advertising, Content & All-Star Africa Campaigns Presented by Twitter
Time: 10:00 AM – 11:30 AM
Hosted by: Ad Dynamo + Twitter
Venue: UBA Executive Suite @ SMW Lagos Campus
#SMWExecutive VIP Suite Powered by UBA – Thursday
Time: 10:30 AM – 6:00 PM
Hosted by: Social Media Week Lagos
Venue: UBA Executive Suite @ SMW Lagos Campus
Living Healthy & Living Social
Time: 10:30 AM – 11:30 AM
Hosted by: Sickle Cell Advocacy and Management Initiative (SAMI)
Venue: Landmark Centre – SMW Experience Stage
Let's Talk Governance! Addressing Nigeria's Governance Challenge Post May 29
Time: 10:30 AM – 12:30 PM
Hosted by: Strengthening Advocacy & Civic Engagement
Venue: Pencom Innovators Stage @ SMW Lagos Campus
Social Learning: Leading Change
Time: 10:45 AM – 12:00 PM
Hosted by: LEAP Africa
Venue: Landmark Centre – SMW Masterclass Suite
#StopVAG: Connecting Voices Against Gender Based Violence
Time: 11:00 AM – 12:30 PM
Hosted by: HACEY Health Initiative
Venue: American Corner in Lagos
#SMWLESPACEStyleSummit Going Viral: Democratic Fashion Decoded (Featuring BellaNaija's Ijeoma Ndekwu!)
Time: 11:00 AM – 12:30 PM
Hosted by: L'Espace
Venue: L'Espace
MasterClass in Writing & Communications in the Social Mobile Age
Time: 12:00 PM – 1:00 PM
Hosted by: NewCode
Venue: UBA Executive Suite @ SMW Lagos Campus

#BeAudacious: Bringing Nigerian Oil & Gas Into The Digital Age
Time: 12:00 PM – 1:00 PM
Hosted by: Oando PLC
Venue: Landmark Centre – SMW Experience Stage
MASTERCLASS – Digital Innovation for Government Solutions
Time: 12:30 PM – 1:45 PM
Hosted by: Strengthening Advocacy & Civic Engagement
Venue: Landmark Centre – Hangout Suite
MASTERCLASS – How Social Media Strengthens Openness Between Governments and Citizens
Time: 12:30 PM – 1:45 PM
Hosted by: Strengthening Advocacy & Civic Engagement
Venue: Landmark Centre – SMW Masterclass Suite
MASTERCLASS – Using Social Media Effectively – Tools, Security, Metrics, Analysis
Time: 12:30 PM – 1:45 PM
Hosted by: Strengthening Advocacy & Civic Engagement
Venue: Landmark Centre – SMW Masterclass Suite
#BeAudacious Pitch Session
Time: 1:00 PM – 2:30 PM
Hosted by: Oando PLC
Venue: Landmark Centre – SMW Experience Stage

#SMWLESPACEStyleSummit GLOCAL: Reinventing Brand Africa, Luxury & the Home & Away Debate
Time: 1:30 PM – 2:30 PM
Hosted by: L'Espace
Venue: L'Espace
#SMWPolling: CONNECTED WITH DATA
Time: 1:30 PM – 2:30 PM
Hosted by: NOIPolls
Venue: Pencom Innovators Stage @ SMW Lagos Campus
#SMWPowerLunch
Time: 2:00 PM – 3:30 PM
Hosted by: Social Media Week Lagos
Venue: UBA Executive Suite @ SMW Lagos Campus
Content Marketing for Creative Brands
Time: 2:15 PM – 3:30 PM
Hosted by: AquaOnline
Venue: Landmark Centre – SMW Masterclass Suite
An Entrepreneur's Perspective on a Mobile Africa [Web, Apps and VAS]
Time: 3:00 PM – 4:00 PM
Hosted by: Food, Fun & Business (FFB) Inc.
Venue: Pencom Innovators Stage @ SMW Lagos Campus
#SMWLESPACEStyleSummit Flashing Lights: Celebrity, The Red Carpet & the Power of Events
Time: 3:00 PM – 4:00 PM
Hosted by: L'Espace
Venue: L'Espace
#SMWNetRightsNG -Towards a Digital Rights and Freedom Bill in Nigeria
Time: 3:00 PM – 4:00 PM
Hosted by: Paradigm Initiative Nigeria
Venue: Landmark Centre – SMW Experience Stage
[Google Hangout] Connecting the Dots: The Creative Class with @ngBritishArts
Time: 4:00 PM – 6:00 PM
Hosted by: British Council, Lagos
Venue: Google Hangout
Asktoks.com presents: Creating a World That Understands Autism With Your Smartphone
Time: 4:00 PM – 5:15 PM
Hosted by: asktoks.com
Venue: Landmark Centre – SMW Masterclass Suite
The Future of Banking Is Social Presented by United Bank of Africa
Time: 4:30 PM – 5:30 PM
Hosted by: United Bank of Africa
Venue: Landmark Centre – SMW Experience Stage
Our Story – Connecting & Teaching Nigerian History with Social Media
Time: 4:30 PM – 5:30 PM
Hosted by: alli.org
Venue: Landmark Centre – SMW Experience Stage
Using Technology to Maximize your Property Business/Investment: 3INVEST
Time:5:00 PM – 6:00 PM
Hosted by: 3Invest Limited
Venue: Four Points Sheraton
#TurningUp: On Internet Rights and Freedoms
Time: 6:00 PM – 7:30 PM
Hosted by: Web We Want
Venue: Landmark Centre – Hangout Suite
Lucky Numbers: The Power of Creative Referral Marketing on Social Media
Time: 6:00 PM – 7:30 PM
Hosted by: The Humber Group Ltd
Venue: Landmark Centre – Hangout Suite
#SMWLagosNites: The Power of Networking
6:00 PM – 10:00 PM
Hosted by YAP&E (Young Adult Professionals & Entrepreneurs)
Ginger Tapas n' Grill
#SMWCocktails-N-Convo Thursday
Time: 6:00 PM – 8:00 PM
Hosted by: Ciroc
Venue: #CIROClife Lounge @ SMW Lagos Campus
#smwLagosNites: Music & Words, Celebrating Freedom of Speech
Time: 6:00 PM – 11:00 PM
Hosted by: Enough is Enough Nigeria
Venue: Freedom Park
#SMWLagosNites: Film Screening of Hyènes Presented by The Women's Film Club
Time: 6:00 PM – 9:00 PM
Hosted by: Women's Film Club
Venue: Omenka Gallery
#SMWLagosNites: Monopoly Game Night!
Time: 7:00 PM – 9:00 PM
Hosted by: Bestman Games Limited
Venue:Terra Kulture
#SMWLagosNites: Champagne Mixer &; Late Night Shopping with L'Espace featuring New Designer Collections
Time: 8:00 PM – 12:01 PM
Hosted by: L'Espace
Venue: L'Espace