Bolanle & Seun's wedding was truly a tropical dream.
From the regal peacock-themed engagement in Lagos, to the rustic glam beach wedding in Zanzibar, the vibrant wedding colours and sunset were the backdrop for this spectacular celebration of their love.
The planner became the bride as Bolanle and Seun met at one of her events, saw each other again a week later where they hit it off. They became inseparable after three months of friendship, then the groom proposed four months later!
The bride, head of B'Signature Events, planned her engagement in Lagos and beach wedding in Zanzibar overlooking the Indian Ocean.
~ All Photos by Damell Photography!
How We Met
By the Bride, Bolanle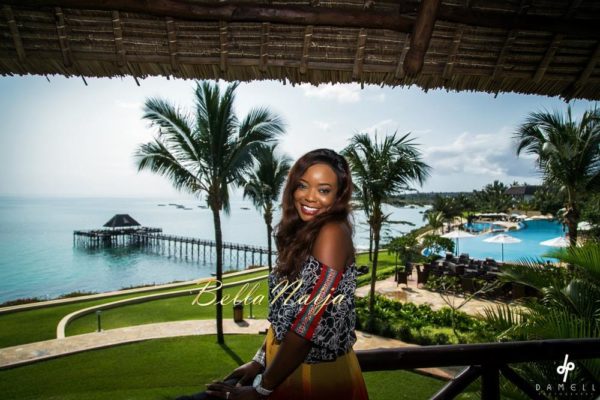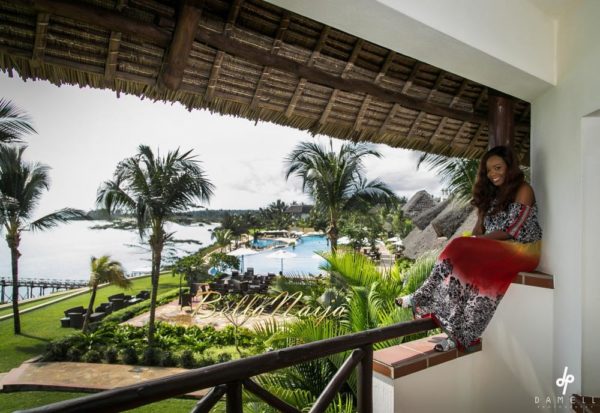 We met at one of my events in July 2013, Oluwaseun walked up to me and tried to strike a conversation, being so busy running around making sure everything was going on well, I wasn't really in the mood for the distraction so I brushed him off. I went about my business and forgot about meeting him. As fate would have it, we met the next weekend at another one of my events and immediately we saw each other we started smiling. He asked why I was stalking him lol and that was the icebreaker.
We spoke a bit and exchanged numbers and that was the beginning of our friendship. For three months we spoke and hung out regularly. He kept me company whenever I had events and even stayed whenever he could during the setup process. Through all this he kept asking me to date him and I kept saying I wasn't ready for a relationship so soon, as I had ended one earlier that year. By September it was obvious that we had become inseparable and that was the beginning of our whirlwind romance so to speak because little did I know that four months (Yes! 4 Short Months lol) down the line he would ask me to marry him.
The Proposal
By the Groom, Seun
We had our first major fight on the 20th of December 2013. All through the night, I was unable to sleep, I was restless and decided that I was going to find that inner peace.
Bolanle was coordinating a wedding at the Grand Ballroom of the Intercontinental Hotel the next day – on the 21st, and I called her to ask if I could come hang out with her at the event. Because we were fighting, she gave an attitude, and said that the call was mine.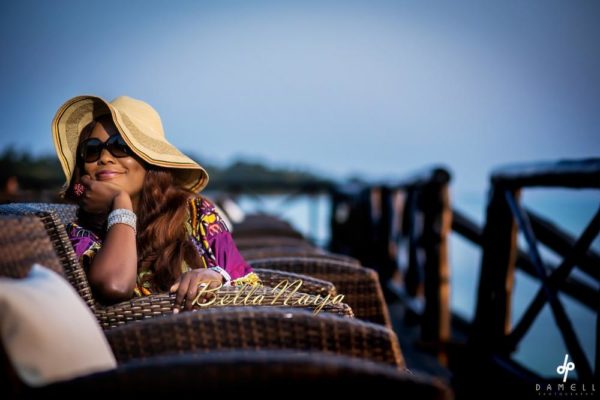 Earlier on in the year, shortly after meeting Bolanle, I arranged for an engagement ring through a Jewish Jeweler Friend, Aviram who sourced the stone from the Diamond Exchange in Antwerp and another friend Abi Thomas served as the courier to Lagos.
So on the 21st of December, I decided to find the inner peace, so off to the Intercontinental Hotel I went. On getting there, Bolanle was very busy with her wedding event and was still giving me attitude because of the earlier fight from the previous day. In the midst of it all, I found the chance to take her aside and I sat her down and told her all the things she meant to me and I went on my knees asking her to marry me.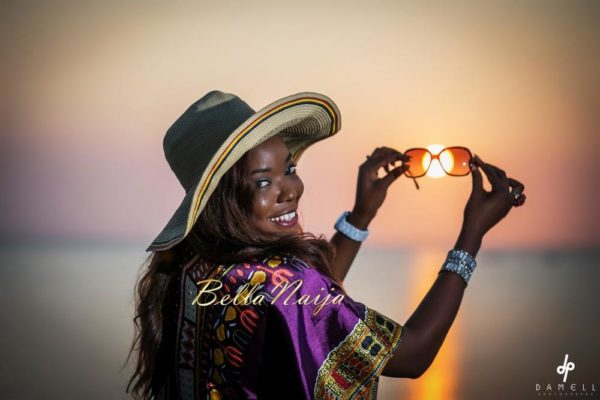 With tears of joy, she said yes and the rest is history.
Wedding Advice from Bolanle & Seun!
Have a realistic budget and try to stick to it
Employ a wedding planner because trust me we are more of necessities than luxuries
Try as much as possible to enjoy the process because it only comes once in a lifetime
And most importantly PRAY!PRAY!!PRAY!!! together as a couple – we can't over emphasize on how important this is!
White Wedding
"For the white wedding, we had a destination wedding in Zanzibar. The theme was "Rustic Glam". We wanted something intimate, simple and chic. We had the wedding mass at sunset on the jetty at the Seacliff Resort and Spa which was smack in the middle of the Indian Ocean."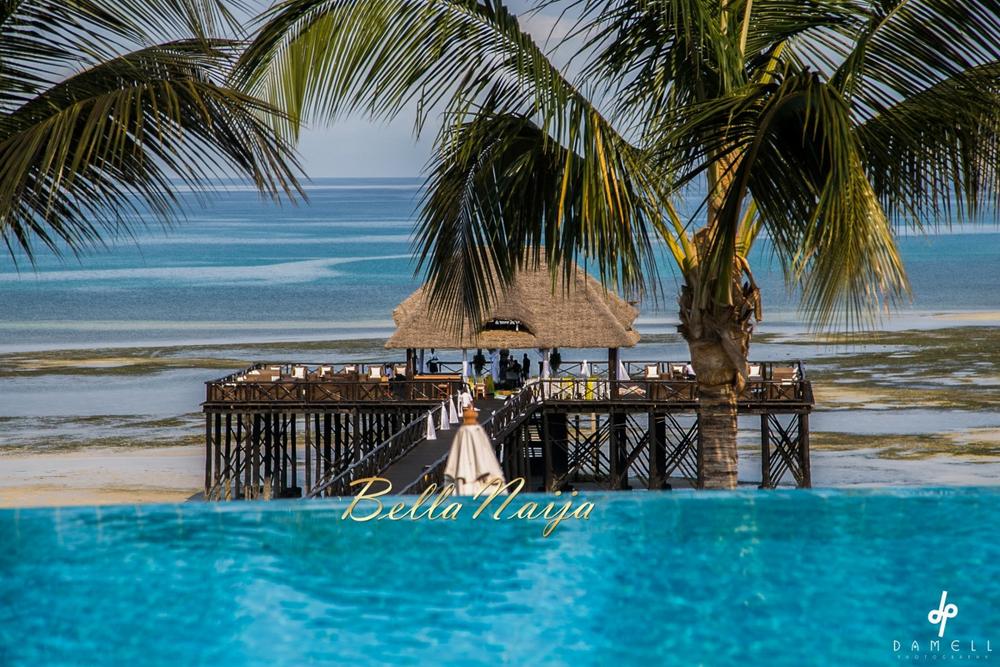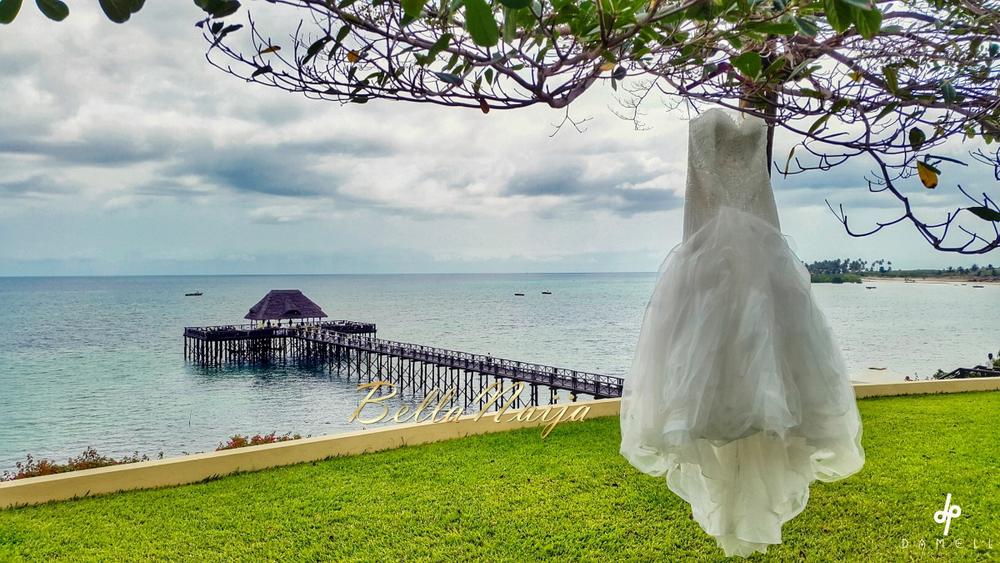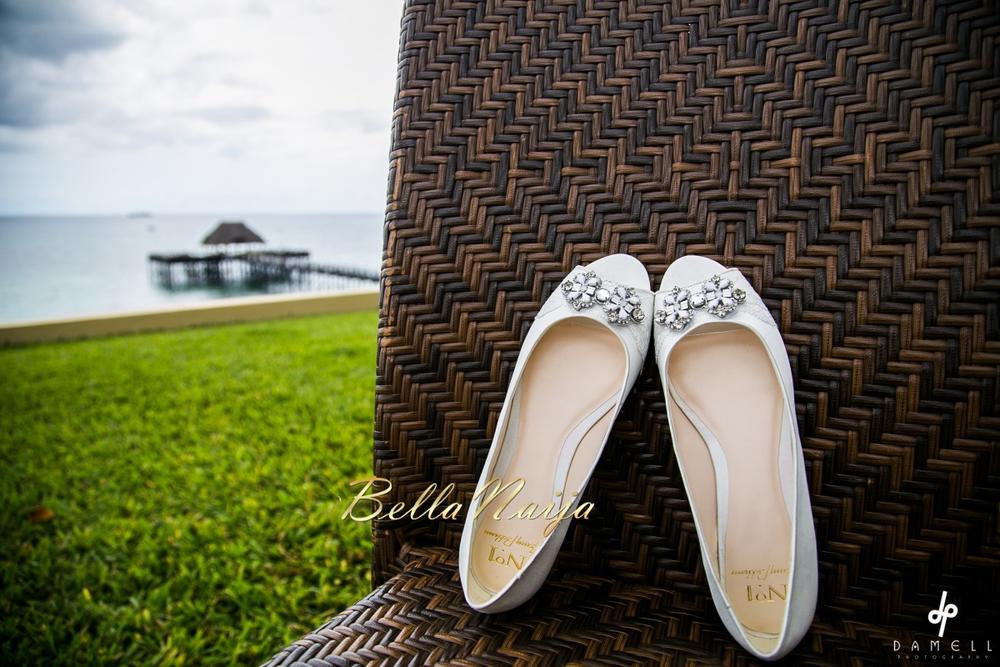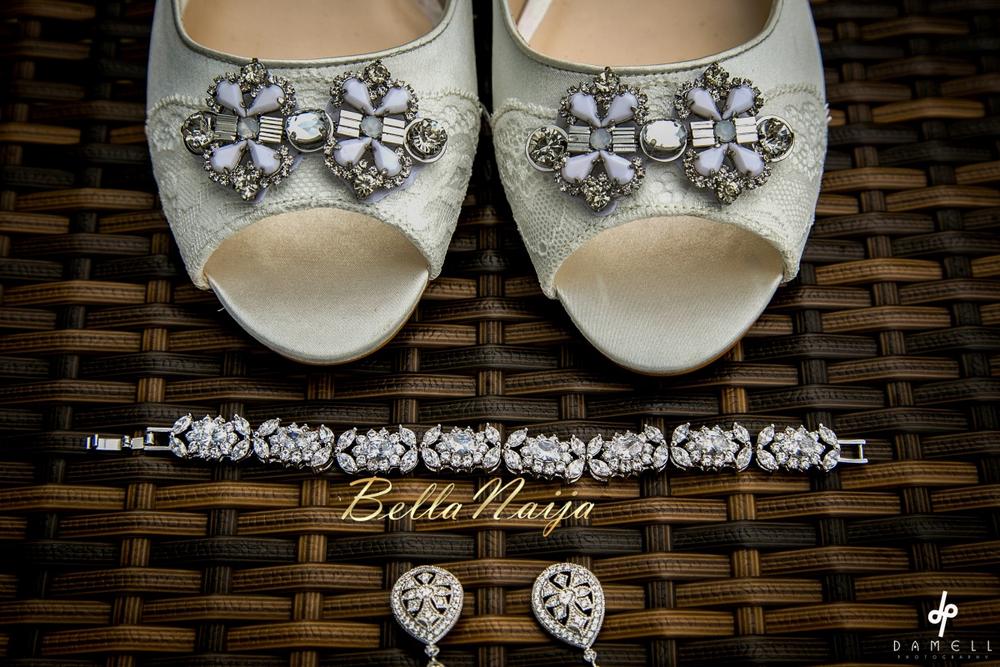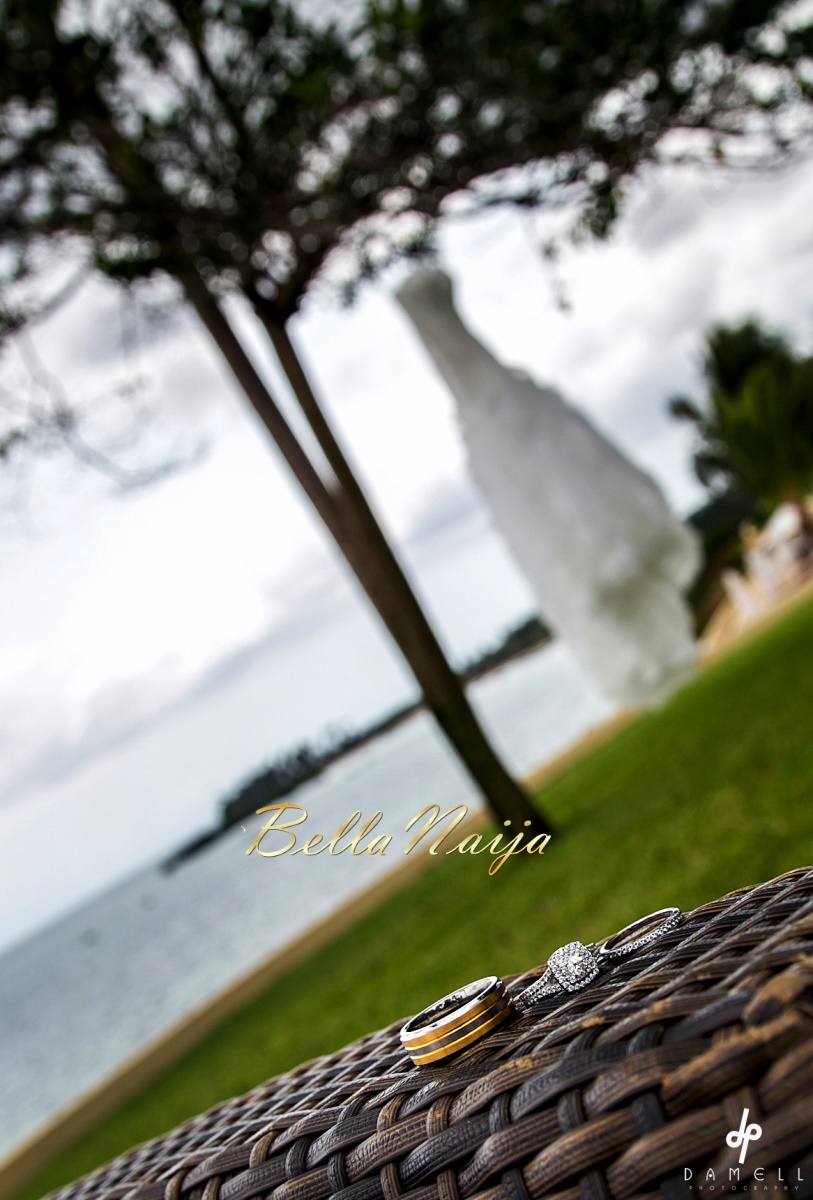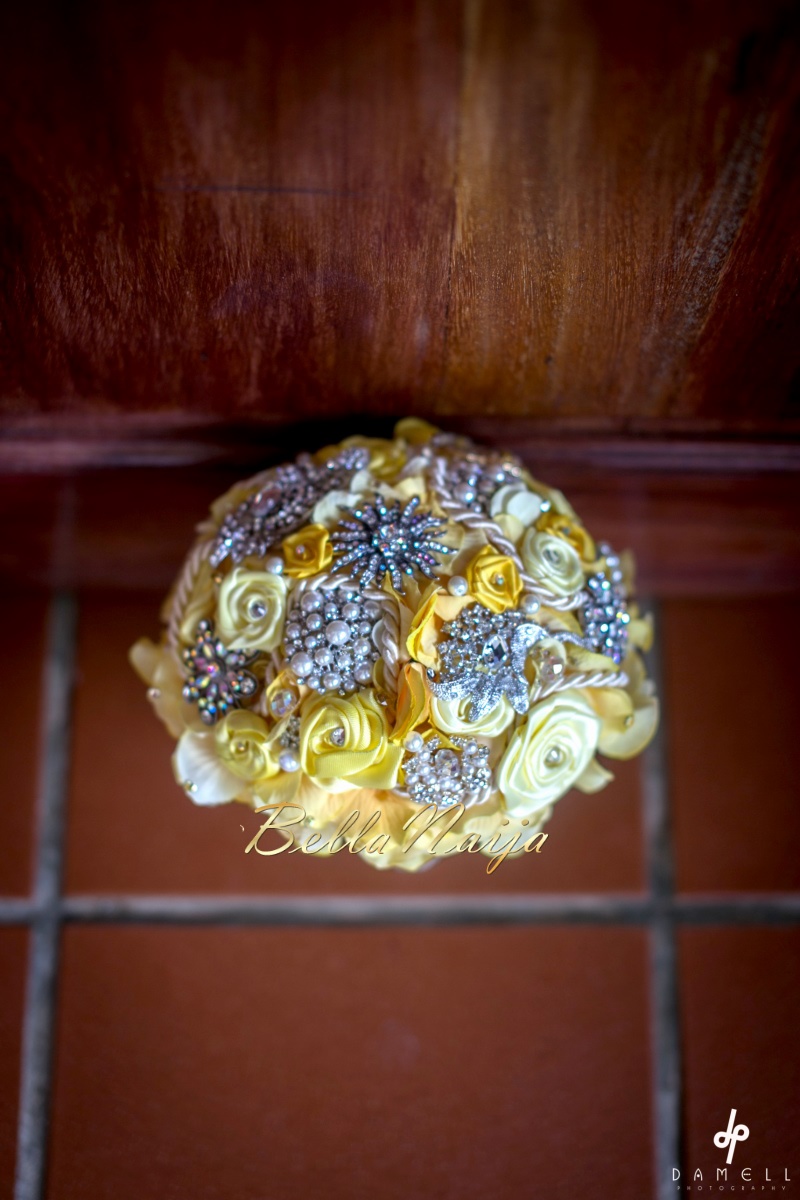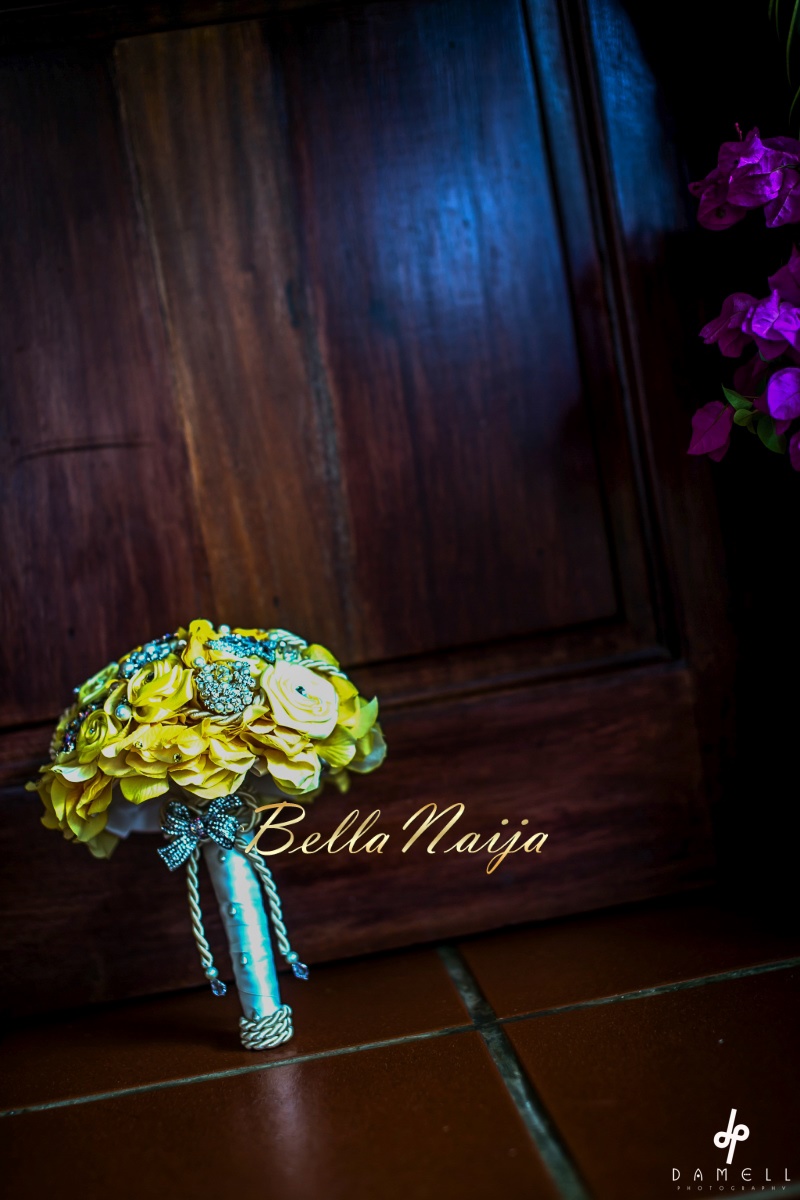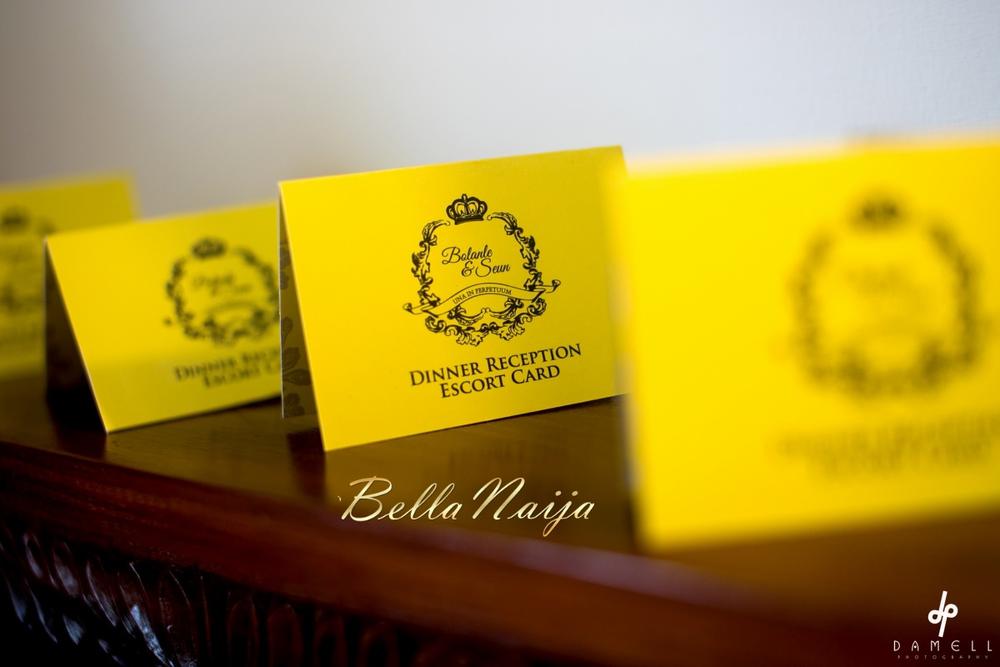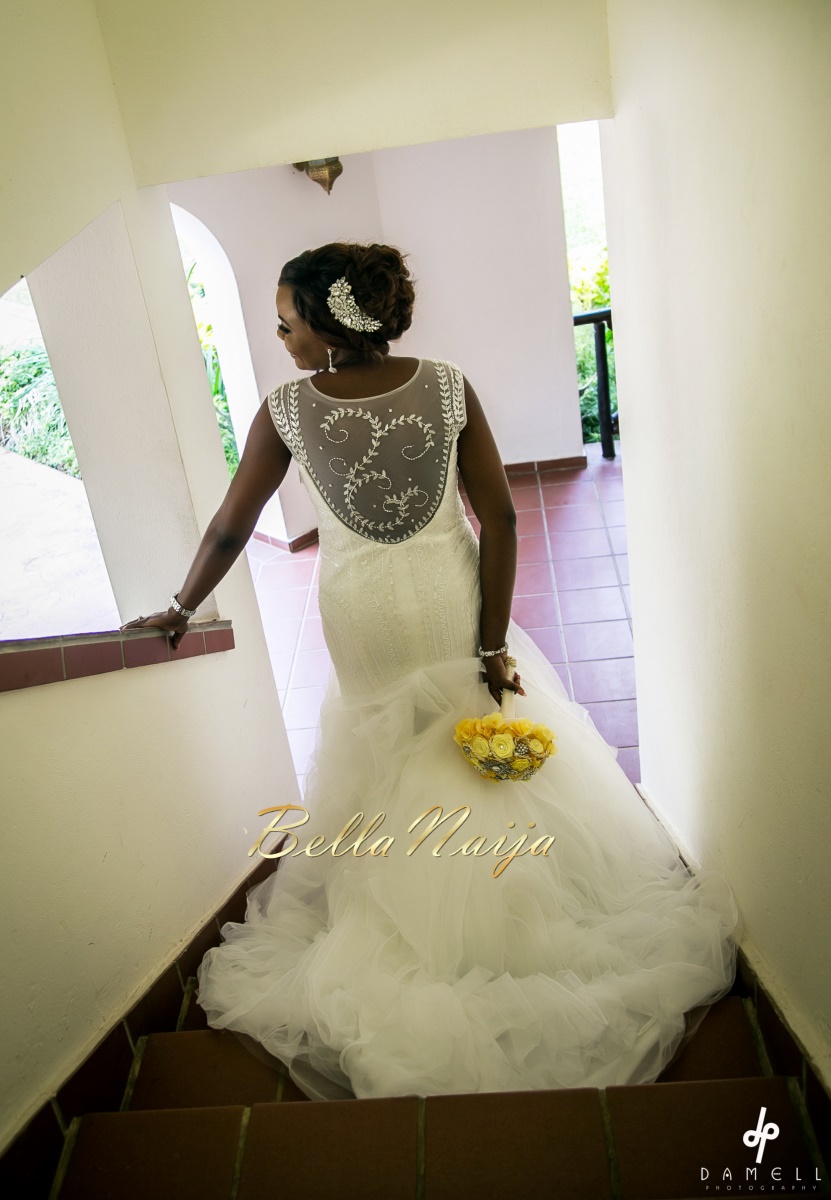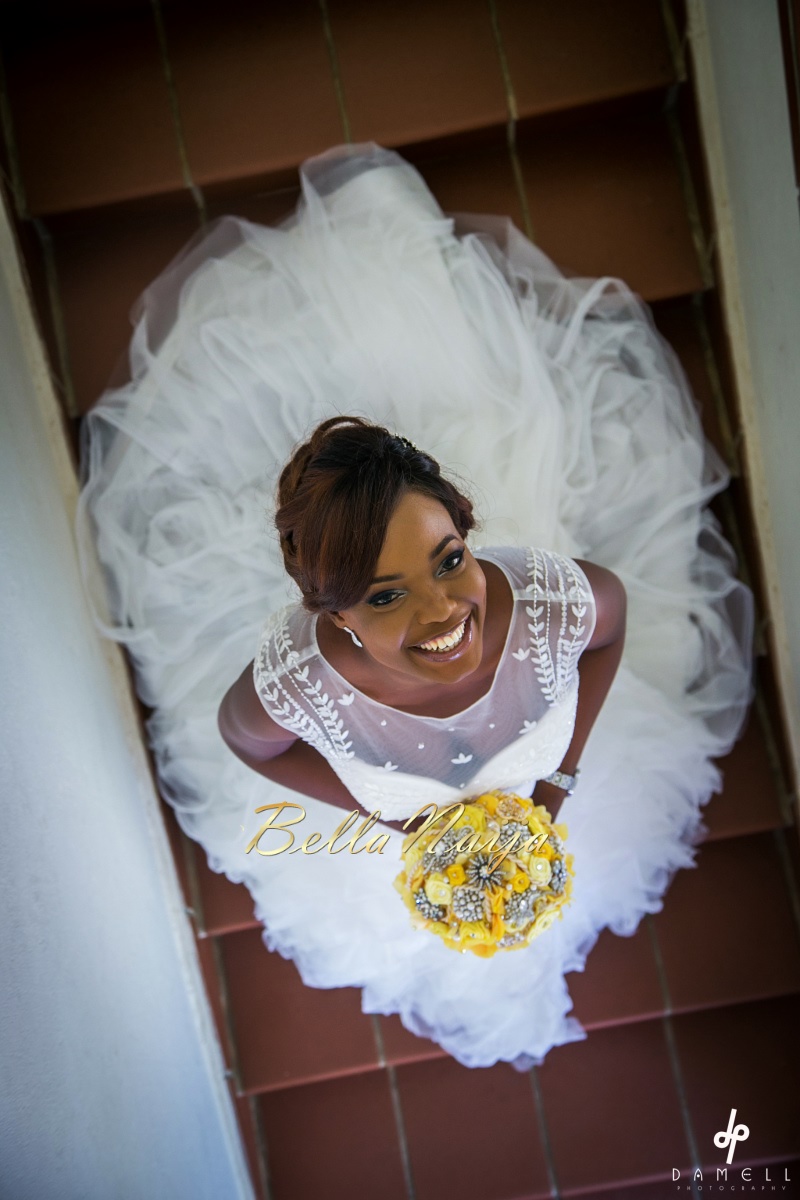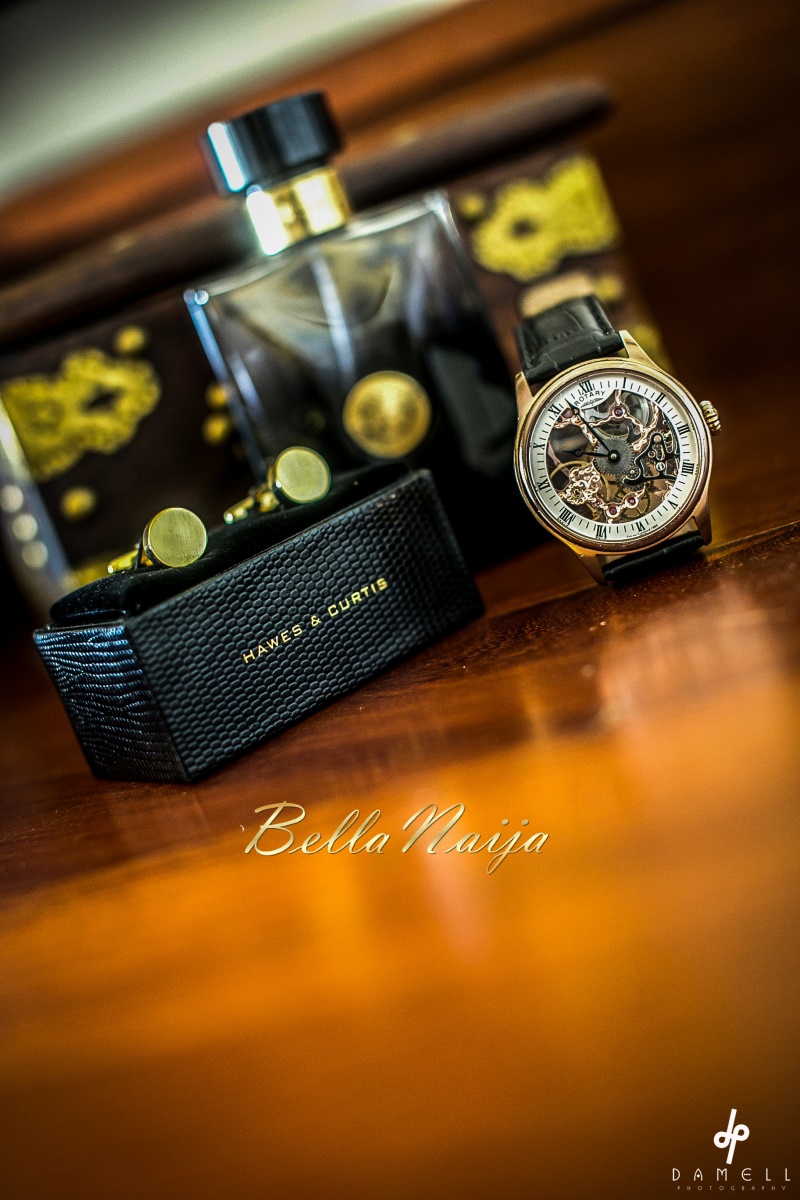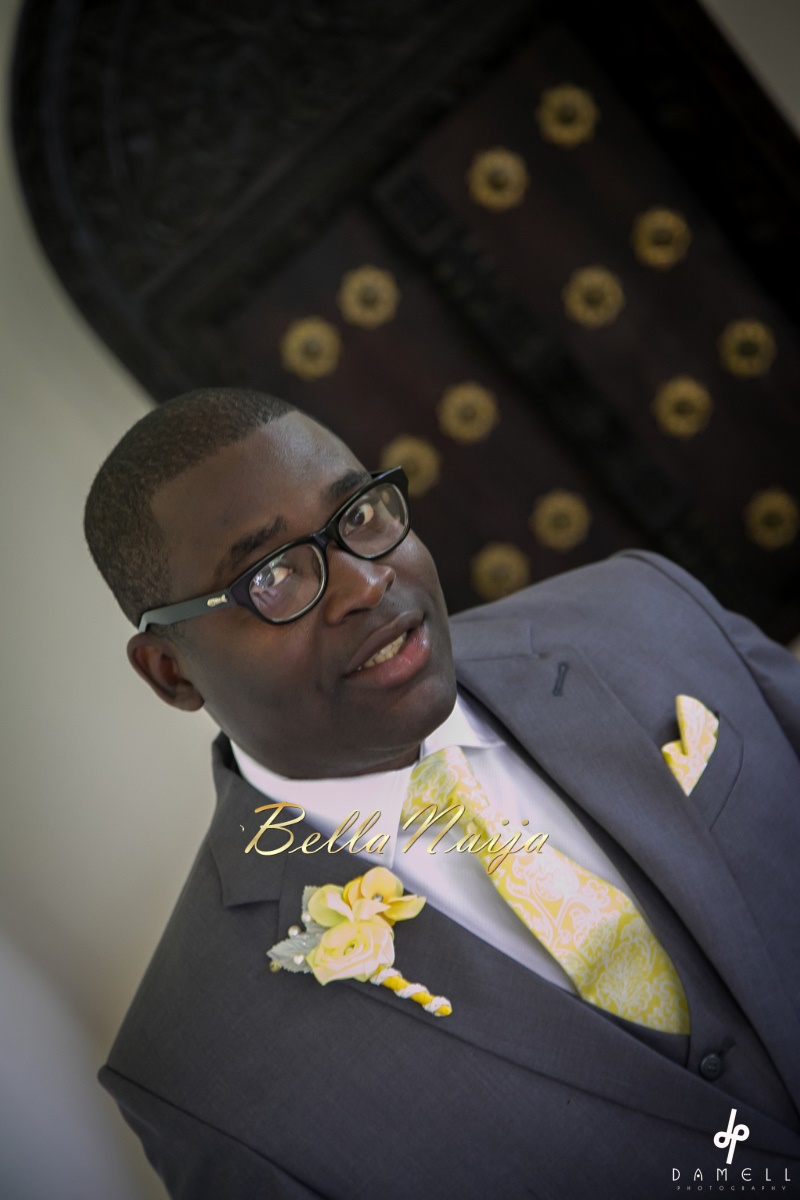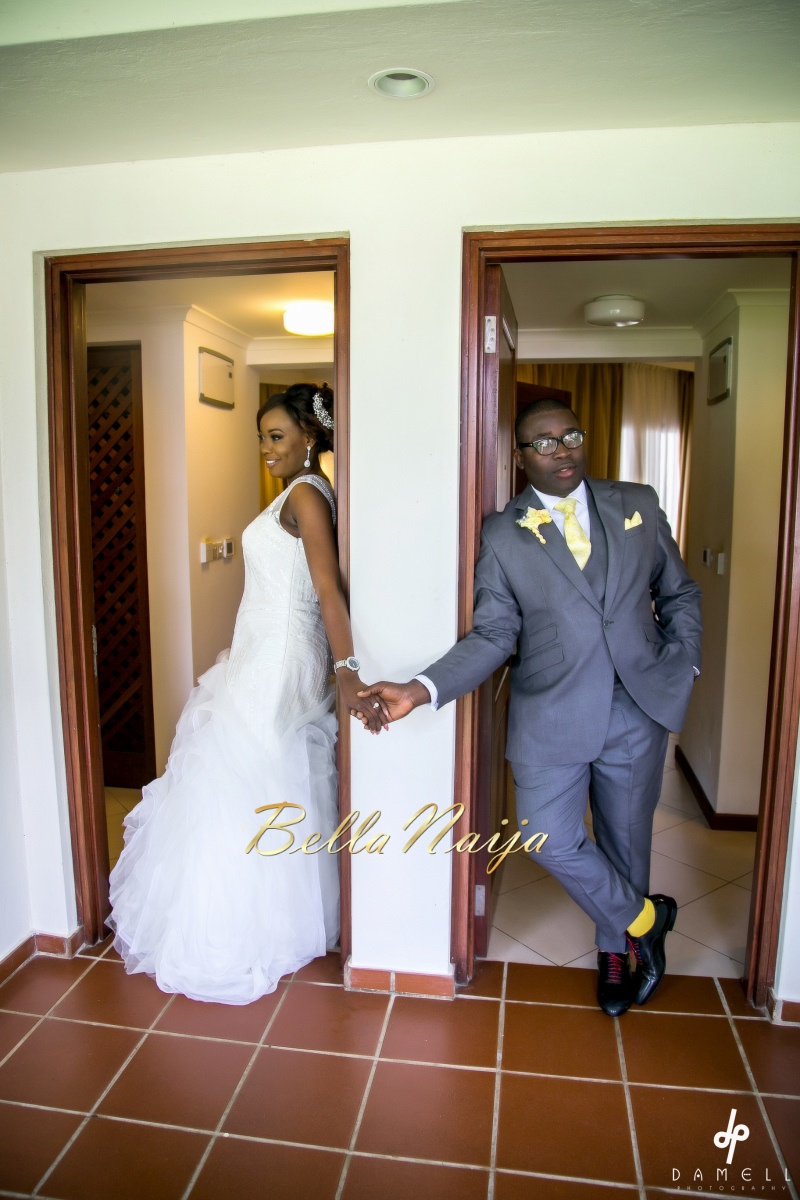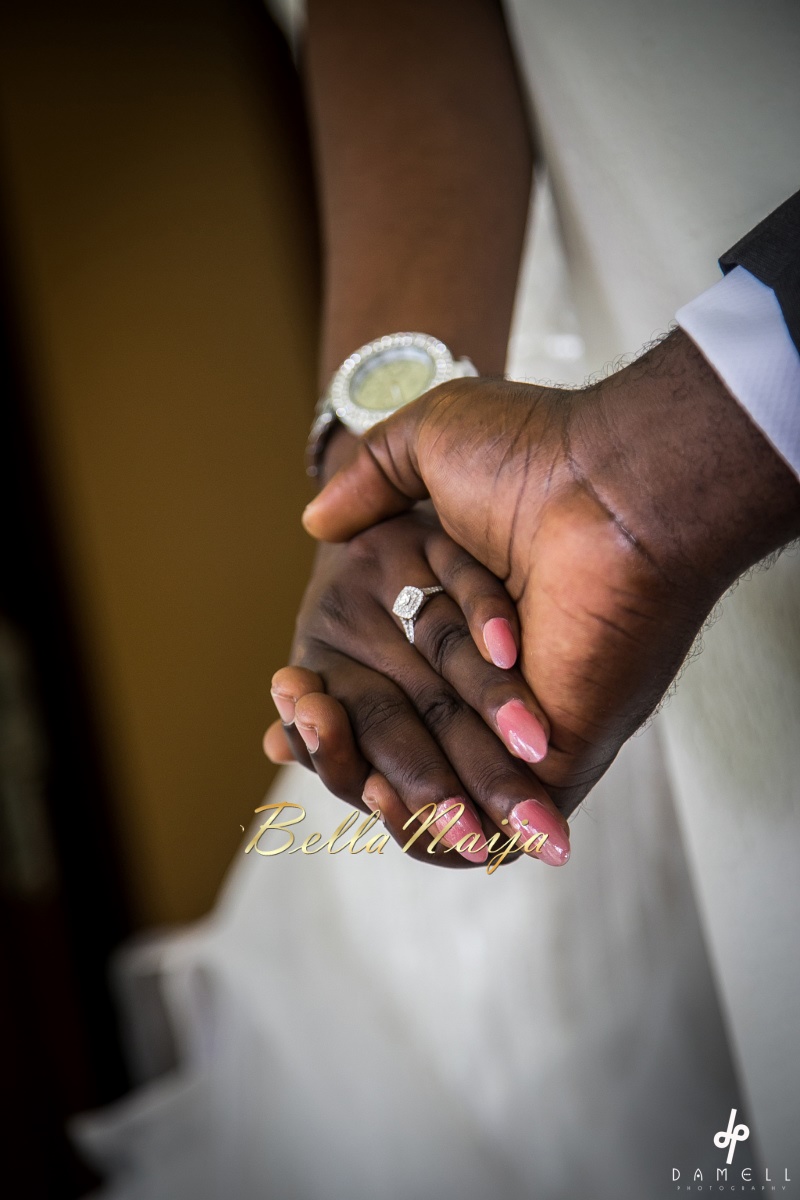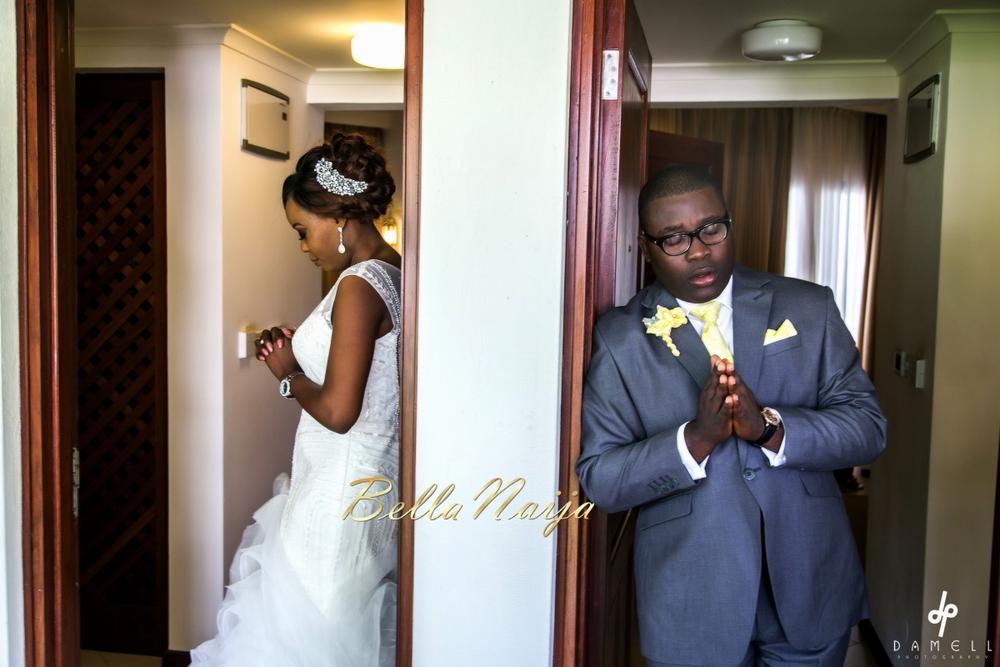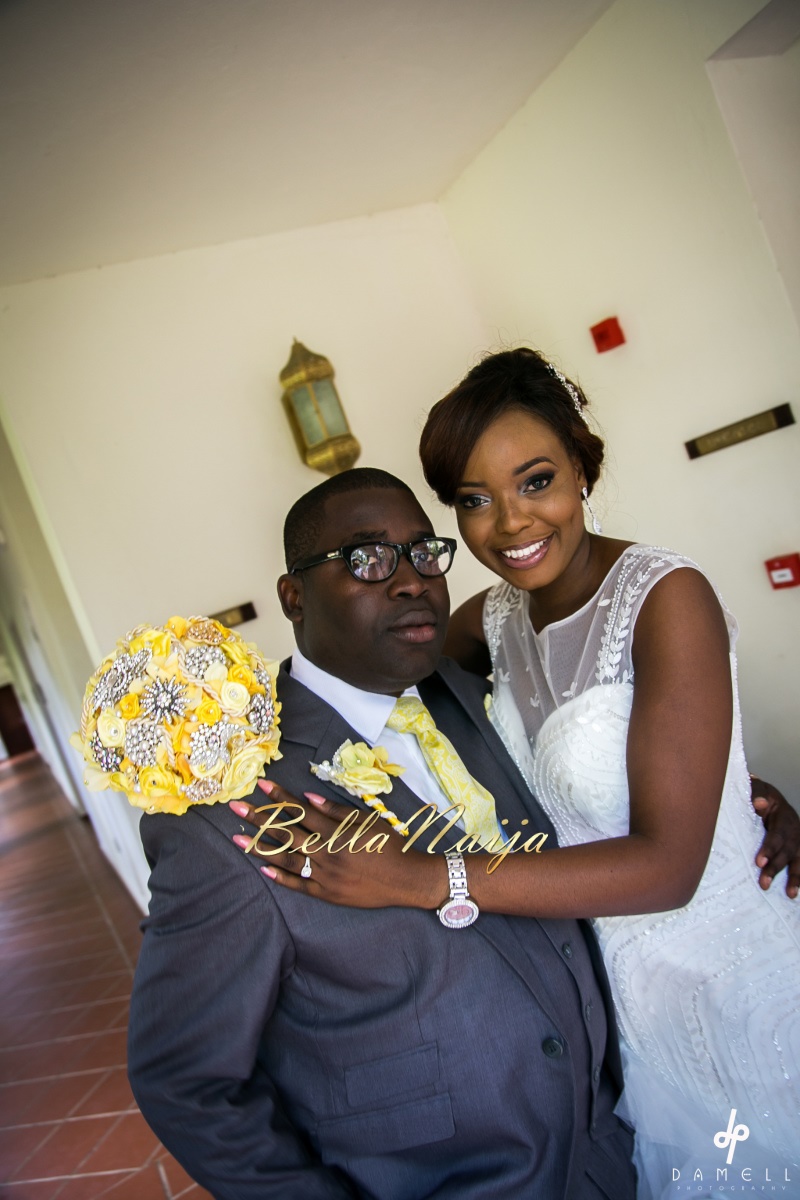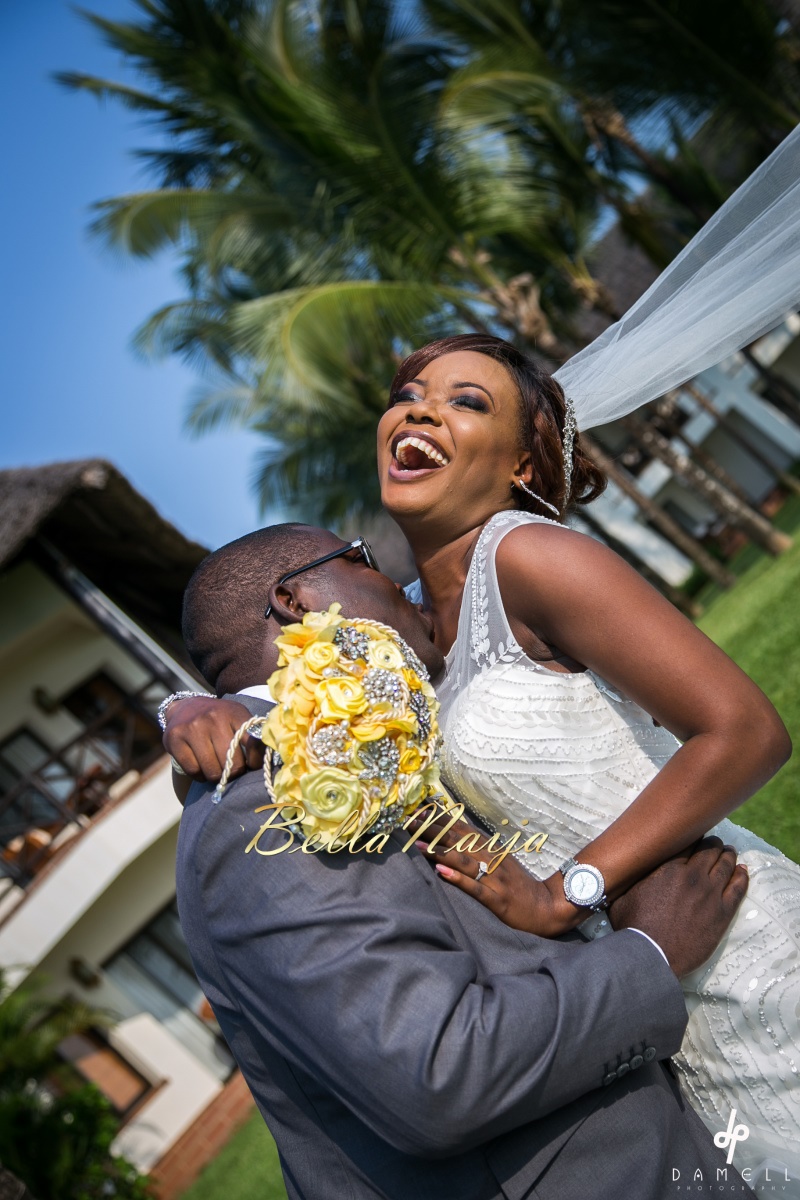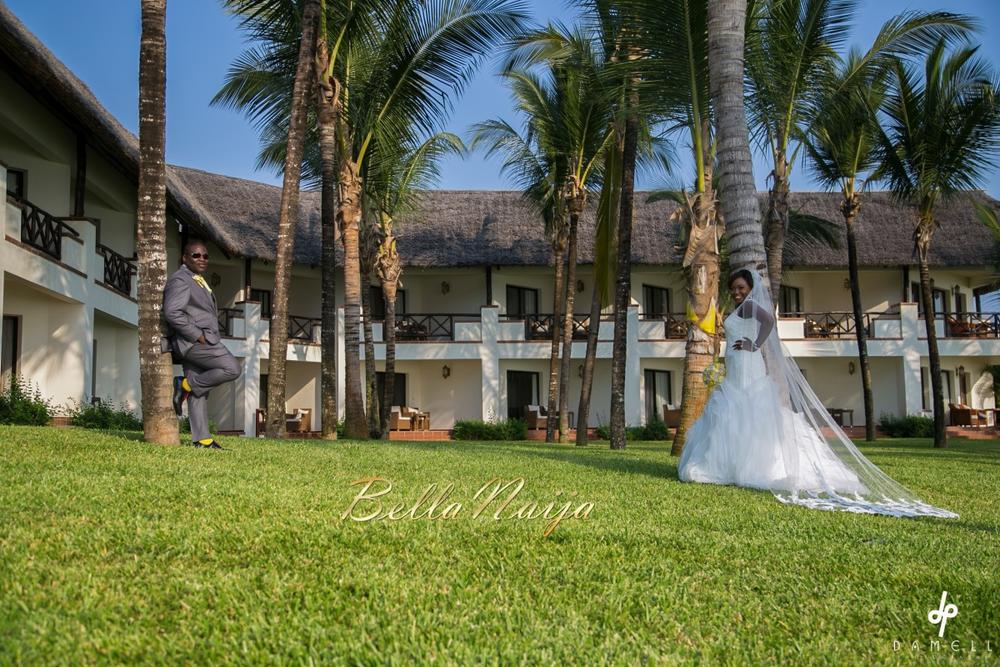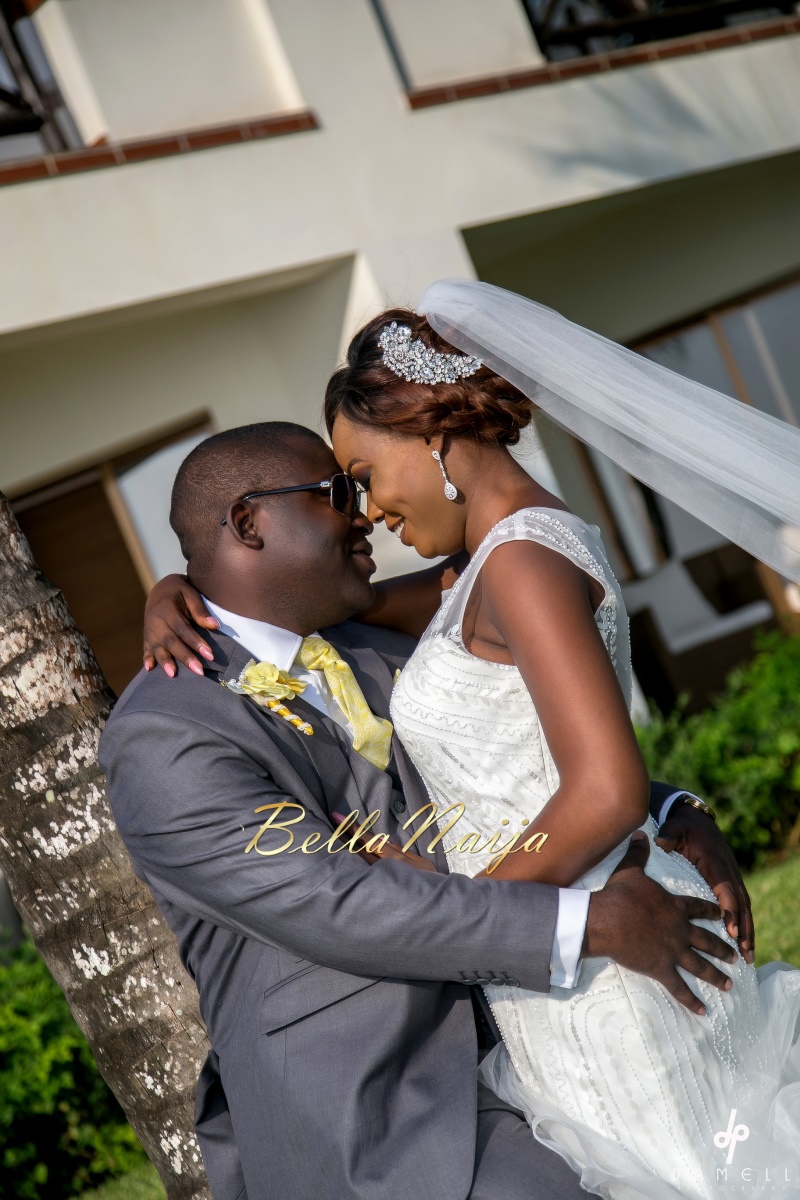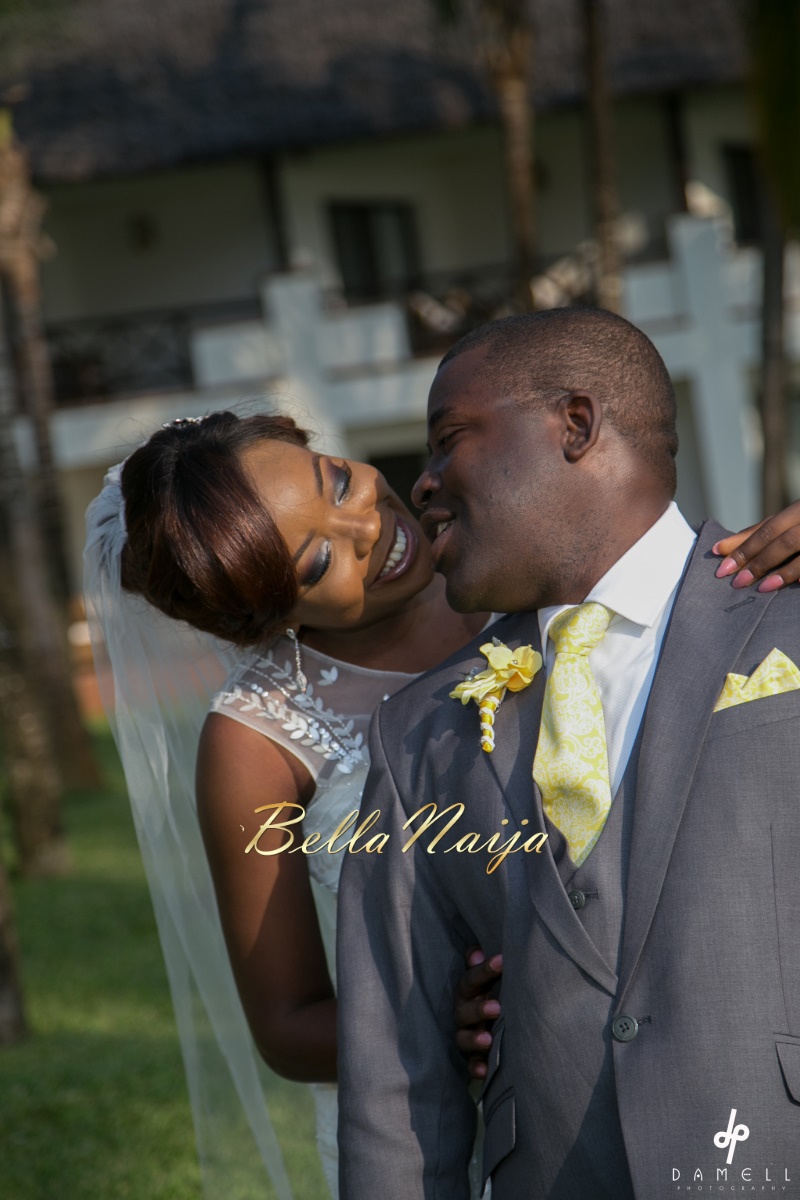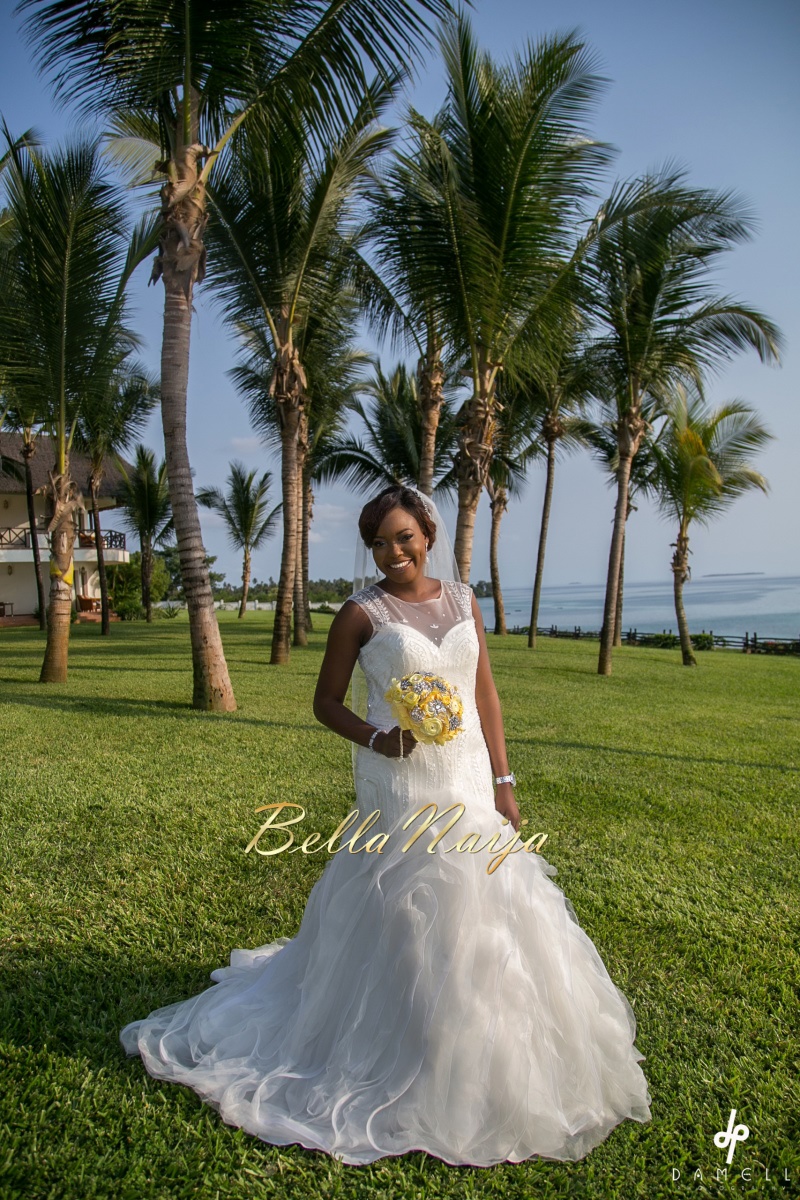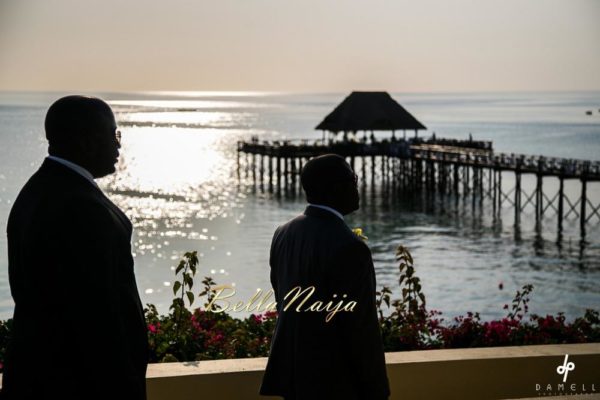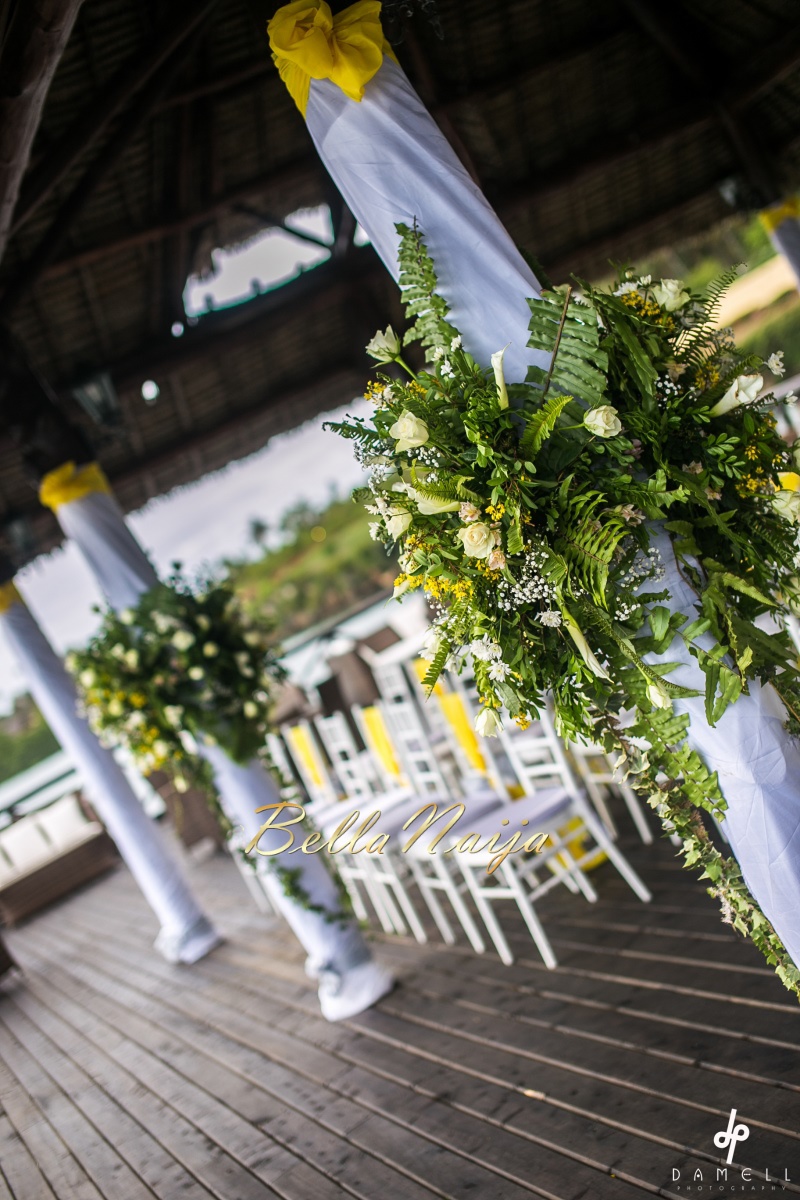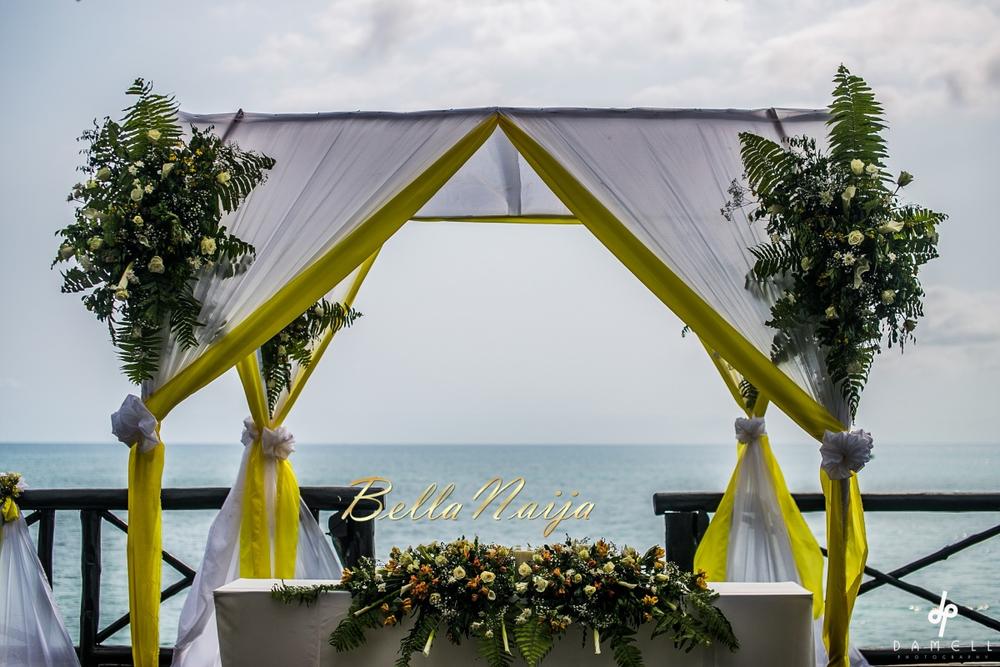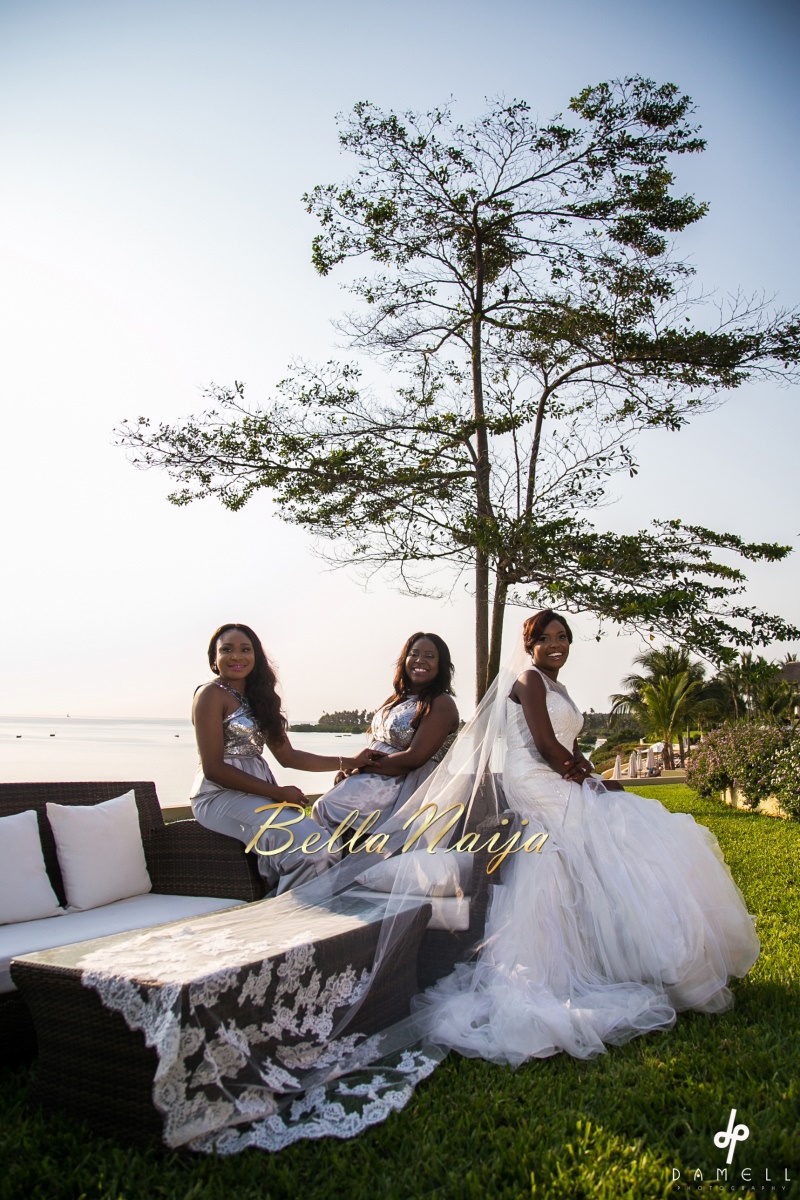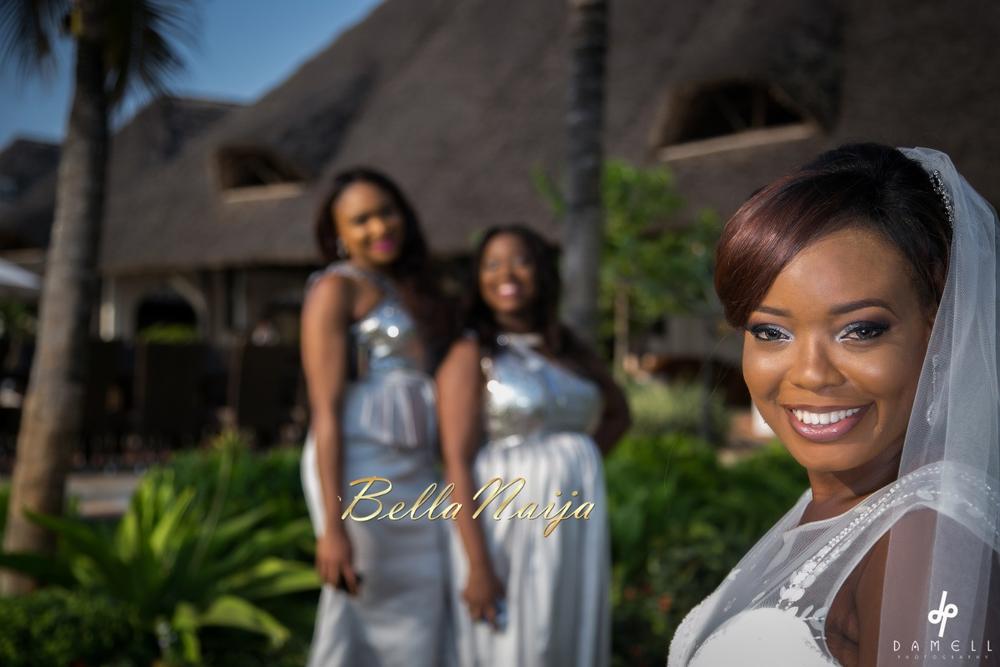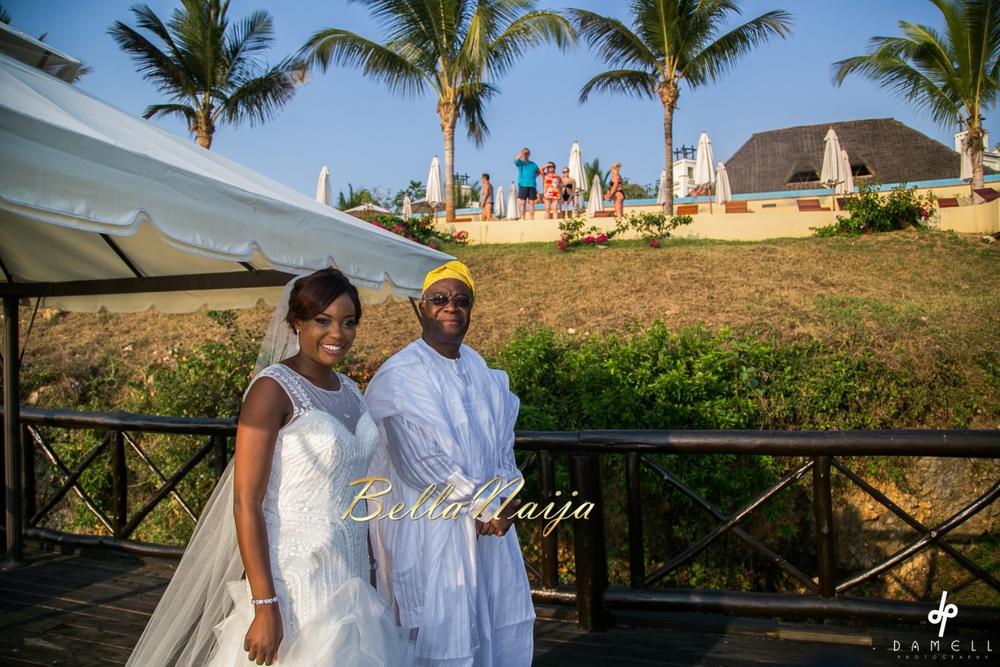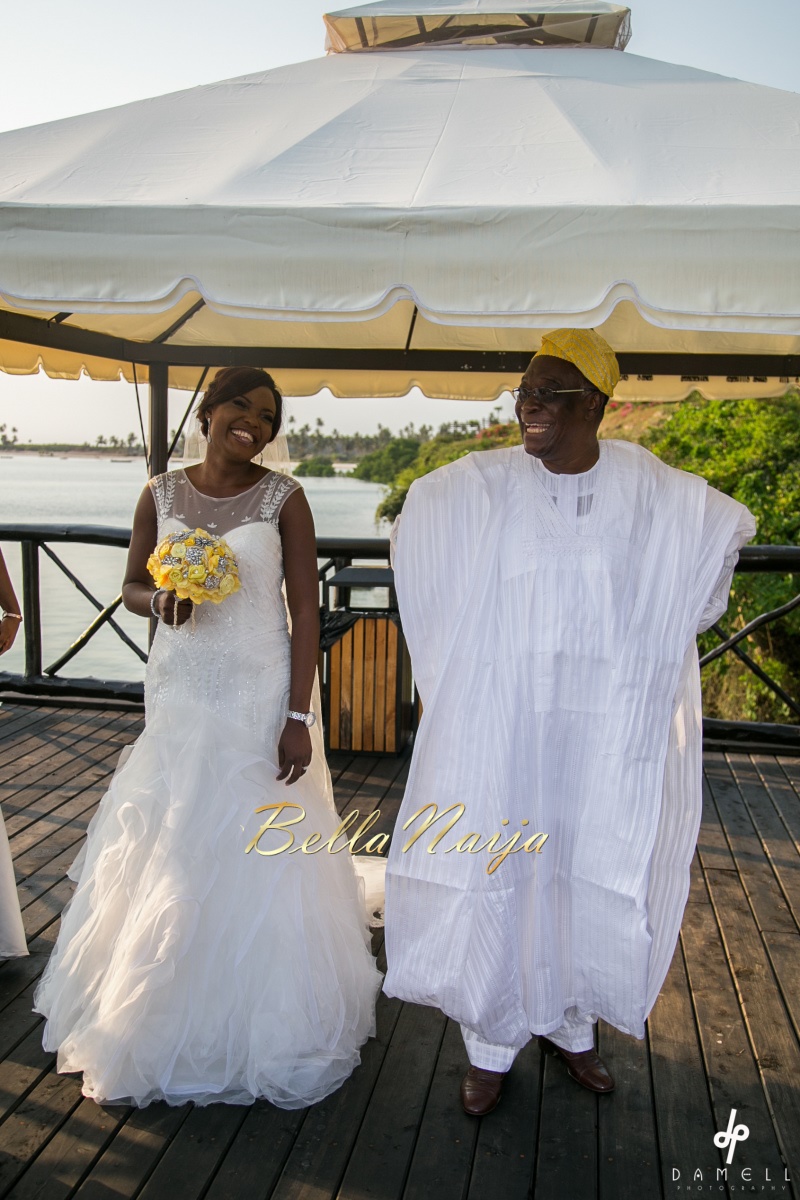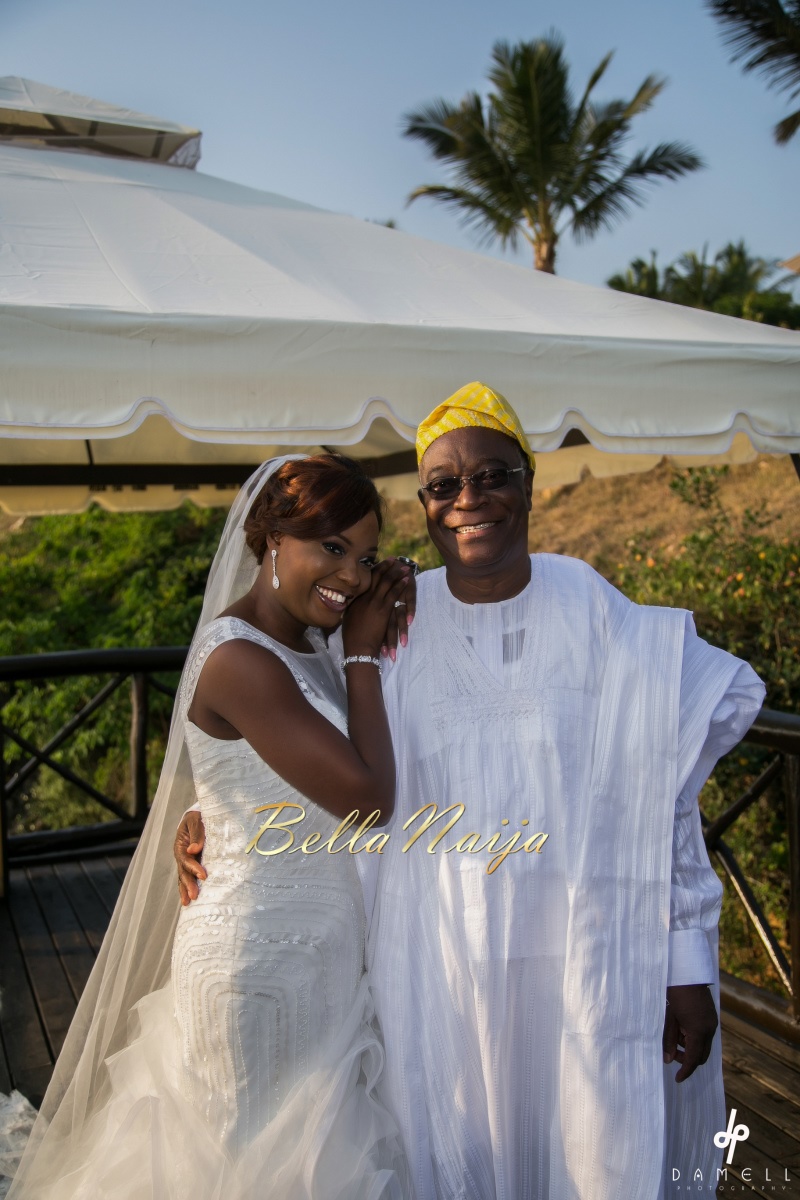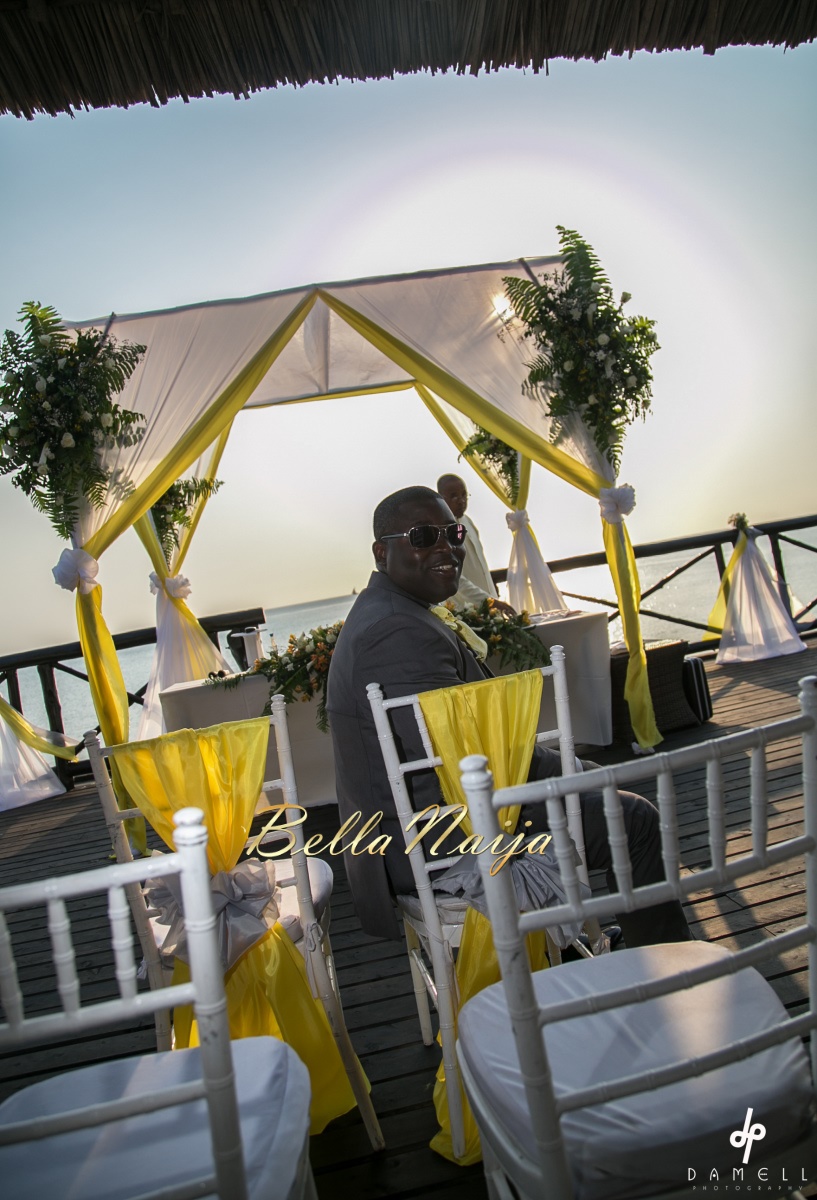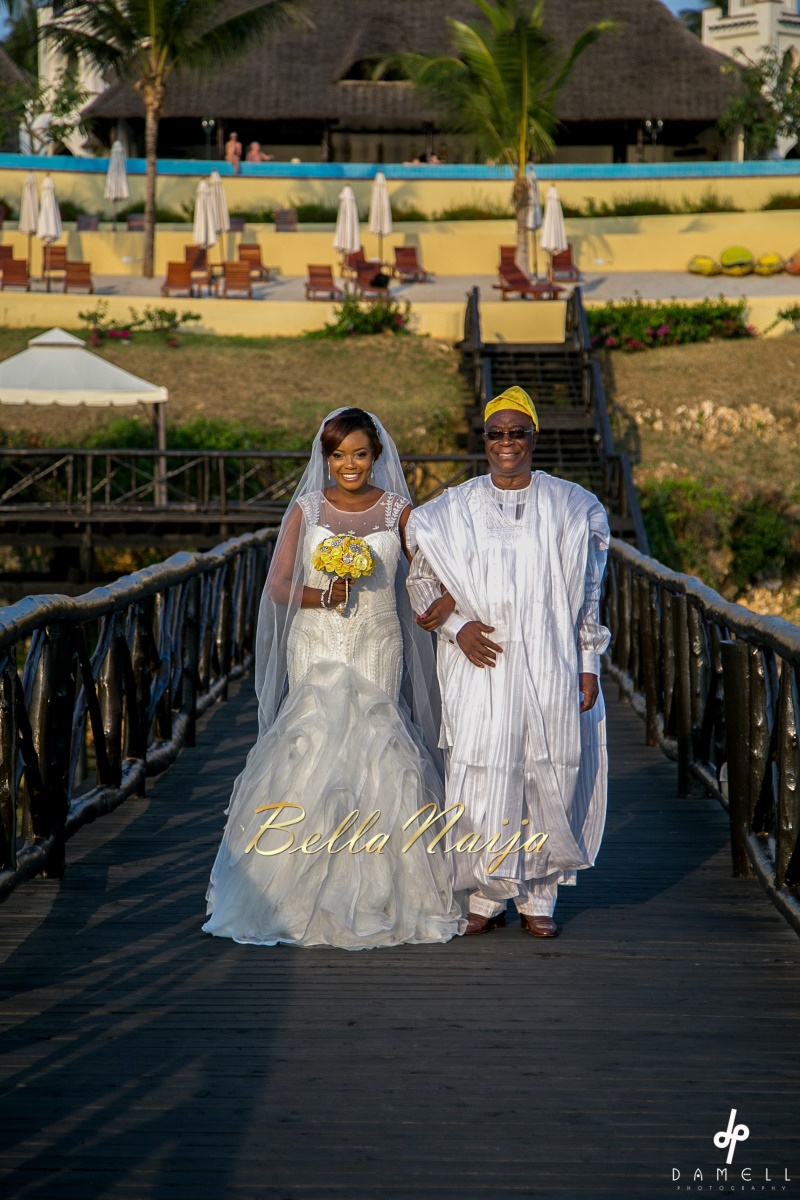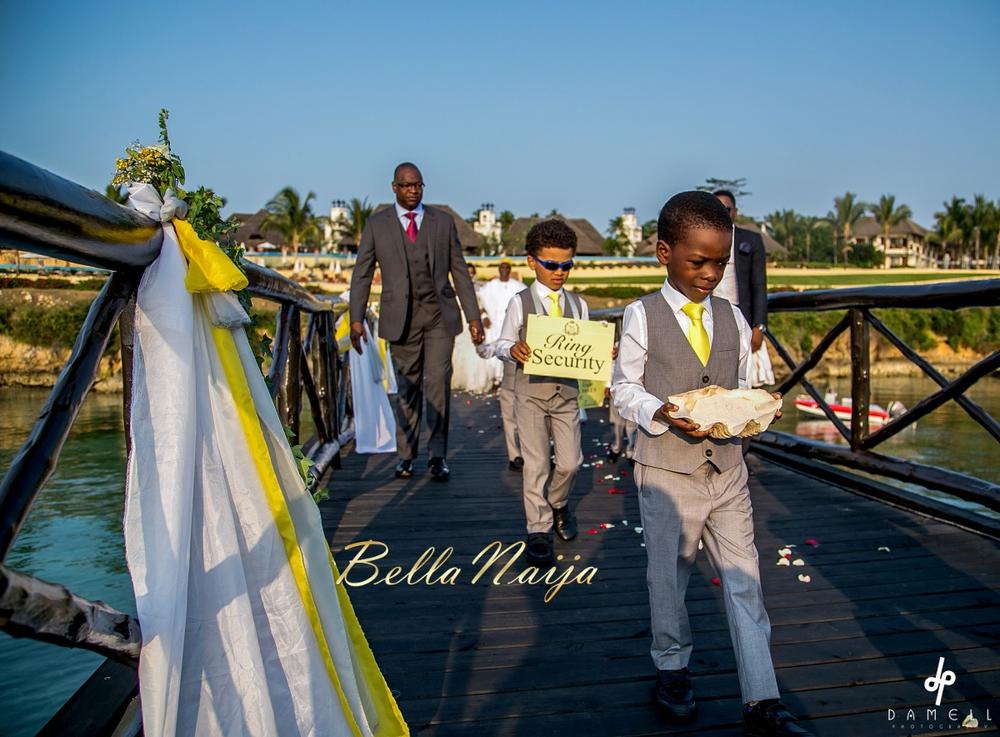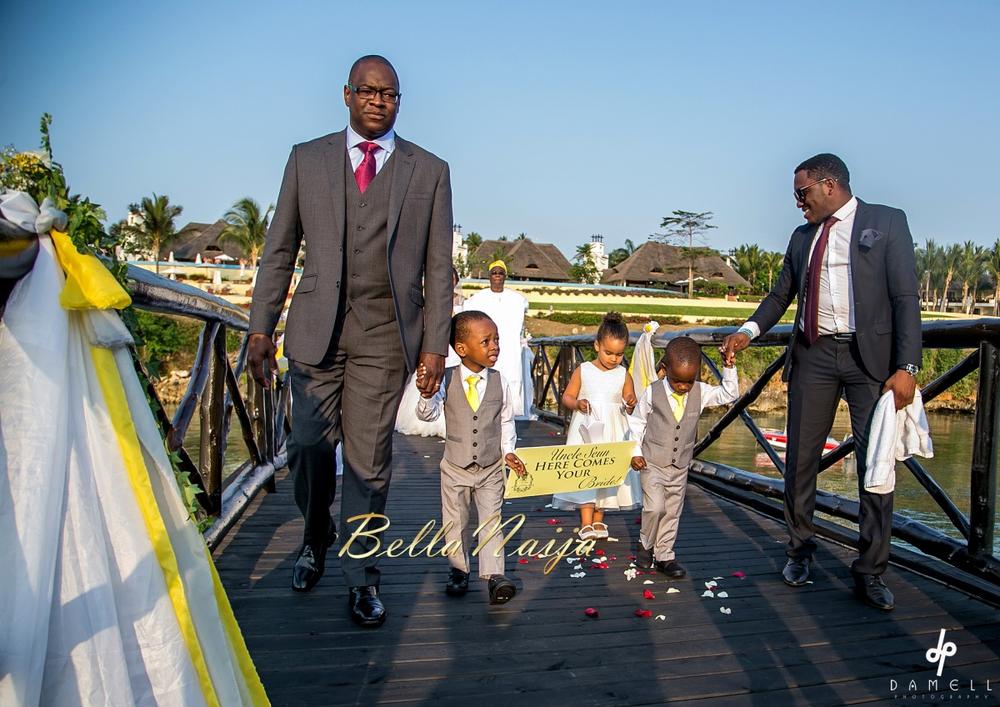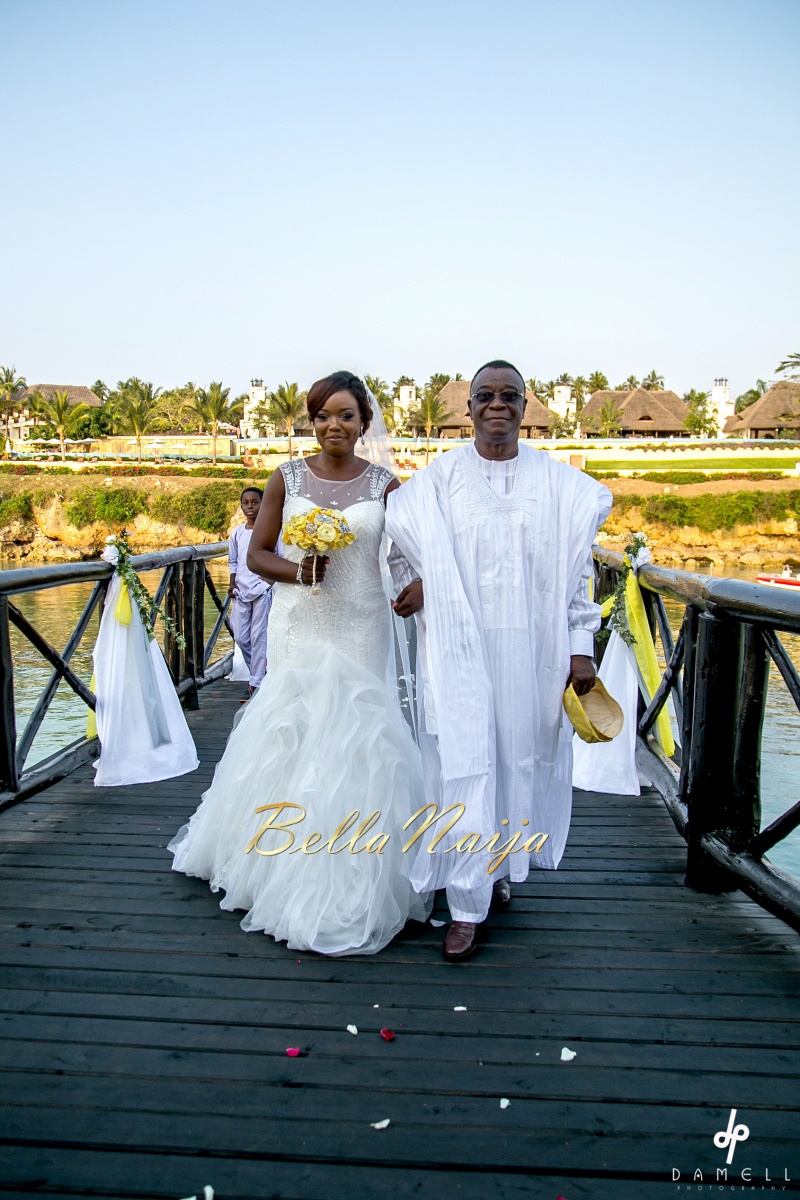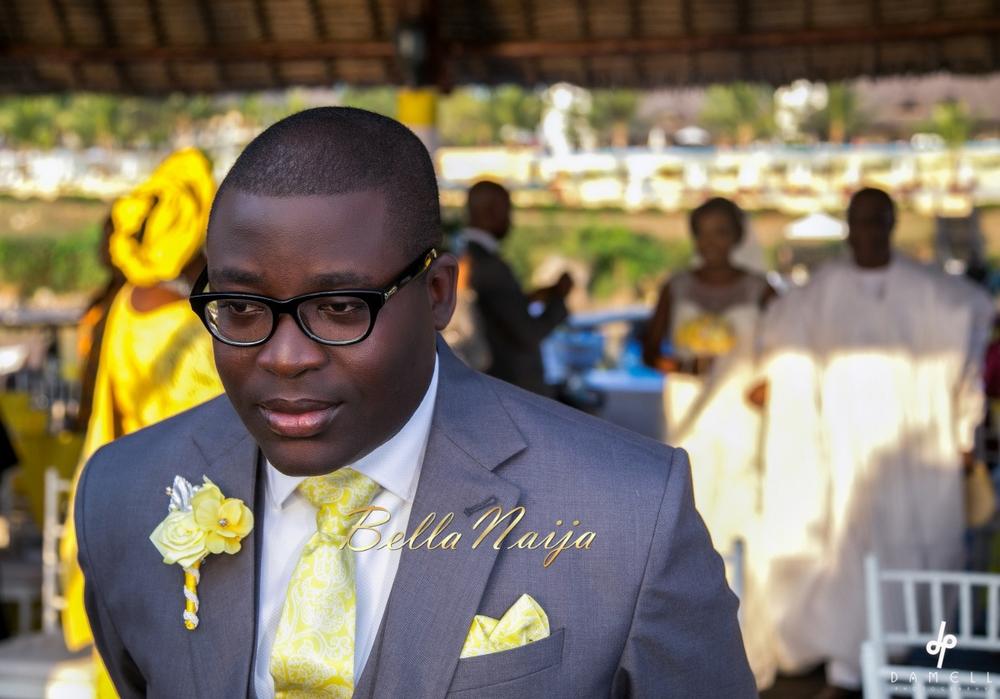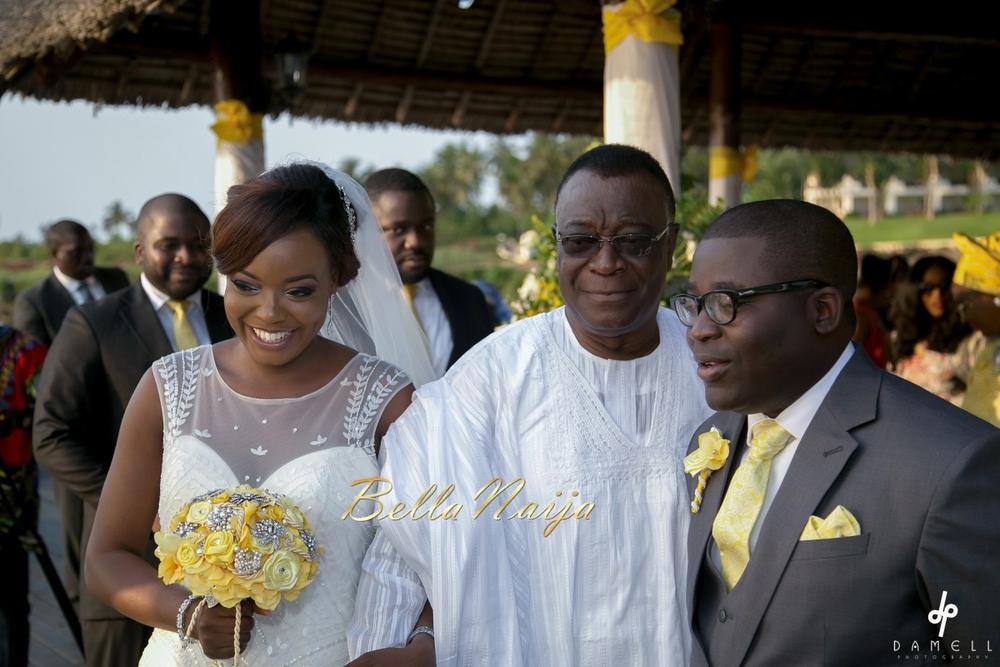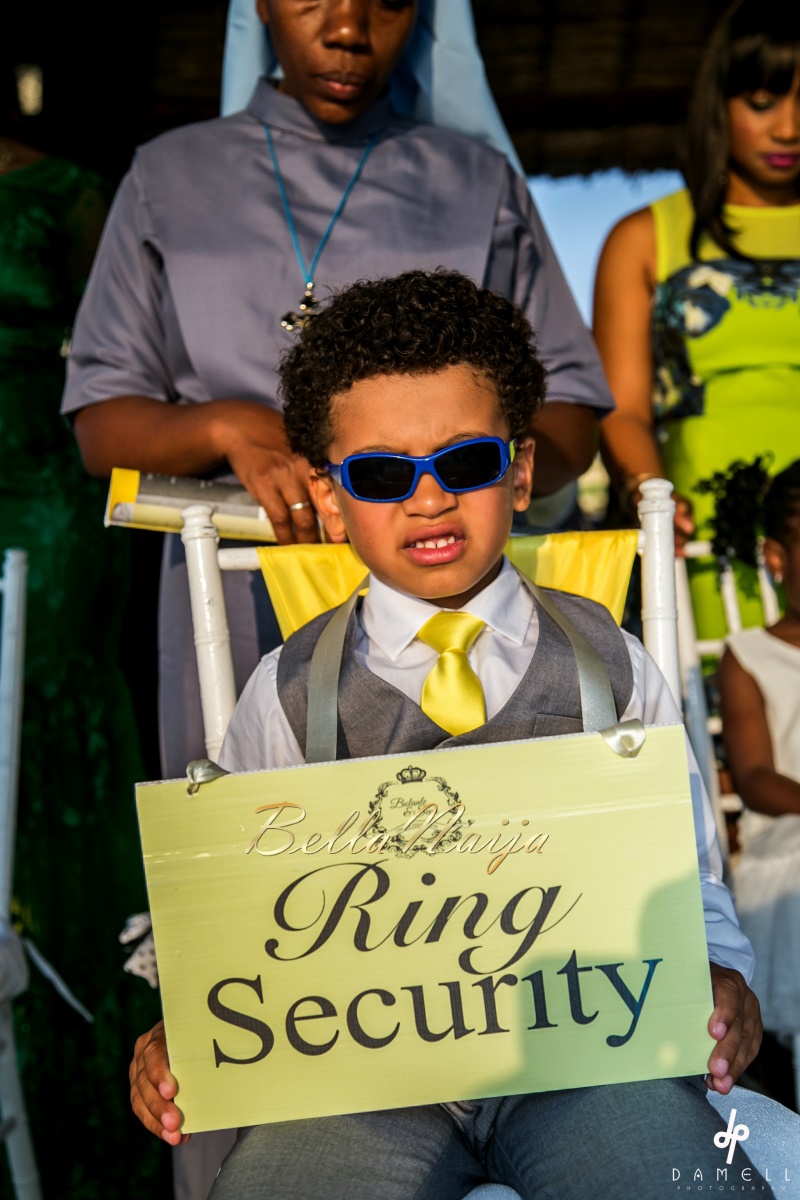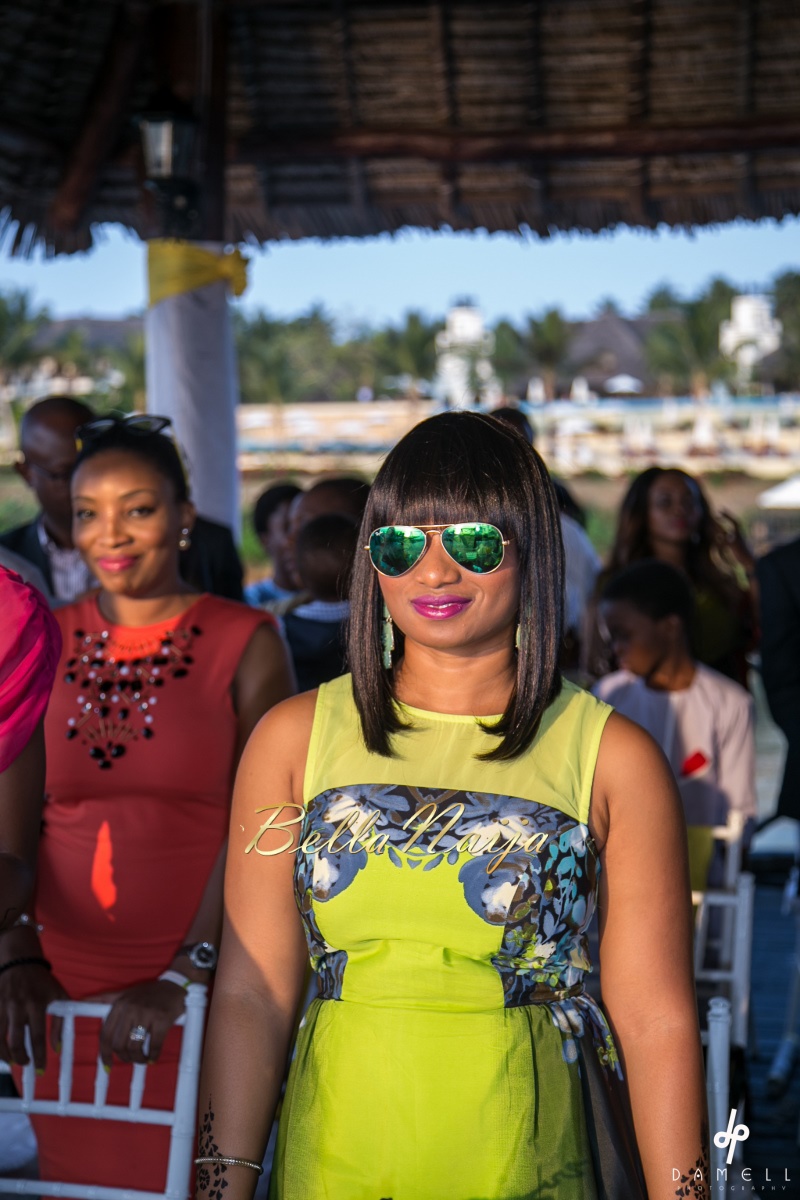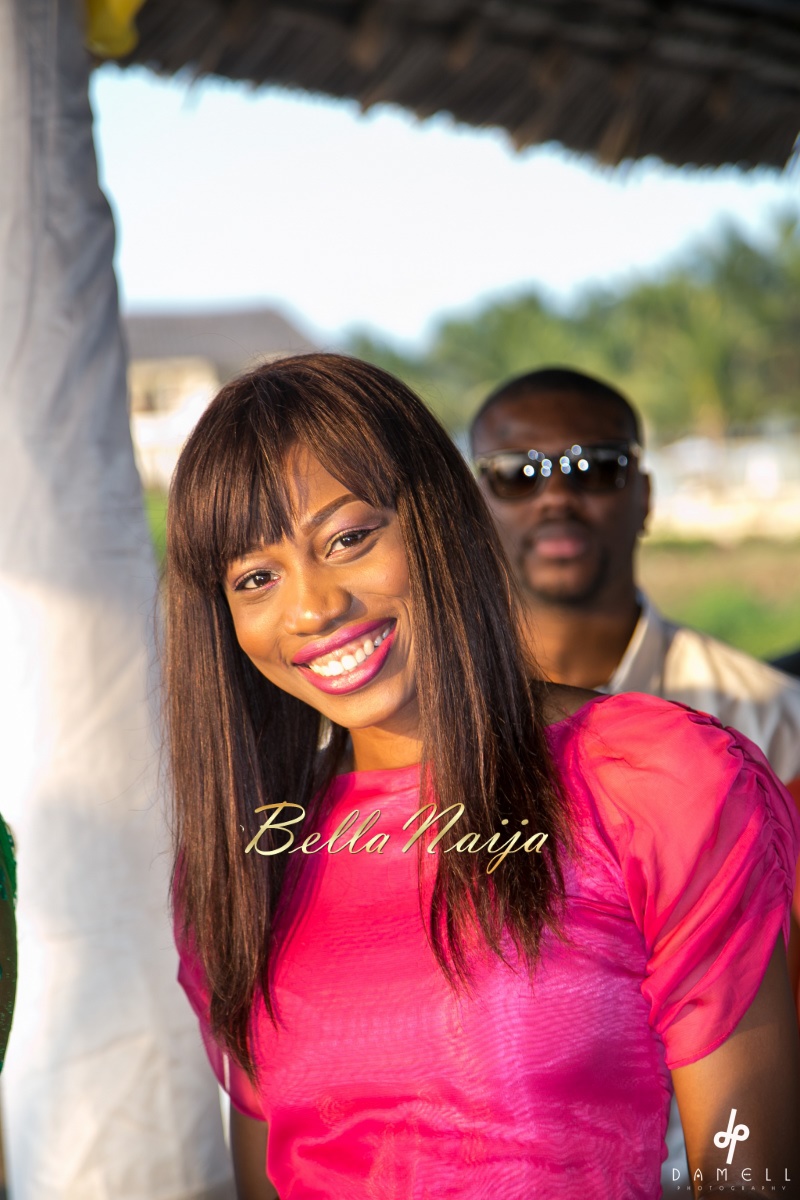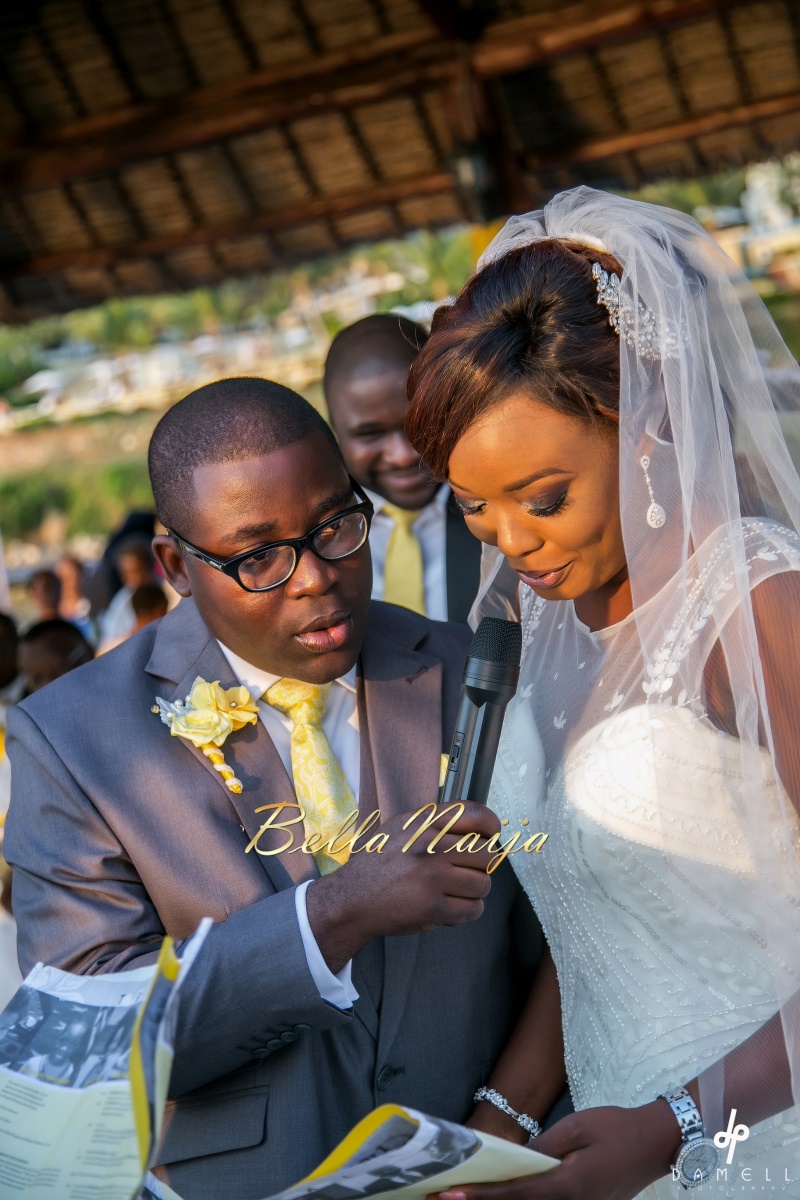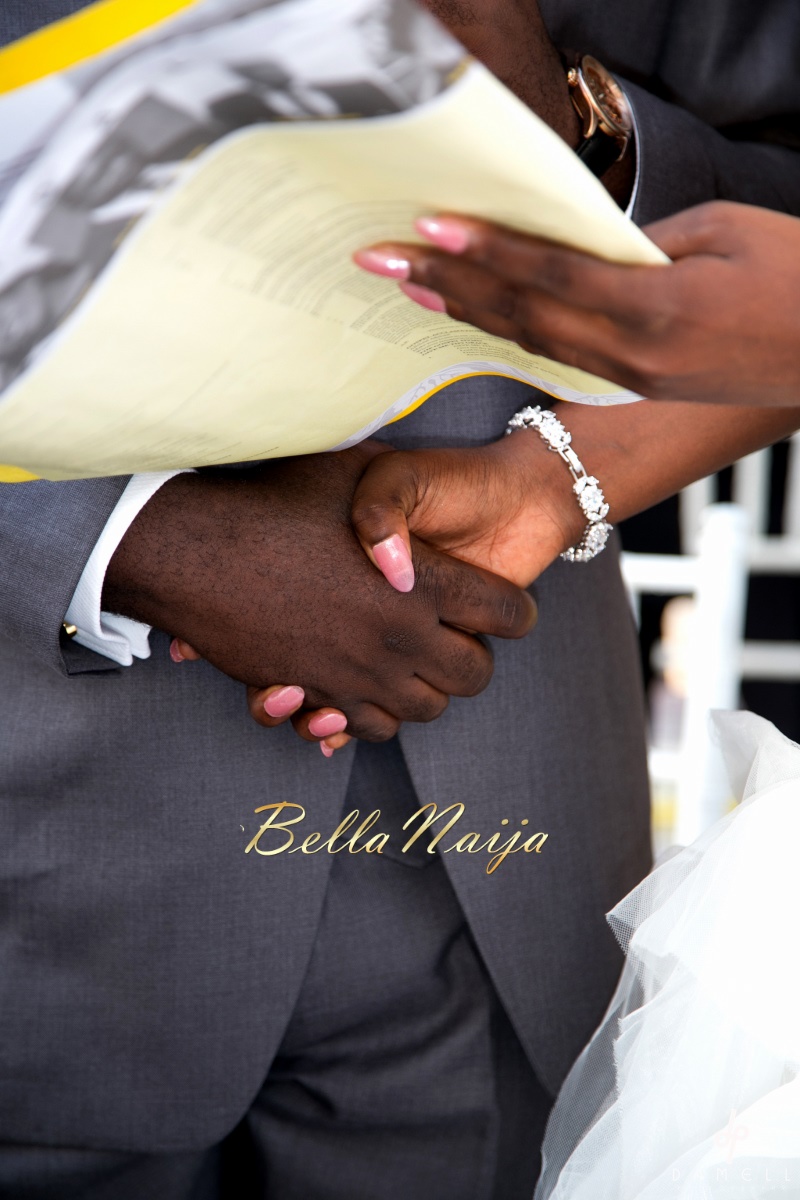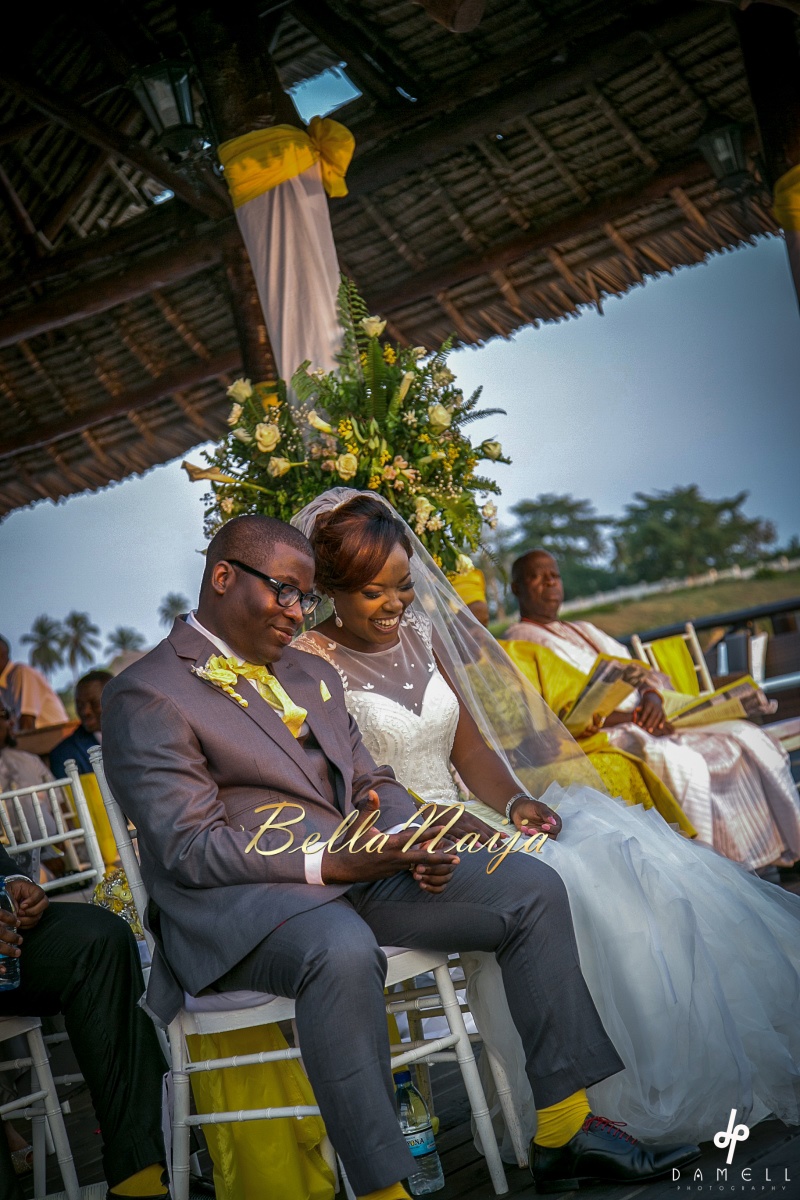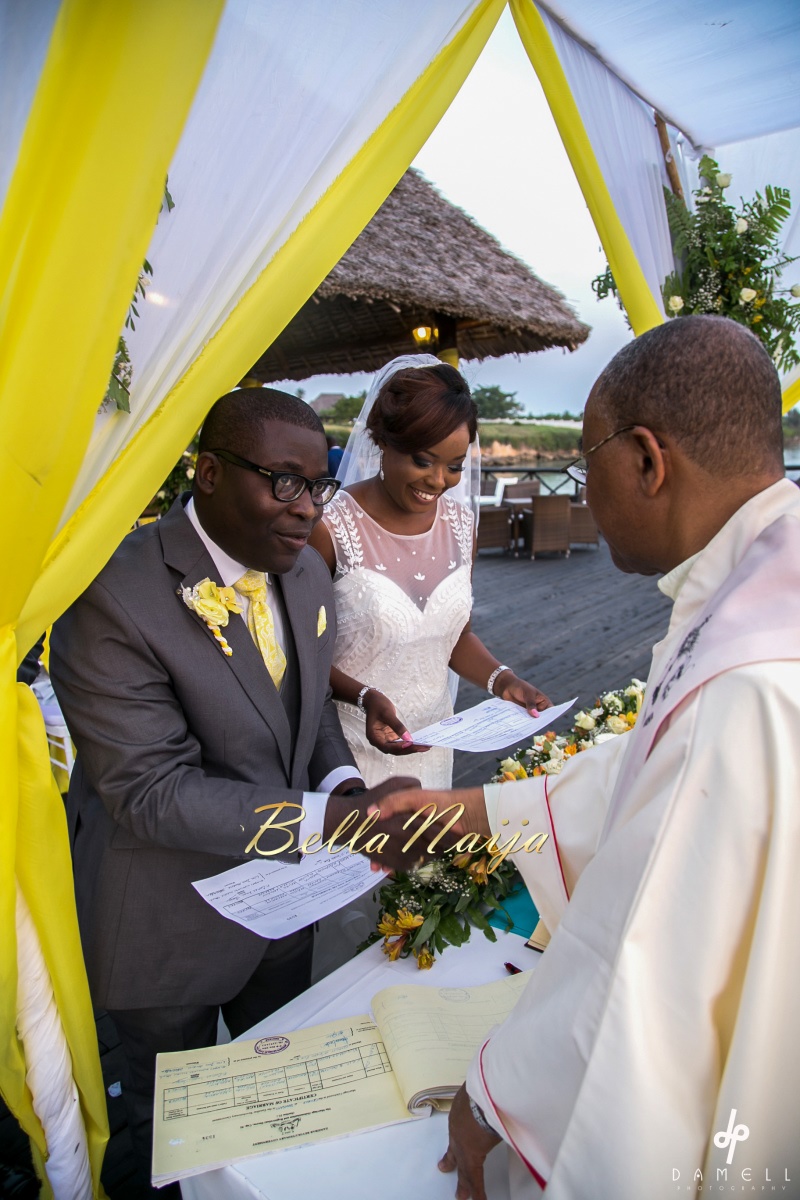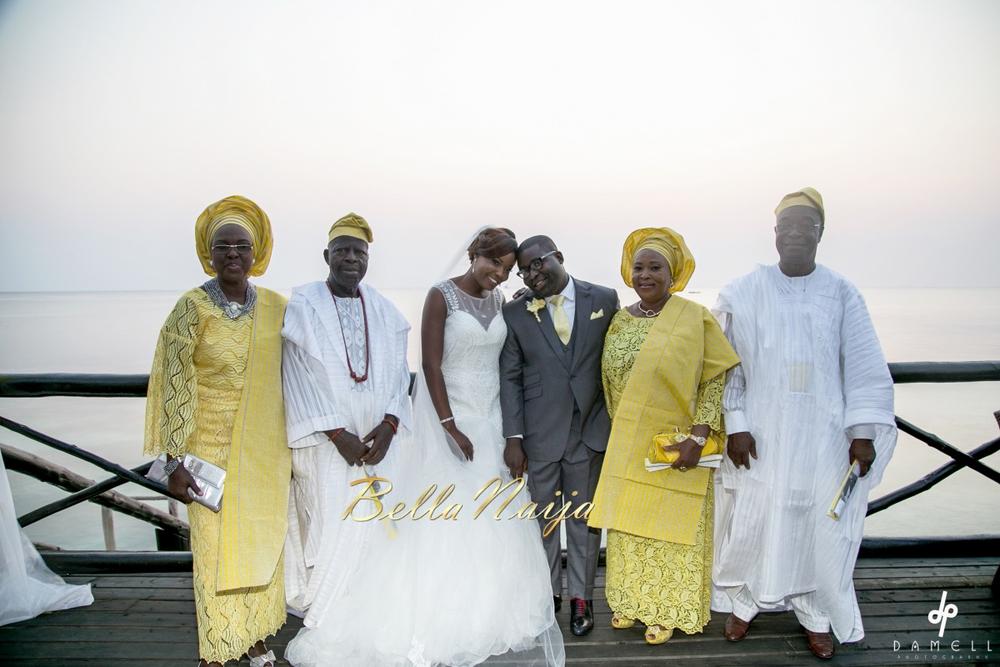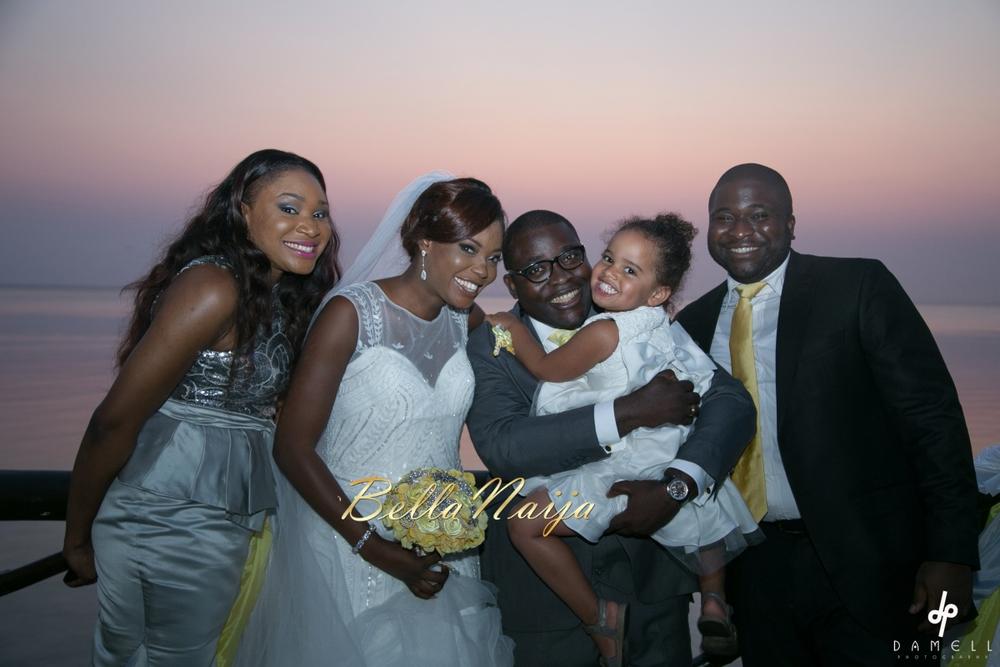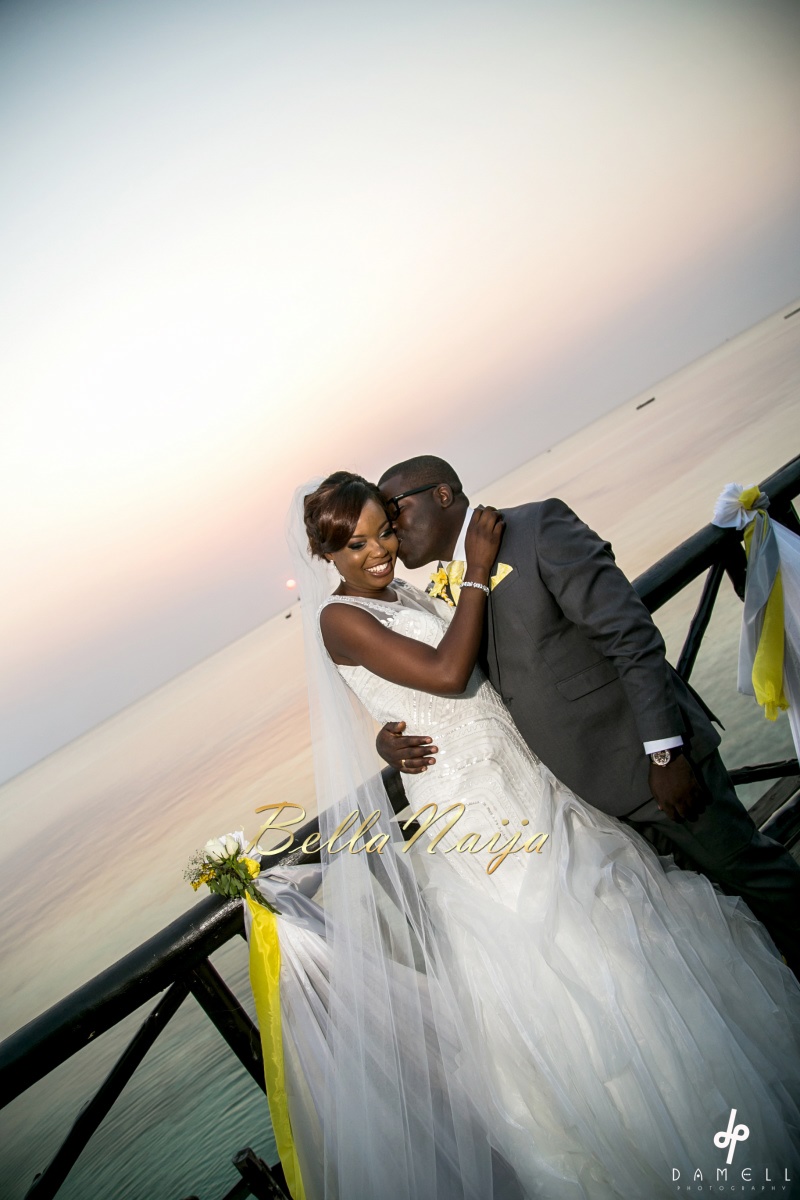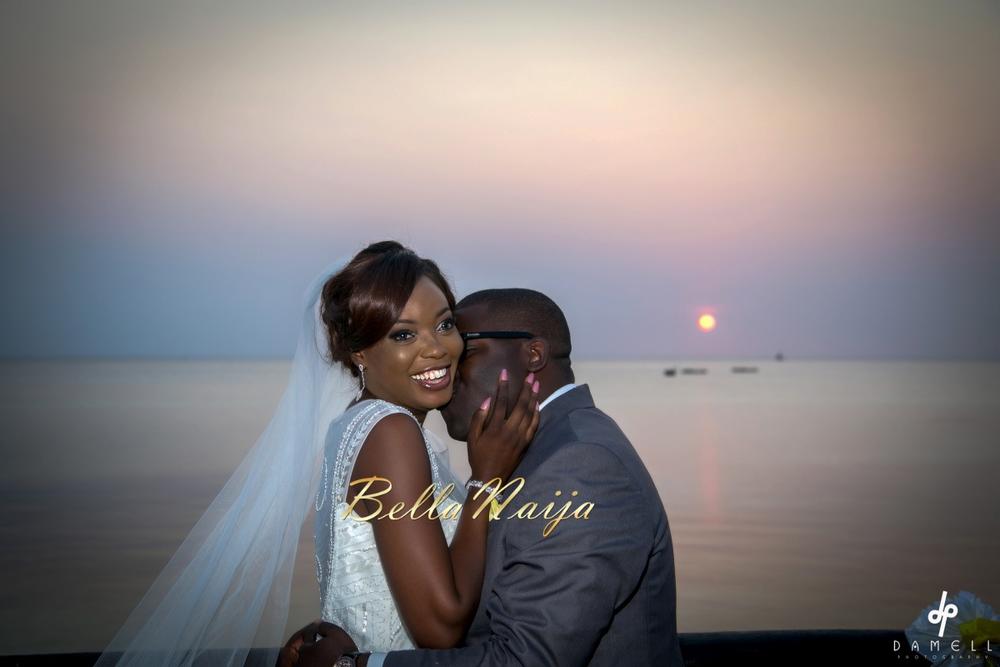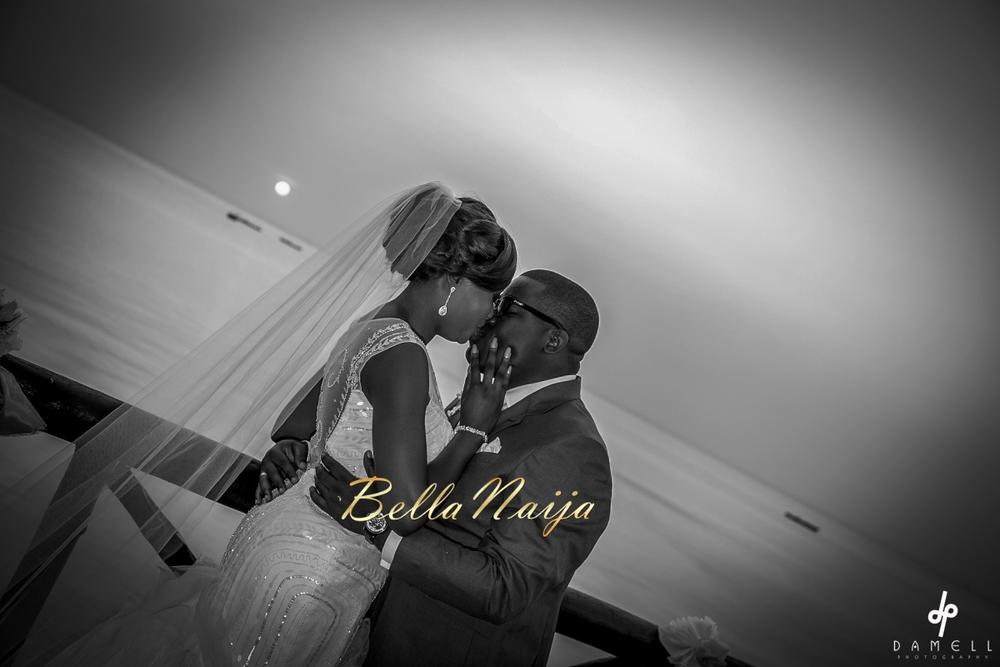 "After the service, we had cocktails and took pictures and everyone went to change into more casual outfits for the dinner on the beach. We had 65 of our closest and dearest and it couldn't have been any more perfect. We partied and danced till the early hours of the morning."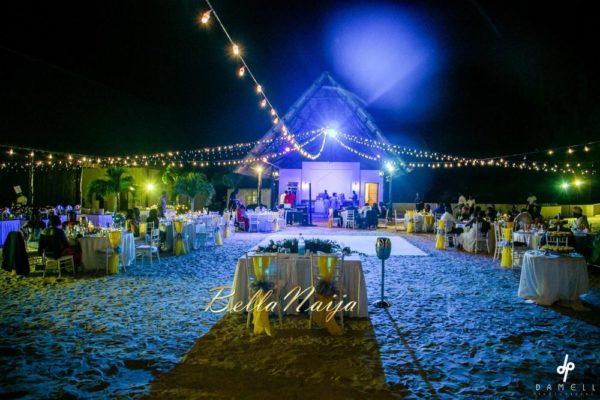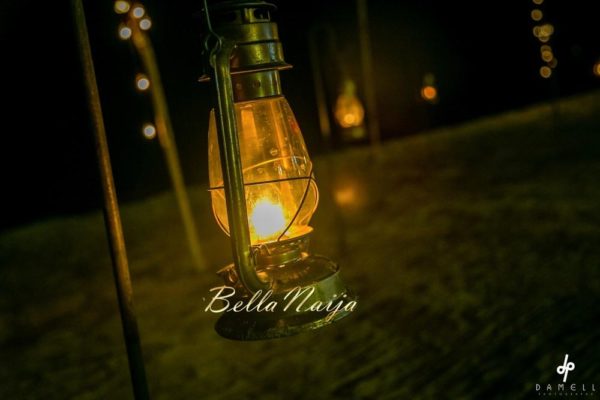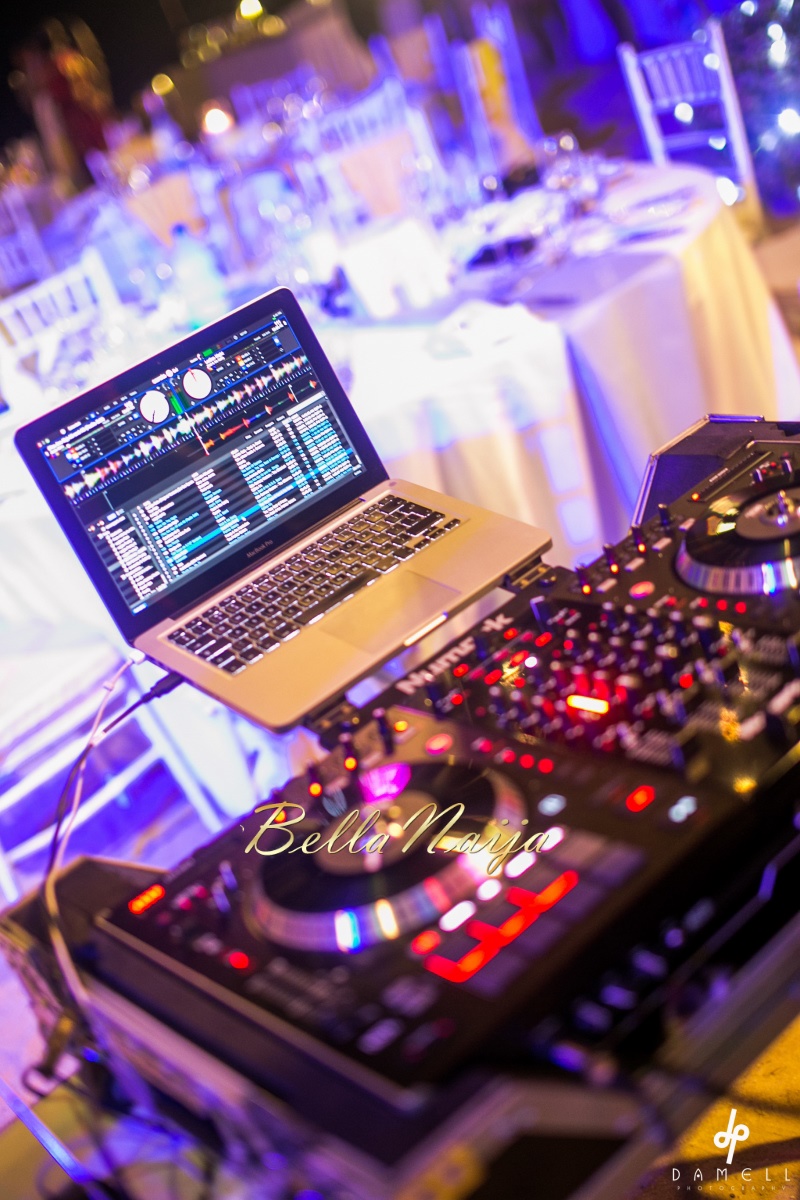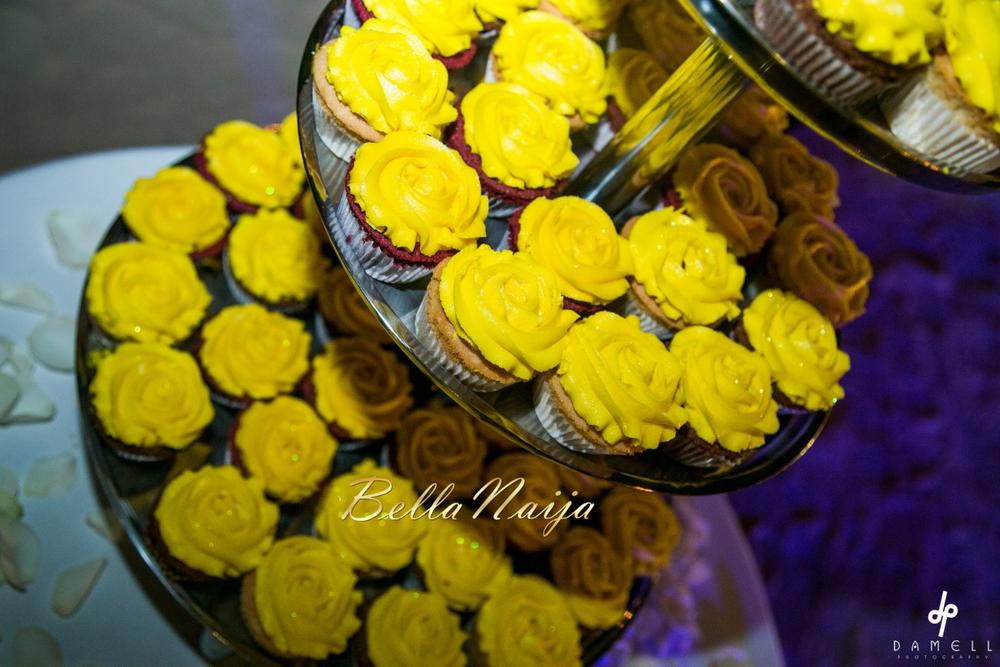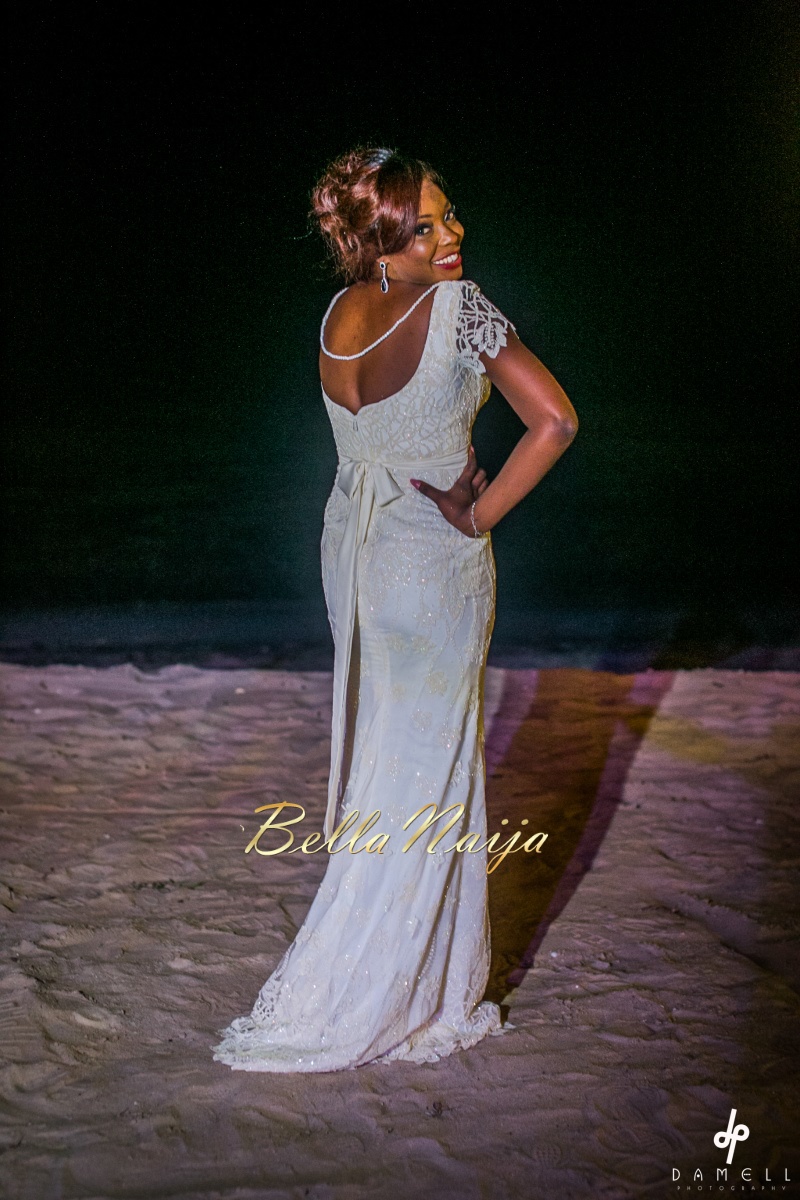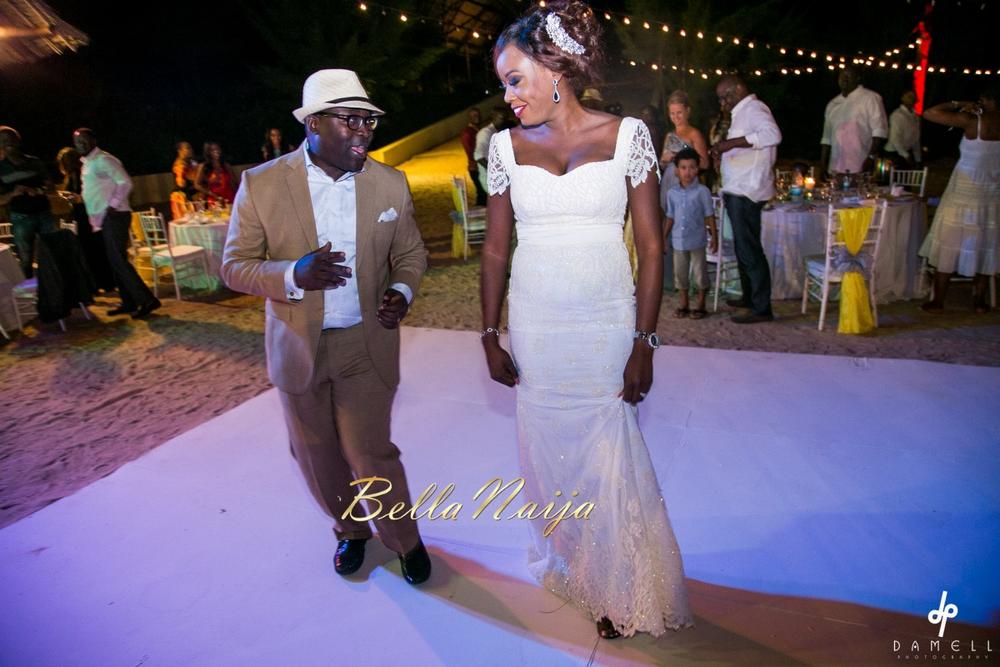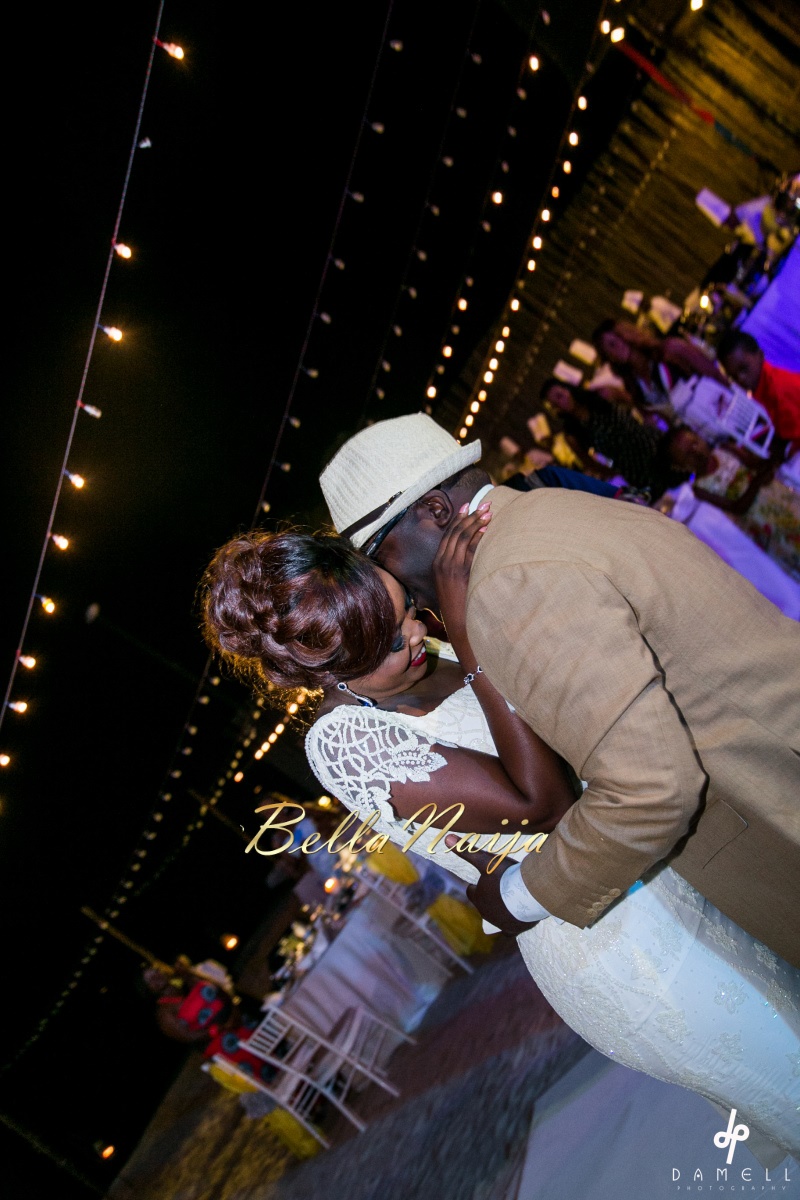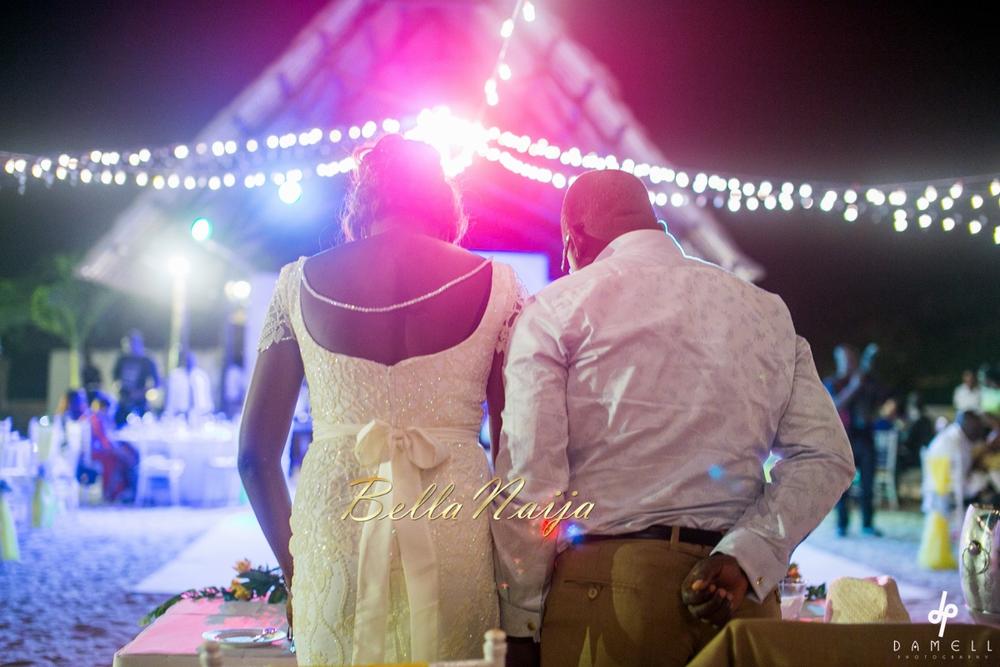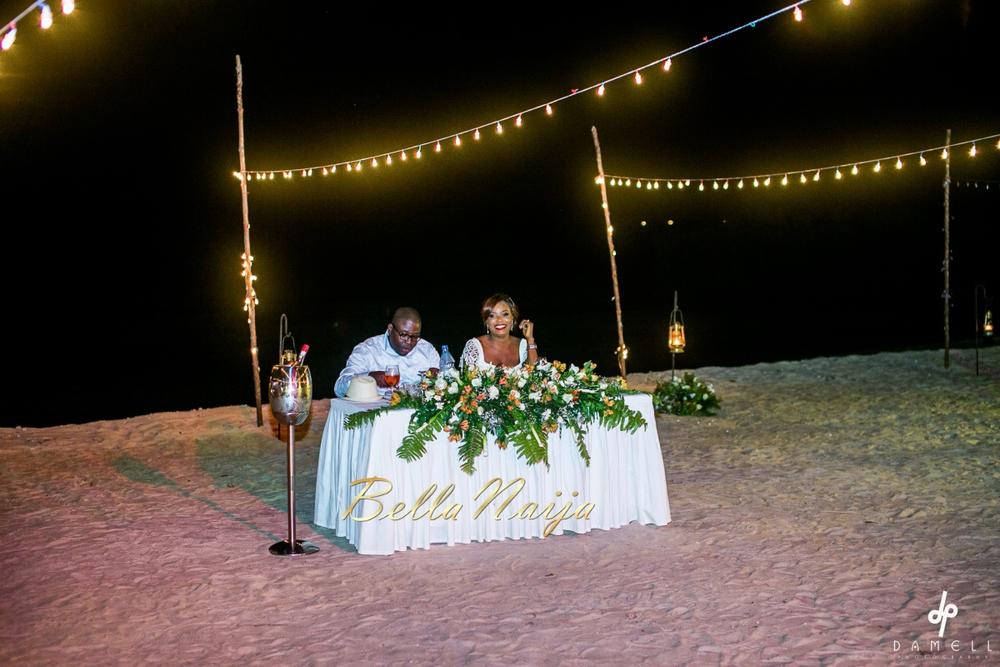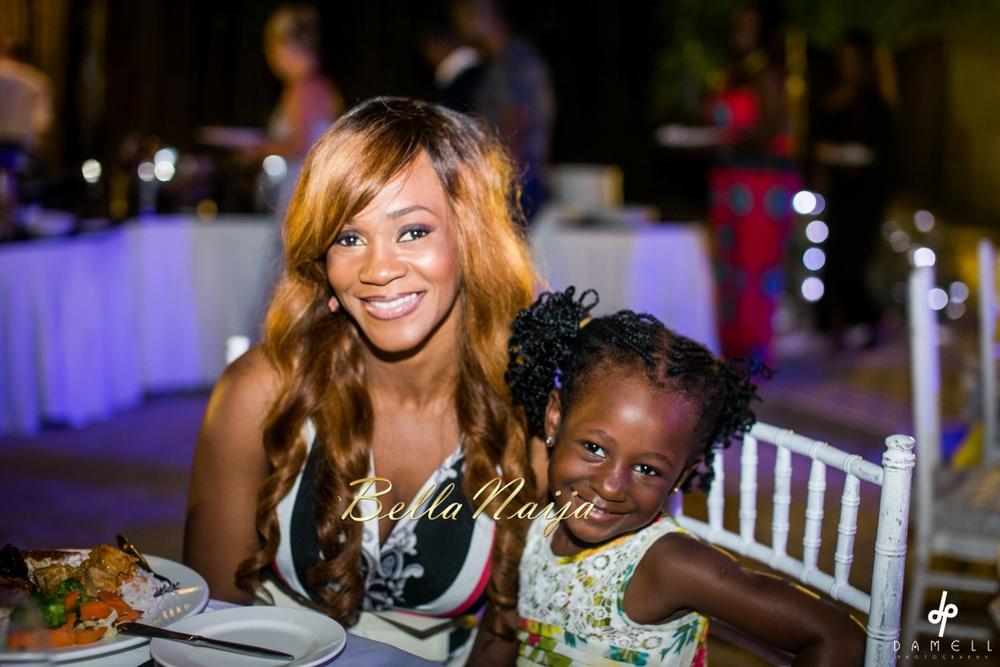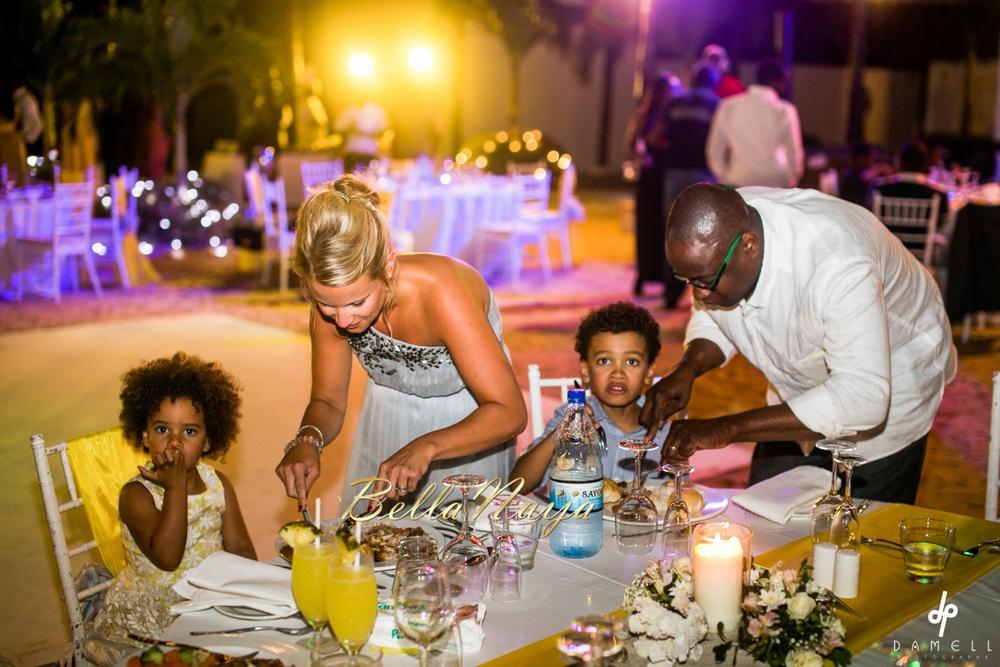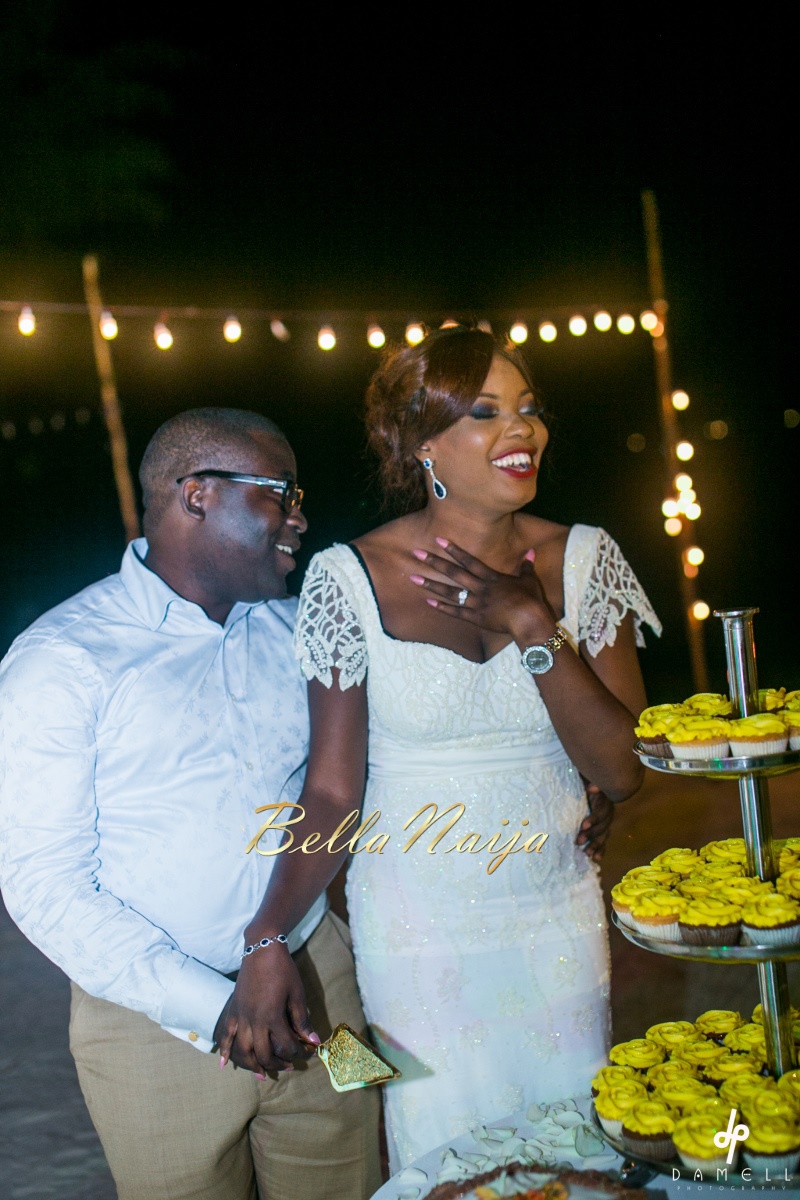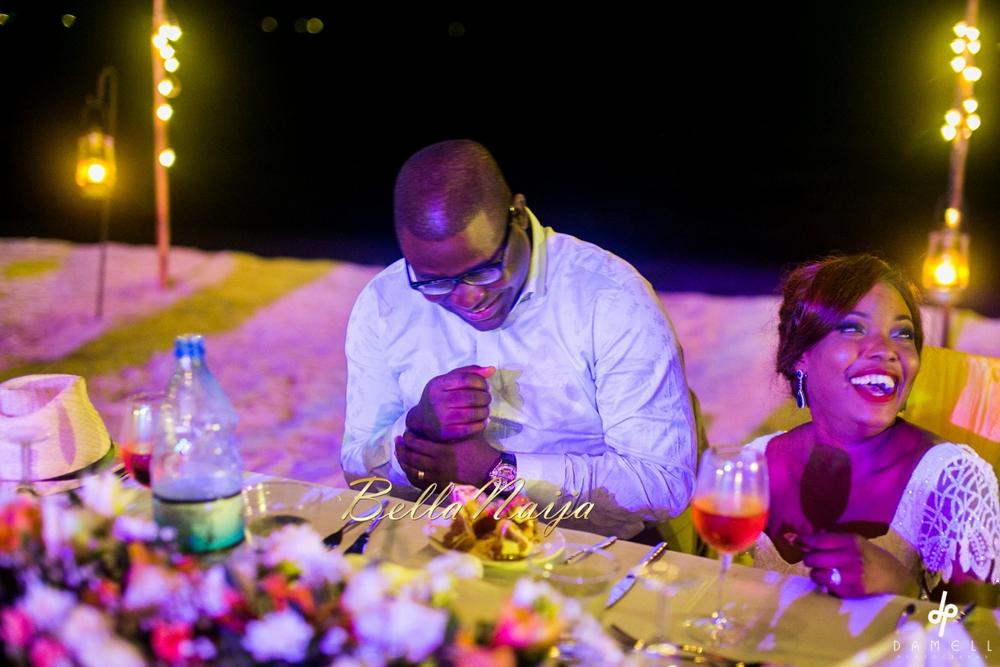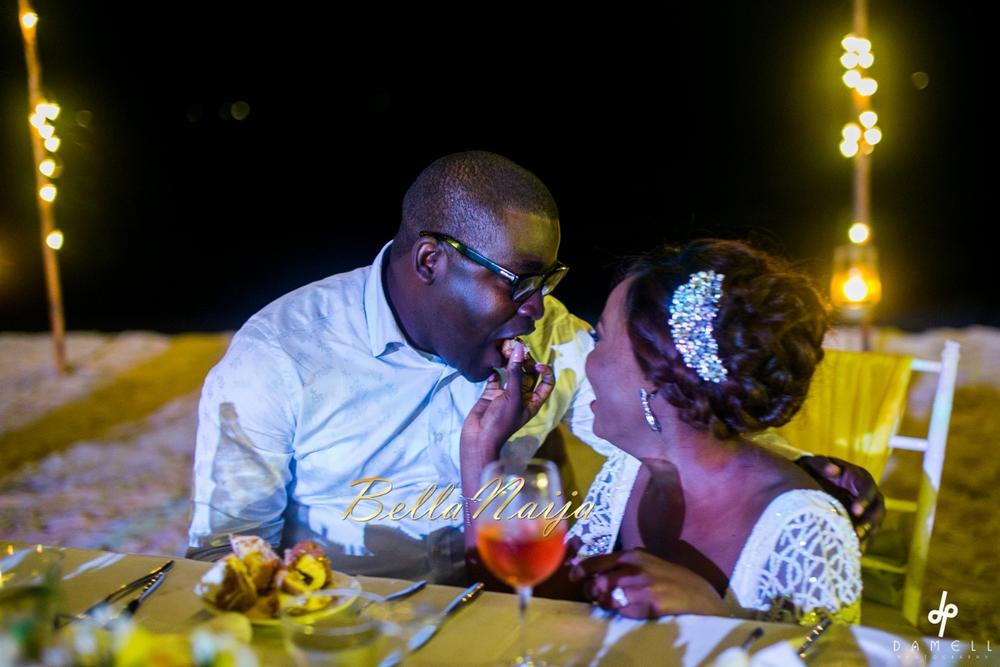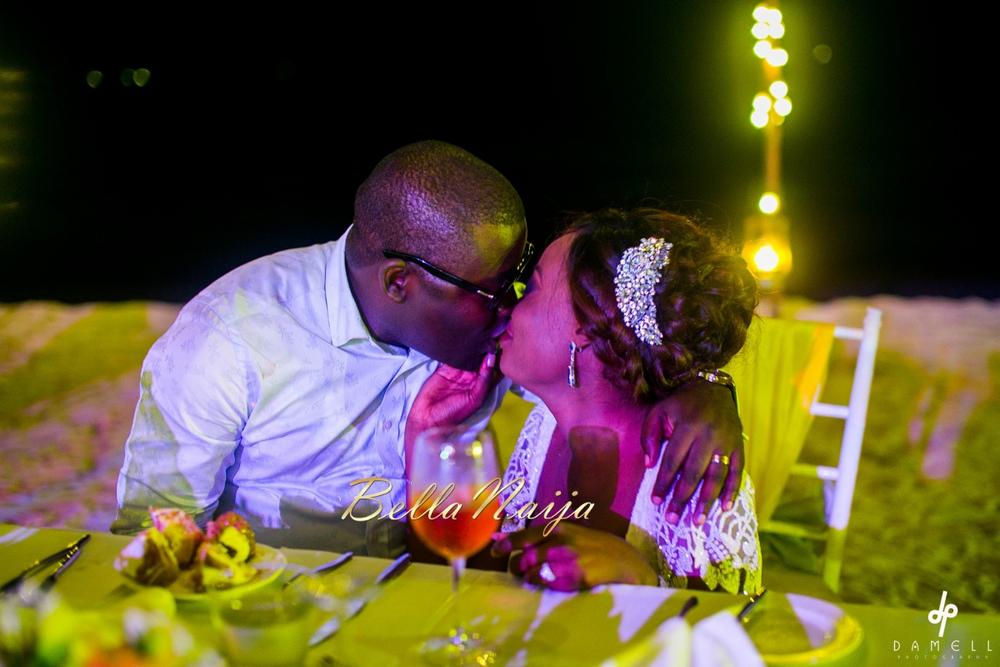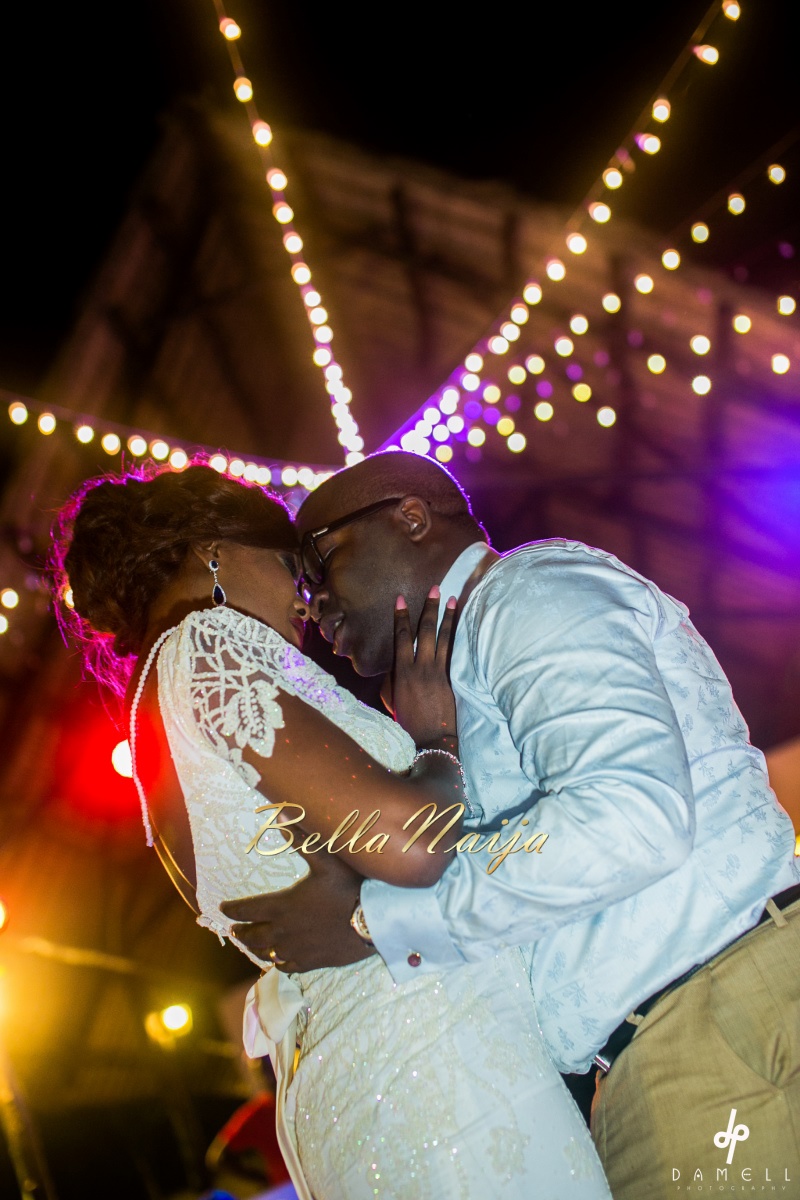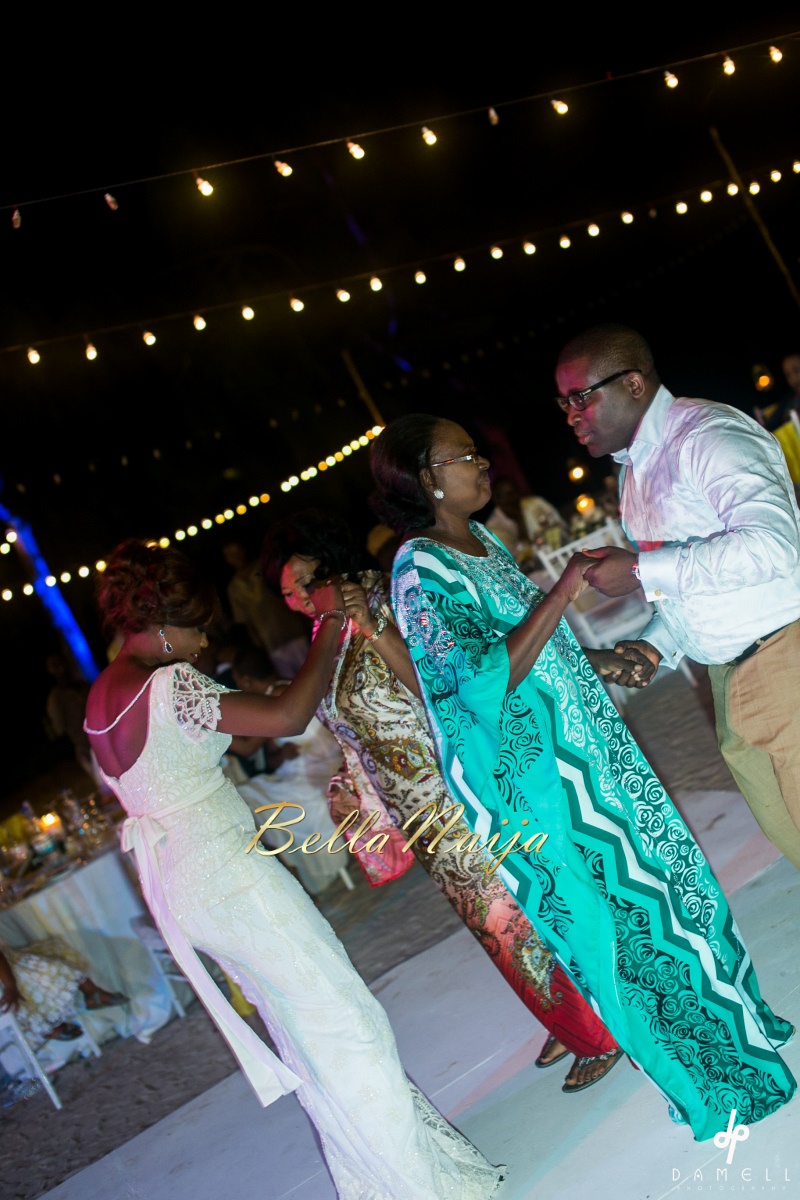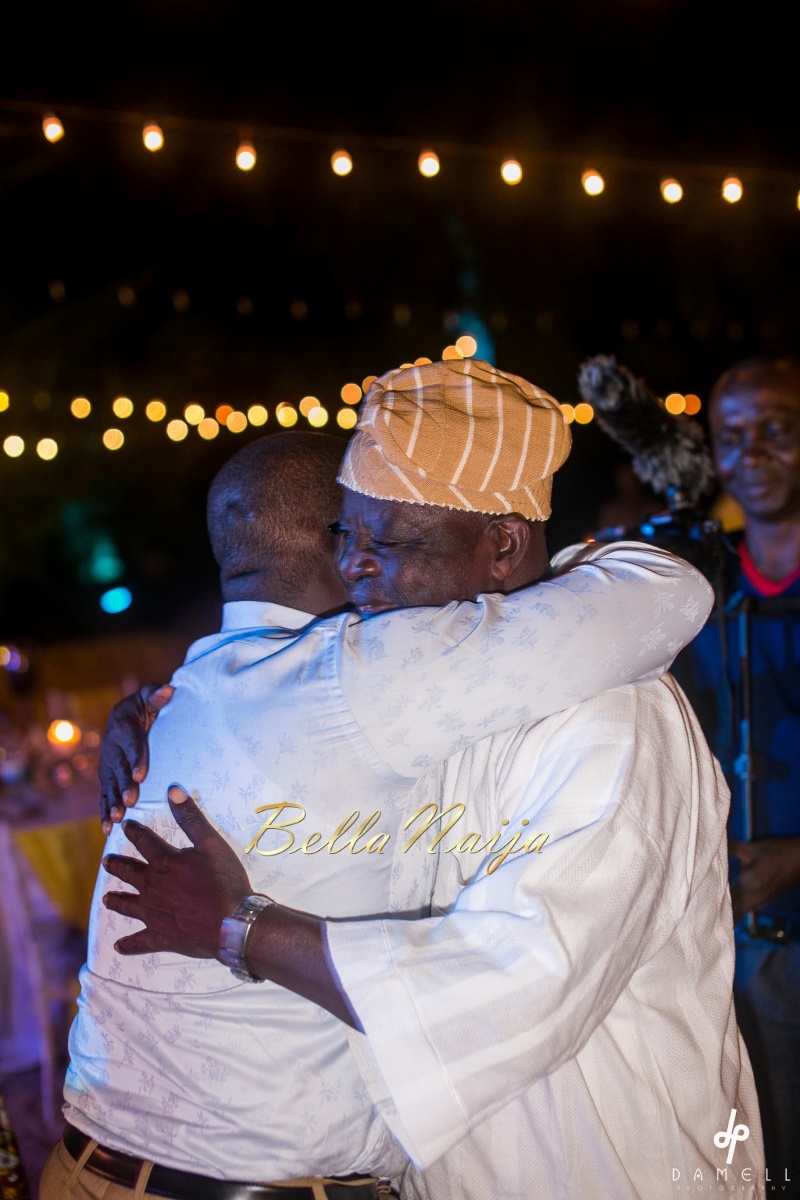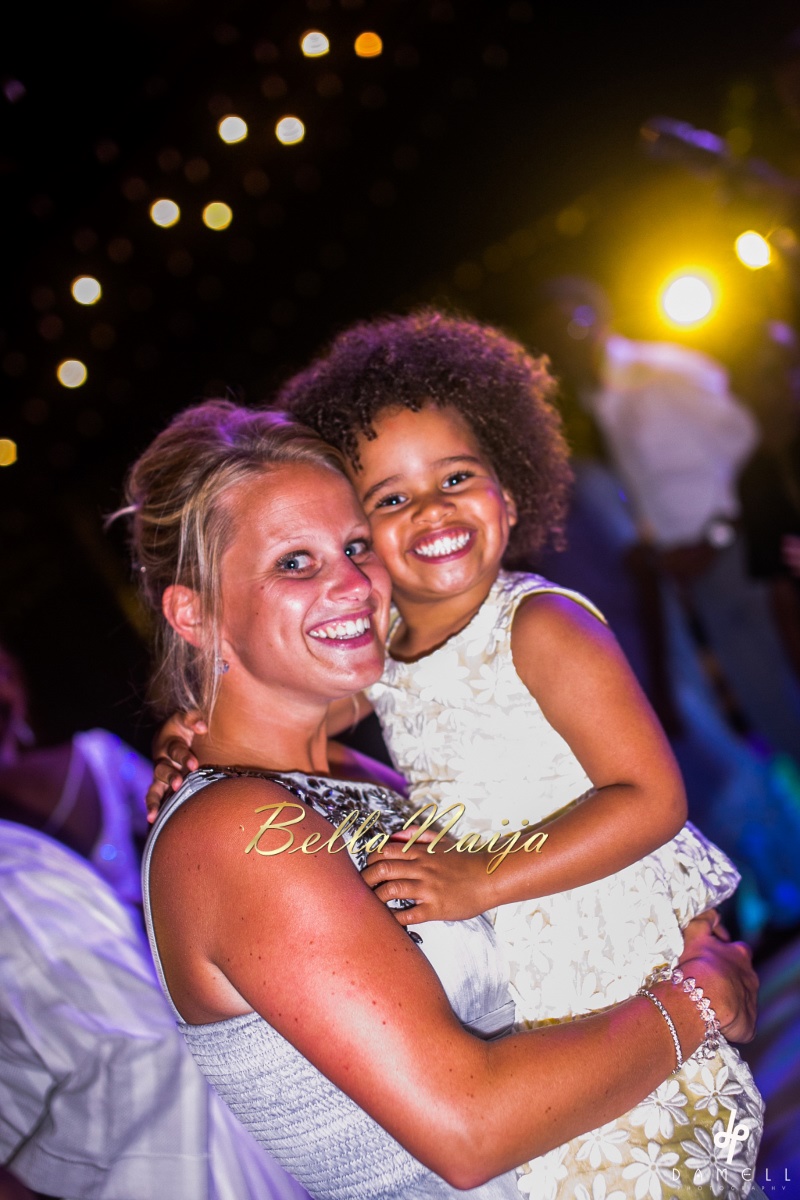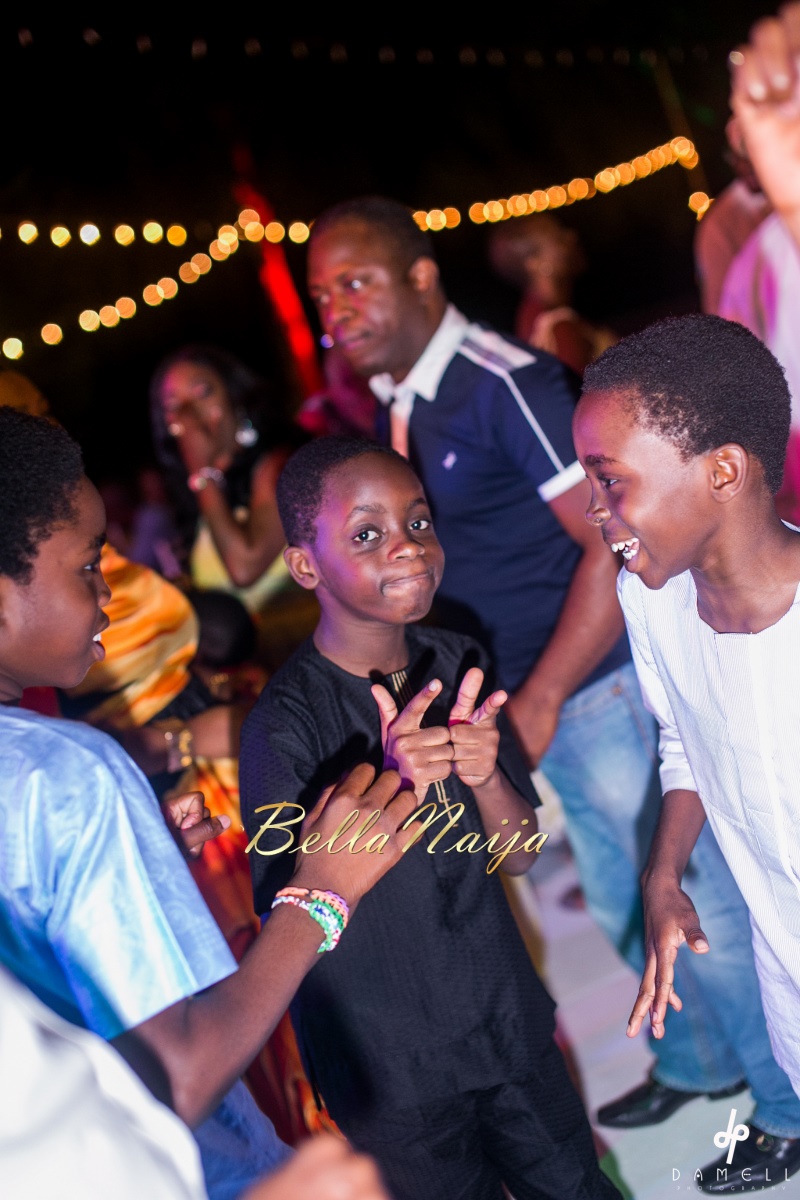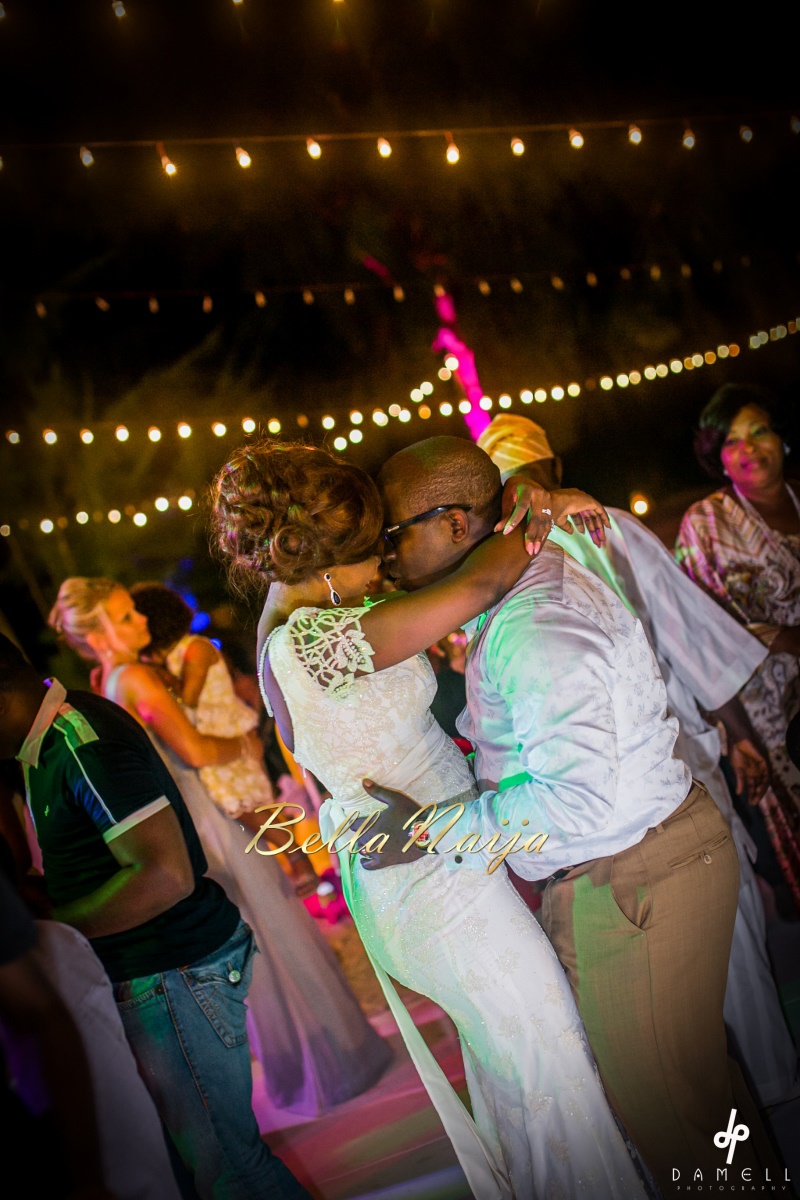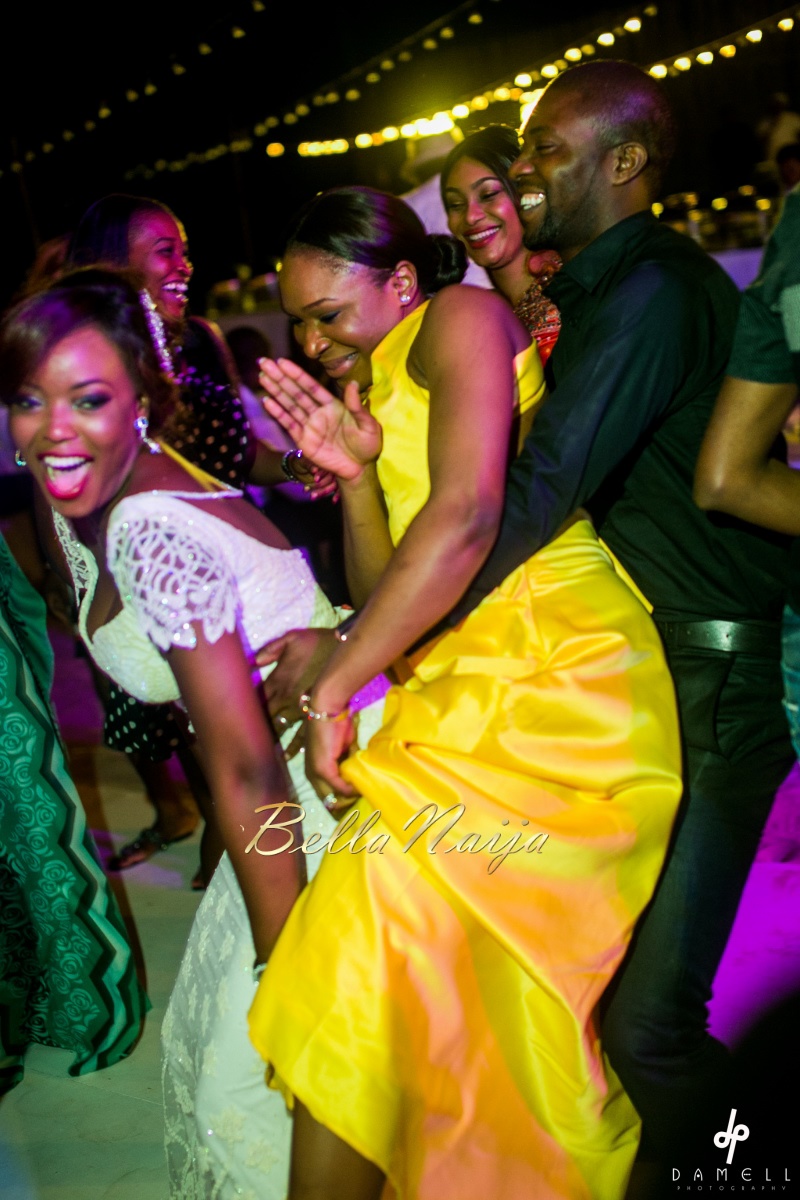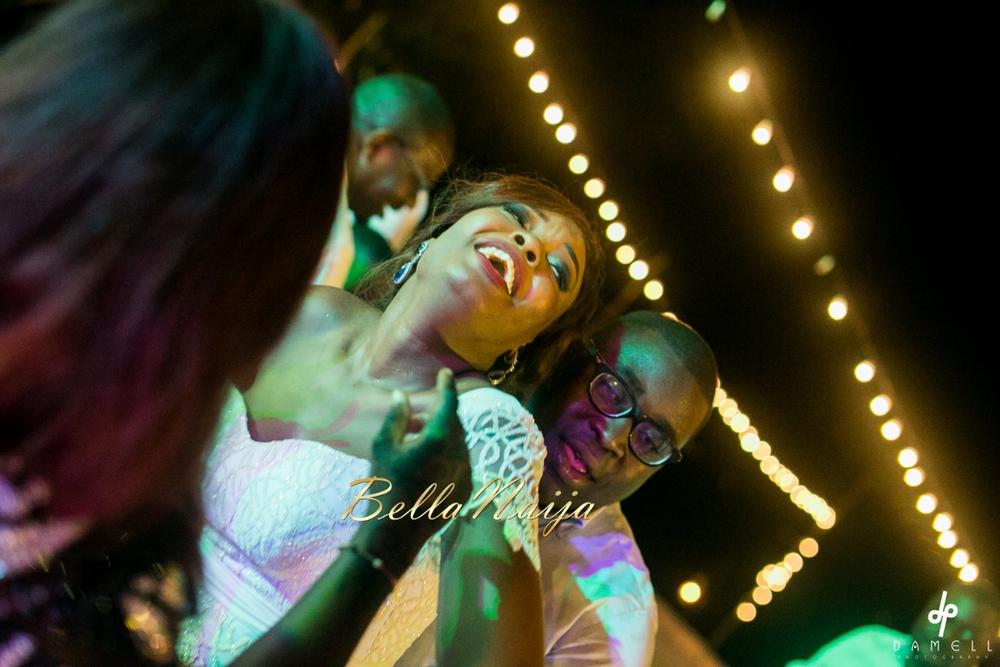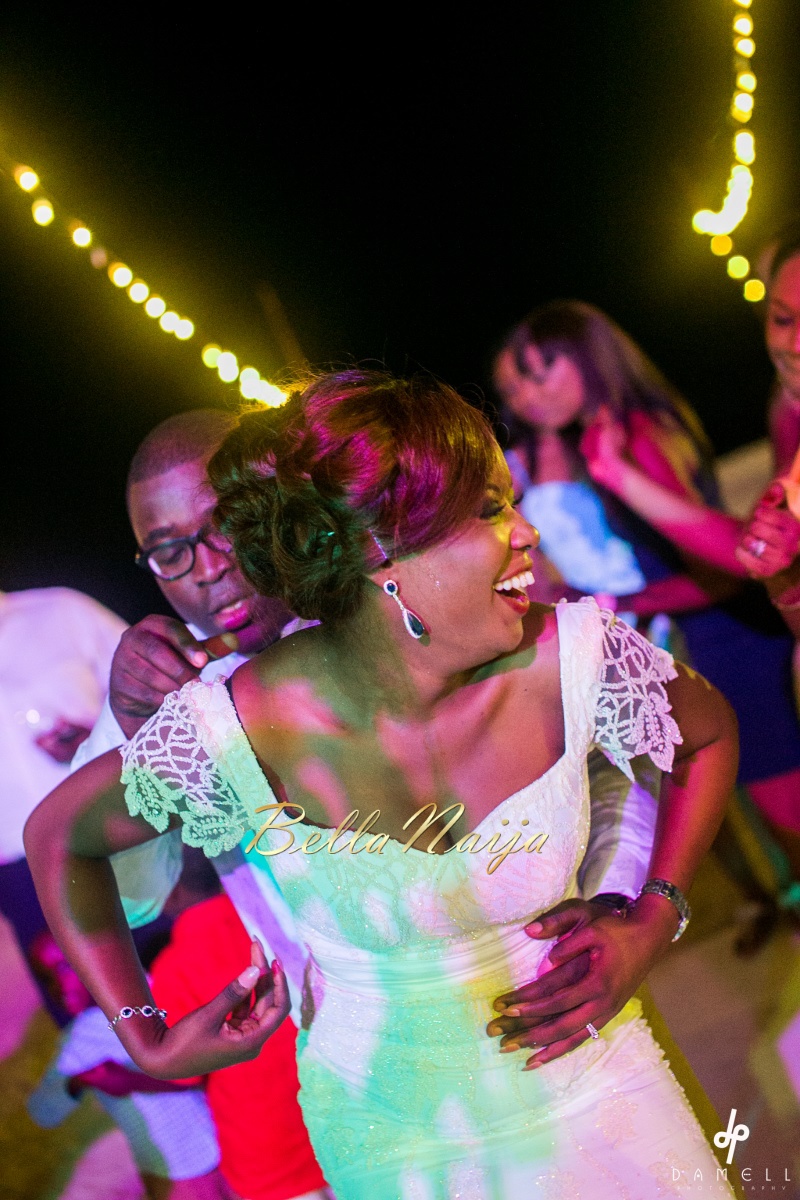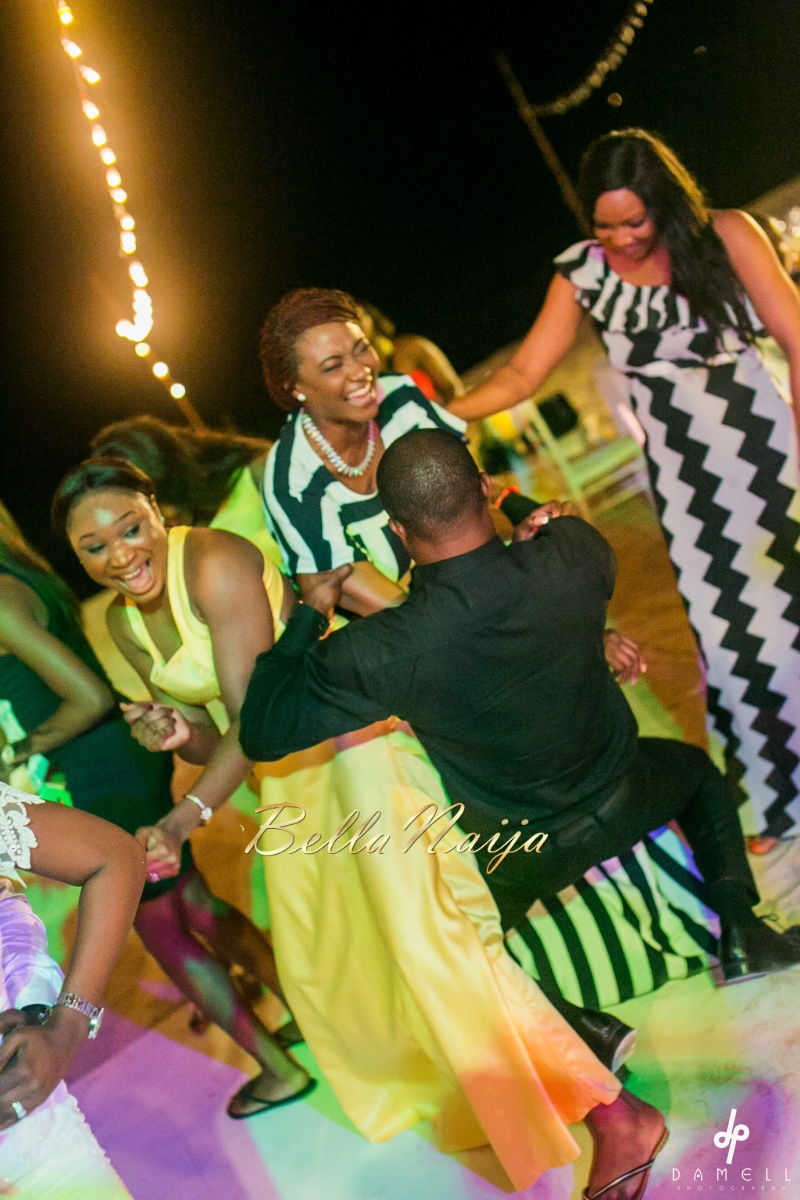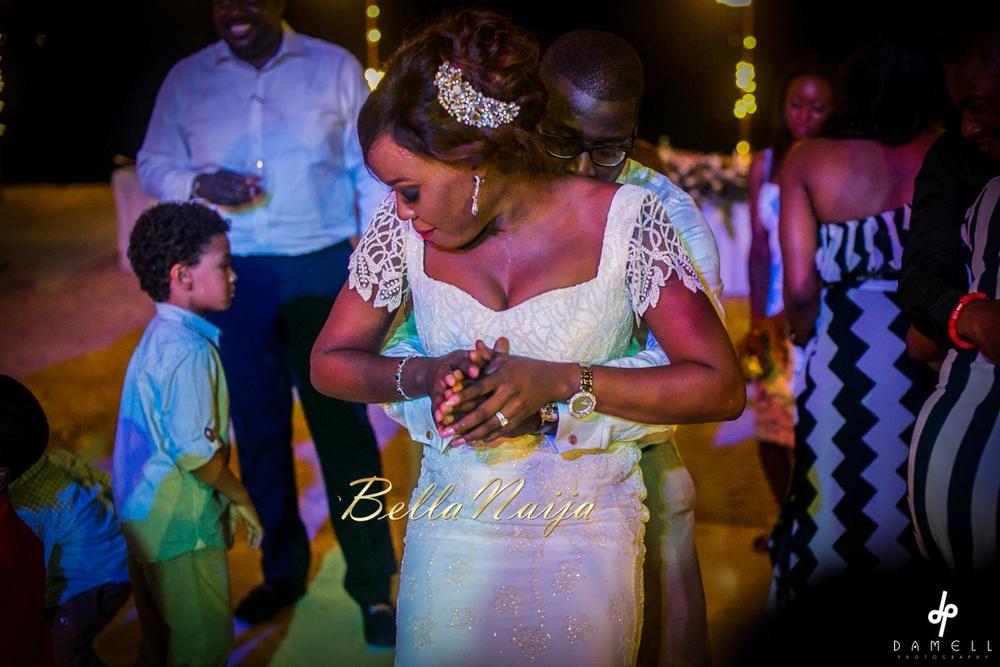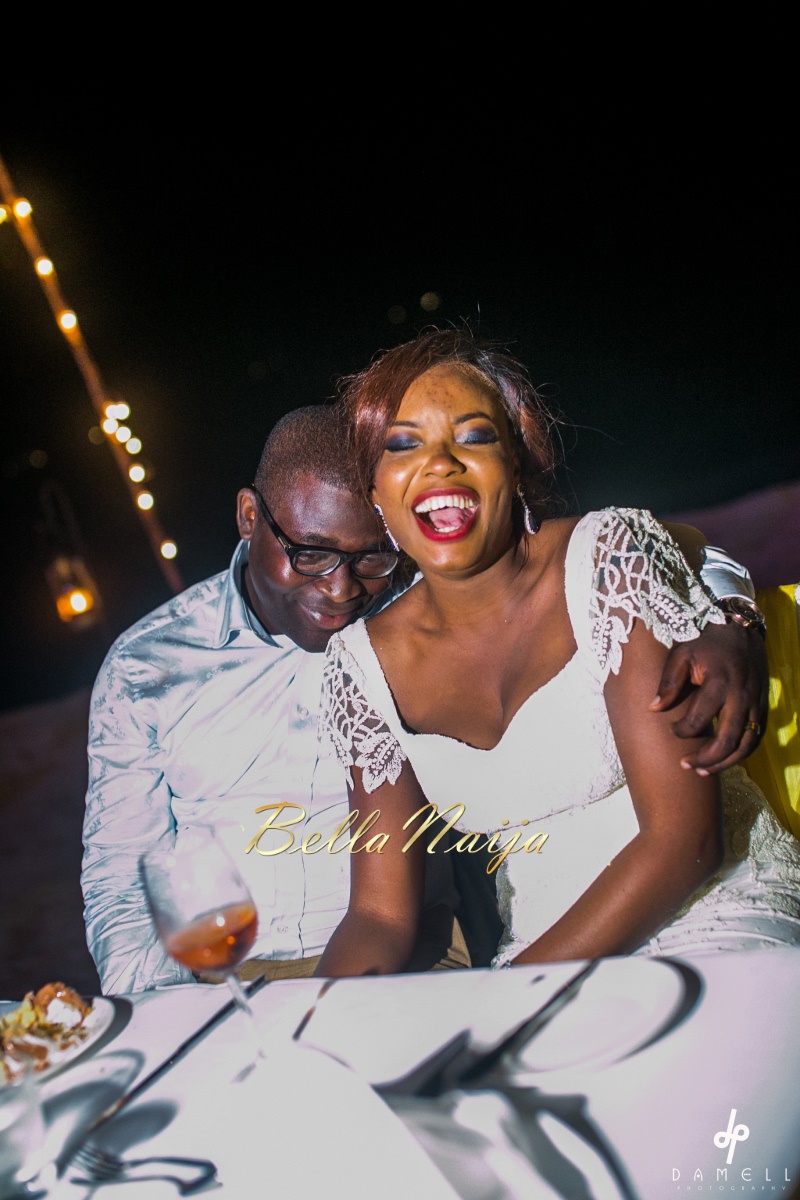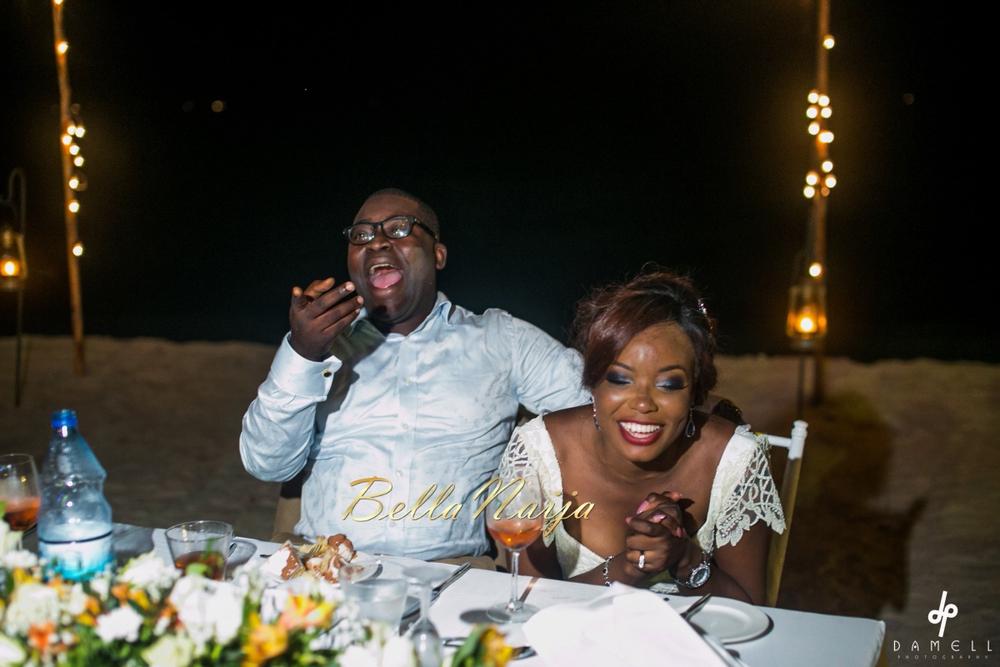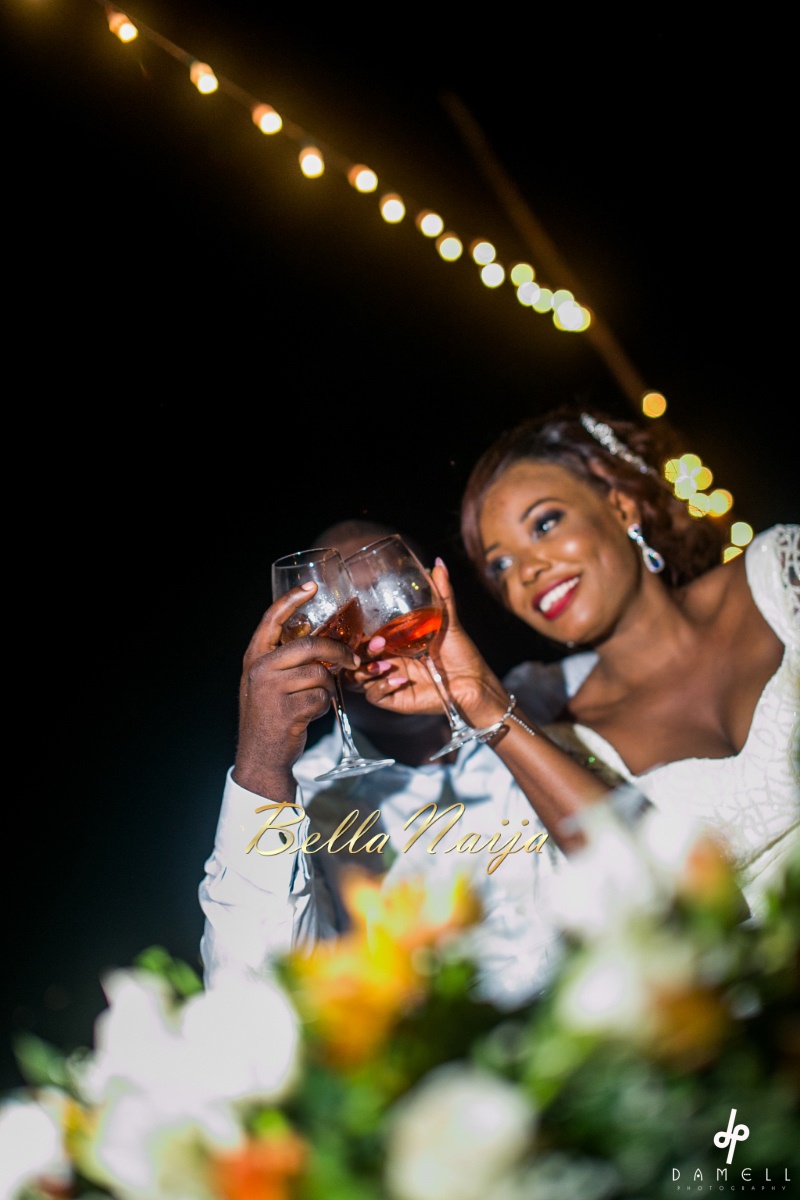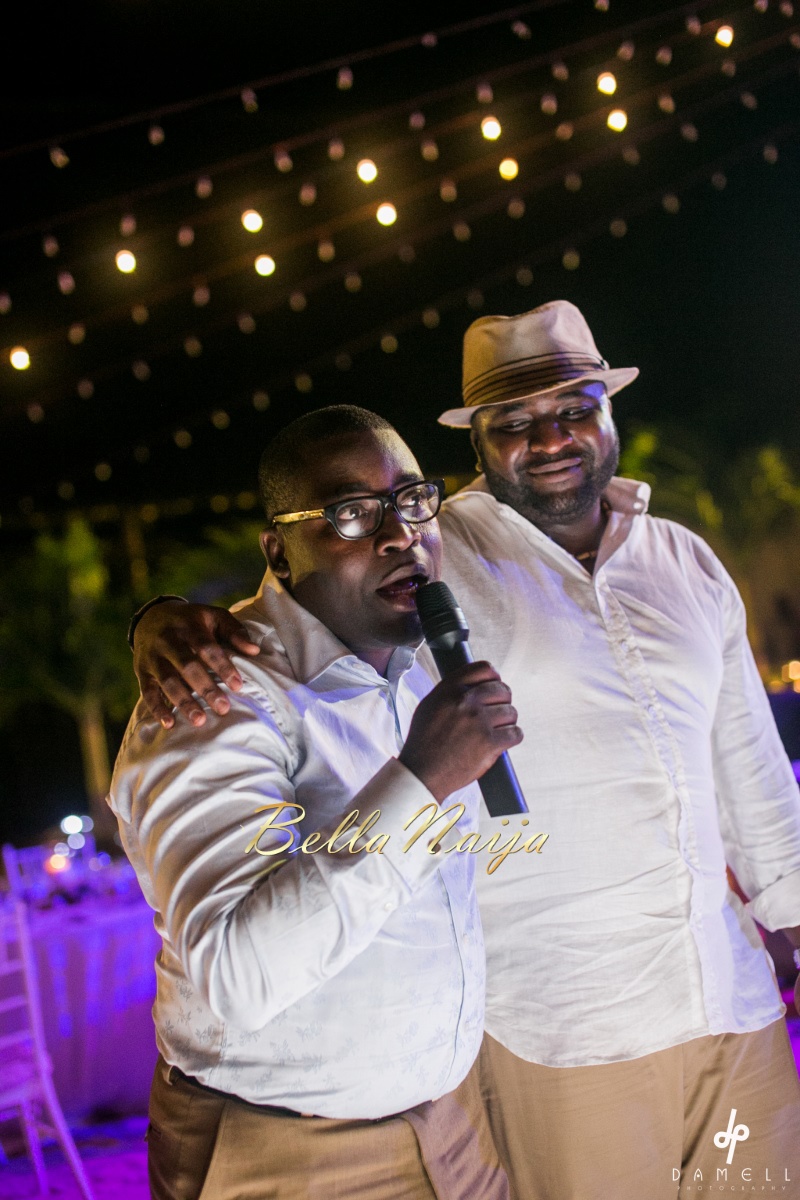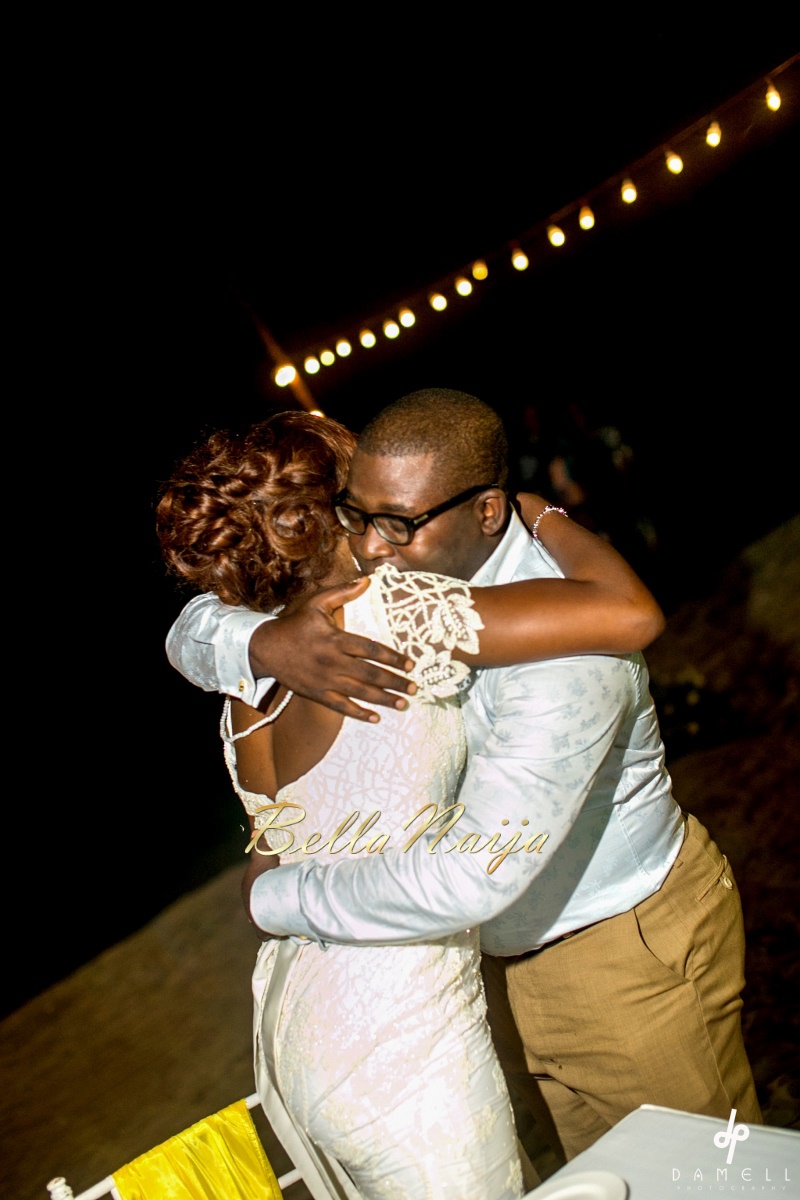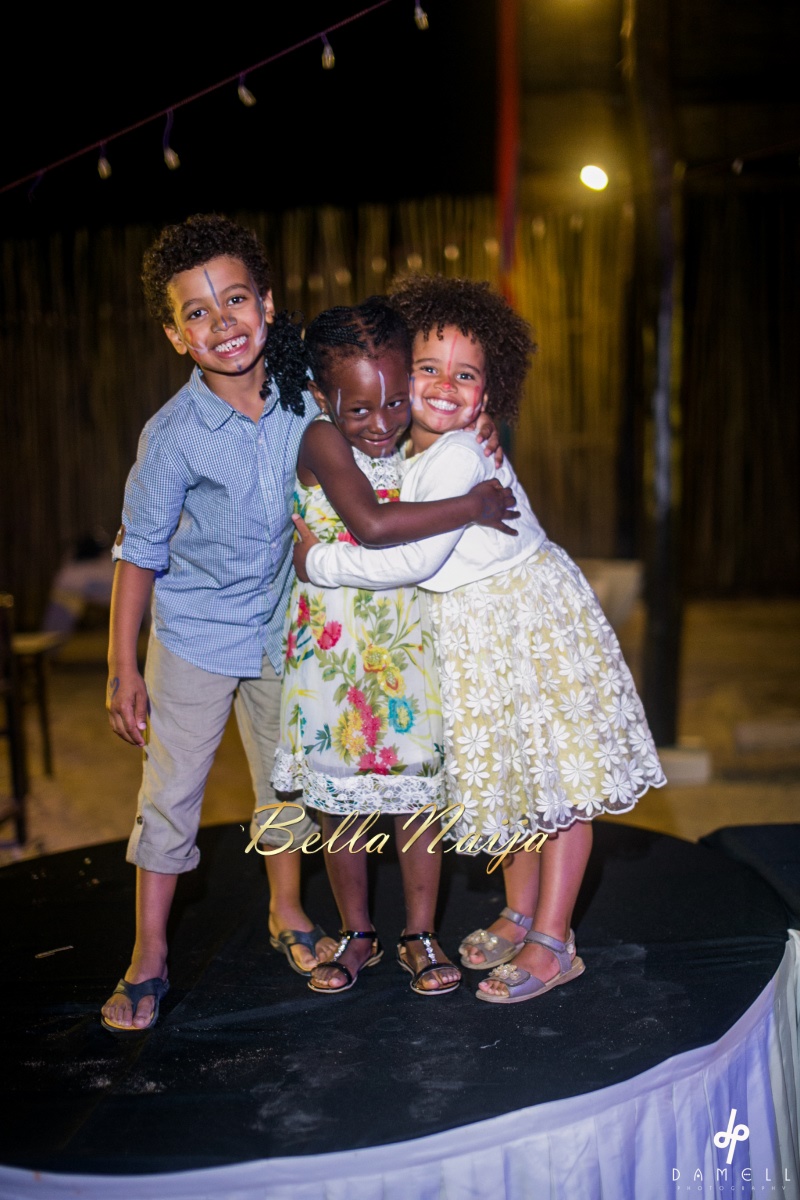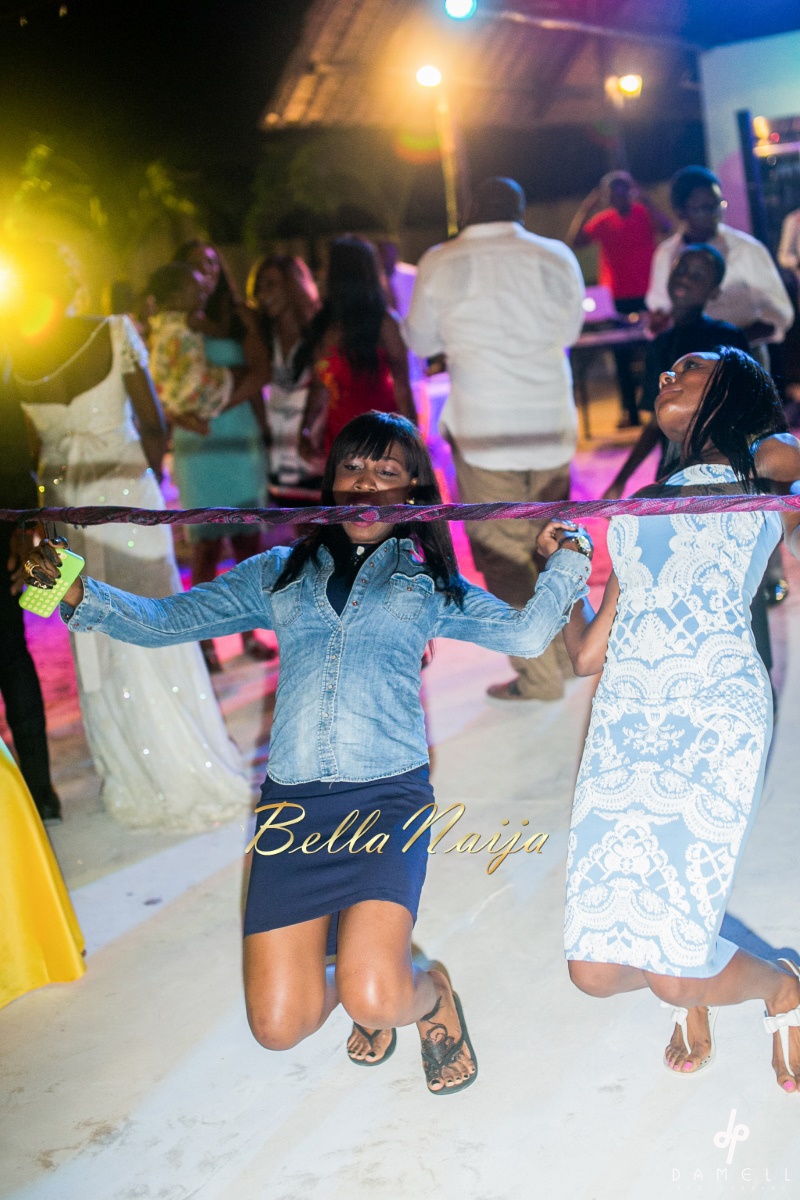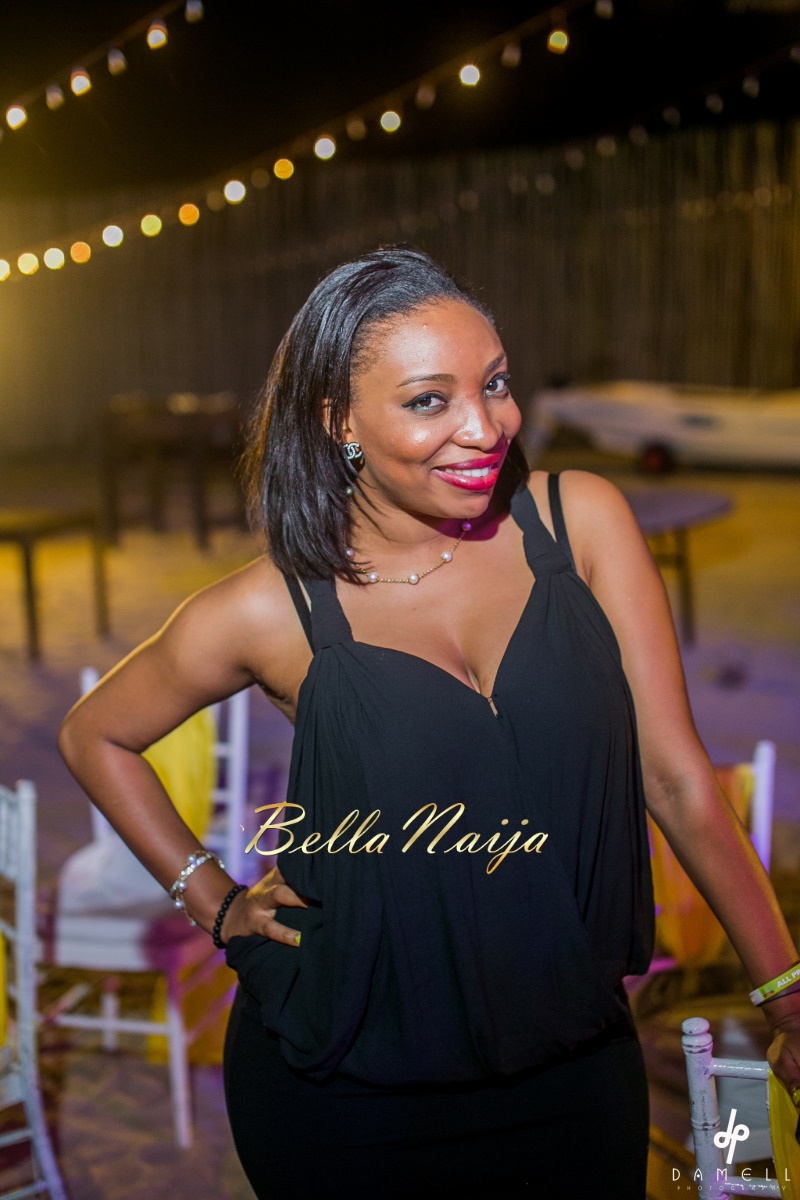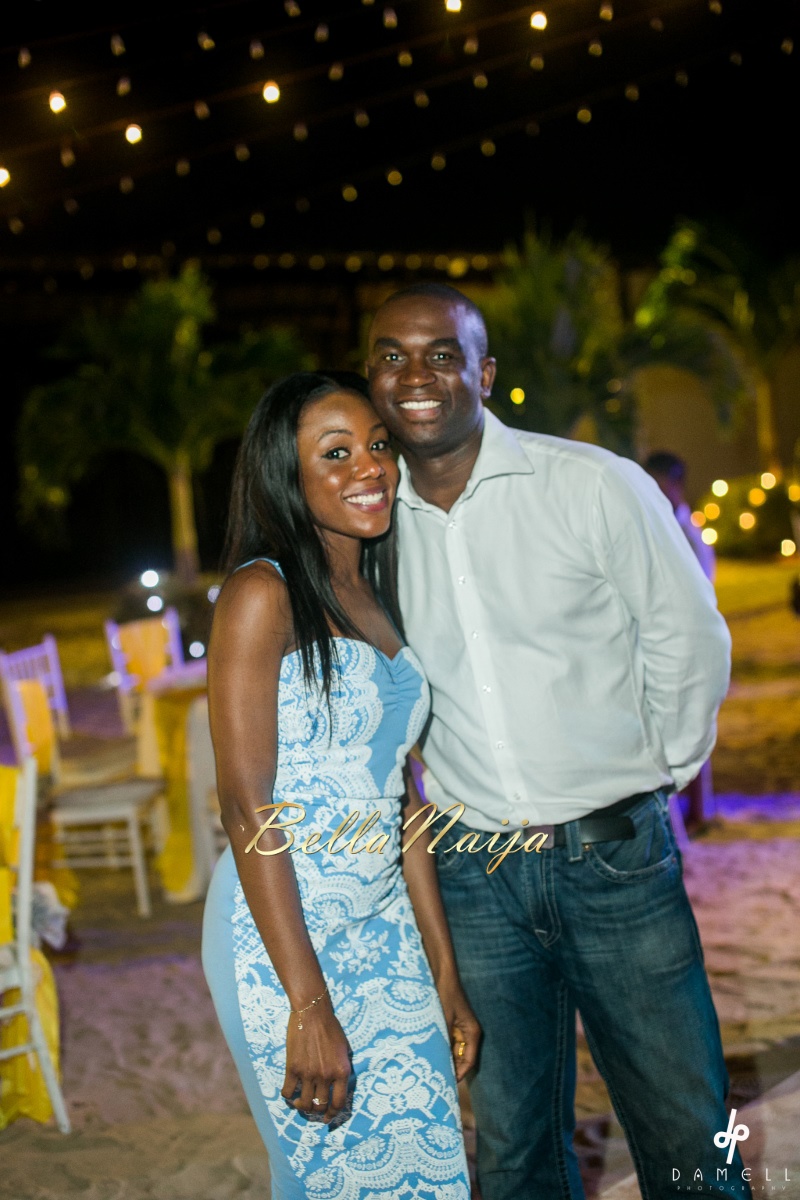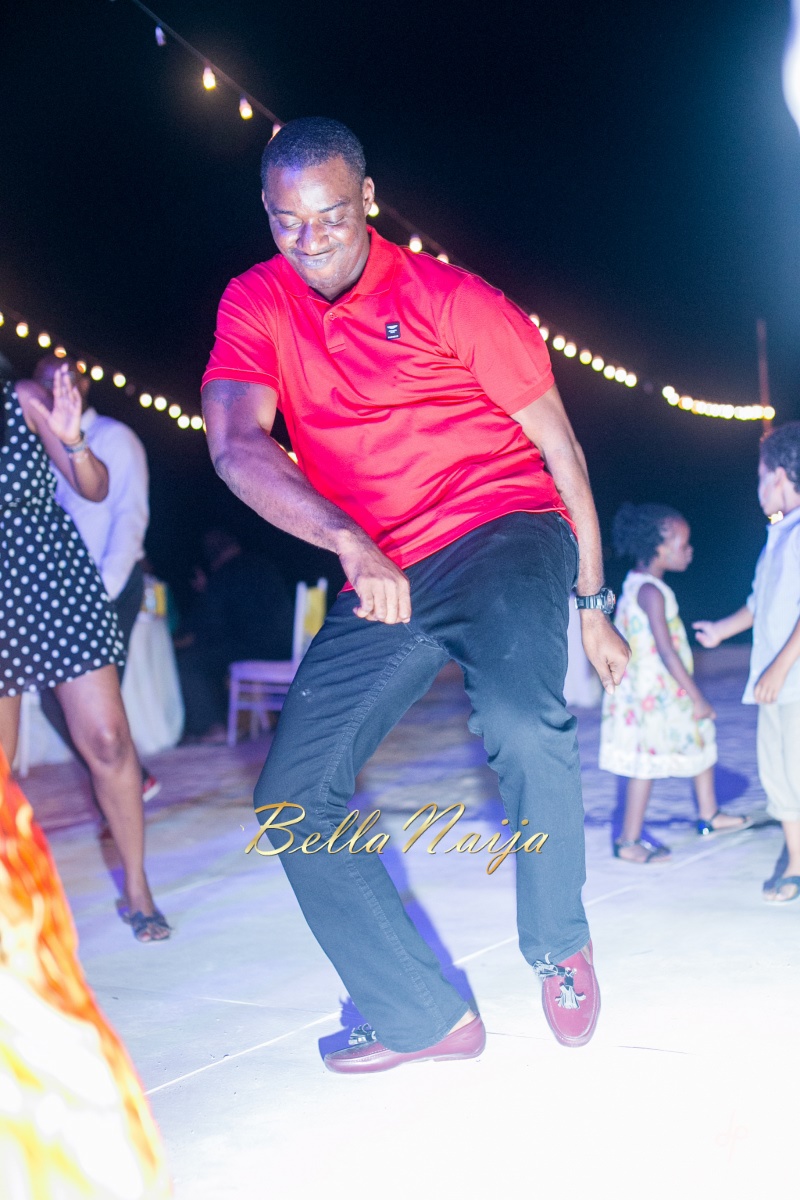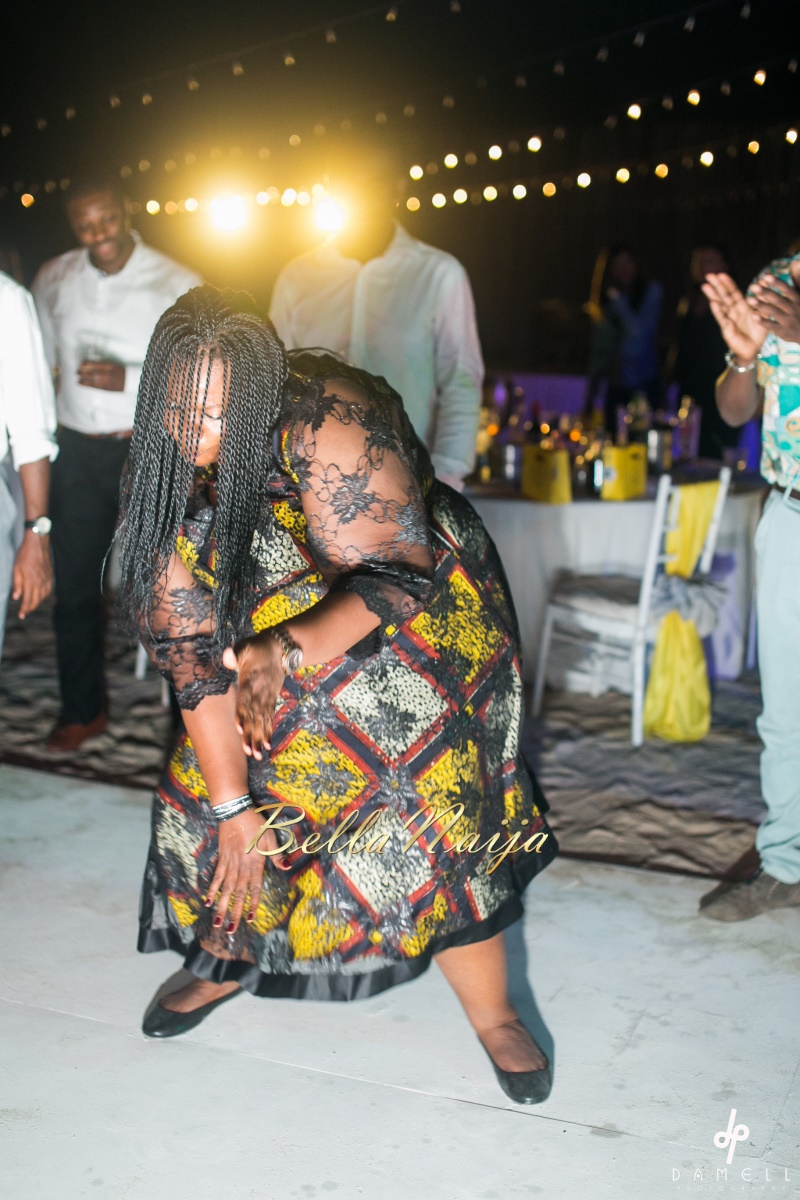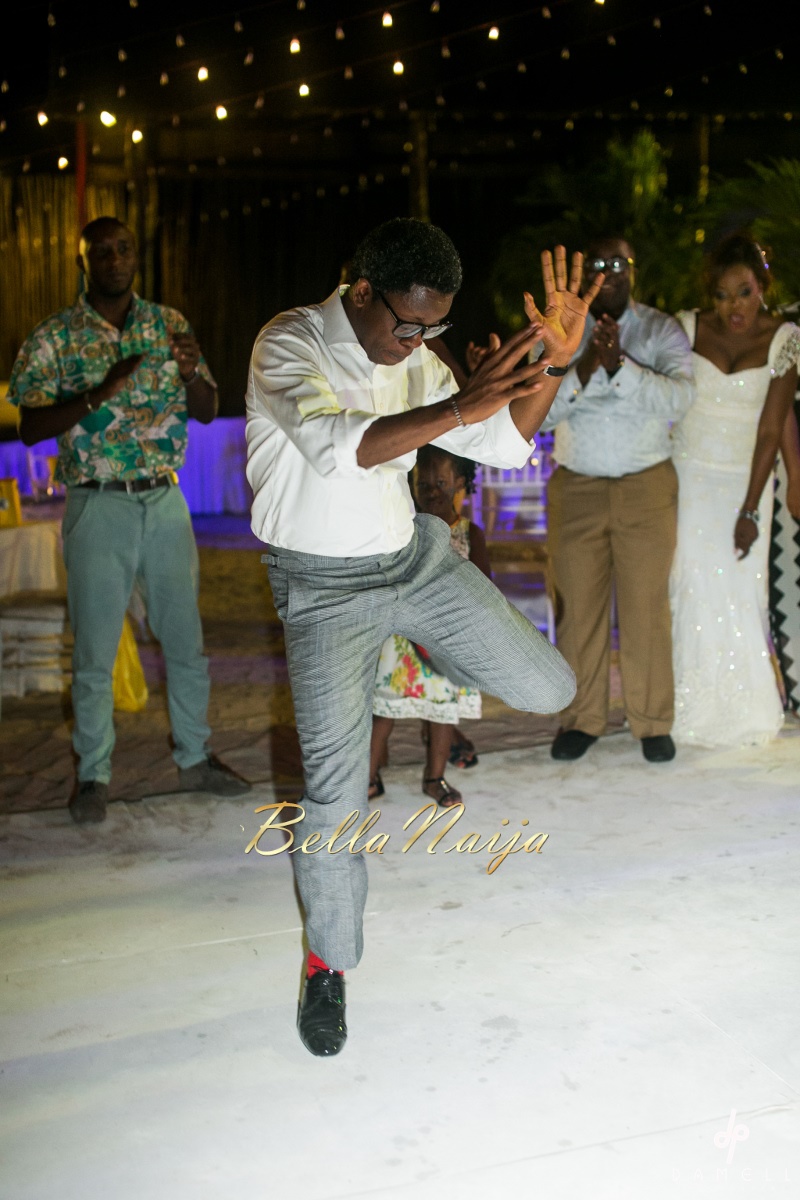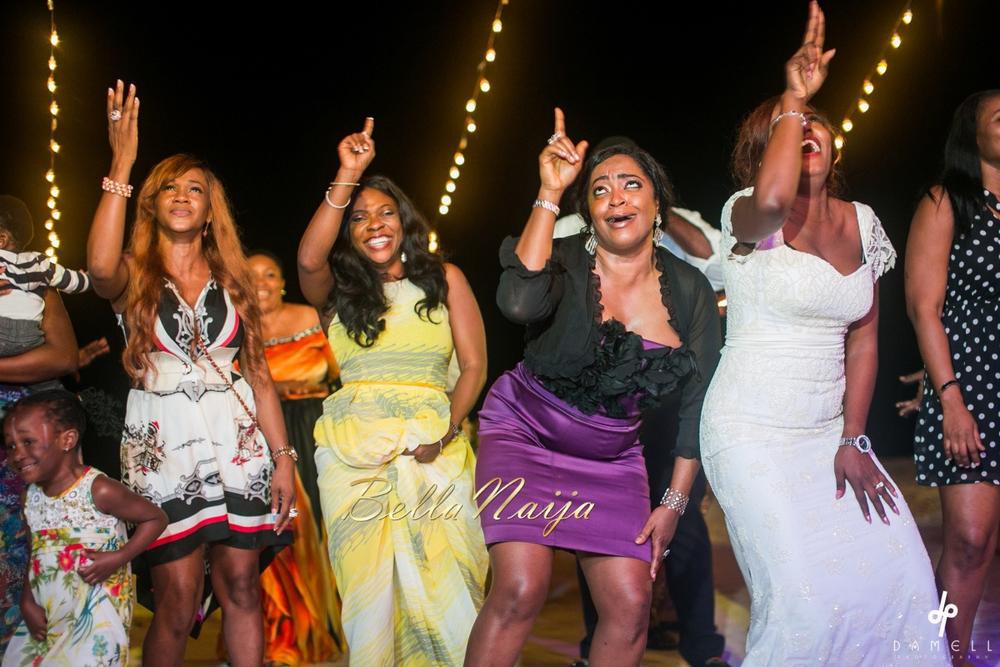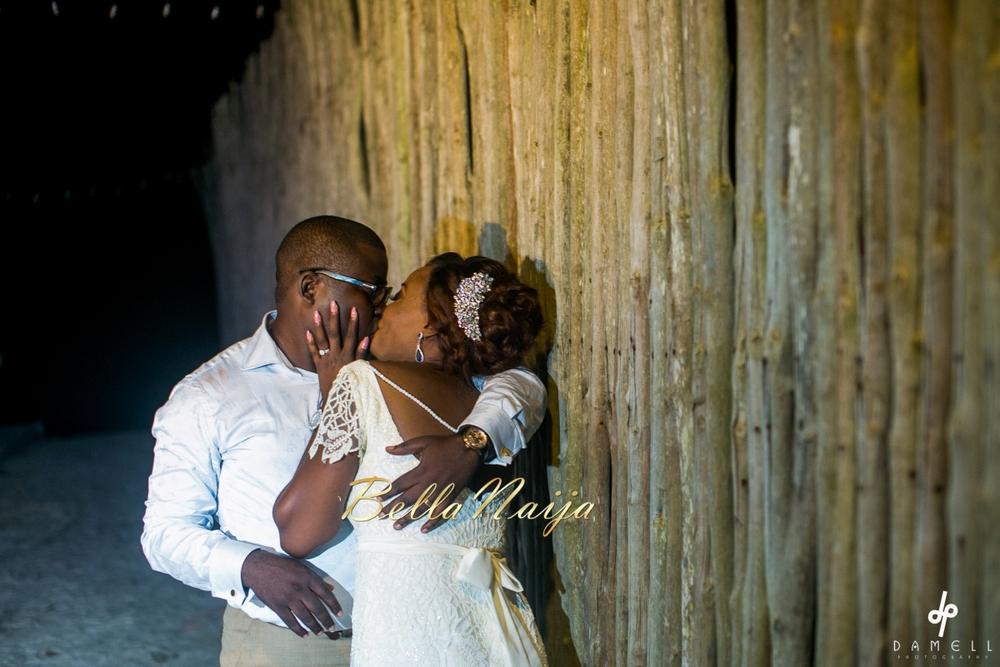 Traditional Engagement
"The theme for our traditional wedding was Peacock Royalty. I've always loved the color purple and what it represents and the peacock is such a majestic bird and I put both together and came up with "Peacock Royalty"."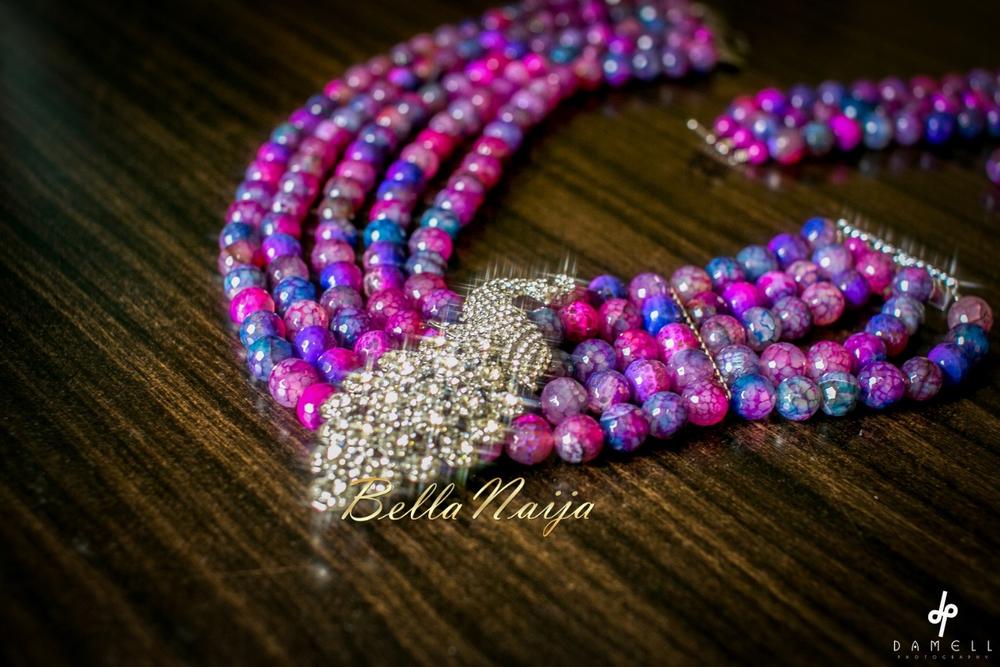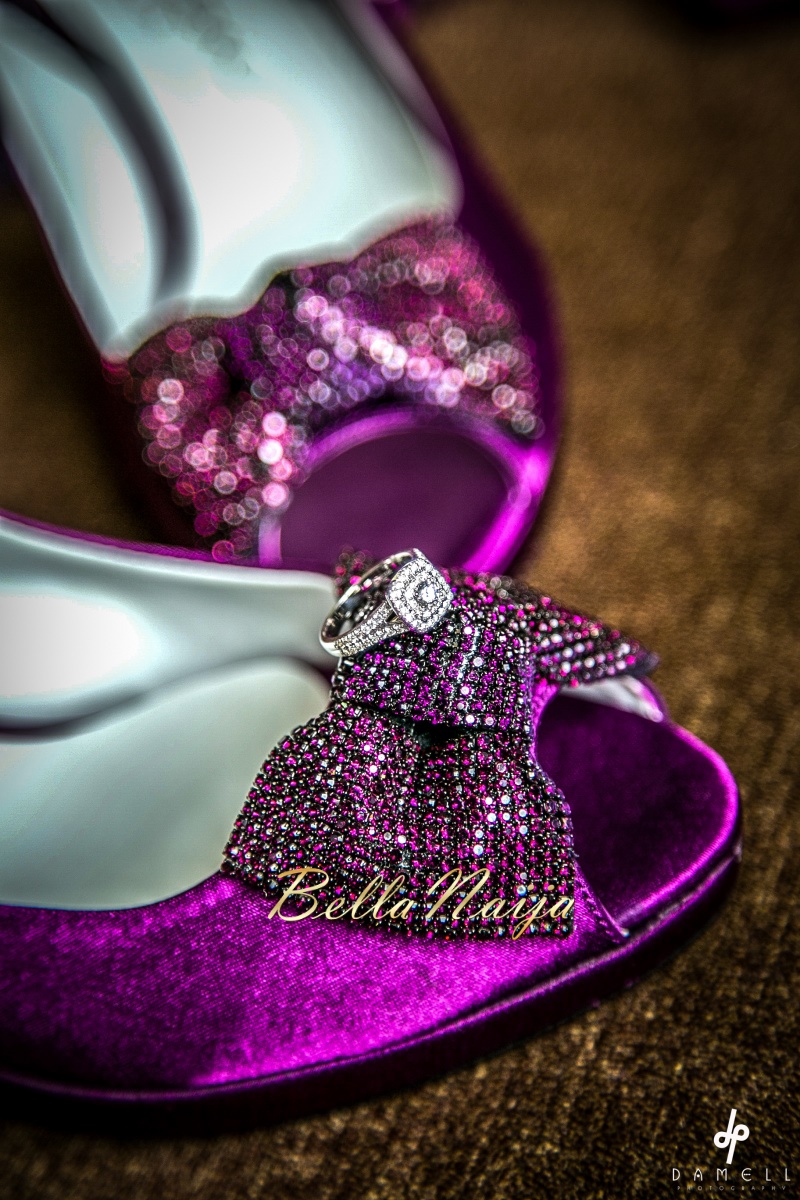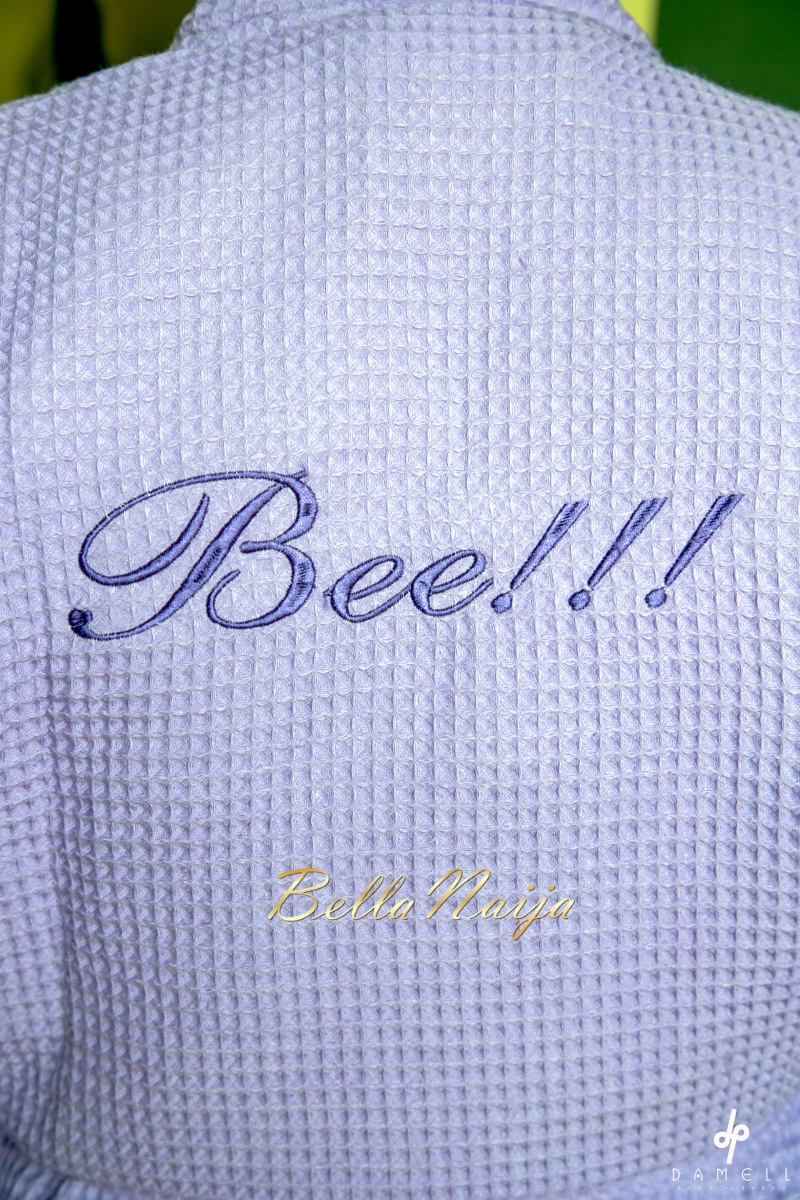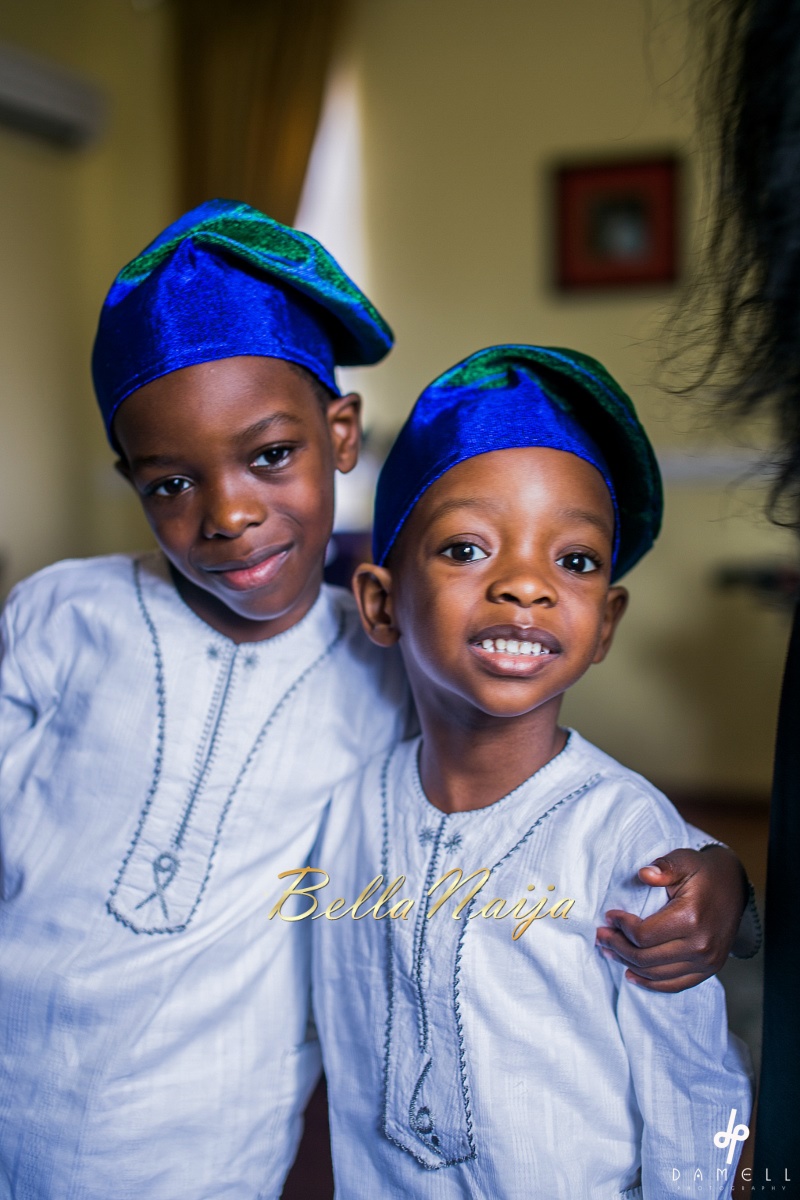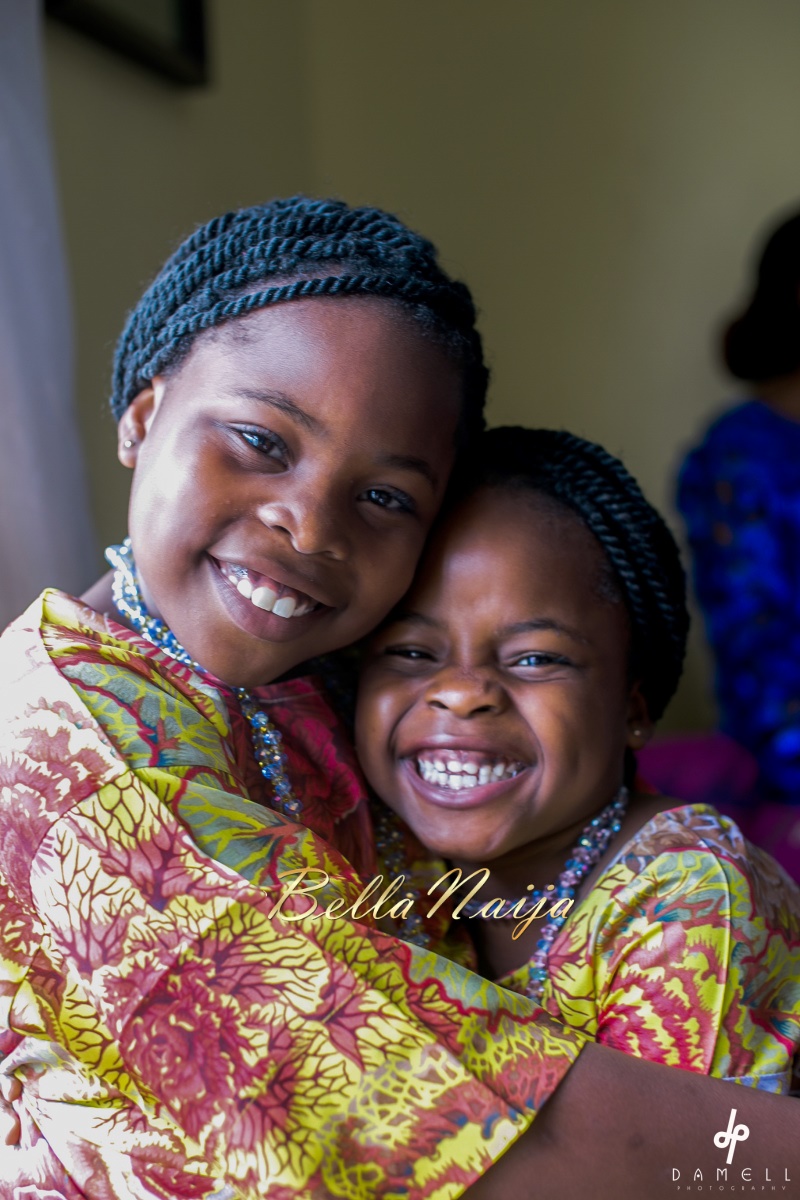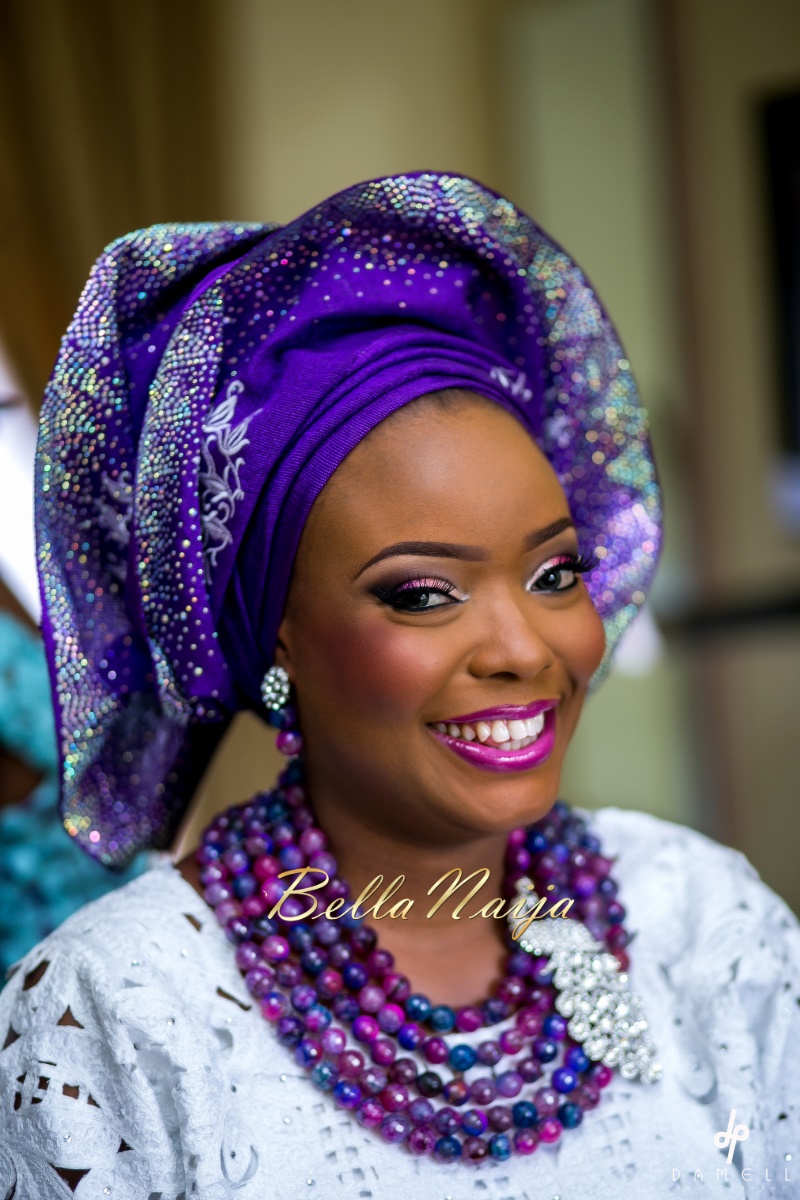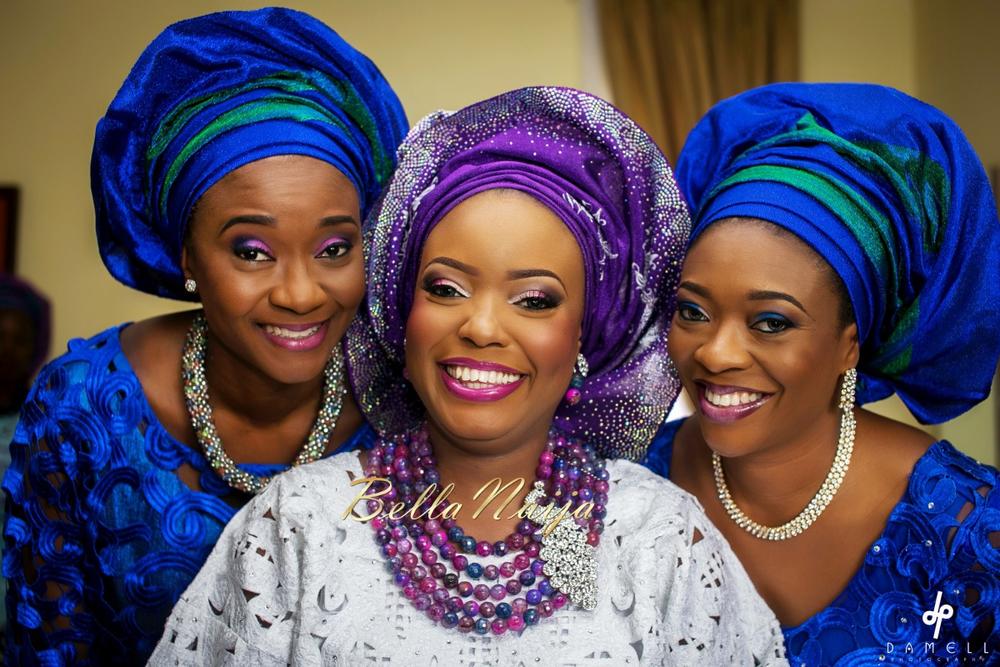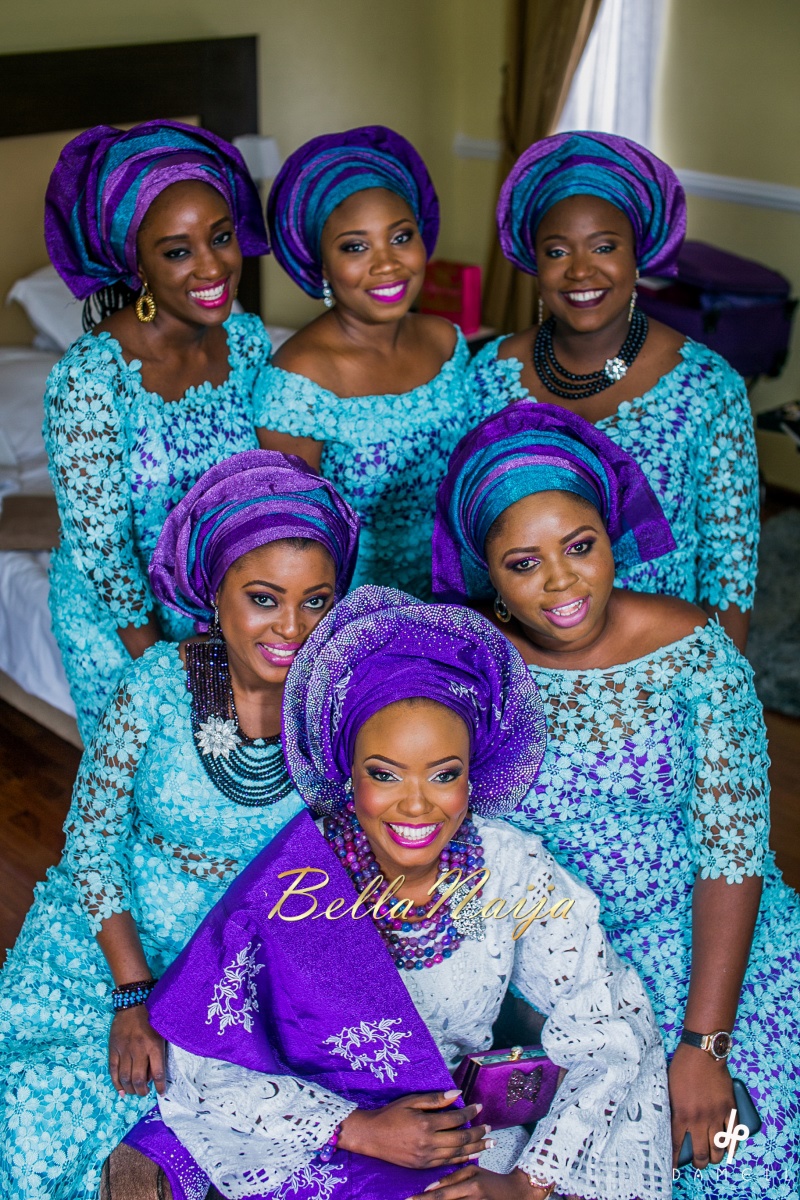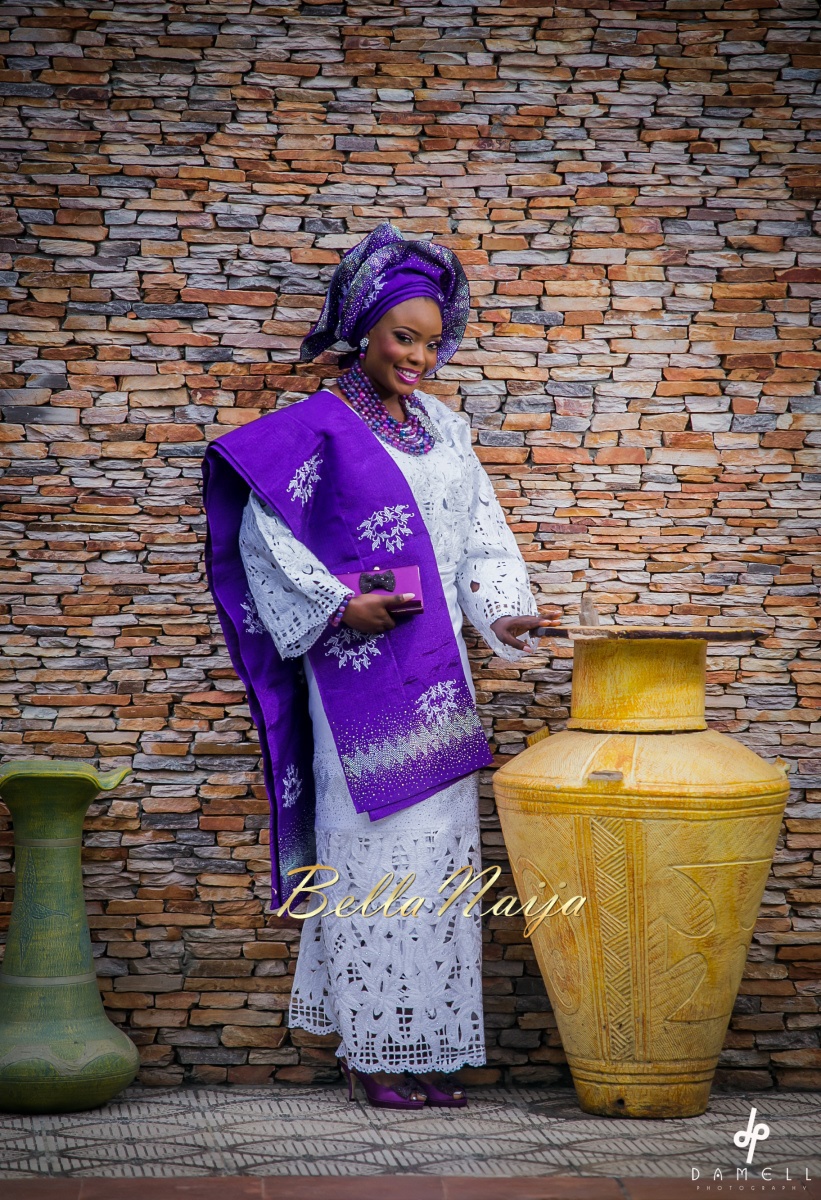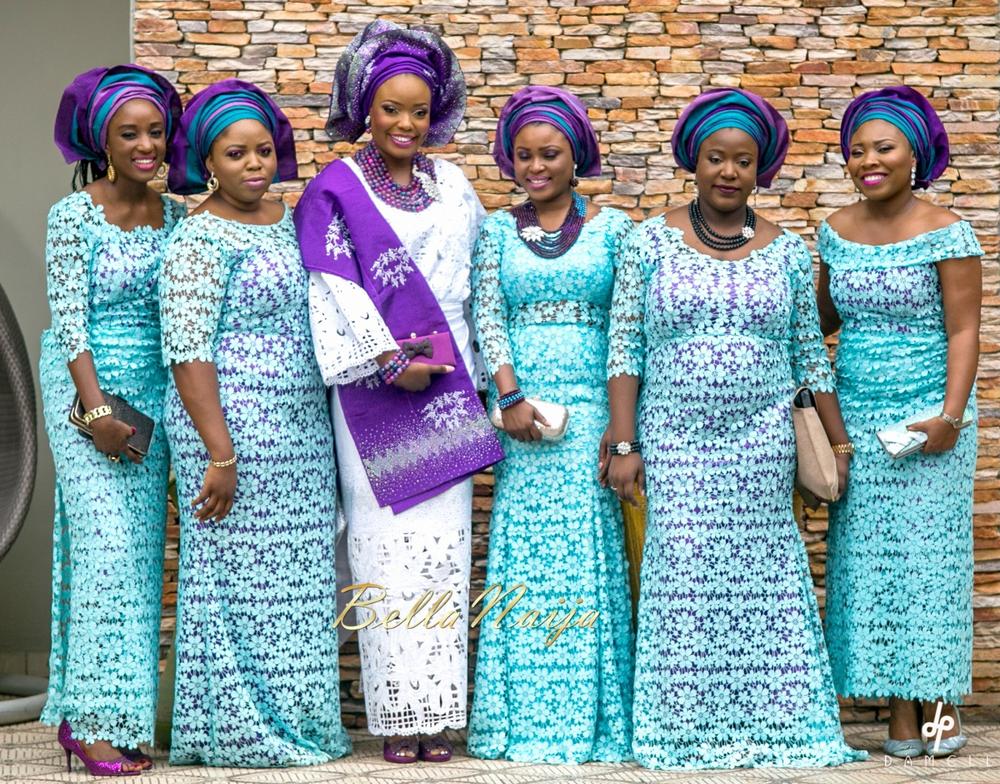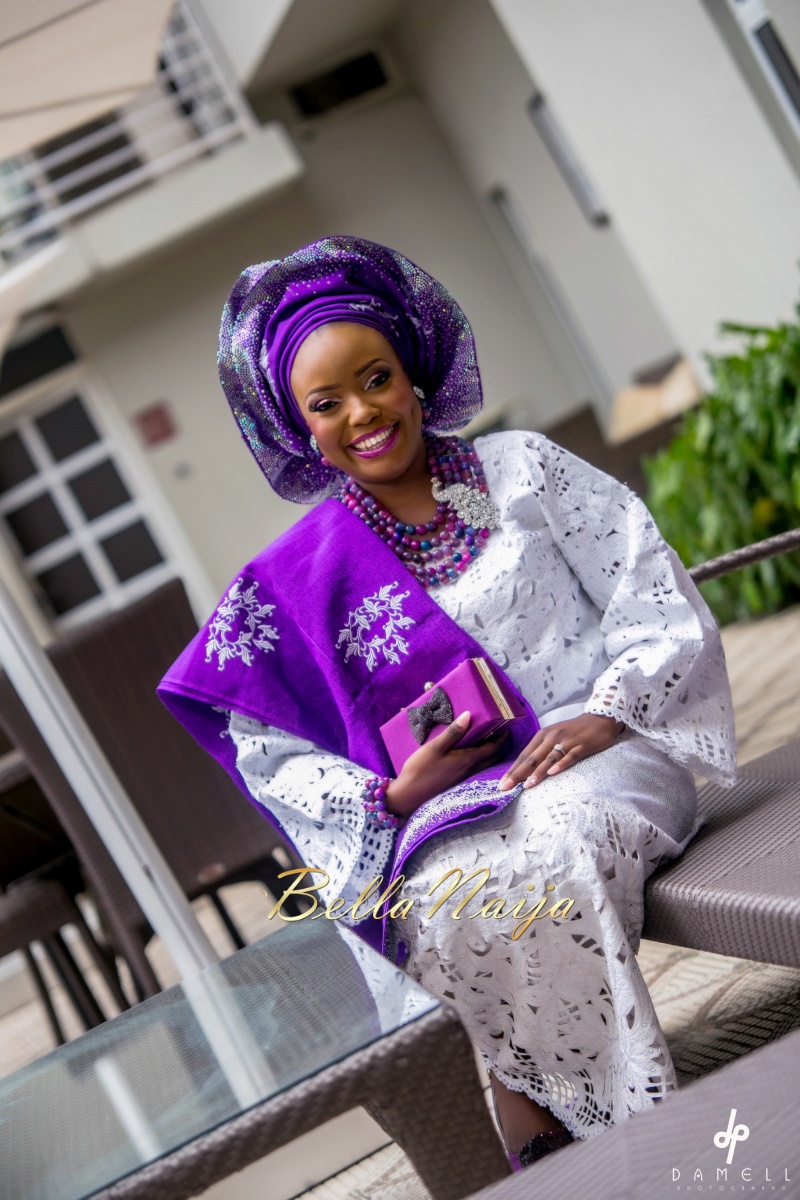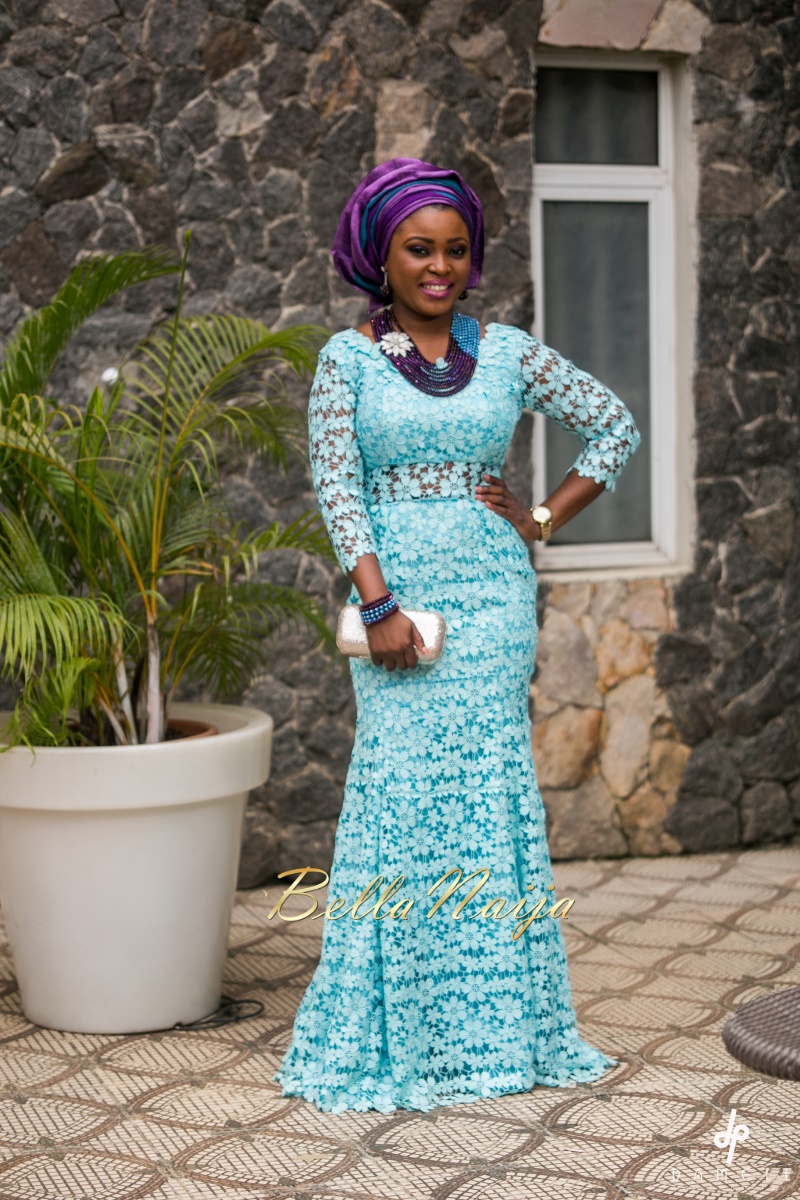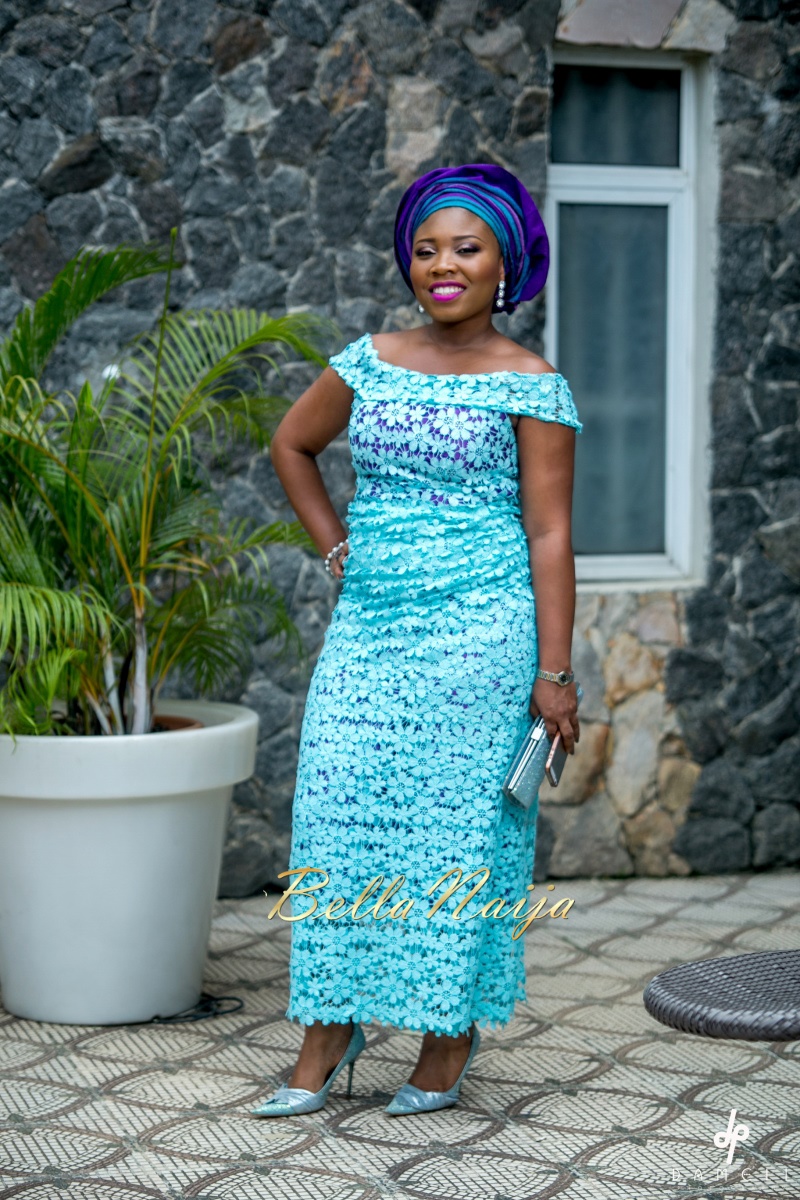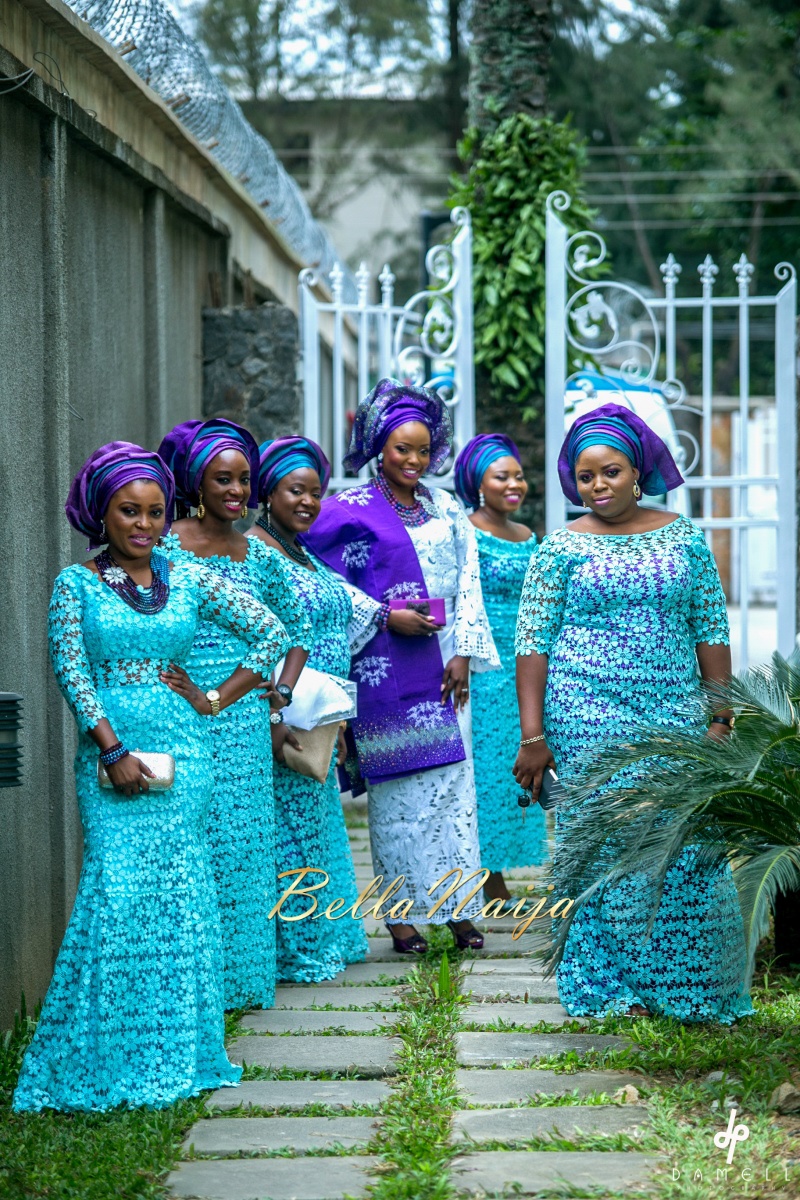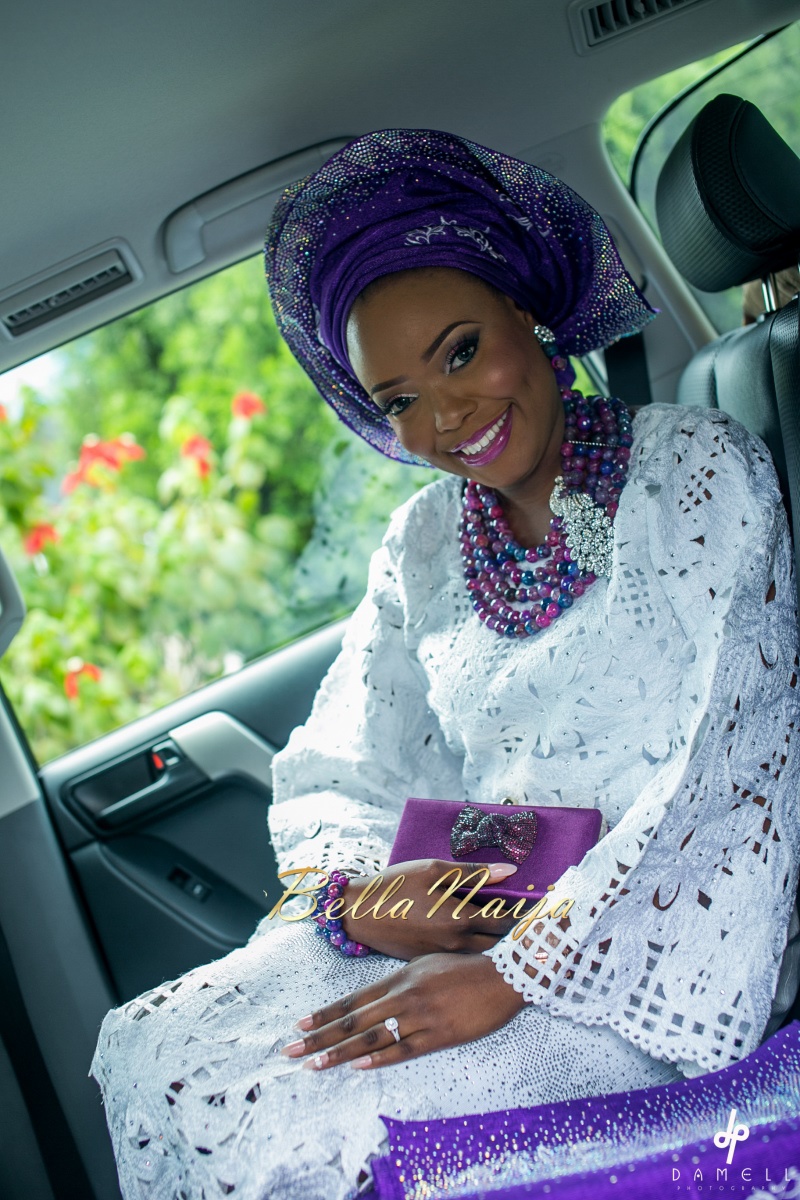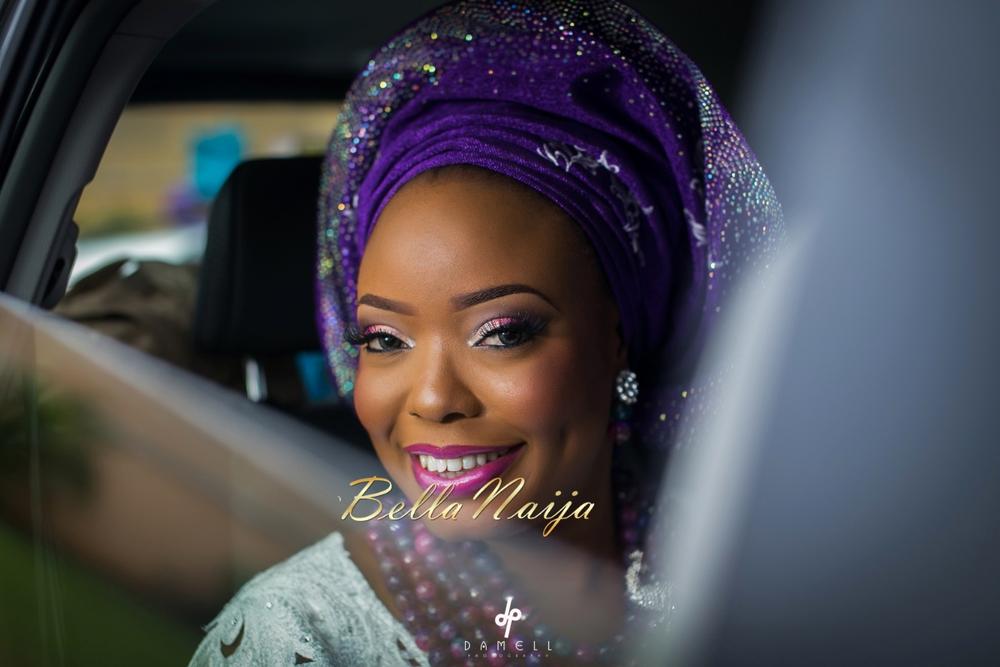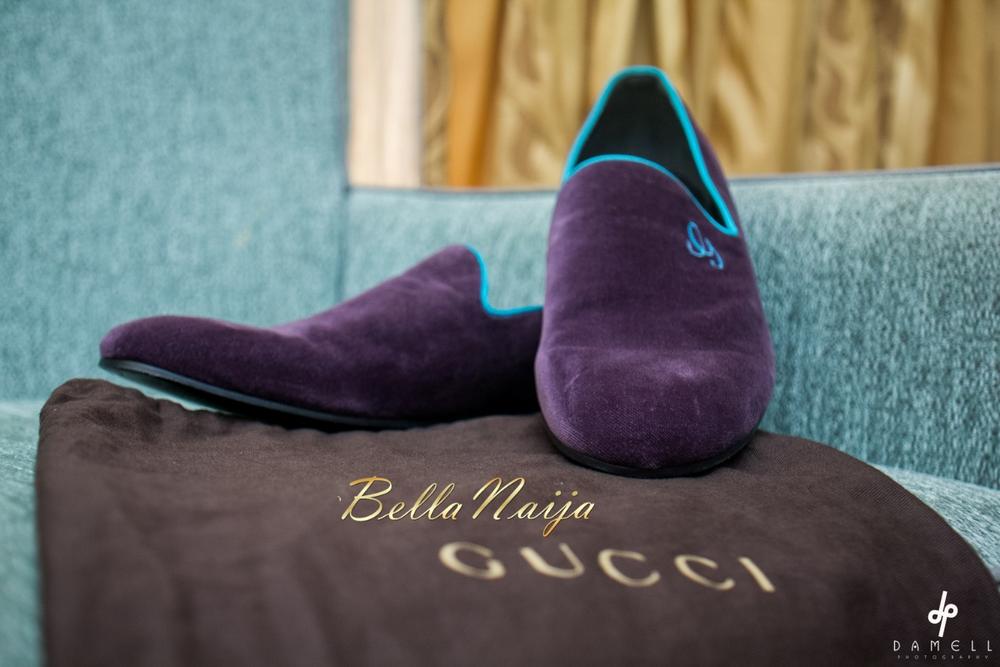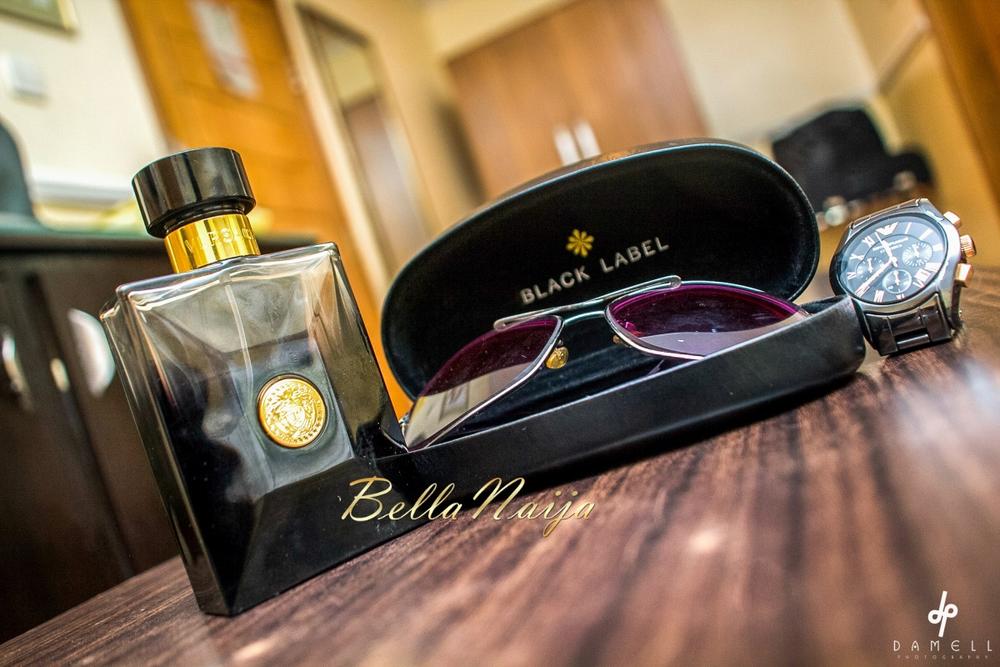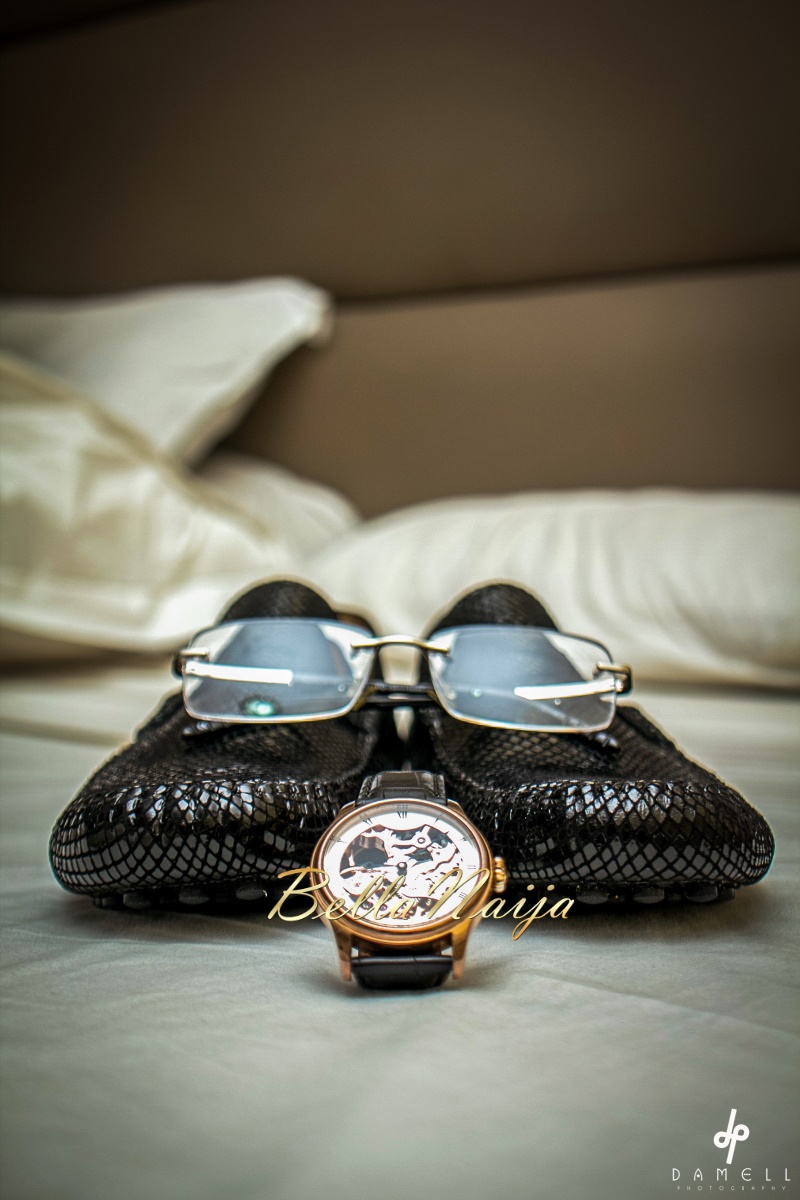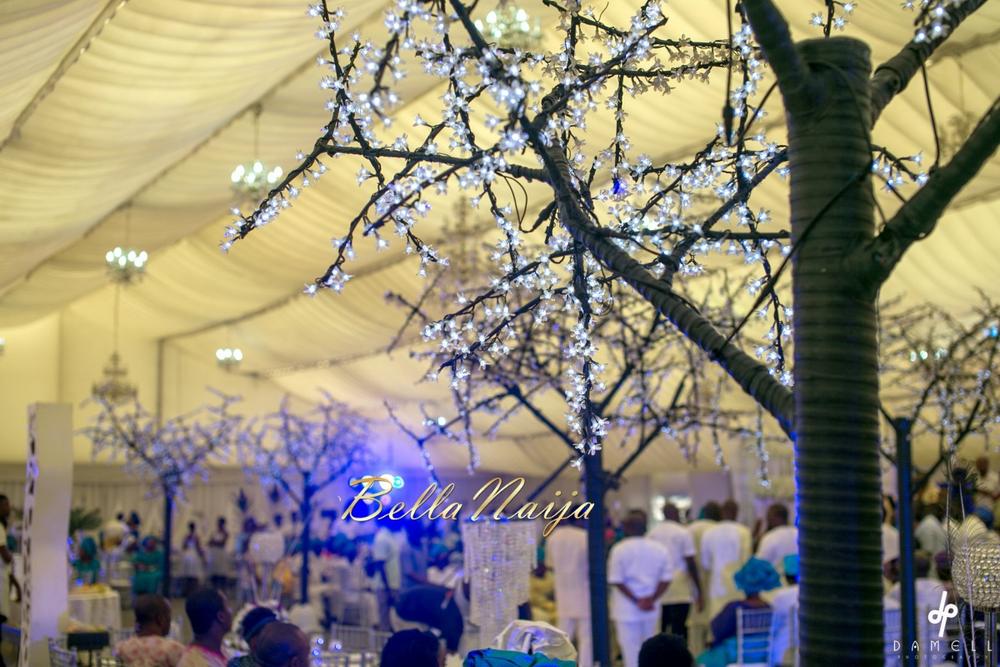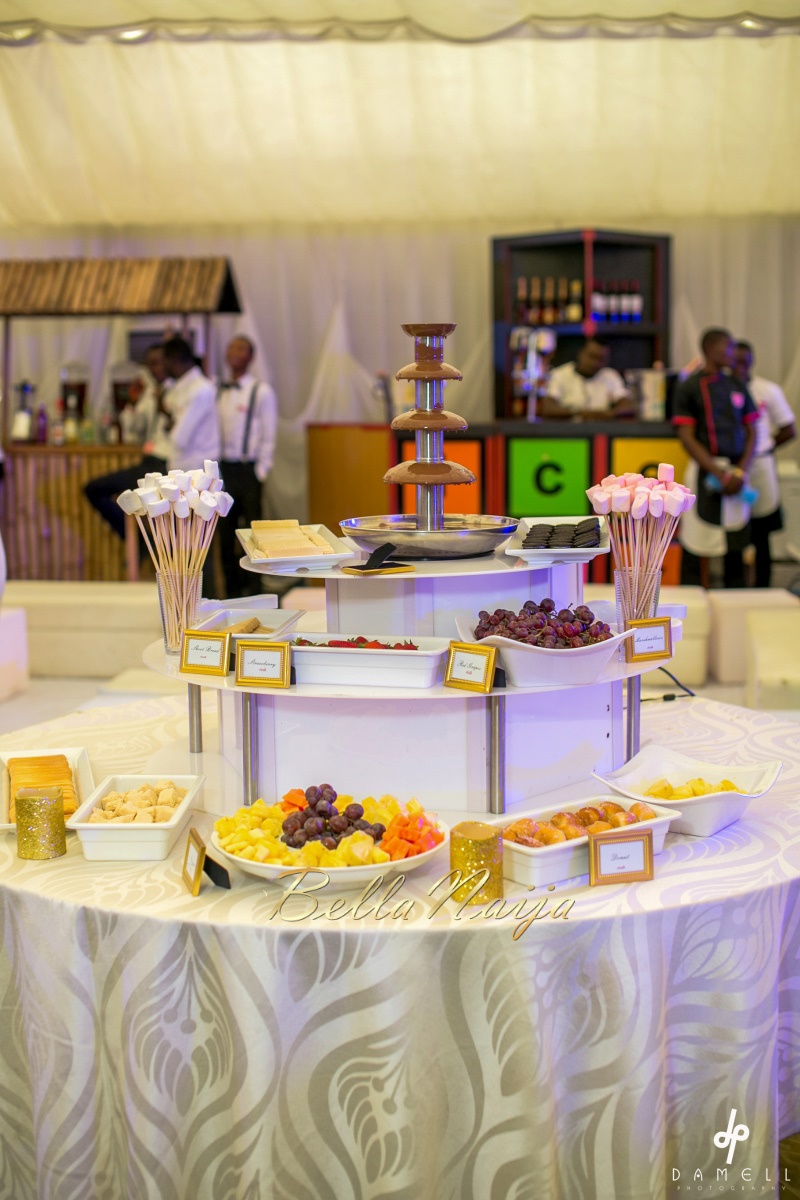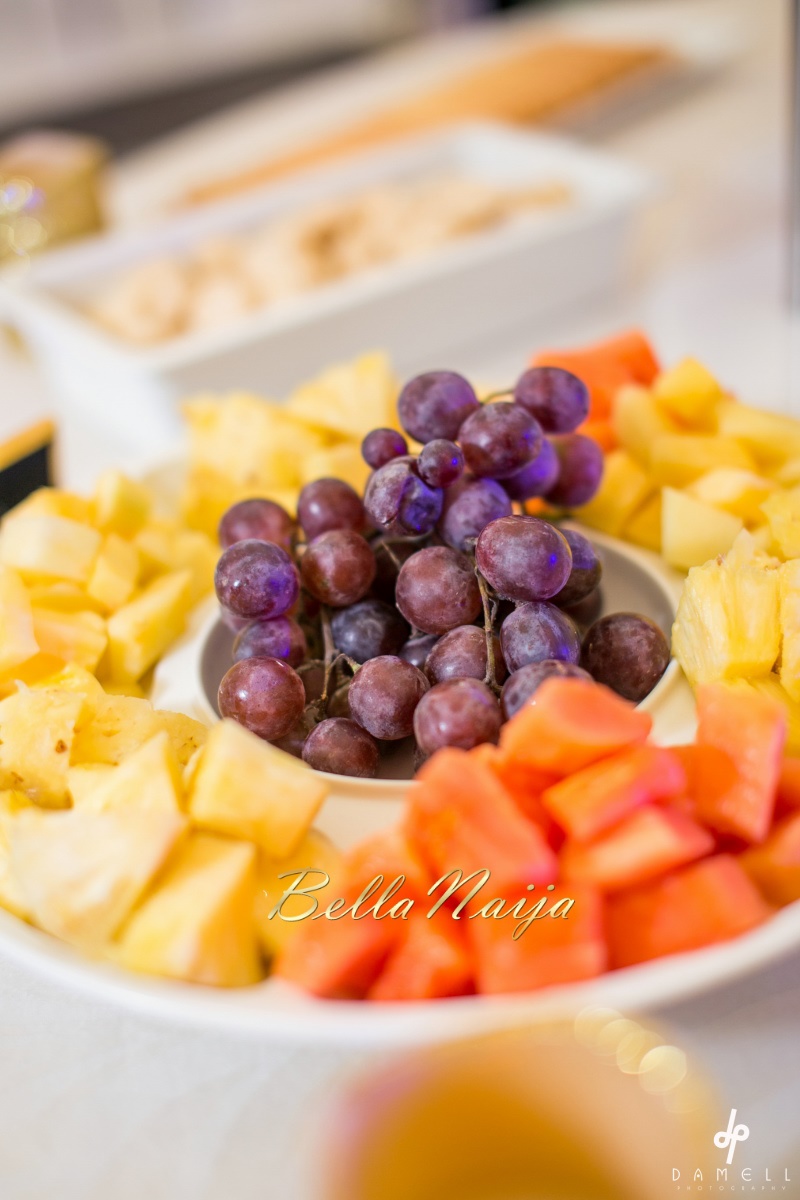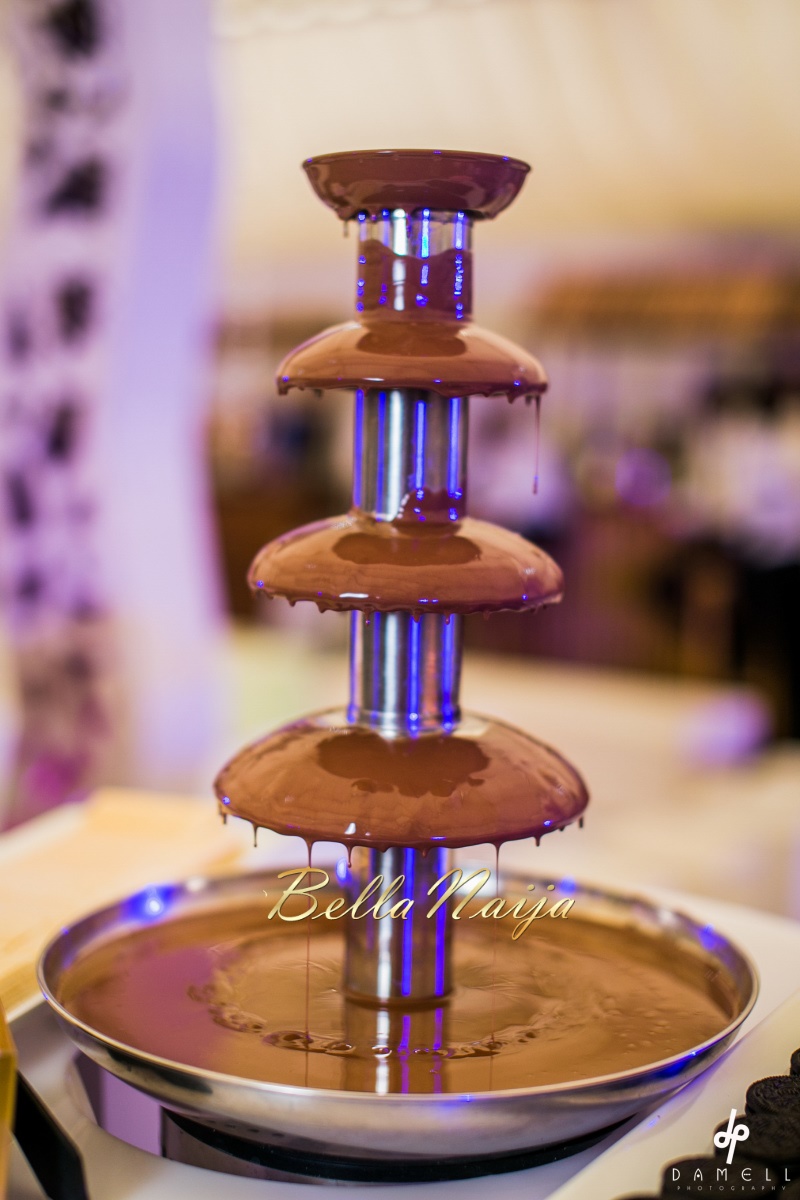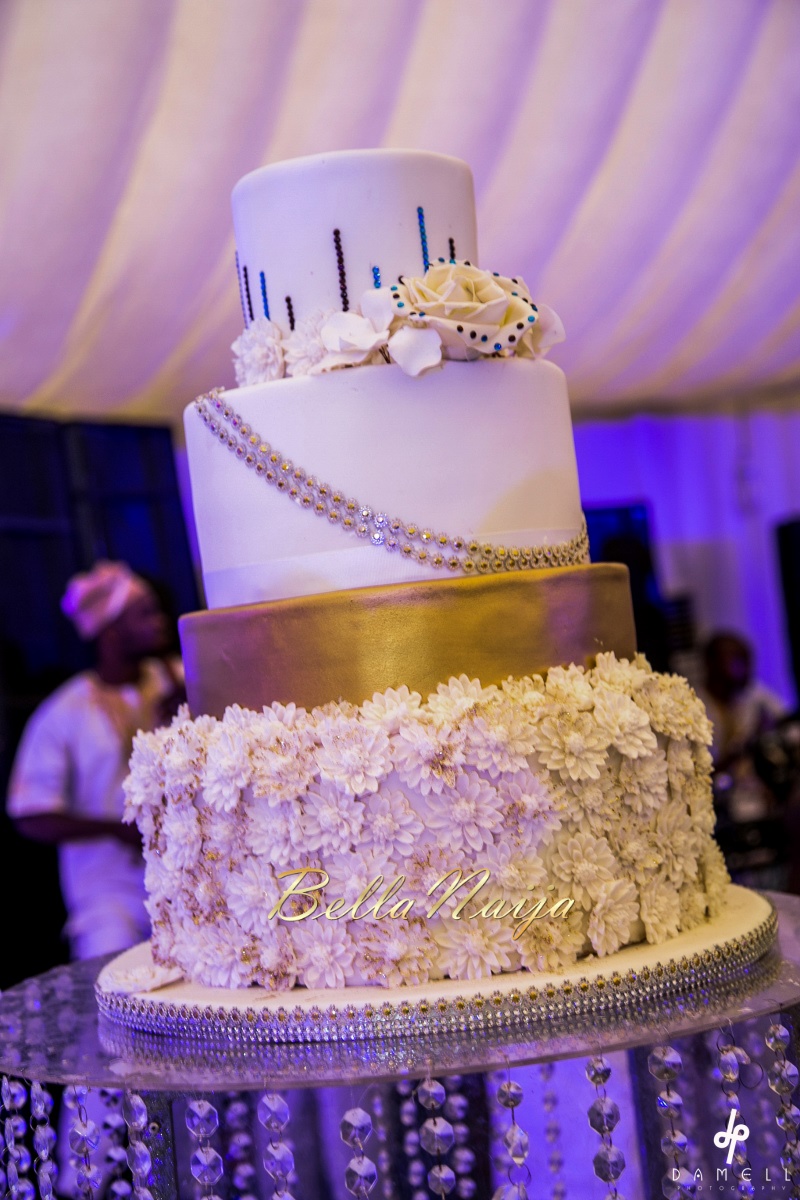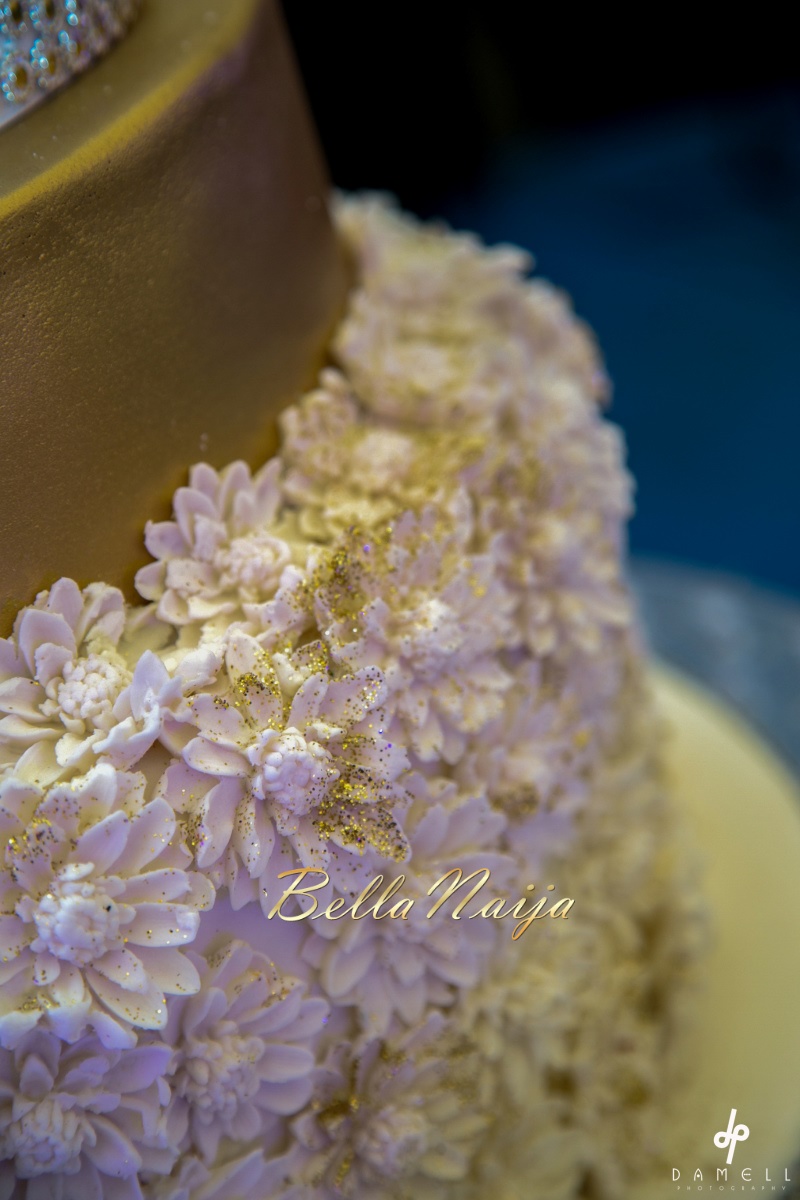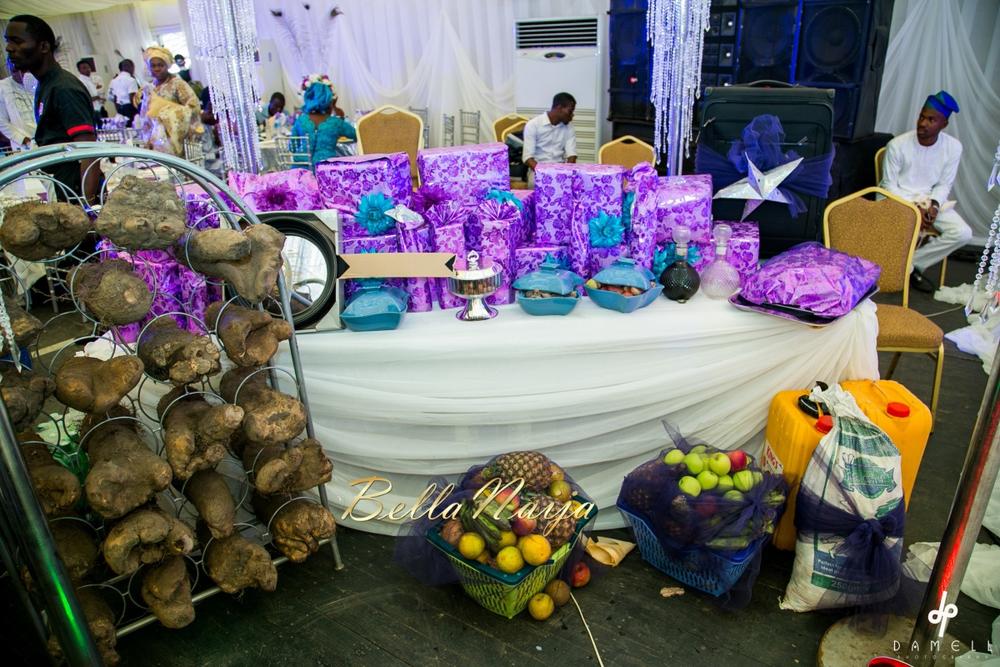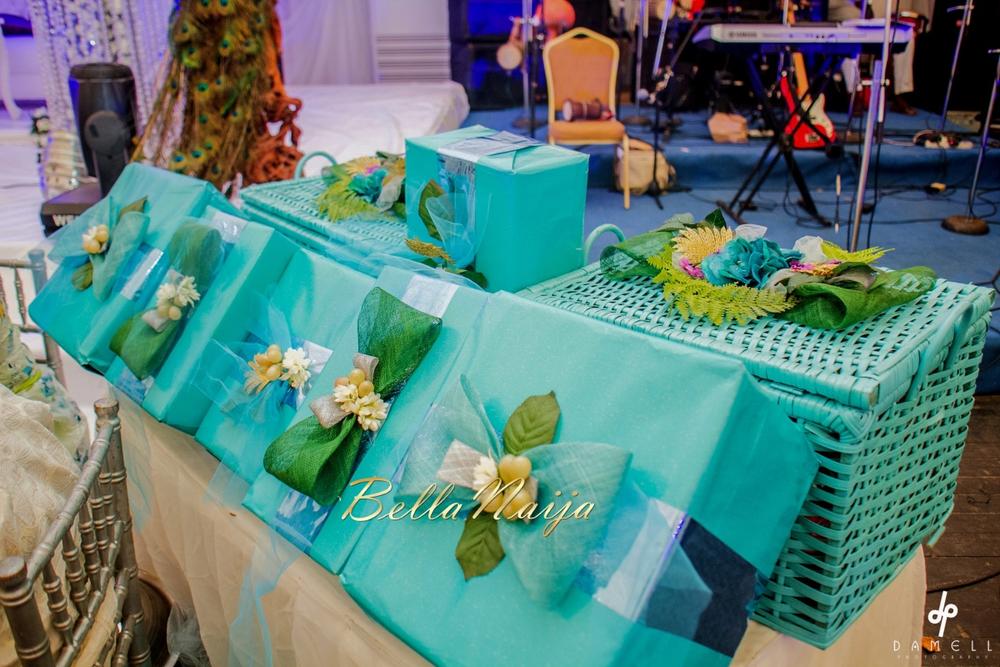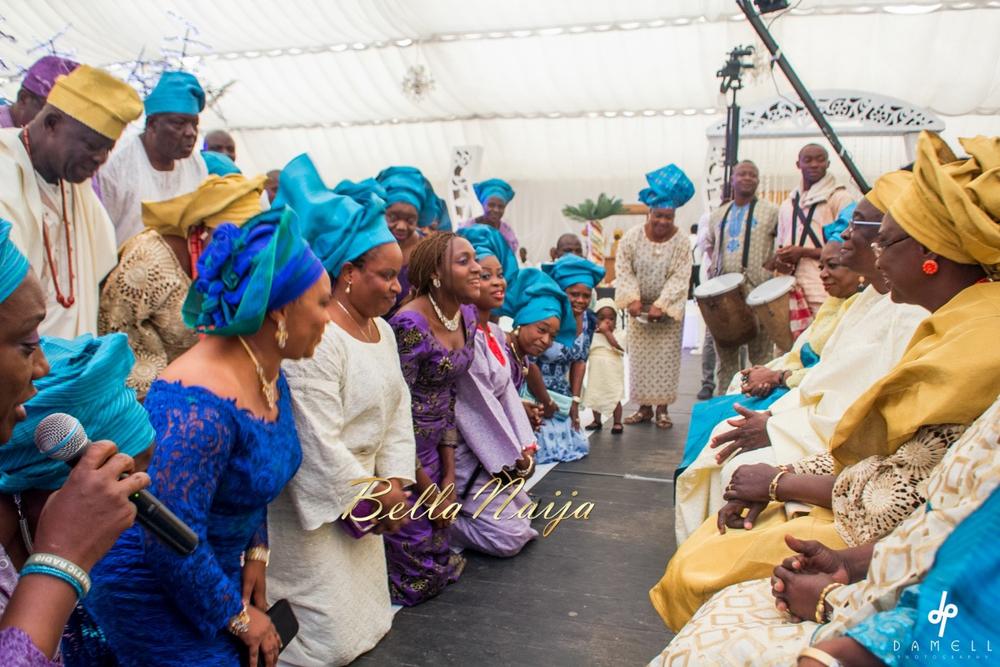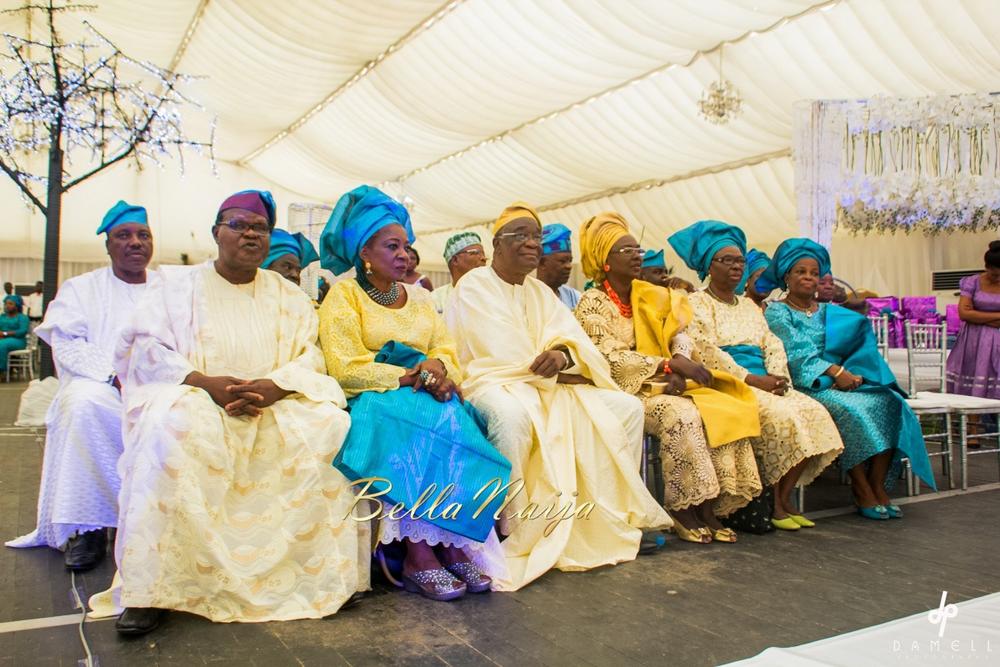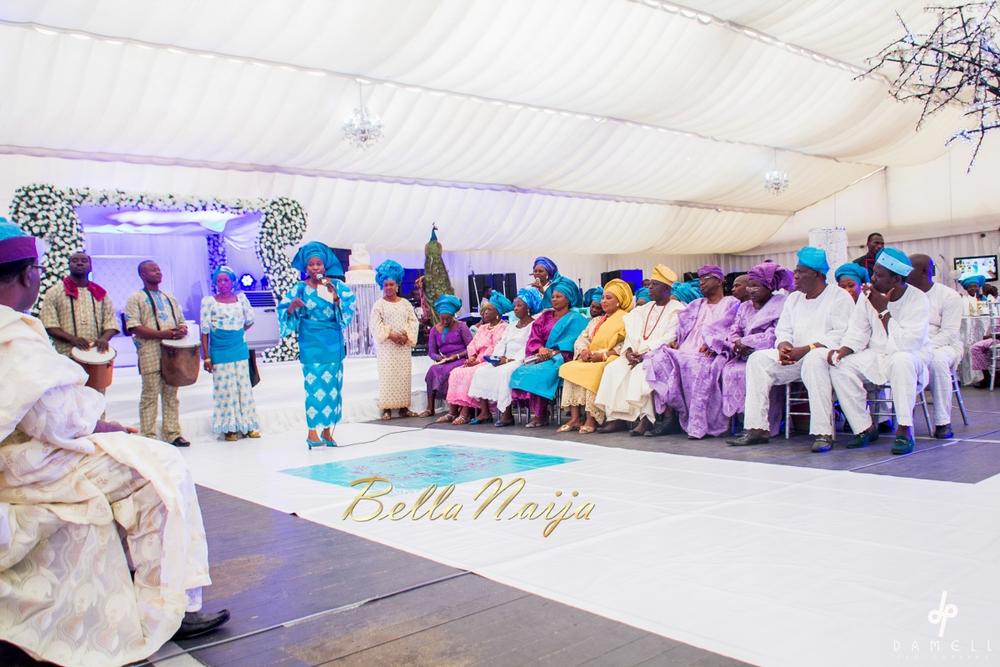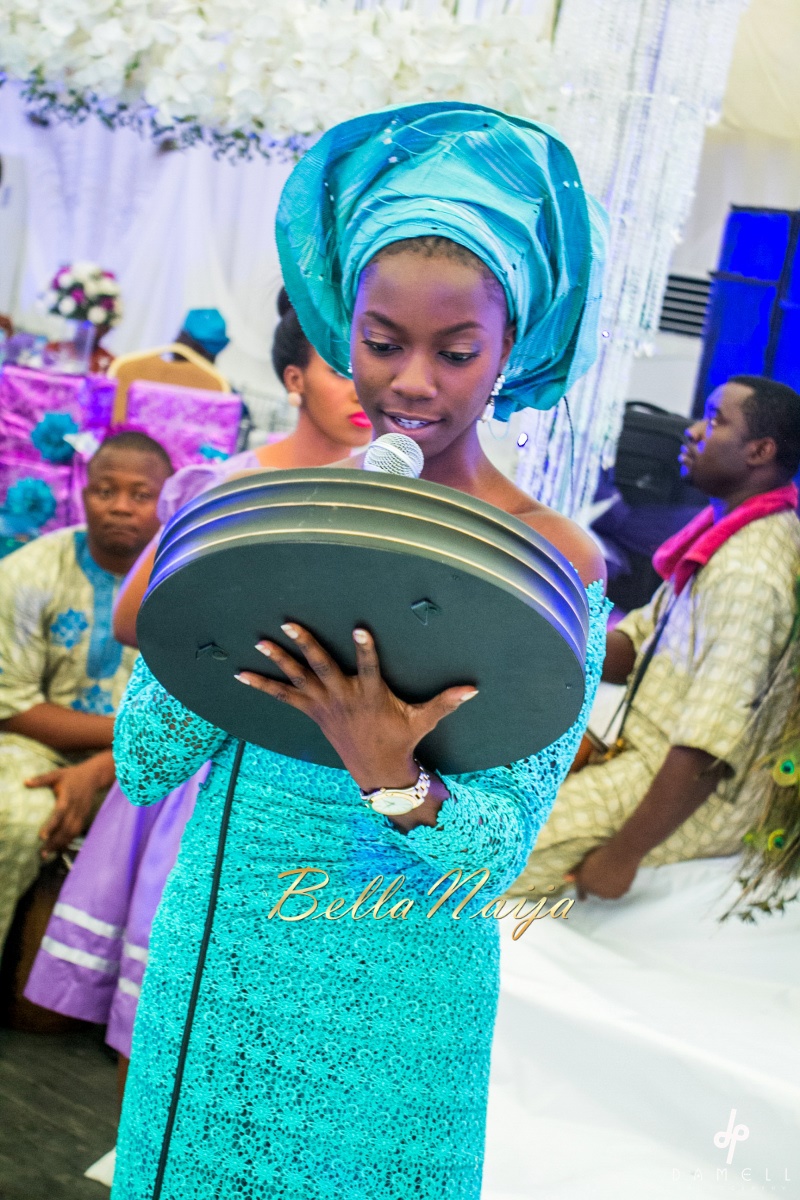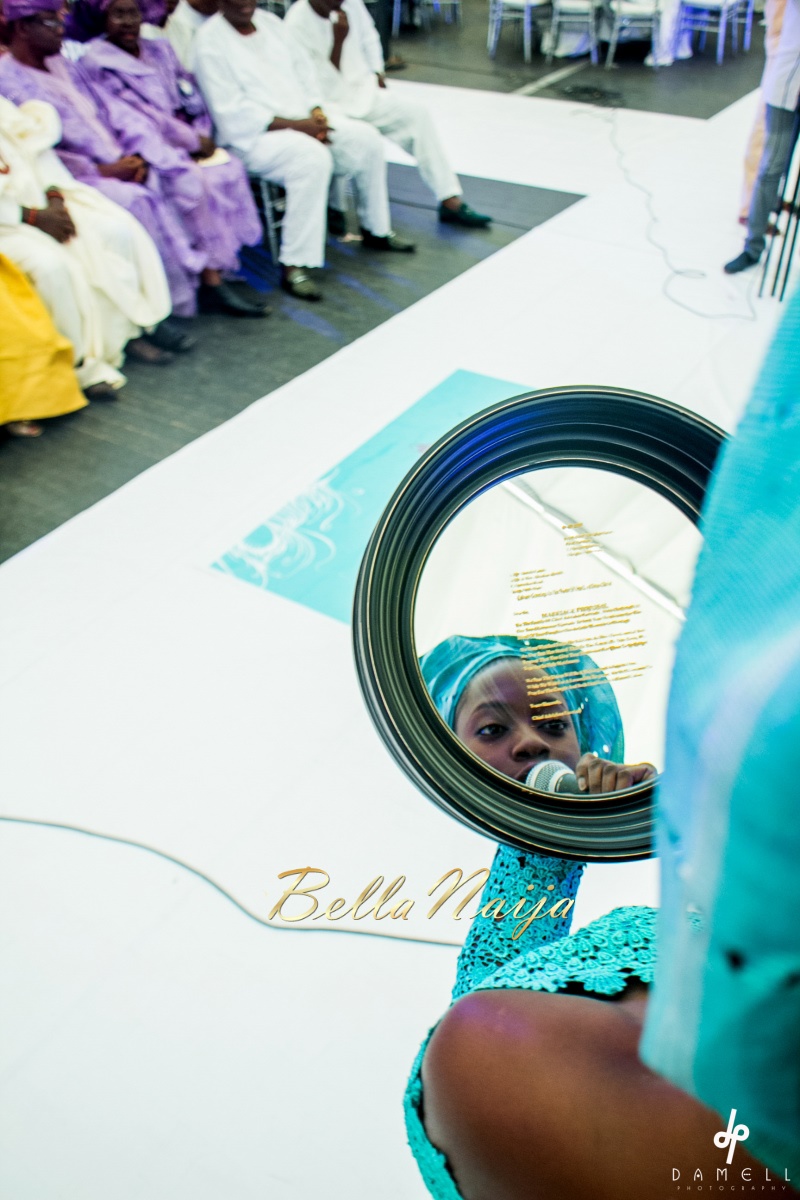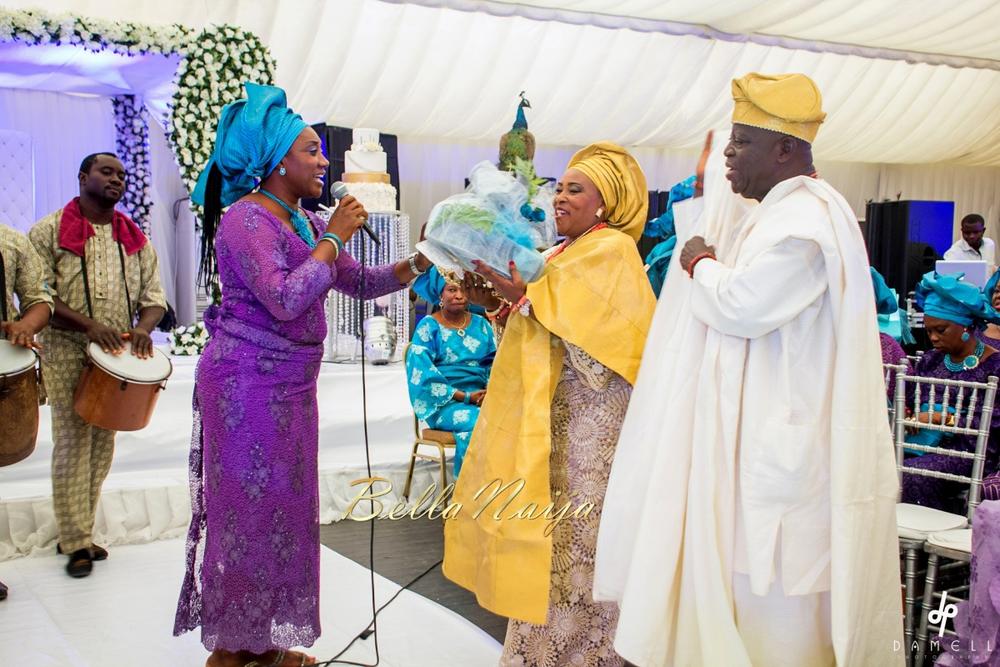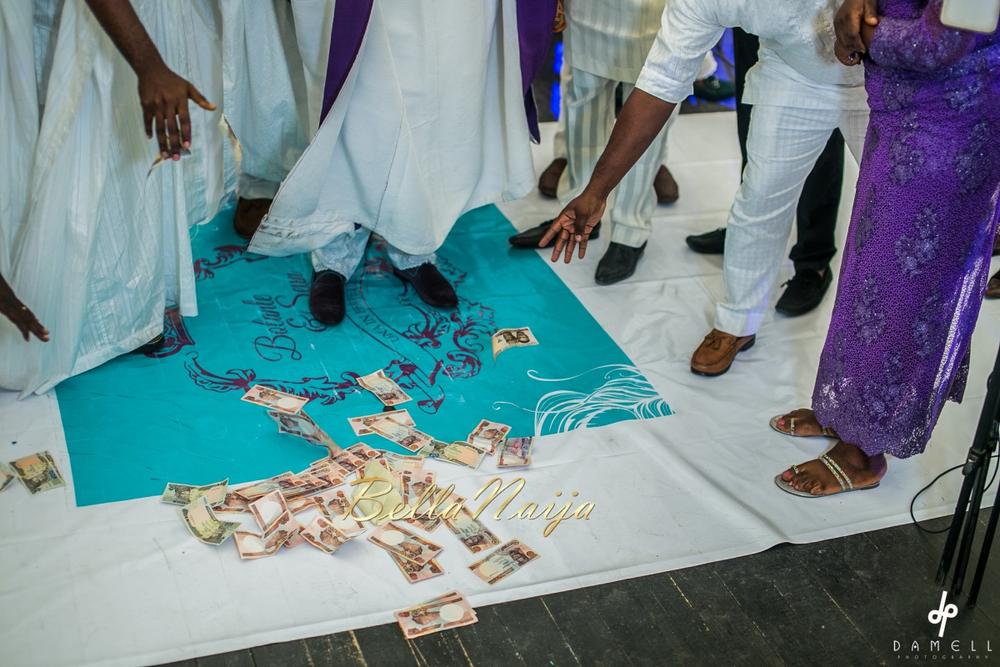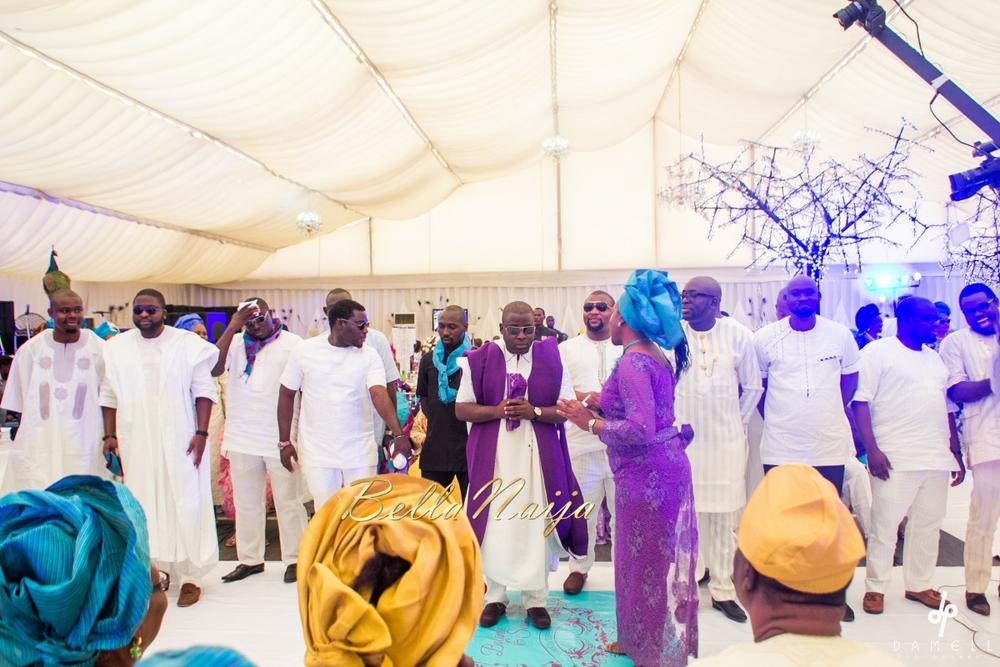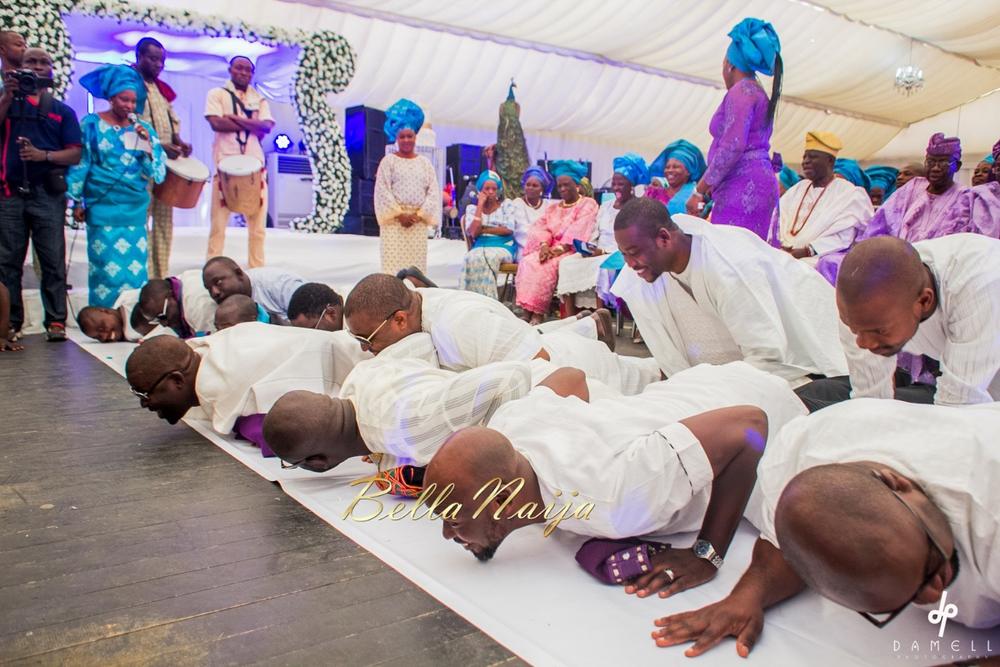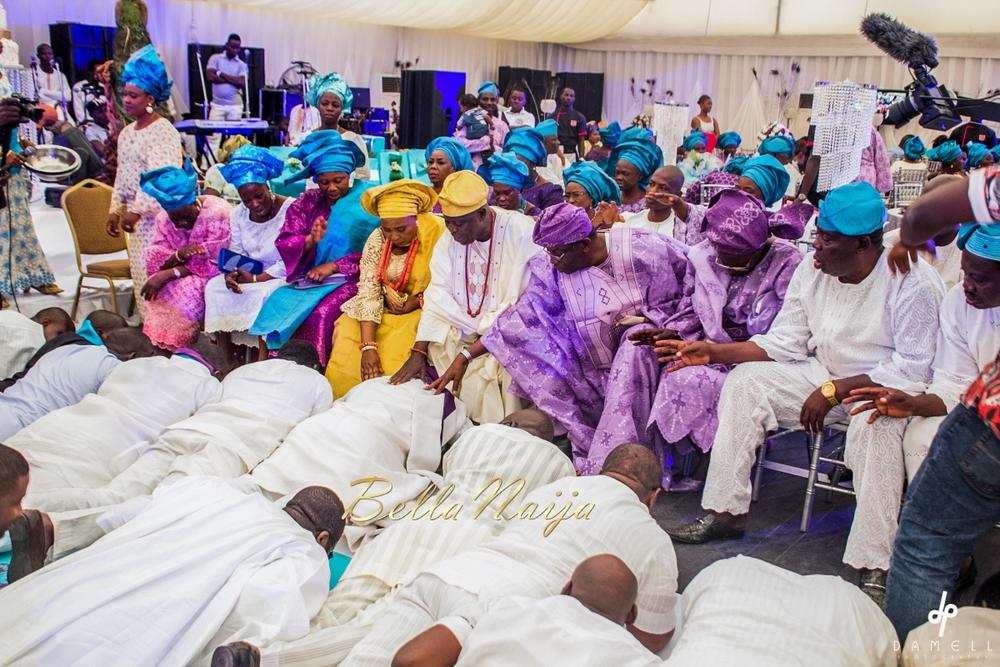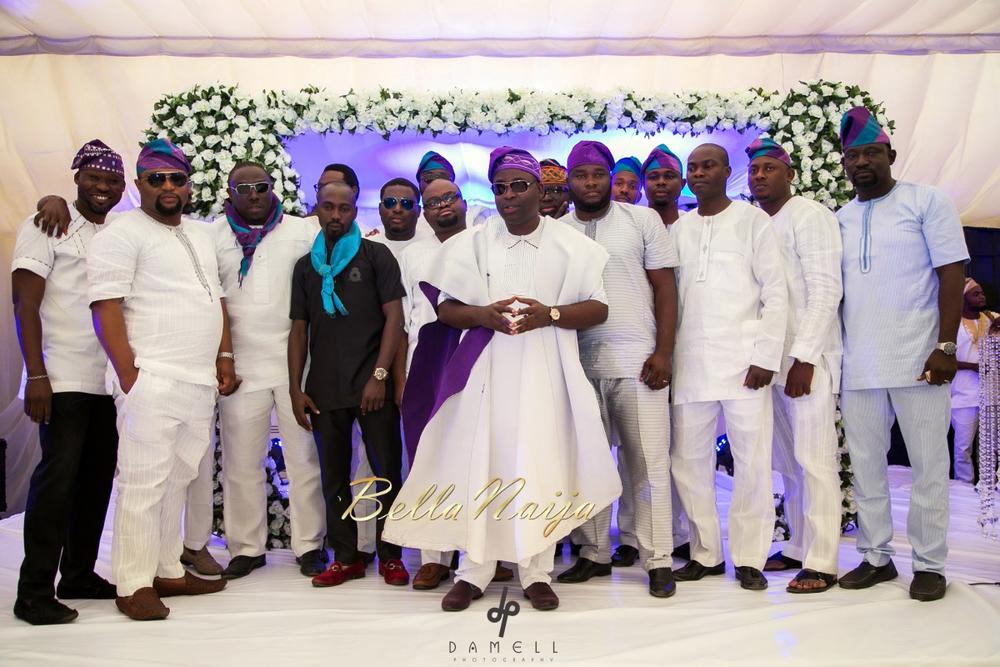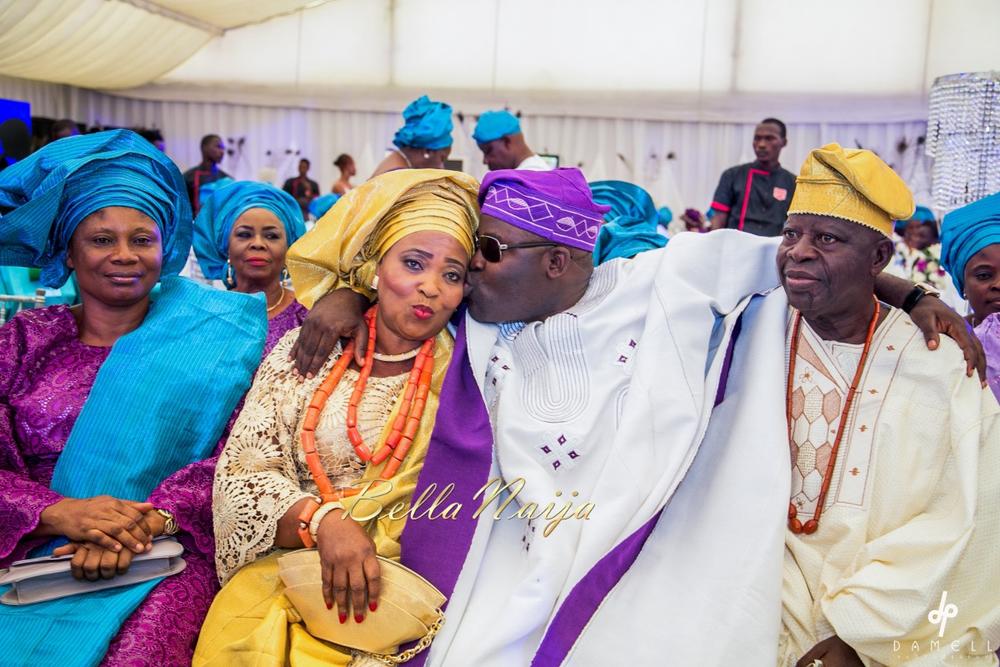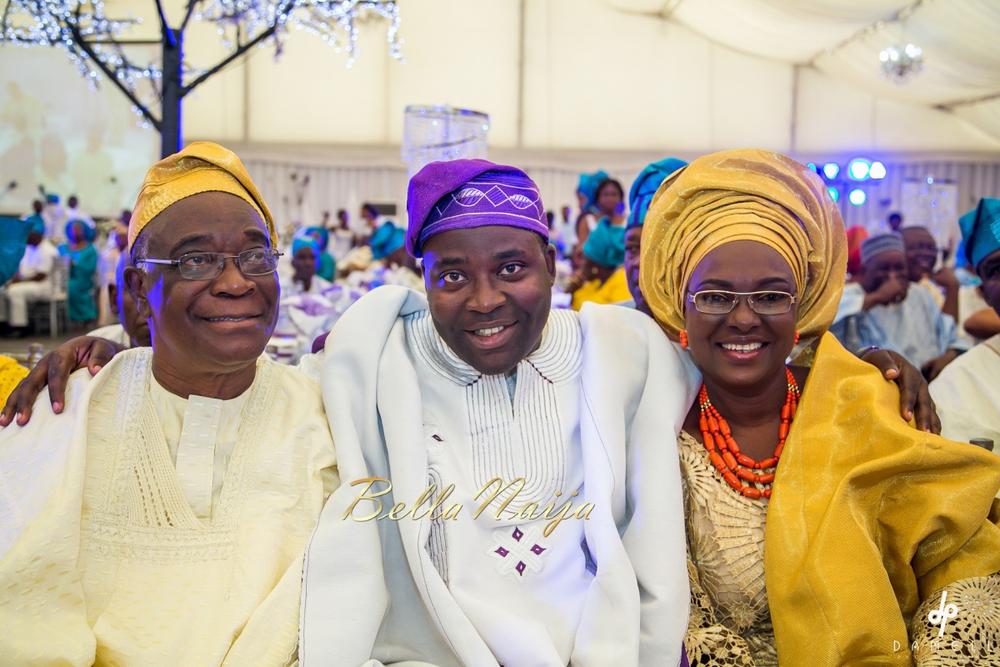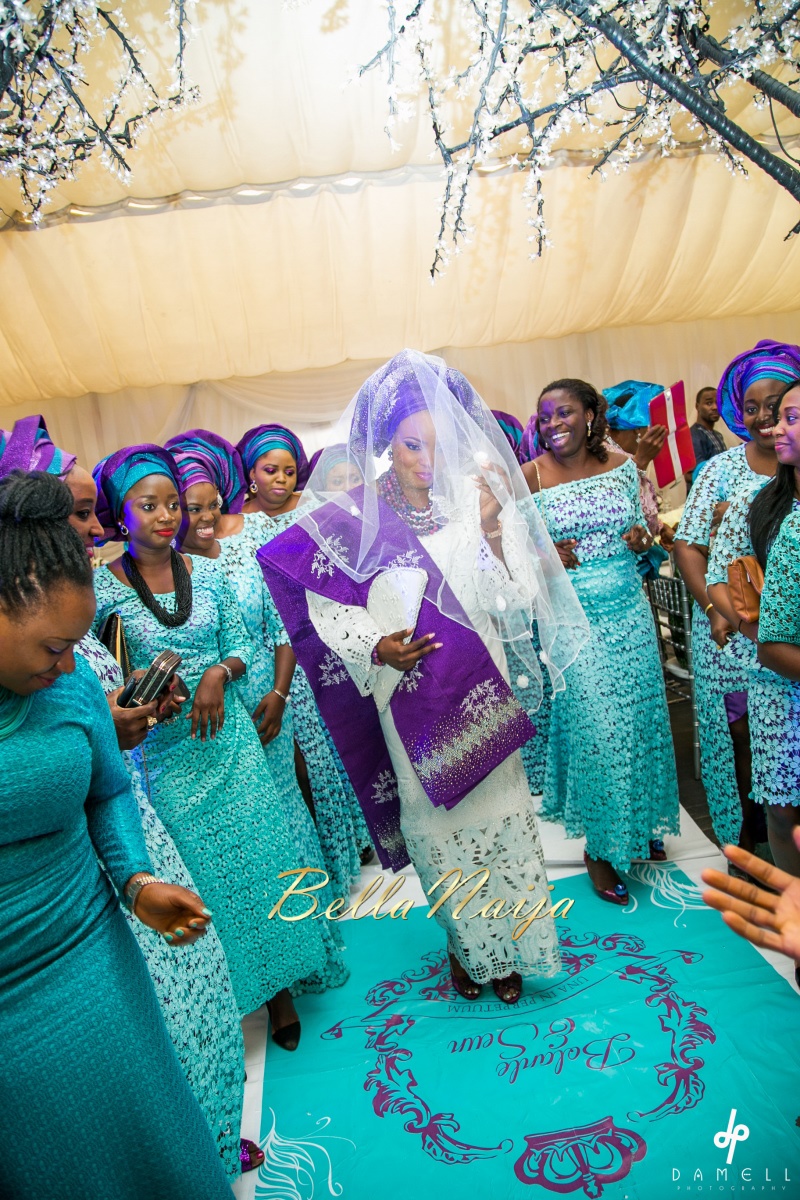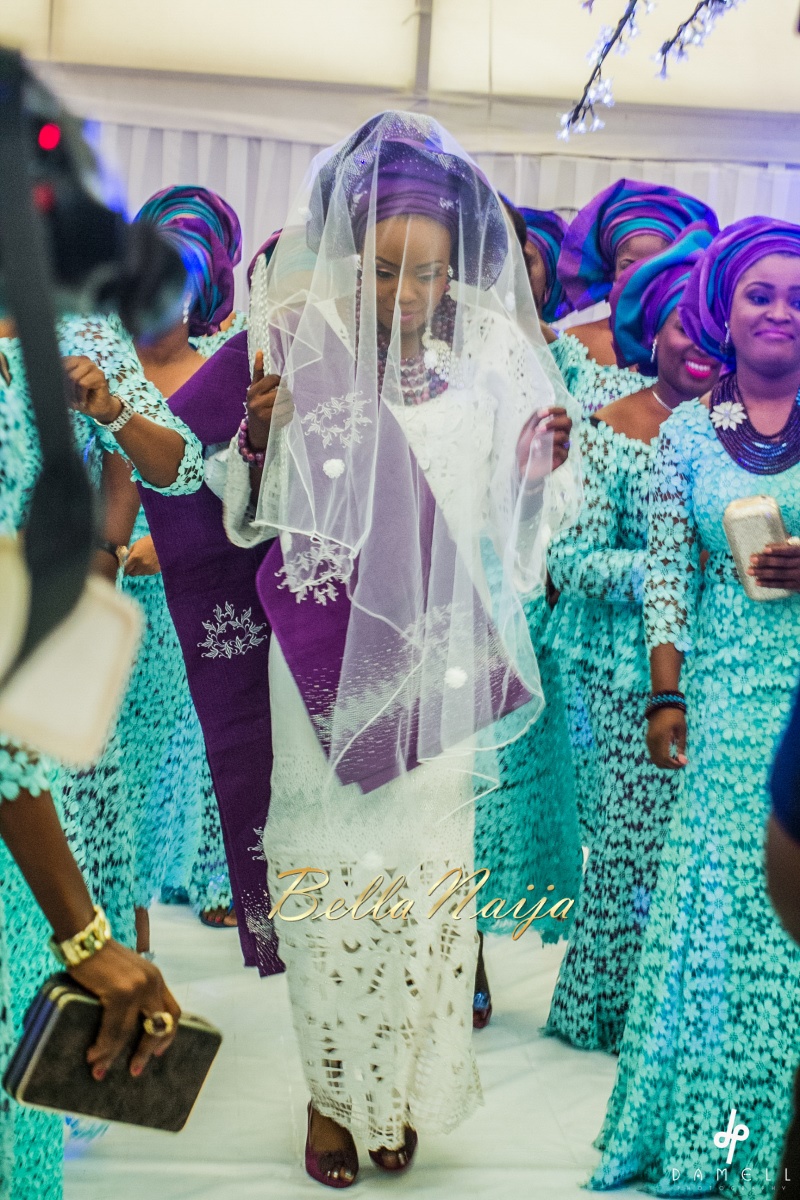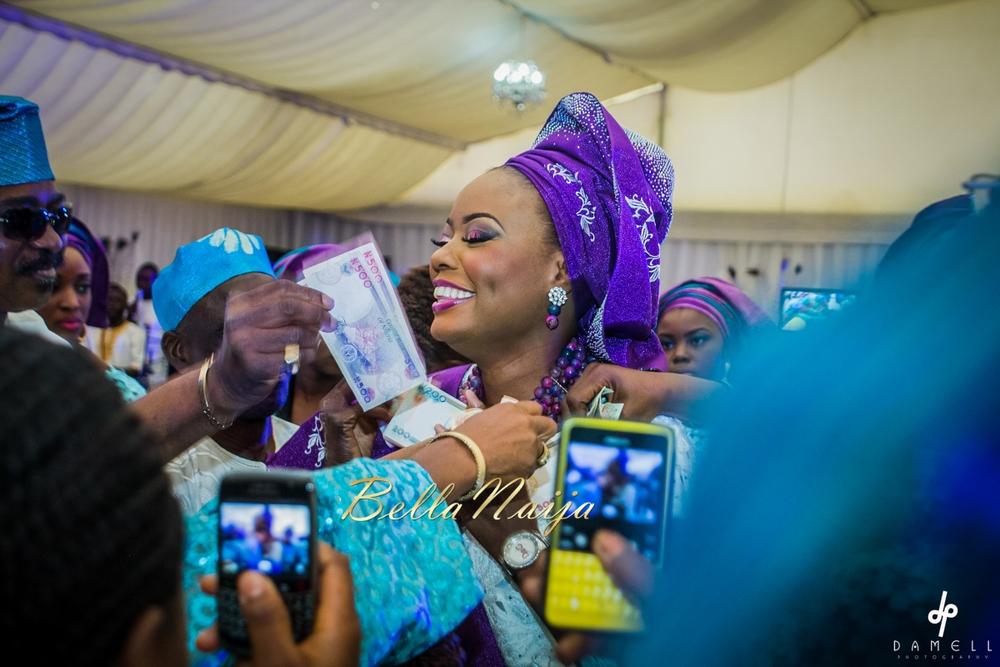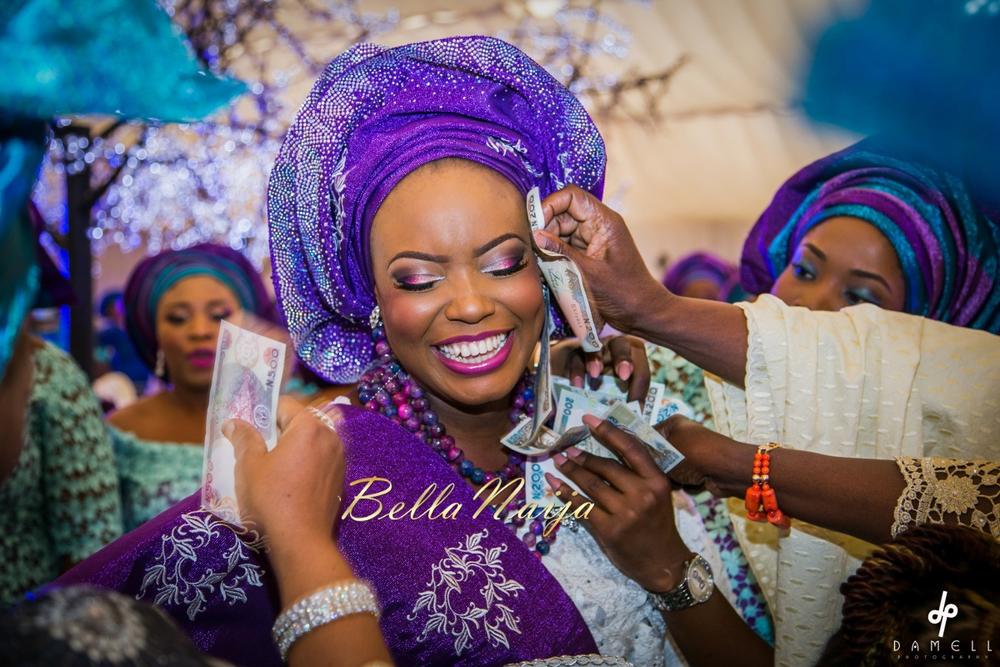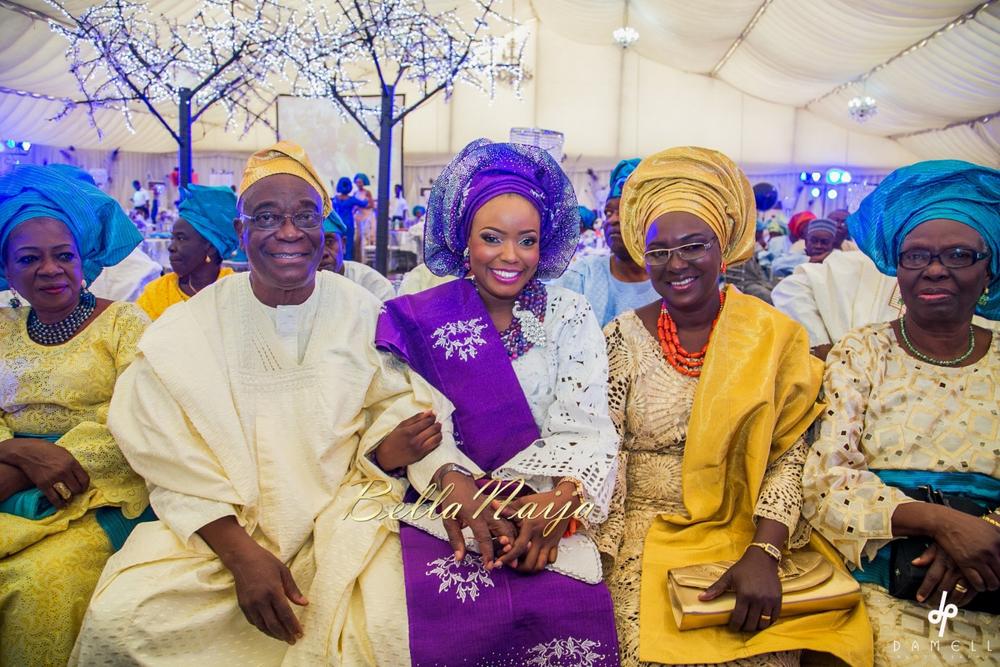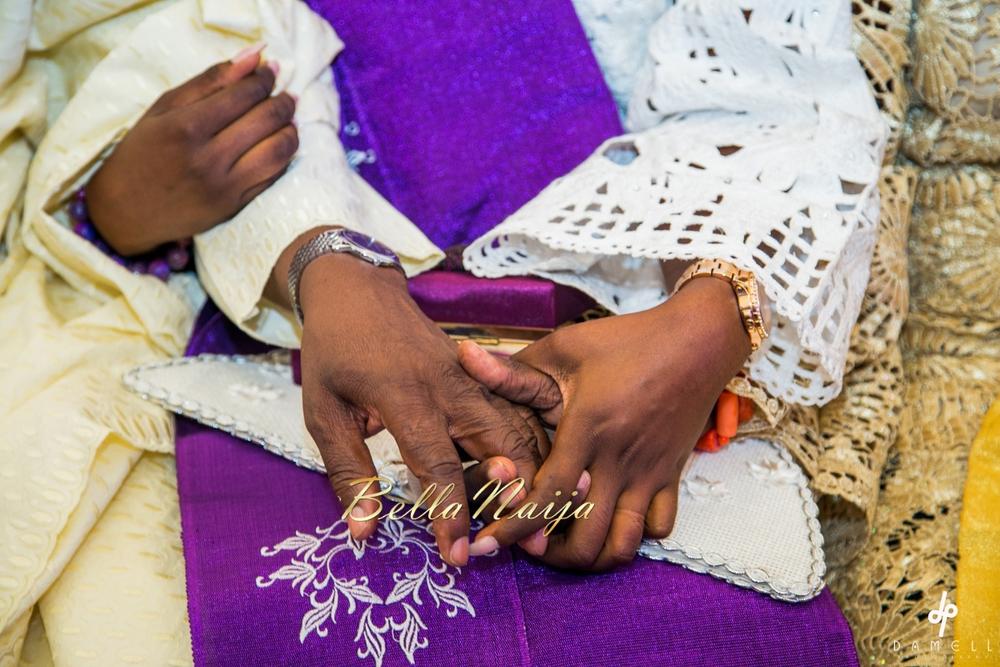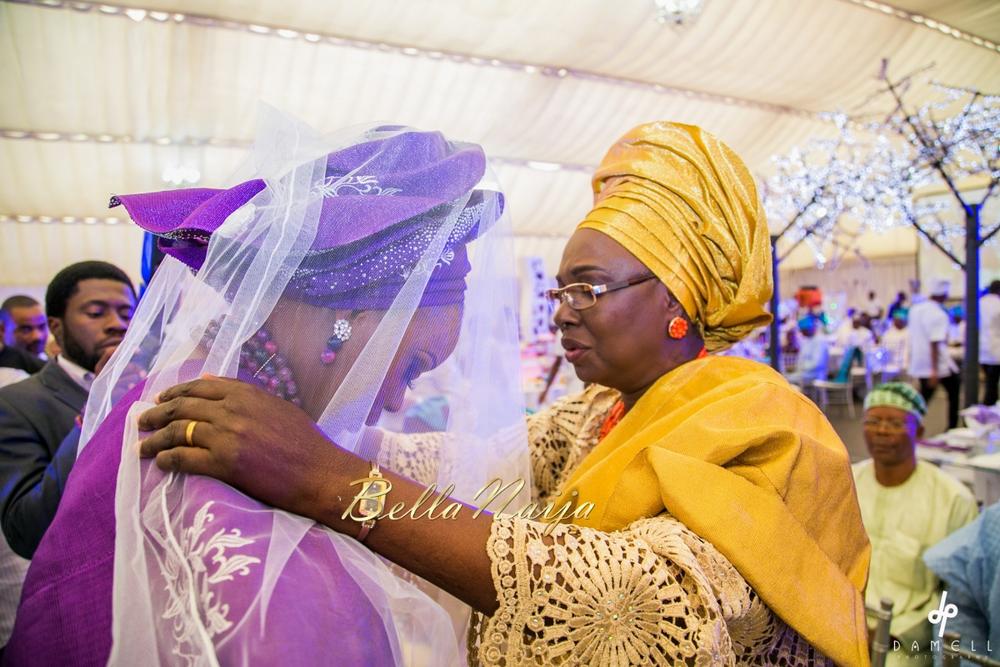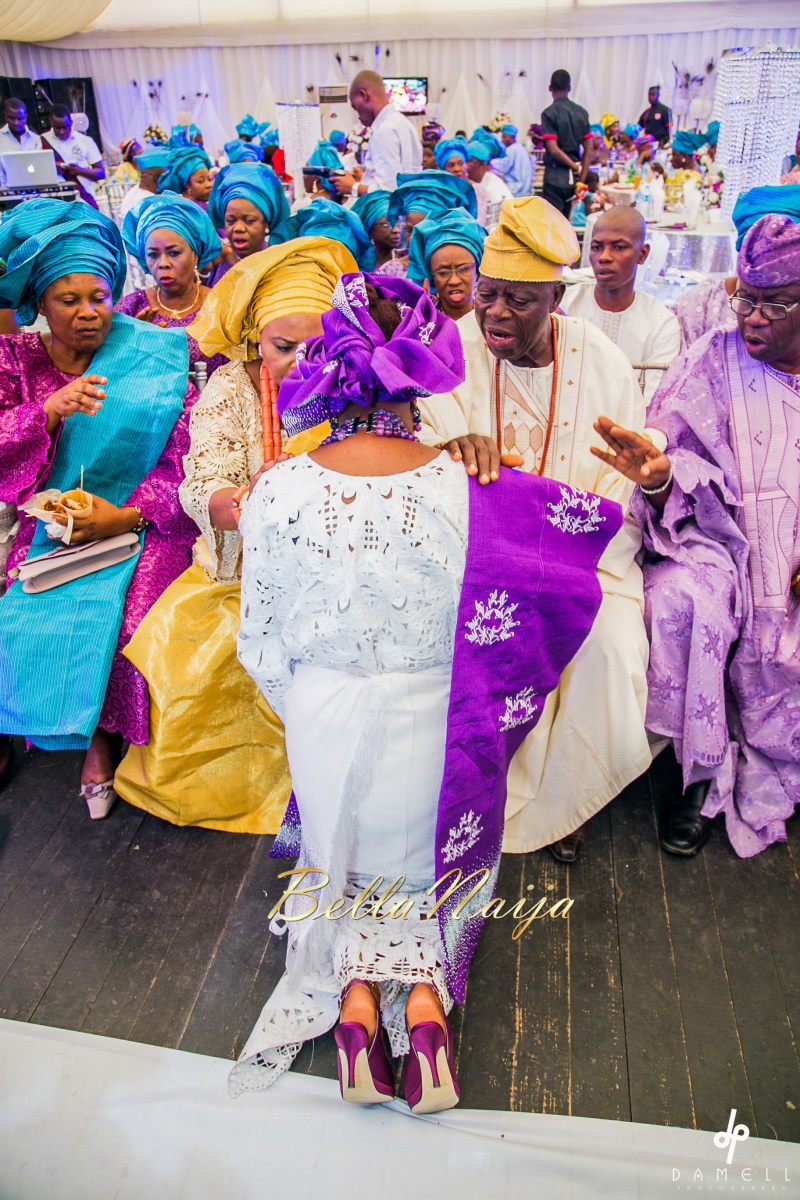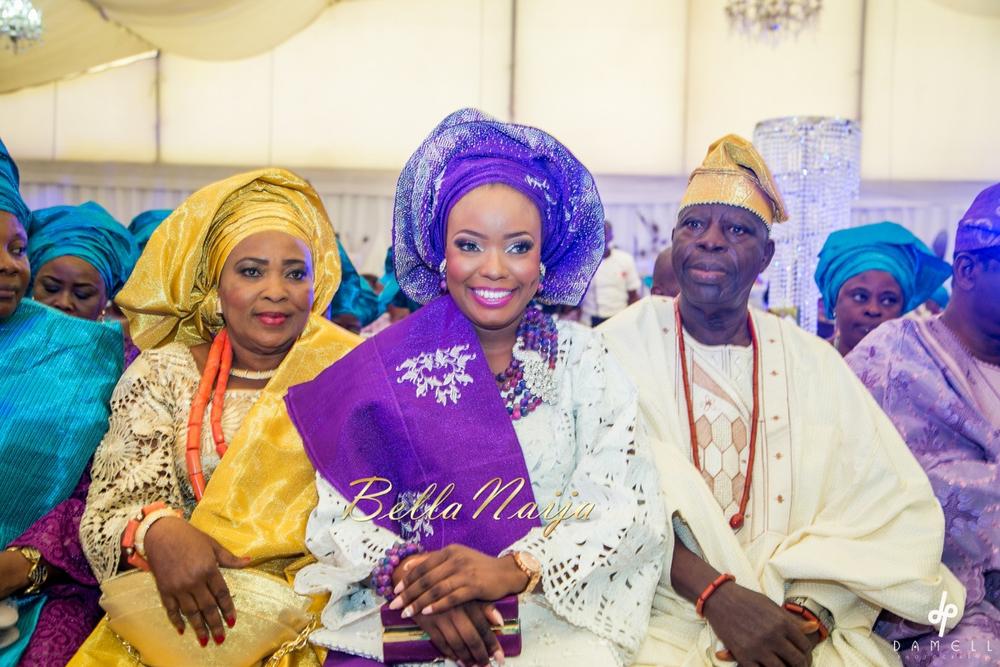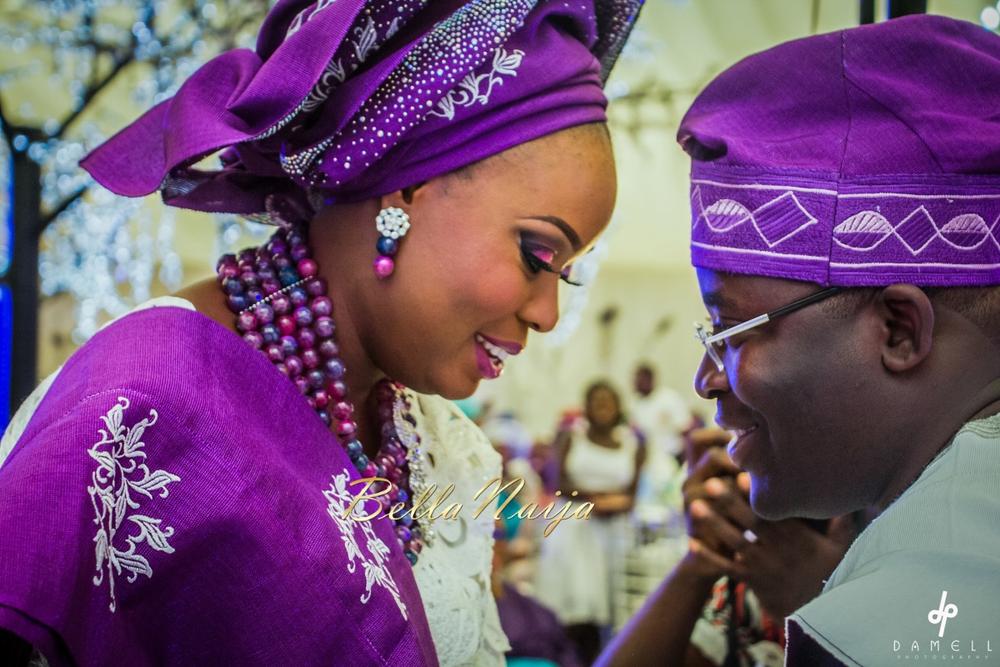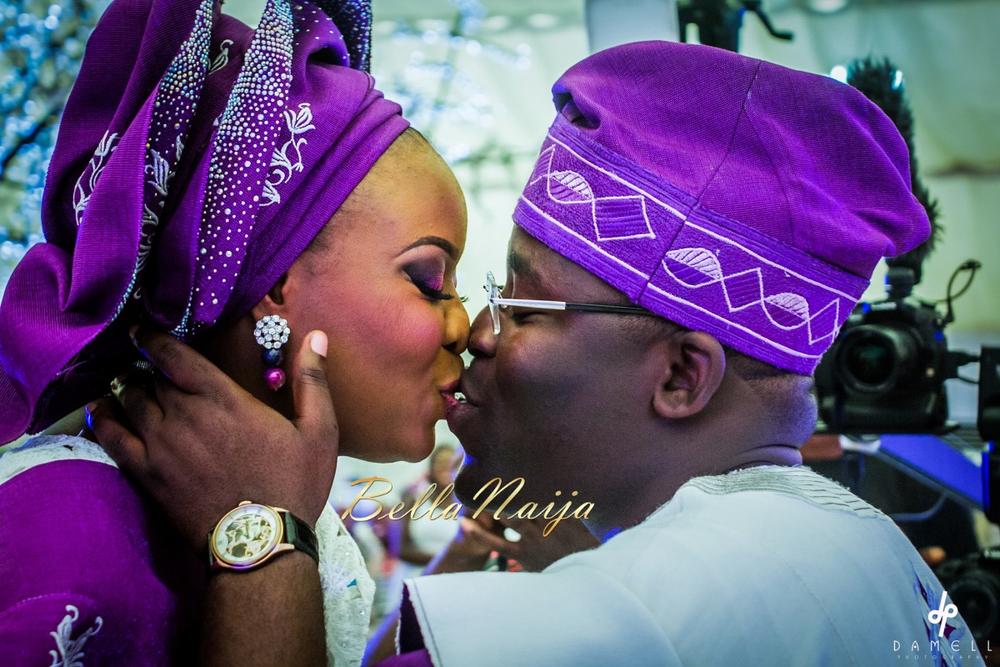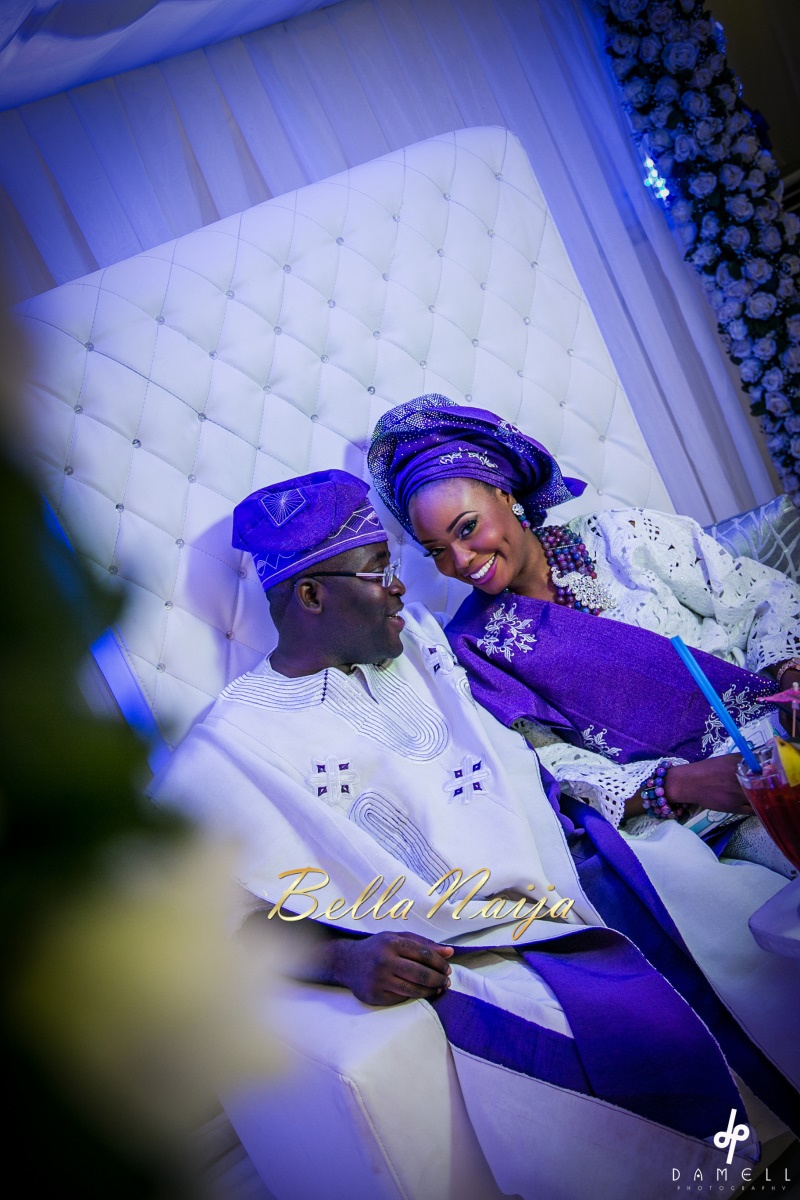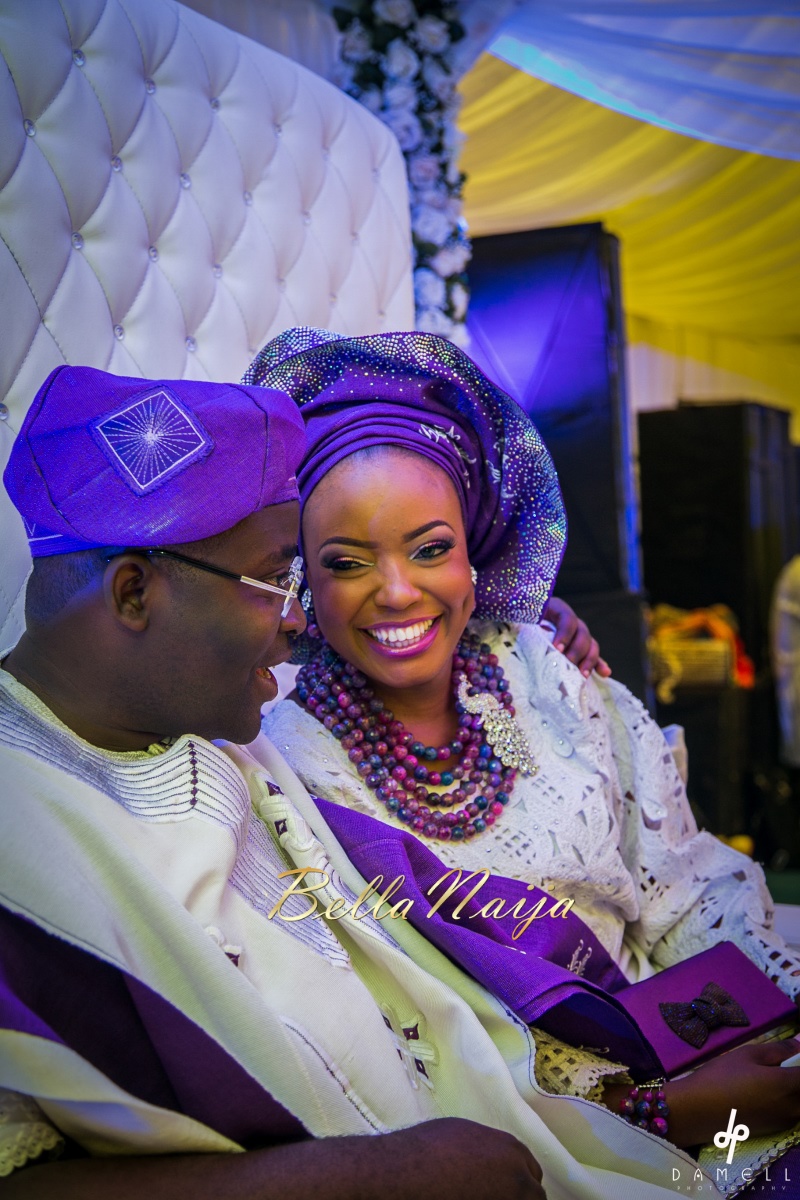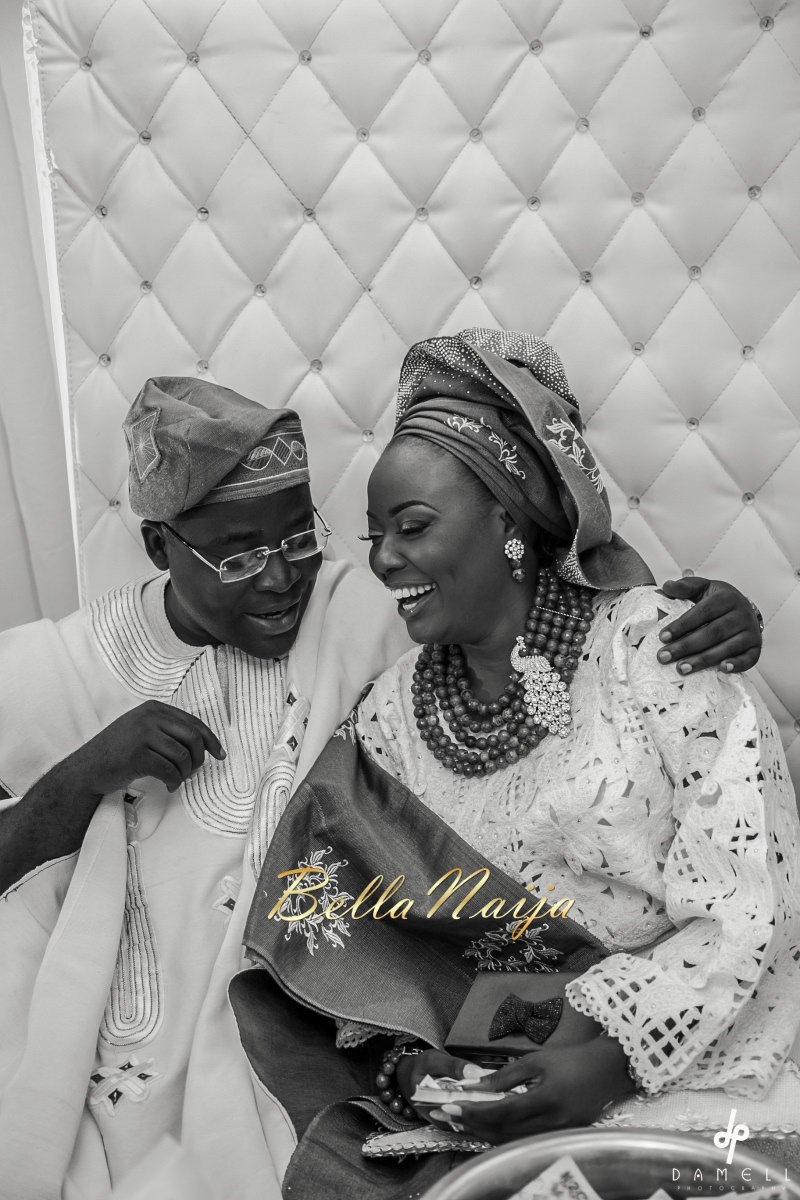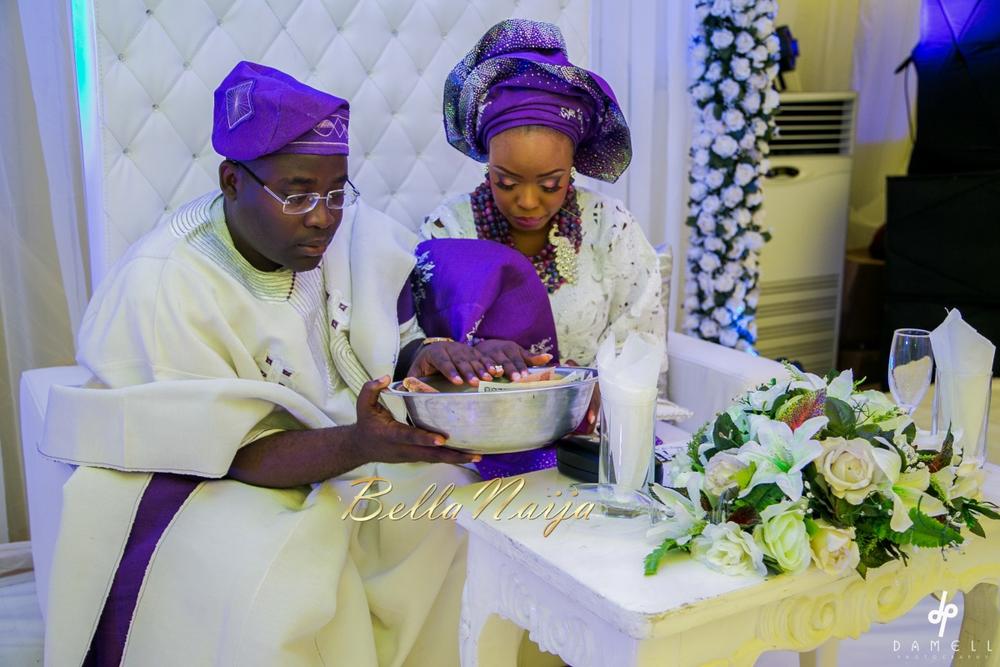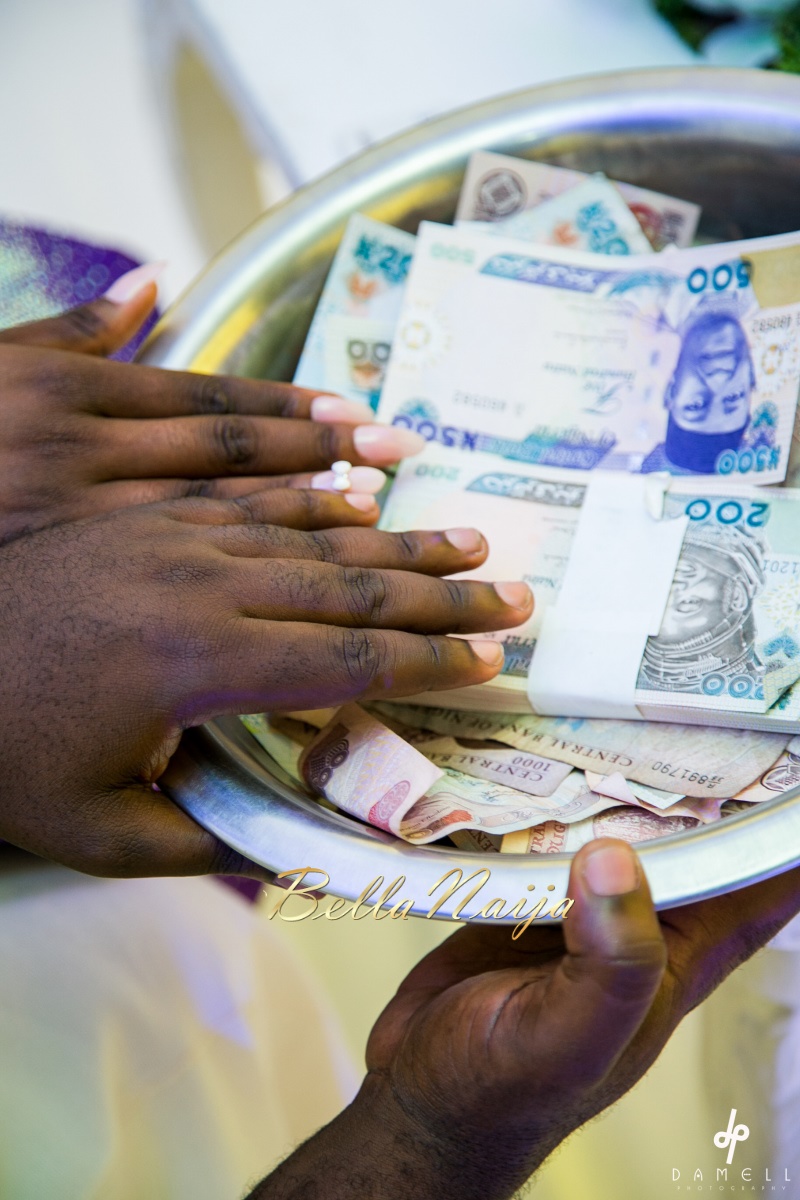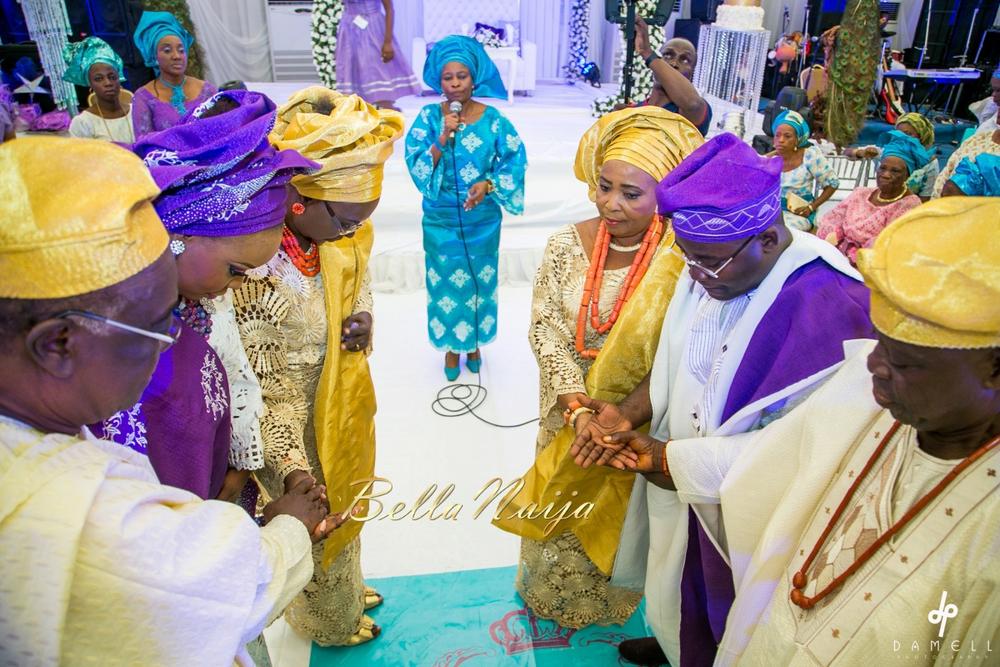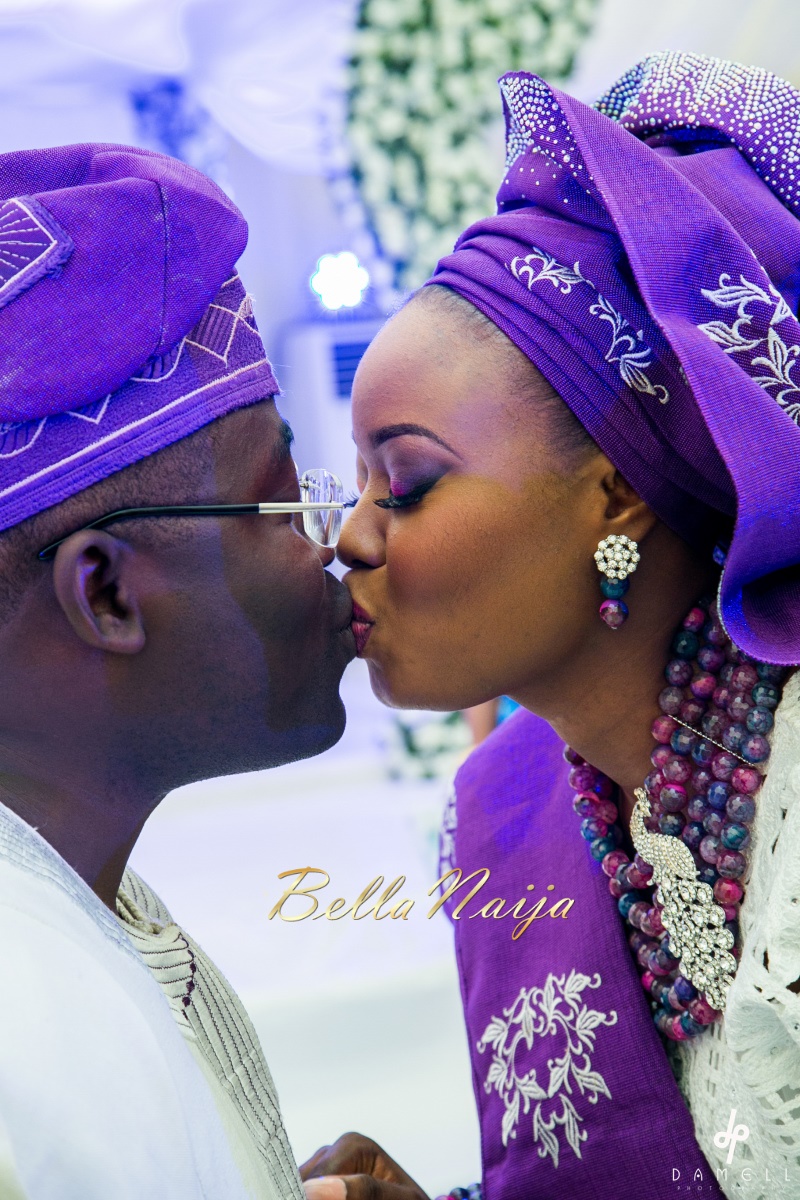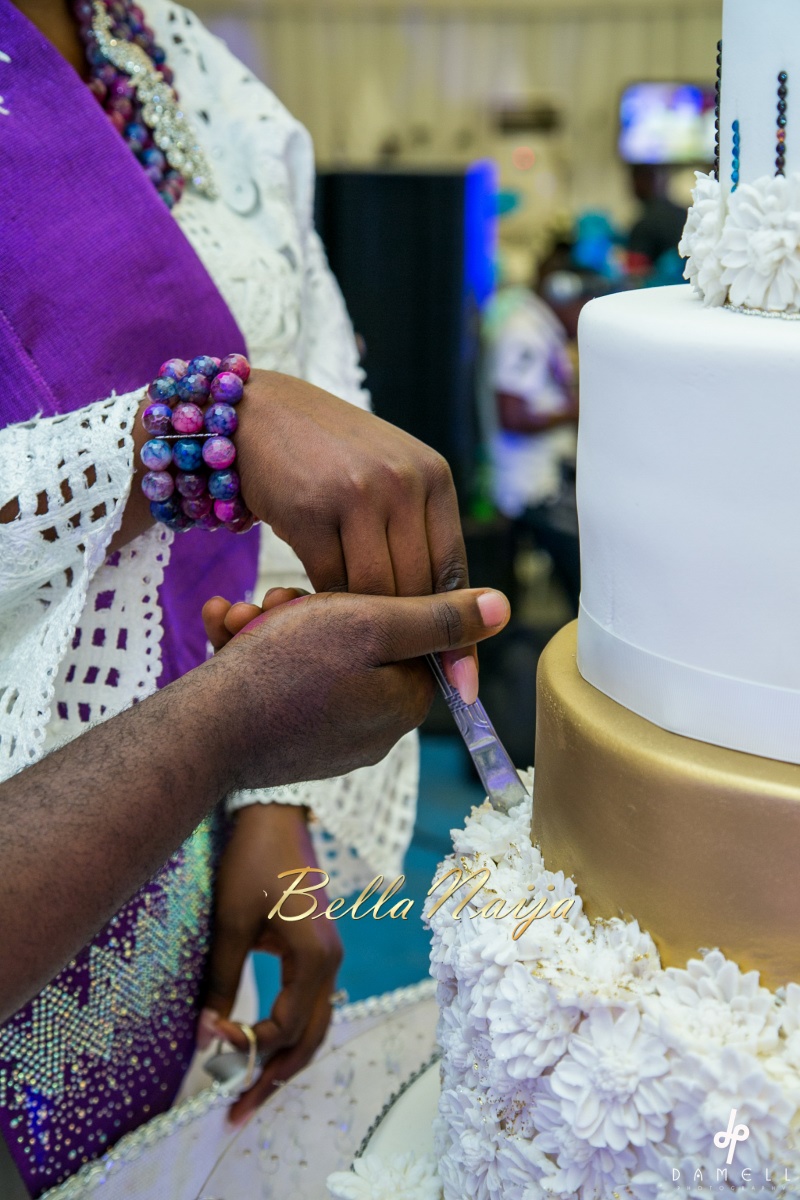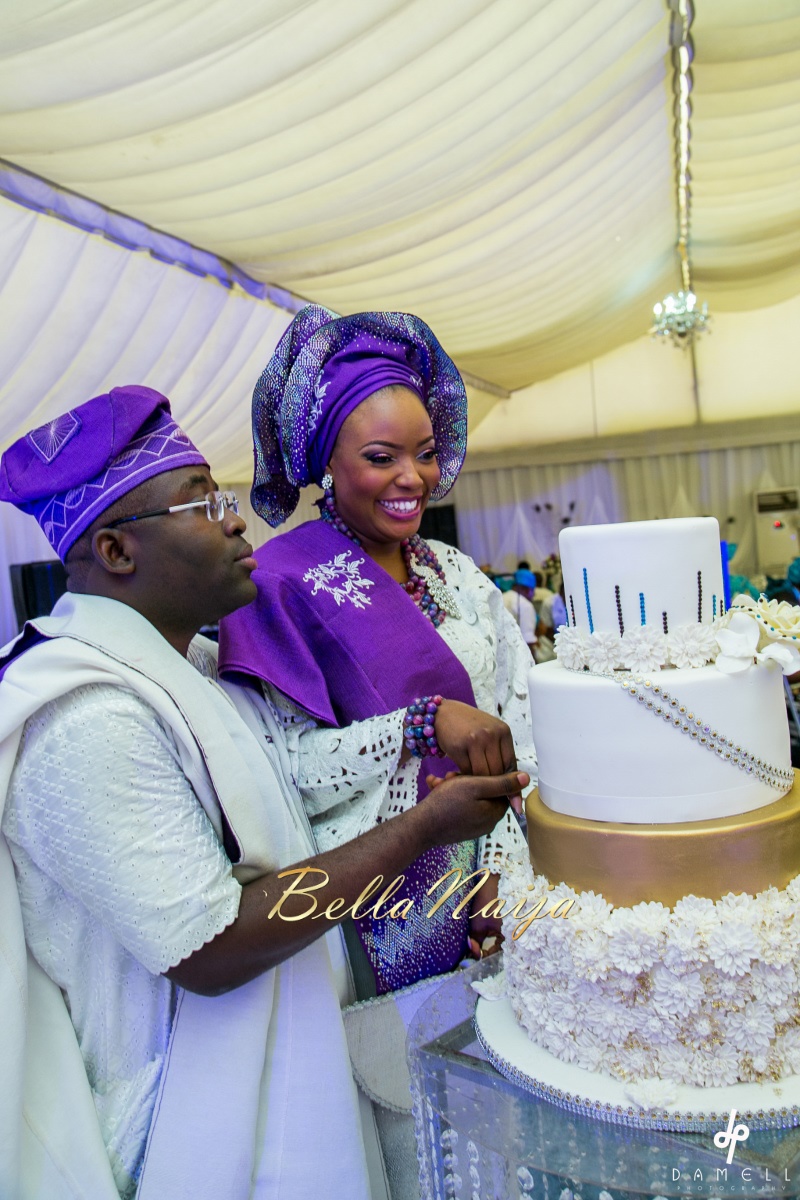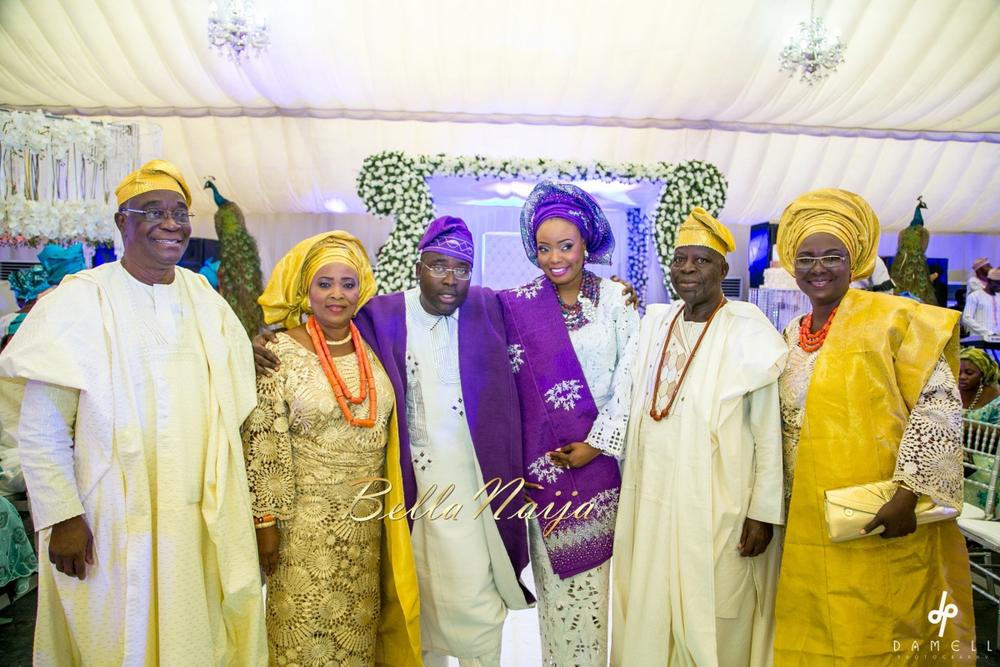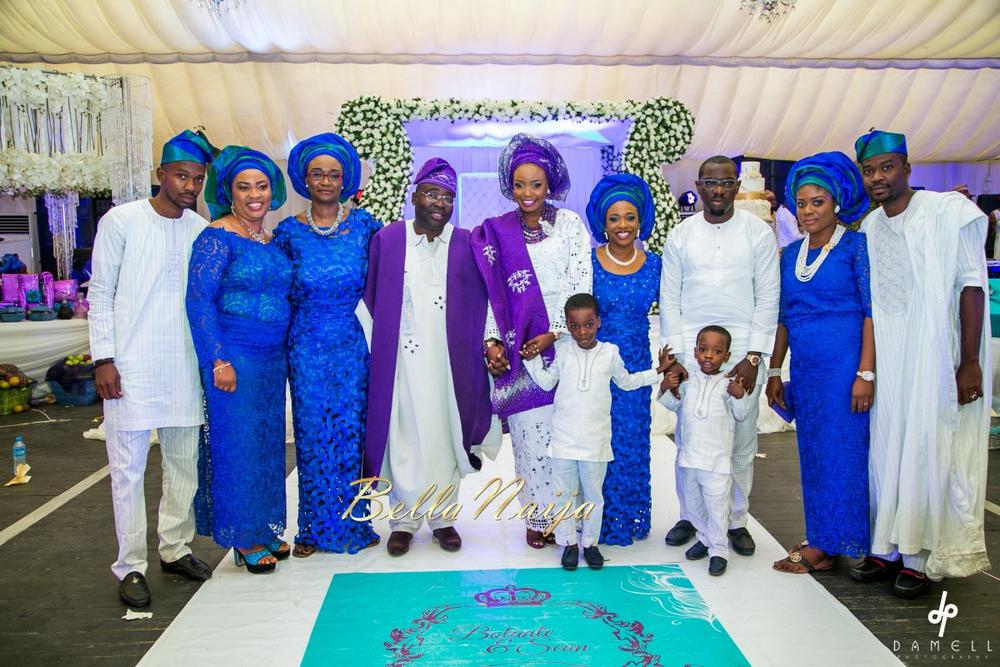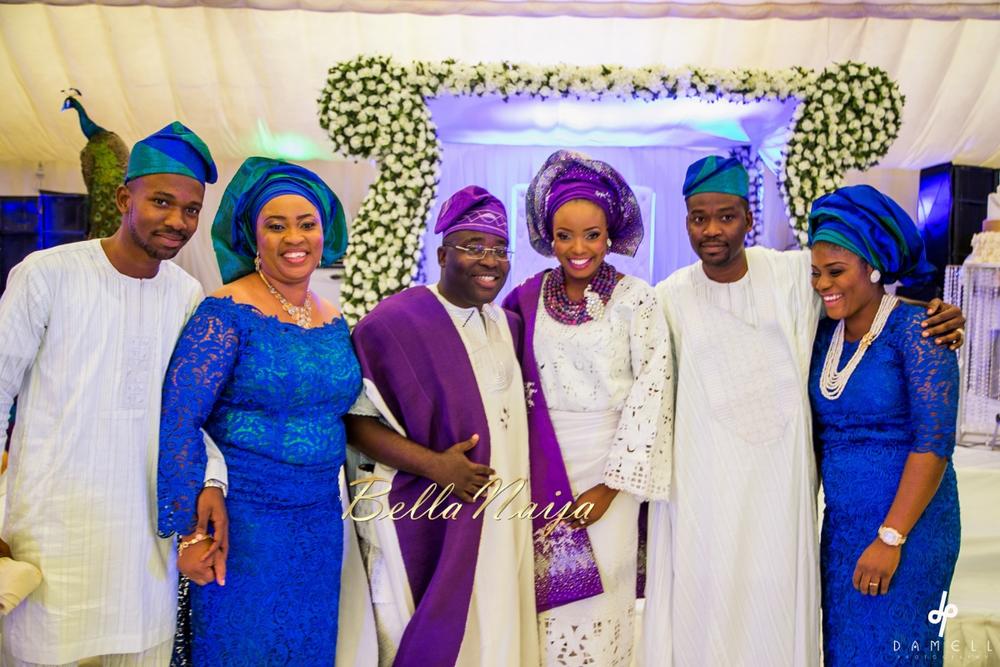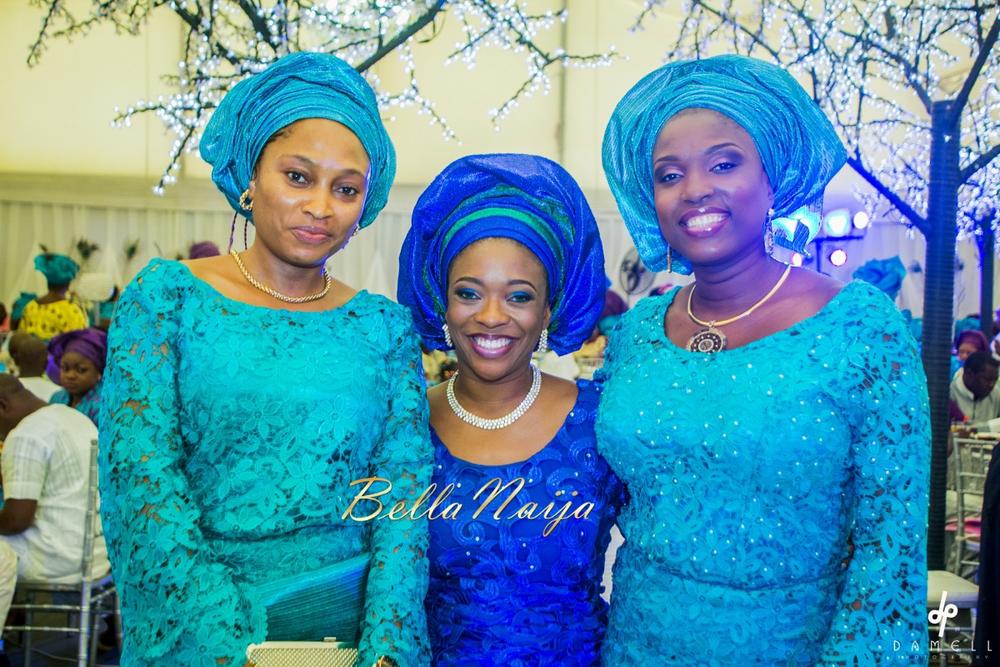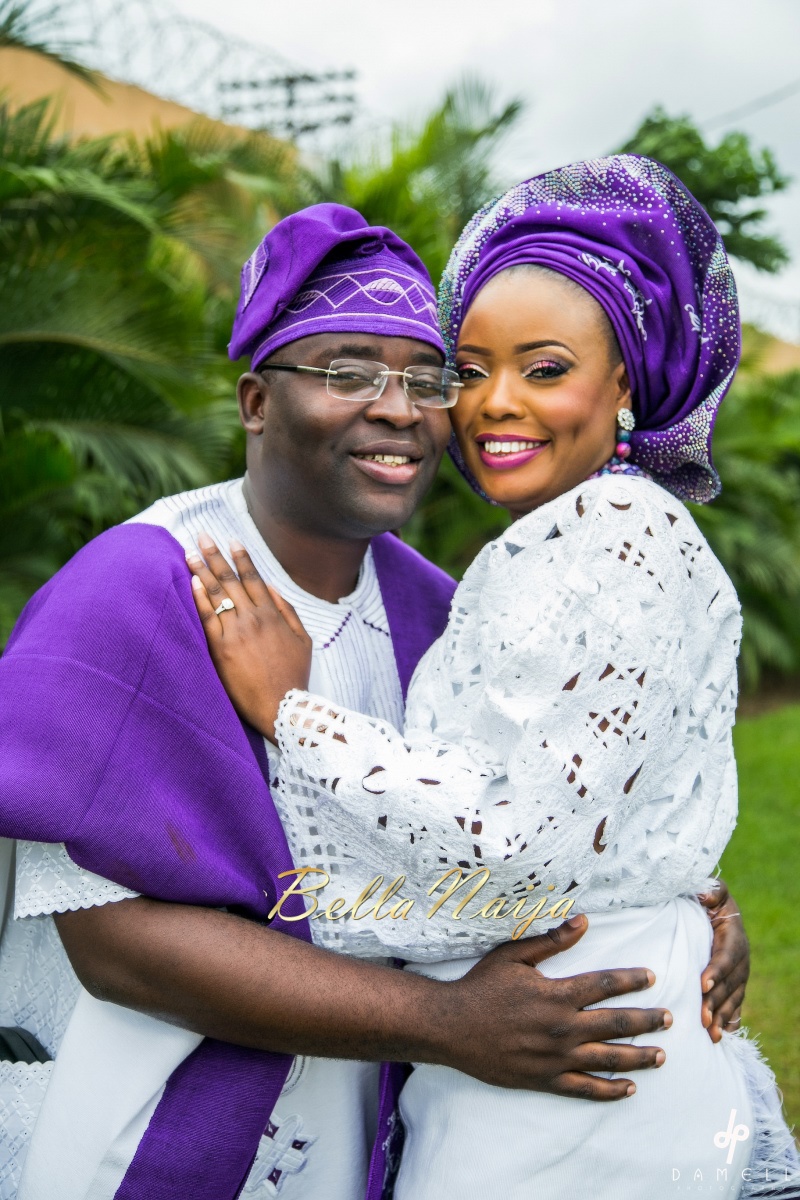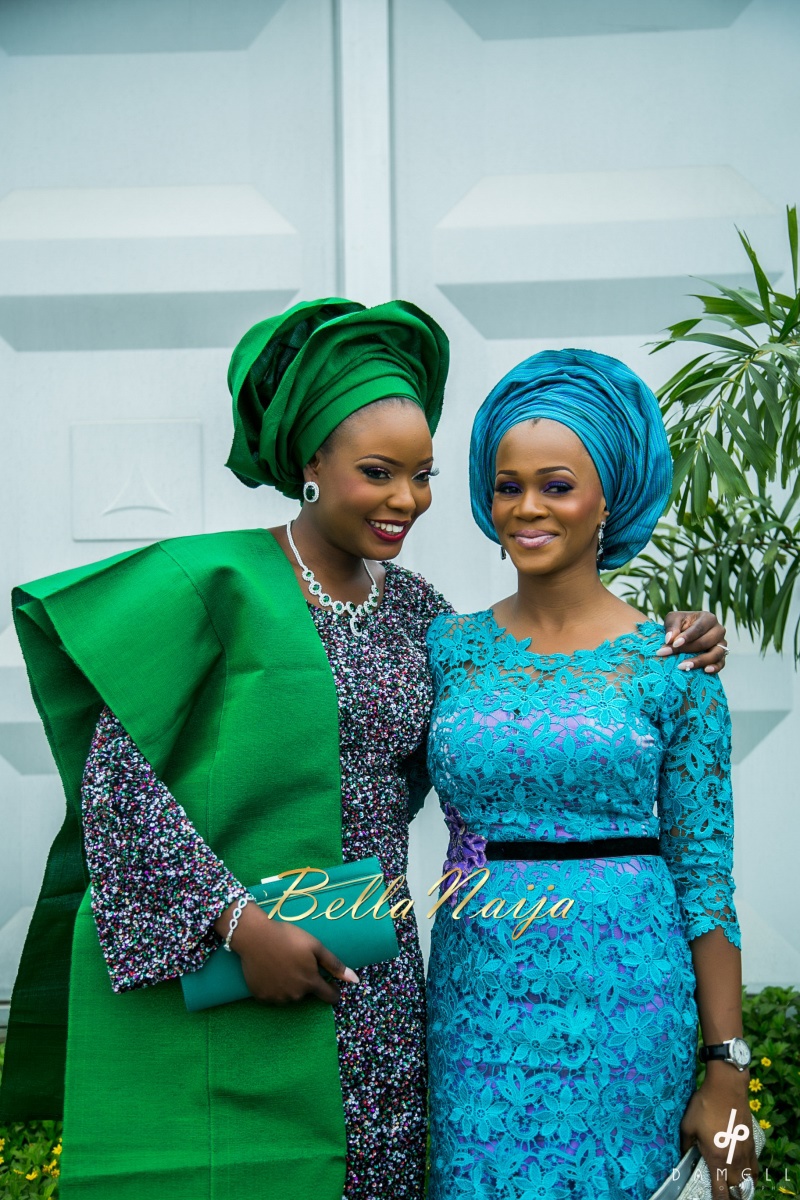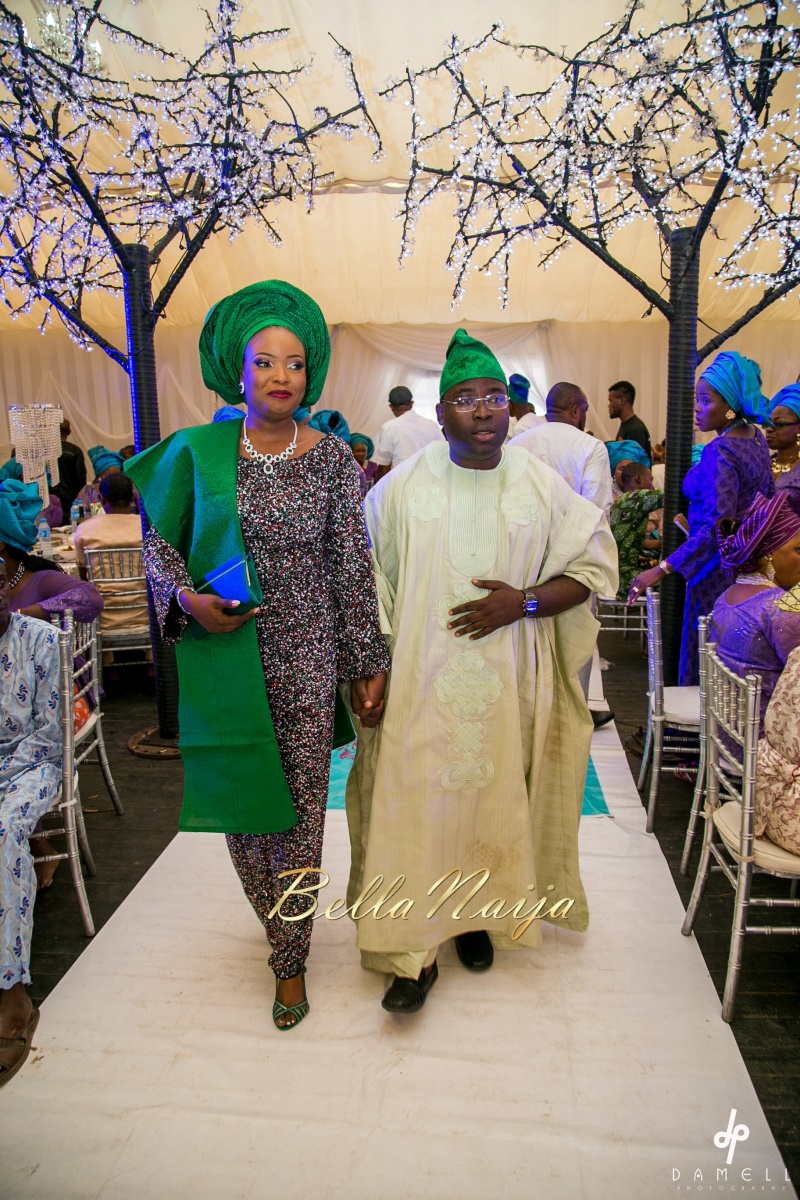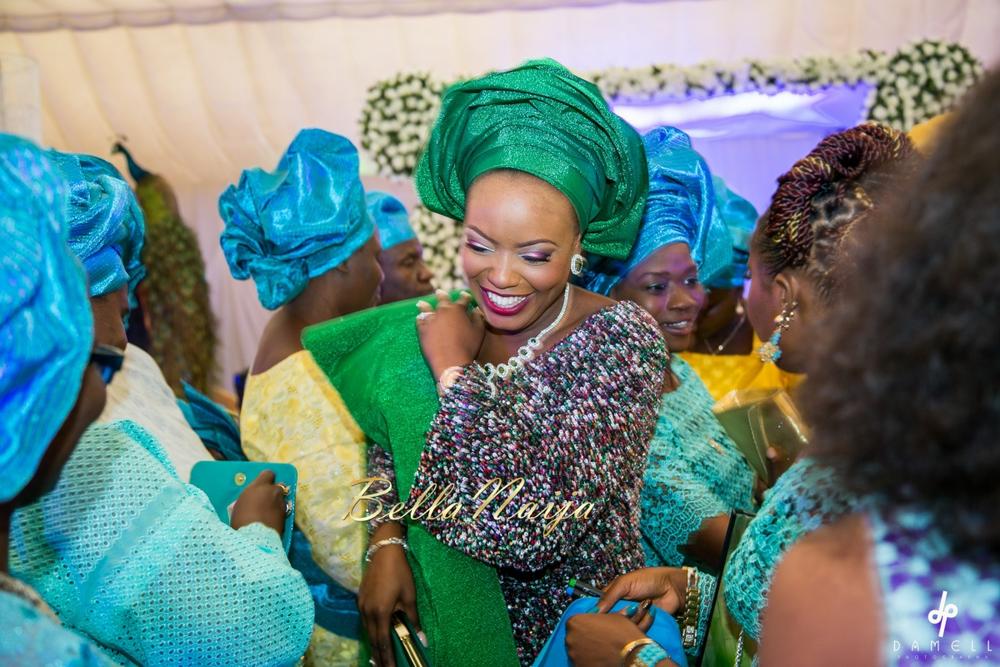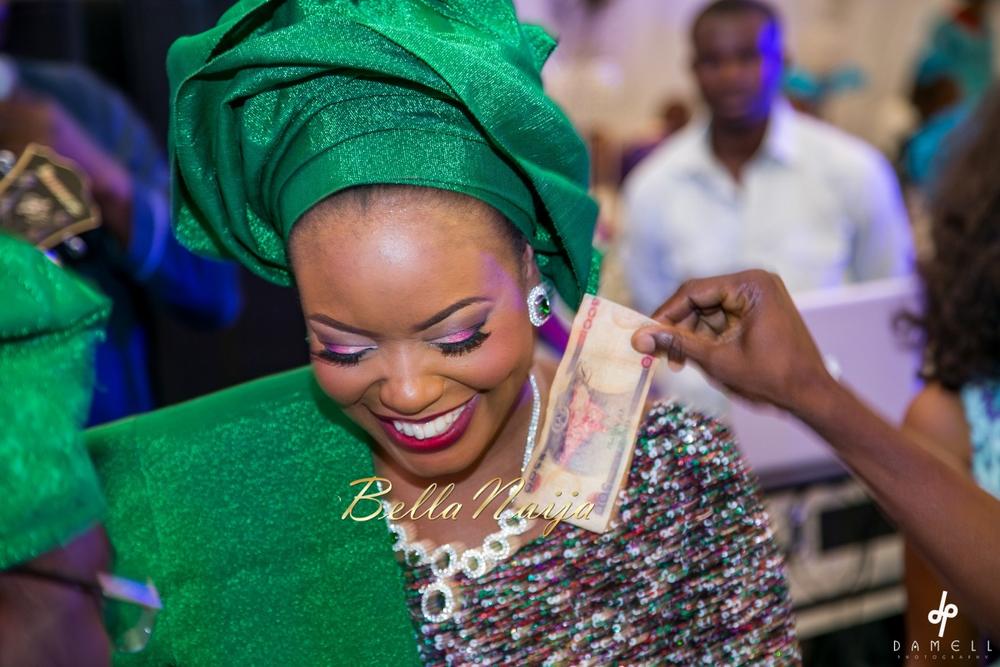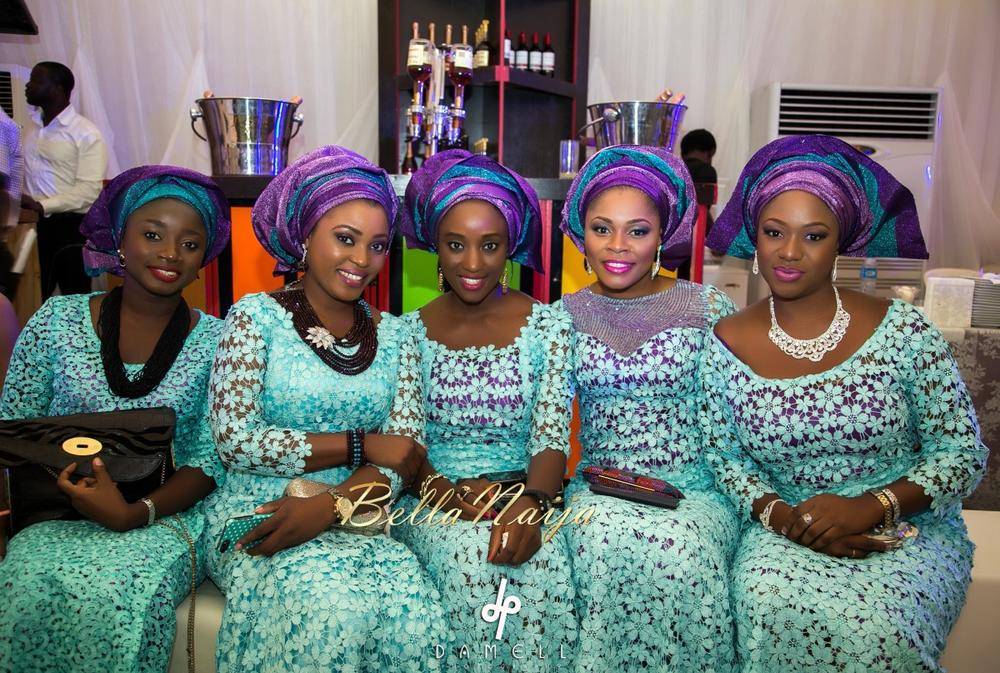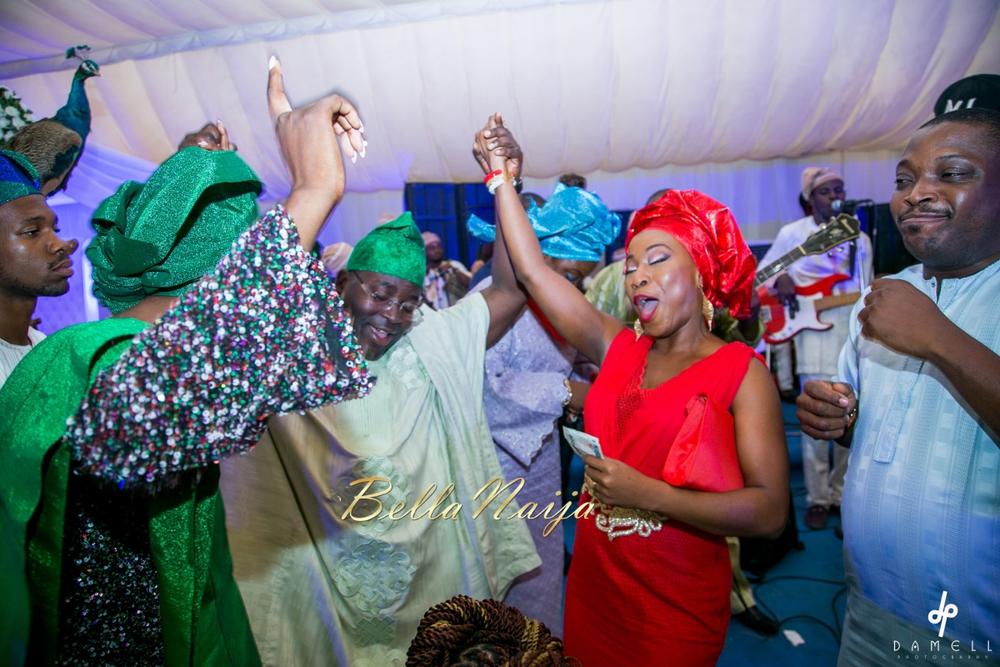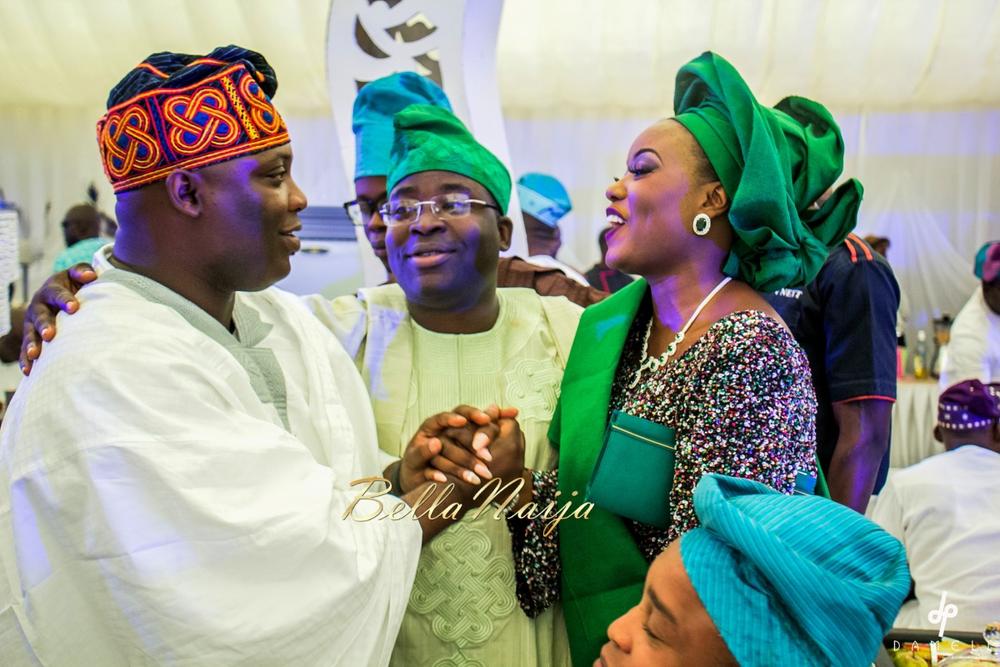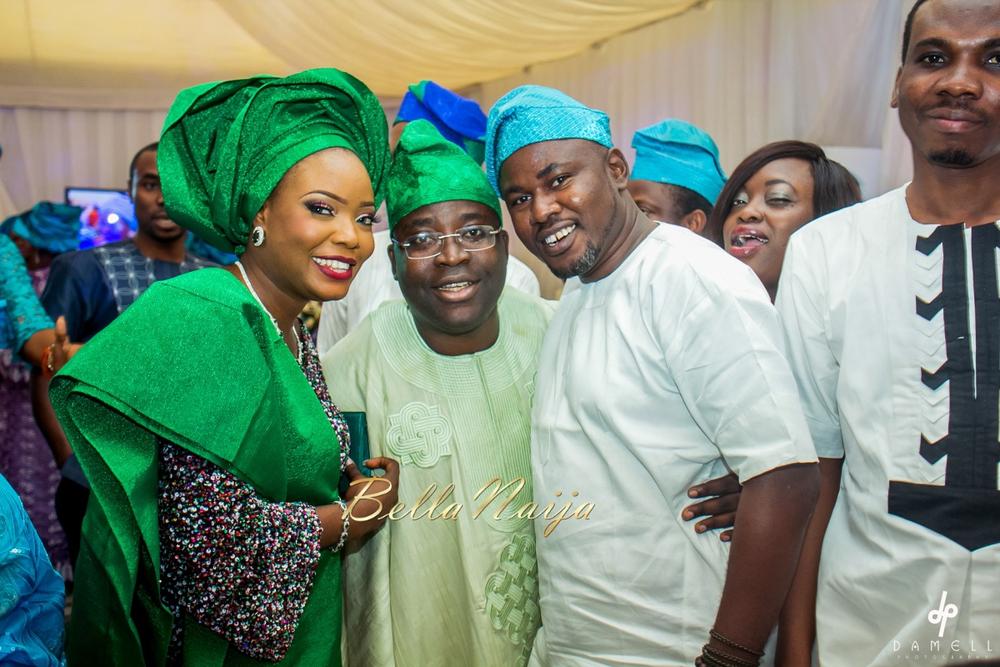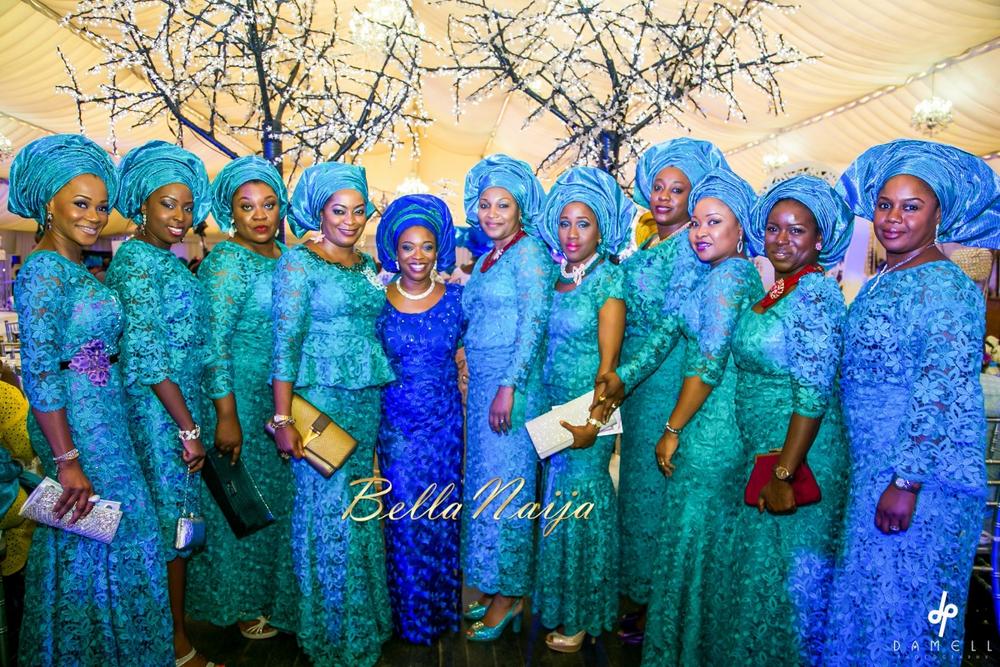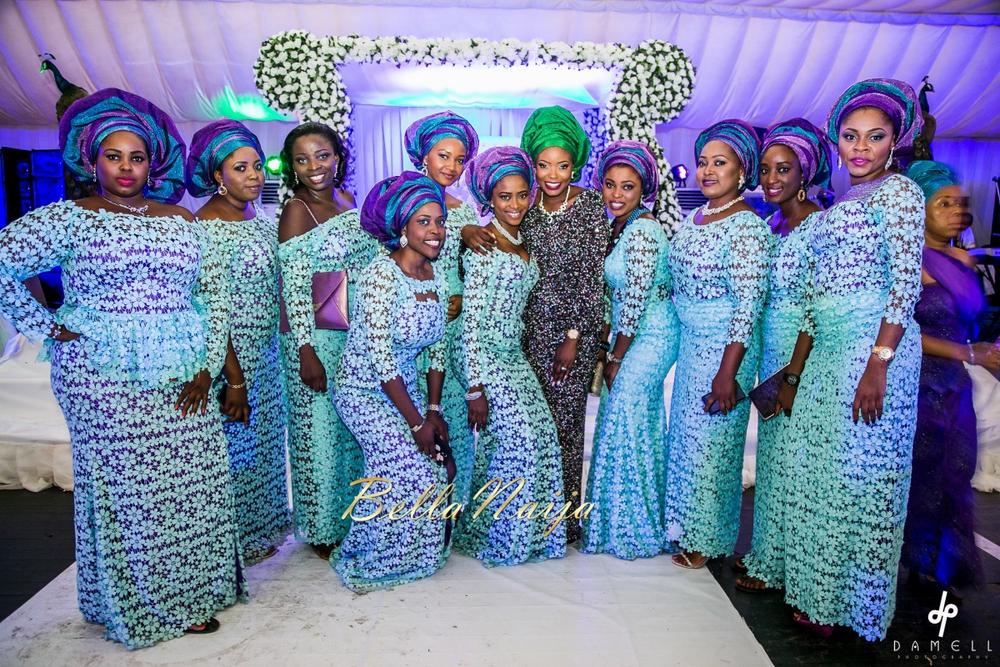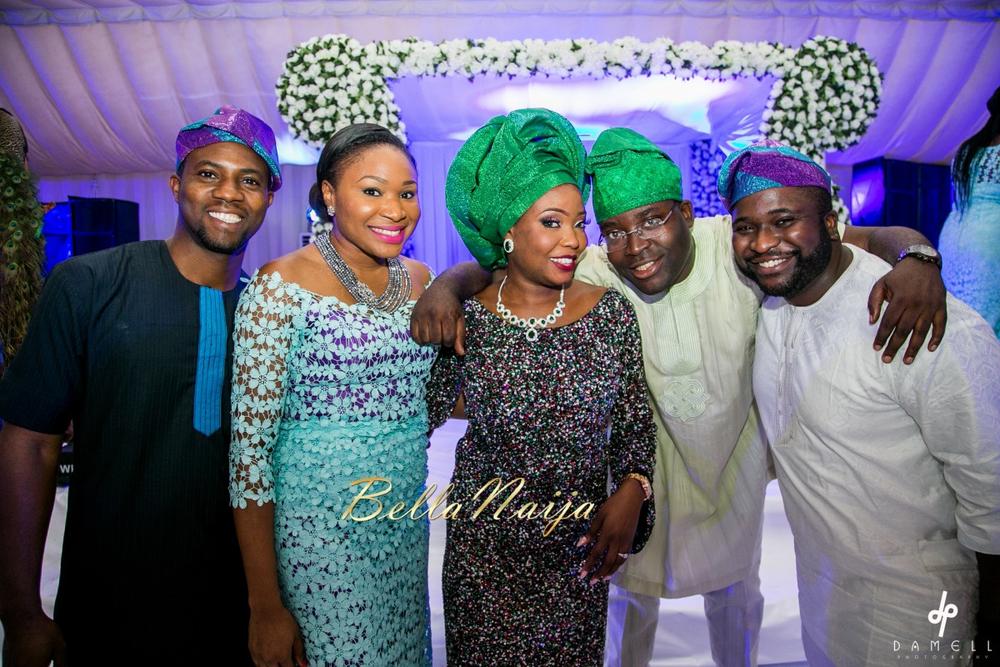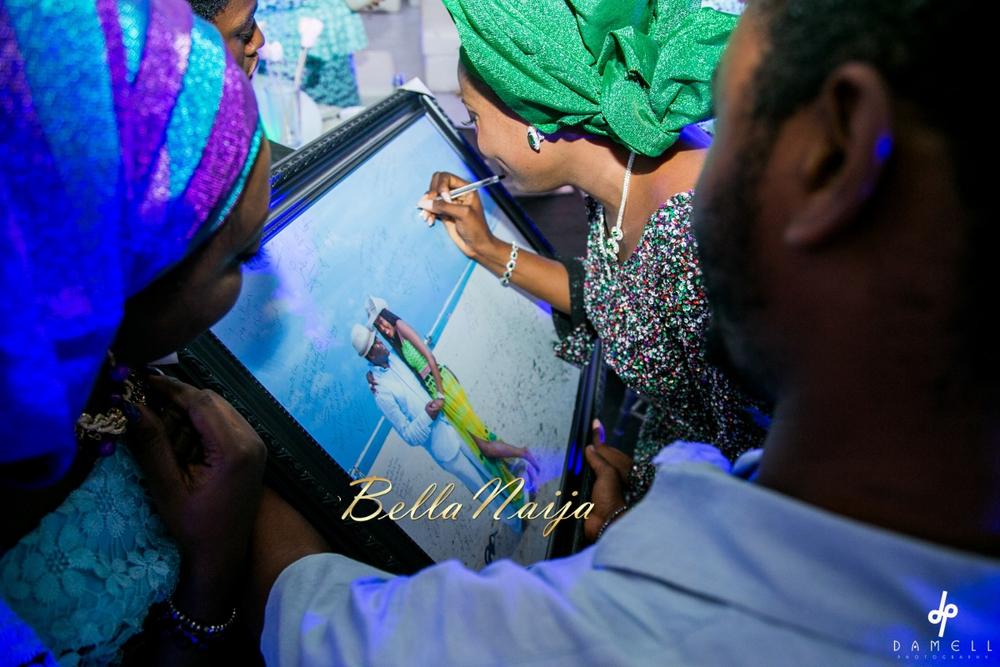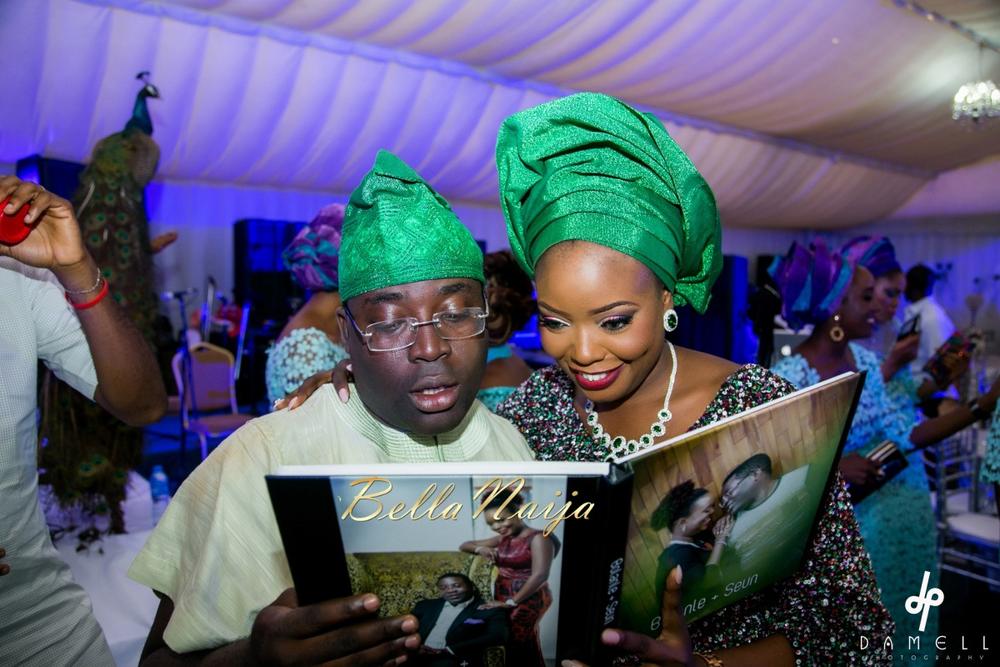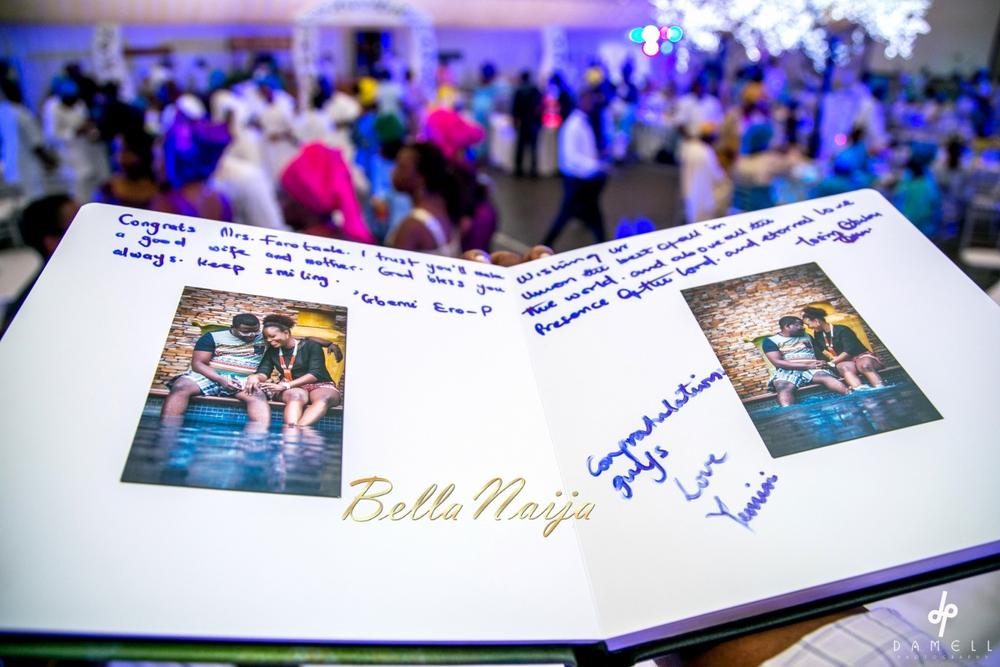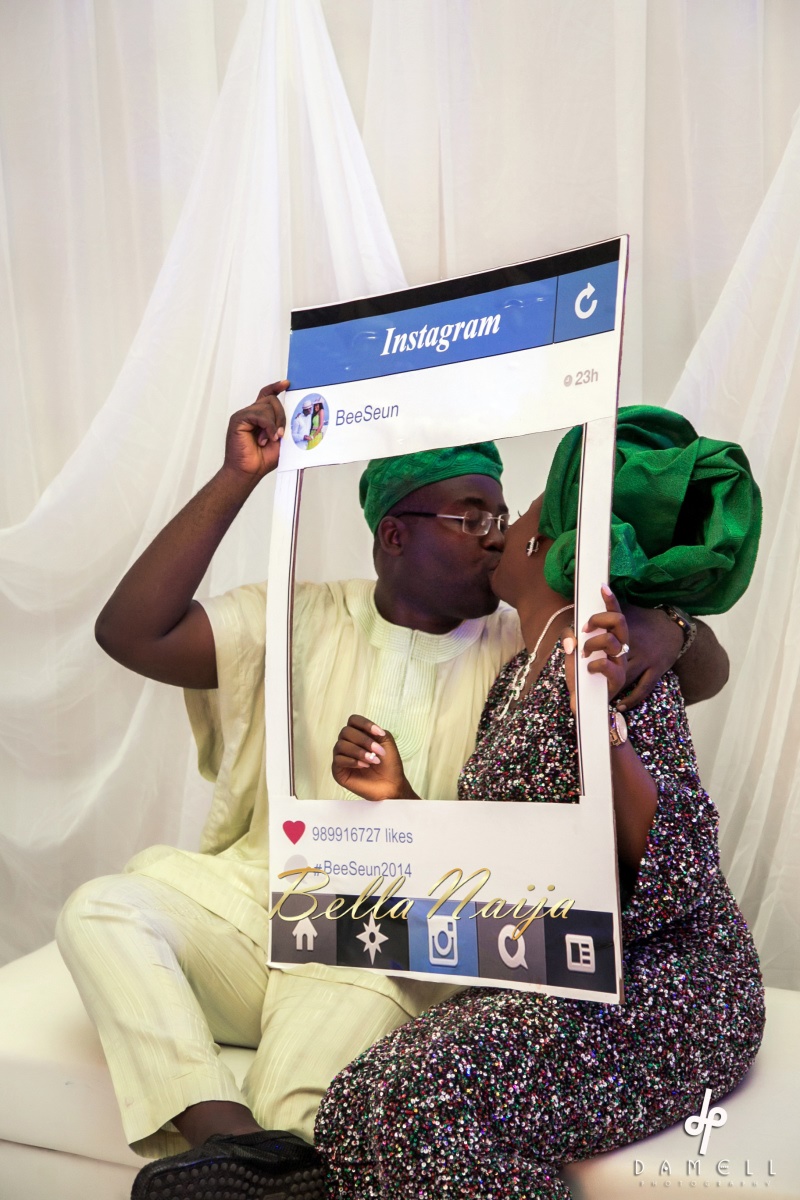 ~ Photography: Damell Photography | Email – dami@damellphoto.com | Instagram – @damellphotography
Wedding Planner: The Bride! – B'Signature Events | Email – bsignature.events@gmail.com | Instagram – @bsignature_events
Wedding Info – Dates | Venues | Colours
Traditional: 16th of August 2014 | Euphoria Events Centre, Ikeja, Lagos | Purple and Aqua
White Wedding: 23rd of August 2014 | Sea Cliff Resort & Spa Zanzibar, Mangapwani Island, Zanzibar | Sunflower Yellow and Pewter
Wedding Attire
Wedding Dress: Love, Tims
Reception Dress: April by Kunbi
Groom's Suit: King Hakbal
Bridesmaids Dresses: Style by Ayaba
Bride's Hair: Daja of Daja Salon and Spa Zanzibar
Bride's Makeup: Tolu Asaolu of Aariike Makeovers
Bouquet: Antonella Mia
Traditional Attire
Aso Ebi: Kwamuhle Fabrics
Purple Aso Oke: Molbaks Alaso Oke
Beads: Beads by Oma
Bride's 2nd Outfit: LDA Couture
Bride's 2nd Outfit Fabric: Flow Fabrics
Bride's 2nd Outfit Jewelry: Zena Accessories
Bride's Makeup: Banke Meshida-Lawal of BM|Pro
Groom's Agbada: King Hakbal Couture
Wedding Planner: The Bride! B'Signature Events | Email – bsignature.events@gmail.com | Instagram – @bsignature_events
Traditional Wedding Vendors
Traditional Engagement Decor: The Bride! B'Signature Events | Email – bsignature.events@gmail.com | Instagram – @bsignature_events
Traditional Wedding Cake: Cakes by Andy Clark
Food: Jollof Plus, Lima Cuisine – 08026937071
Drinks and Mobile Bar: Icebox
Small Chops: 12 baskets – 07045302290 | Psalm121 foods – 08064005335 , 07061142765
Cocktails and Palm wine Bamboo bar: Woligator – 08056239716
Desserts and Chocolate fountain: Sweet Cravings Desserts
Fruit tree: RL Desserts – 08028286366 , 08152949656
Grills and Wraps: Papi's Grill – 08032775722 , 08022093673
Hostesses: B'Signature Events
Bouncers: Golden Events Solution
DJ: DJ No Doubt – 08074273812
Band: Akin Ajayi band – 08023195822 , 08148438988
White Wedding Vendors
White Wedding Cake: The Chef at Seacliff Resort and Spa Zanzibar
White Wedding Decor: Concept – The Bride, Execution – Jason Gaikwad – +255714979252
DJ Biso: Investment Banker by Day, High Octane DJ by Night
+2348033008238, djbislo@yahoo.com