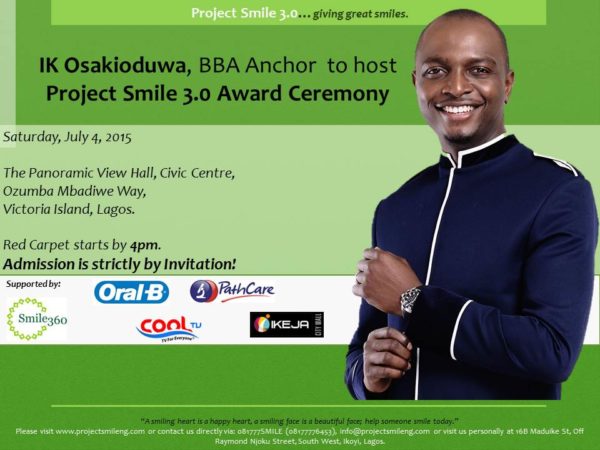 Celebrities, captains of industries, members of the diplomatic corps, clergy and regulatory bodies will be converging at an award ceremony in pursuit of a common cause to support the Smile Makeover program of selected Nigerians afflicted with dental defects and flaws.
Tagged Project Smile 3.0 with a parallel theme as the World Oral Health Day 2015- 'Smile for life!', the award ceremony & fund raising event is designed to host selected influential individuals from various spheres of life to support the dental makeover treatment of candidates who made it through the final clinical screening and evaluation exercise from among the hundreds of entries recorded in the Project Smile 3.0 Smile Makeover Contest.
The event will be hosted by IK Osakioduwa, renowned anchor of the Big Brother Reality TV Show. Some of the guests expected include dentistry-trained cum ace music artiste, Dr Sid, TemiDollface, Tonye Garrick, Vice-President of the Nigerian Dental Association, Dr. Funmi Ashiwaju and many others from the corporate sphere. The event will be the first of its kind in the dental healthcare and corporate social responsibility landscape in Nigeria.
According to Dr. Amy Traore-Shumbusho, Initiator, Project Smile, the award ceremony will mark a major milestone in the project phases of the initiative in that it is the first time there would be an event which gives opportunity for wider participation of other stakeholders to exercise and activate their philanthropic values and policies either entrenched in personal mission or corporate strategy.
"Following two seasons, it became imperative to restructure the third season to accommodate wider participation of individuals in addition to the corporate support structure that has been in place; hence we introduced the "Adopt-a-Smile" initiative within the ambits of the project. This was necessitated by the need to ensure that more of the candidates will be beneficiaries of the program beyond the three stipulated winners. To this end, we have secured the participation of some dental clinics such as Smile Dental in Abuja and Family Dental Care in Lagos to support the initiative with expertise and clinical practice during the smile makeover phase. At the event, we expect guests to support with financial pledges to booster the chances of beneficiaries aside the three main winners" Dr. Amy explained.
Project Smile 3.0 is currently supported by Oral-B, Cool TV, Wazobia TV, Ikeja City Mall and Pathcare.
Date: Saturday, July 4th
Time: 4 PM
Venue: The Panoramic Hall, Civic Centre, Ozumba Mbadiwe Way, Victoria Island, Lagos.
Admission is Strictly By Invitation.
For more information please Call: 081777SMILE | Website: www.projectsmileng.com | Facebook: facebook.com/ProjectSmileNigeria | Twitter:@ProjectSmileNig
____________________________________________________________________________________________________
Sponsored Content