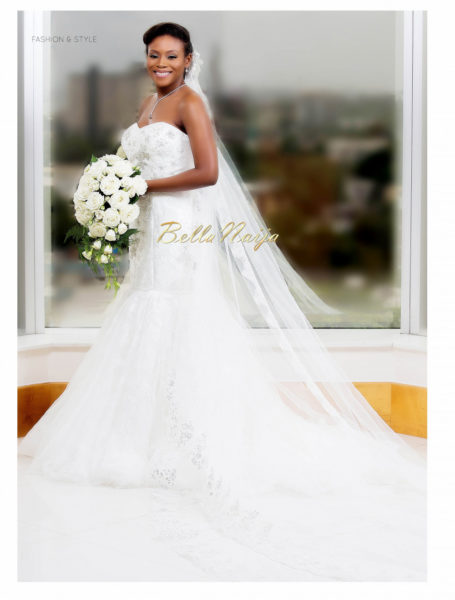 tw Magazine's July/August 2015 issue is out and it is a Bridal Issue.
The magazine has Nollywood veterans Olu Jacobs and Joke Silva on the cover (click here if you missed it) as they celebrate their 30th wedding anniversary.
tw also catches up with media personality Dolapo Oni who got engaged in 2014 (click here if you missed it) and will be having her wedding soon.
In their chat – accompanied by 12 pages of editorial photos – Dolapo talks about how she met her soon-to-be husband Adegbite Sijuwade, their relationship and much more. Dolapo Oni also shared that her traditional wedding is in Lagos, in August and white wedding will be in London, in October.
Read excerpts from her interview below.
On how they met: A whole bunch of guys came to take us out, he was there. He tried to talk to me but I ignored him most of the night. The next day my friend had a pool party, we spoke and I realized he was quite funny.
On their 4-year relationship: Adegbite and I have been very comfortable with each other from day one and so hopefully that won't change.
On being in the public eye: He's cool with it and I love the way he handles it.
On keeping his admirers at bay: I don't sweat the small stuff but if she's trying too hard, I'll sort it out. Adegbite is a great catch. It's inevitable.
On marriage pressures: I always knew where we were headed; I just couldn't be bothered to explain myself to anyone.
For more pick up a copy of the July/August issue of tw Magazine.
Photo Credit: tw Magazine