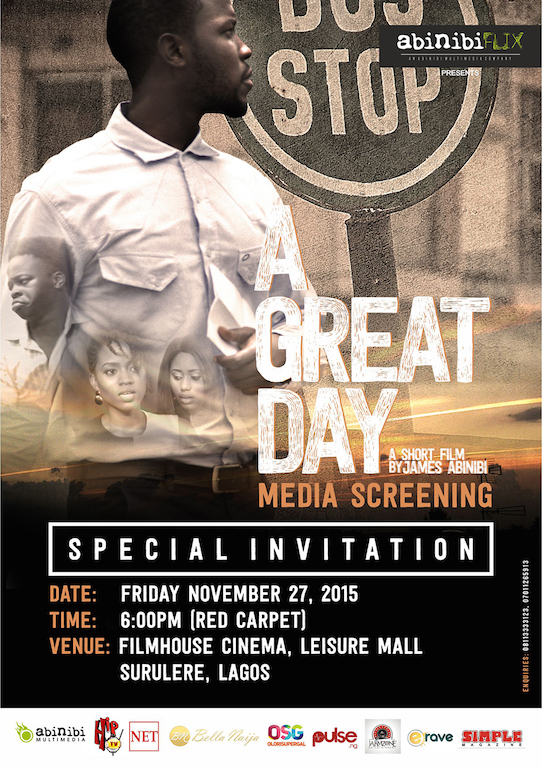 Celebrated Digital Media Entrepreneur, James Abinibi is set to make his debut in Nigeria's filmmaking industry. The multitalented creative director of Abinibi Multimedia's foray into filmmaking started about 10 years ago when he started shooting music videos and has worked with Kunle Afolayan on various movie projects. Now he is showcasing his self-directed and produced project titled, A Great Day.
A Great Day is a short film that highlights a day in the life of Tony, a job seeker played by Whochey Nnadi. Tony is woken up by Ade (Kenny Soloman), who brought a shirt he helped him wash and iron in preparation for the job interview.

On Tony's way to the interview he encounters a series of setbacks which could have stopped him from getting to the location of the interview, but he forges ahead, regardless. The film is basically a breakdown of the hilarious events that happened on the road to the interview.
In addition to Whochey Nnadi and Kenny Soloman, other casts to look out for are Crystabel Goddy as Titi, Emmanuel Ilemobayo as Kango, Akinyele Ogidiolu as Para and Cute Kimani as Lisa.
In Mr. Abinibi's words, "There are a lot of untold Africanstories that need to be told for the global audience to see, they just need to be told in the most realistic ways.".
Watch the Trailer

A Great Day Media Screening
Date: Friday 27th November 2015
Venue: FILMHOUSE CINEMA, Leisure Mall, Surulere. Lagos
Time: Red Carpet Starts 6:00pm
Call the Following Numbers for Media Accreditation – 08113333123, 07011265913
_____________________________________________________________________________________
BellaNaija is a media partner for the "A Great Day" Media Screening