Hi BNers,
The weekend is almost here and as usual, here's an update of the great events lined up for this weekend!
***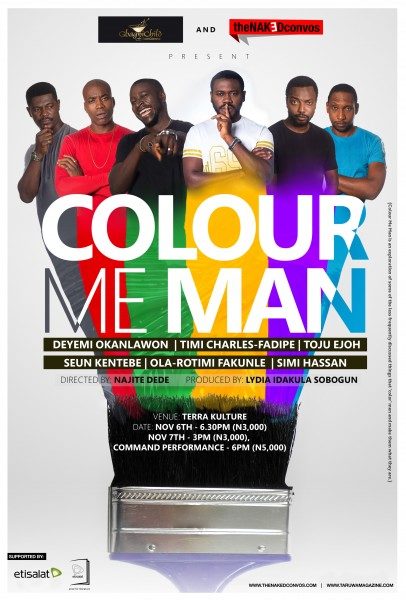 Colour Me Man | Stage Play
Colour Me Man is an exploration of some of the less frequently discussed things that "colour" men and make them what they are. It is very loosely inspired by the play For Colored Girls Who Have Considered Suicide When the Rainbow Is Enuf  by Ntozake Shange and it is based on a series of monologues written by young Nigerian male bloggers who take on colors that represent different traits that may cause a man to be 'colored' a particular way by society.
Date: Friday, November 6 – Saturday, November 7, 2015
Time: 3 PM | 6 PM | 6:30 PM
Venue: Terra Kulture, Tiamiyu Savage Street, Victoria Island, Lagos
Ticket: Regular – N3000 | Command Performance – N5000
Contact: 08081597669 | 08068713842
---
Sons of the Caliphate Auditions
Do you want to be an actor or actress? The scheduled auditions are the only means through which actors will be selected for "Sons of the Caliphate".
Date: Saturday, November 7, 2015
Time: 9AM
Venue: Familia Grounds Media. No. 33, Imo Crescent Area 1, Garki, FCT Abuja, Nigeria
---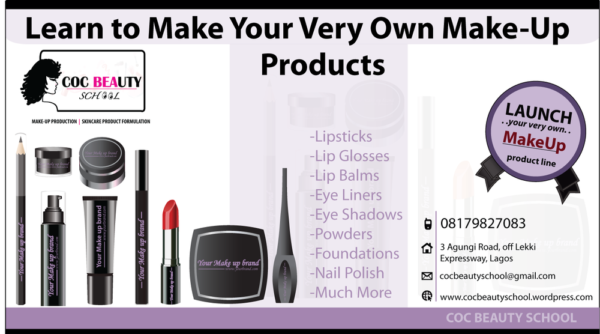 Face MakeUp Production Class
COC Beauty School's Face MakeUp Product Formulation Class is one guaranteed to transform you to a Certified Beauty Consultant and Face Make Up Producer in 8 practical hours. Learn to create makeup products such as Products to learn include Loose Powder, Translucent Powder, Cream to Powder, Pressed Powder, Foundation, Concealer, Bronzer, Primer, Blush and Moisturizer.
Date: Saturday, November 7, 2015
Time: 10 AM
Venue: COC Beauty School, 3 Agungi Road, off Lekki Expressway, Lagos
Ticket: N30,000
---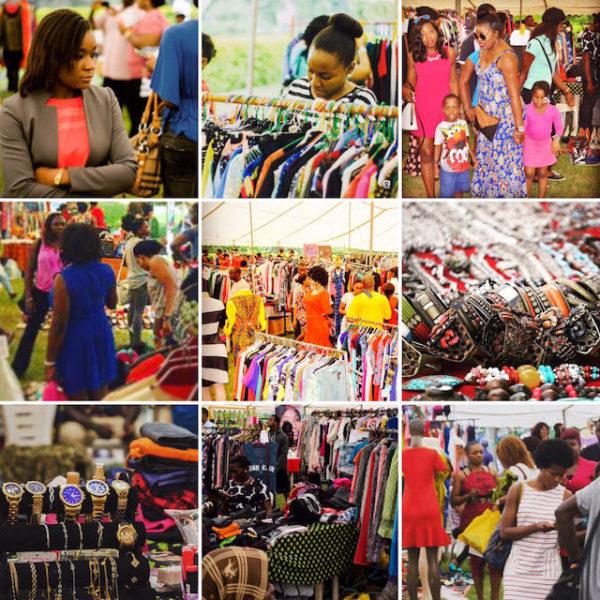 Trendelo Shopping Event
Get discounts and bargains on everything sold at Trendelo.
Date: Saturday, November 7, 2015
Time: 11 AM
Venue: City Park, Wuse 2, Abuja
---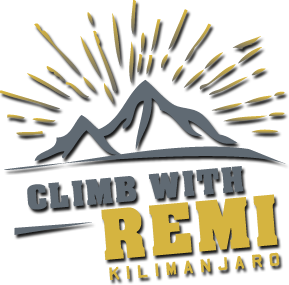 Climb with Remi
Join a press parley with 6 Nigerian women who will embark on a charity expedition of Mount Kilimanjaro in an effort to galvanize support and raise alms for the hundreds of thousands of women and children in the various camps for Internally Displaced Persons (IDPs) in Nigeria.
Date: Saturday, November 7, 2015
Time: 12 PM
Venue: House J, 11 Joel Ogunaike Street, Ikeja GRA, Lagos
---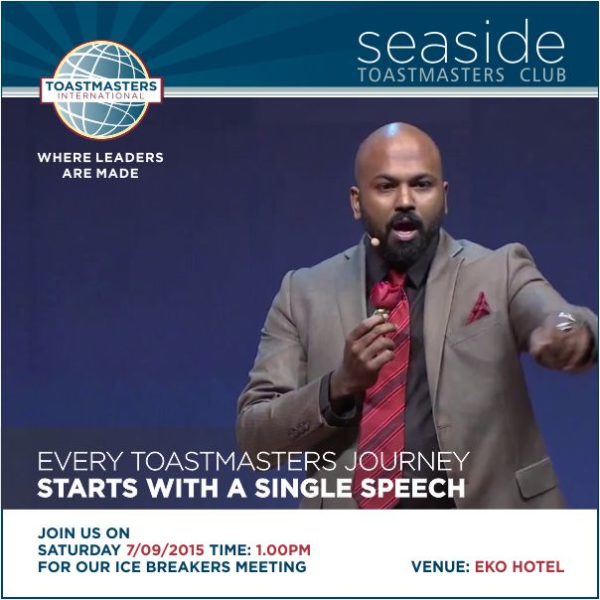 Seaside Toastmasters Ice breaker Meeting
Toastmasters International is a world leader in communication and leadership development, with more than 313,000 members in 14,650 clubs from 126 countries. This Saturday the newest Toastmasters will begin their journey to becoming better leaders and communicators by giving their first speech at what is called an Ice Breaker.
Date: Saturday, November 7, 2015
Time: 1 PM
Venue:  Food of the Sun, Eko Hotel & Suites, Plot 1415 Ademola Adetokunbo Street, Lagos
Contact: 07062498175 | 08101331028
---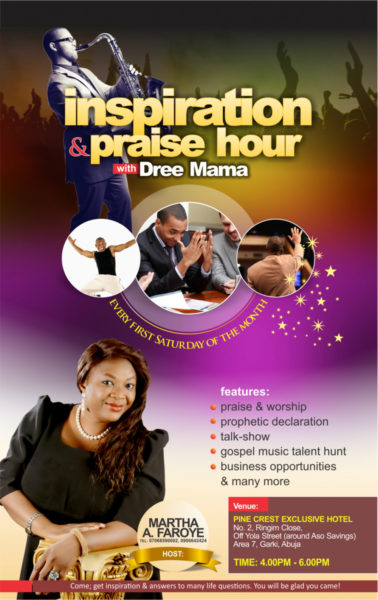 Inspiration & Praise Hour
Enjoy an inspiration and praise hour with Dree Mama.
Date: Saturday, November 7, 2015
Time: 4 PM
Venue: Pine Crest Exclusive Hotel, No 2 Ringim Close, off Yola Street, Area 7, Garki, Abuja
---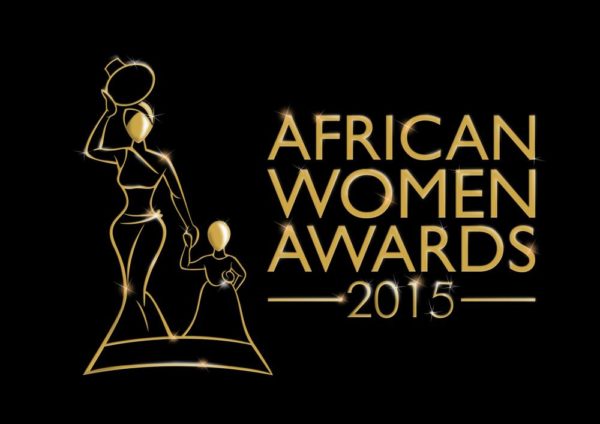 African Women Awards
The African Women Association (AWA) is an organisation established by African young women and desirous to create and recognise new young female role models within Zimbabwe, Africa in general and the Diaspora.
Date: Saturday, November 7, 2015
Time: 5:30 PM
Venue: Meikles Hotel, Harare Zimbabwe
---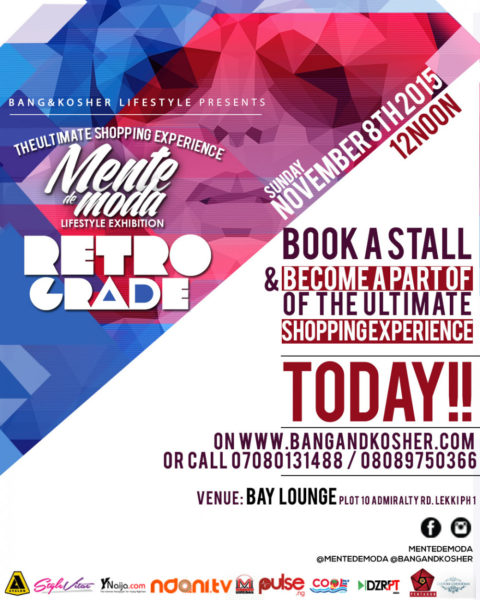 Mente de Moda
Catch the Mente De Moda Retrograde in full effect, you don't want to miss this opportunity to partake in the ultimate shopping experience which promises to deliver massive sales and discounts on the most eccentric fashion pieces in the city from indigenous brands and stores, yummy bites, live poetry, magic and more.
Date: Sunday, November 8, 2015
Time: 12 PM
Venue: Bay Lounge, Plot 10 Admiralty way Lekki Phase 1, Lagos
Contact: 07080131488 | 08089750366
---
The Lagos Home Show
The Lagos Home show is a real life treasure trove. Everything for the home; our vendors have it covered. Everything from furnishings, lighting, electronics, art, homeware, textiles, Home beauty Essentials and much more!
Date: Sunday, November 8, 2015
Venue: Whitespace, 58 Raymond Njoku, off Awolowo Road, Ikoyi Lagos
Time: 12 PM
Contact: [email protected] | 08186322106 | 08092835690
---
Band Aid | Stage Play
Band Aid is a musical drama about three Band mates – Femi (Patrick Diabuah),Flex (Tosin Gregory/Victor Godfrey) and Tony(Femi Leye) connected by their love for music who meet and fall in love with Ivie (Goodness Emmanuel) who is also a music enthusiast. They think she can help them conquer their fears and become the 1st Nigerian Band to make it to the Billboard Top 100. Little do they know that they are but a project fill a void in her life.
Date: Sunday, November 8, 2015
Time: 3 PM
Venue: Terra Kulture, Plot 1376 Tiamiyu Savage, Victoria Island, Lagos
Ticket: Regular – N3000 | VIP – N5000
---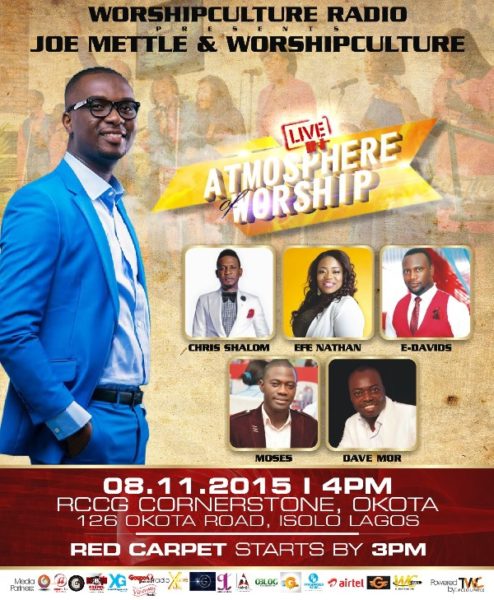 Atmosphere Of Worship
The powerful, unforgettable experience of the soul stirring intense and continuous worship concert, AOW "Atmosphere of Worship" annual 2015 edition is here again and this time, will feature the most anointed and talented Ghanaian gospel minister, Joe Mettle and the Unveiling of the Maiden edition TWC magazine, a gospel Lifestyle, Fashion and Entertainment Magazine.
Date: Sunday, November 8, 2015
Time: 3 PM
Venue: RCCG, Cornerstone Parish, A.K.A My Fathers House, Okota, Isolo Lagos
---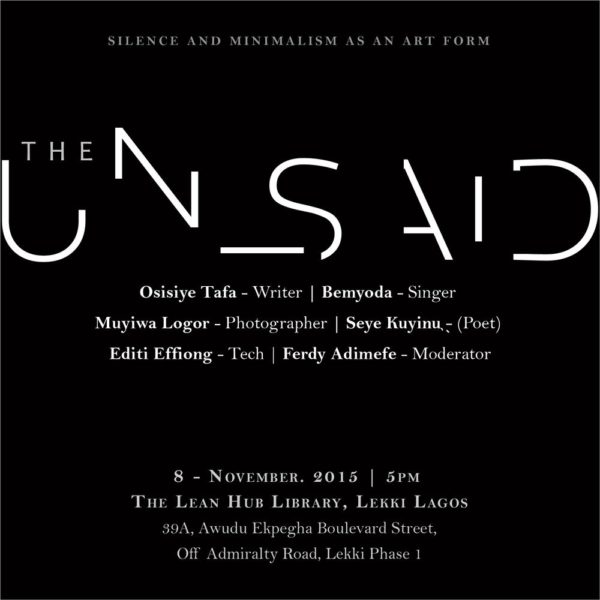 The Unsaid – Art + Tech Discussion
The Unsaid is an Art + Tech discussion spiced with book reading, art exhibition, music performance and conversations. Driving the conversation will be Osisiye Tafa (Author of 'Sixty Percent of a True Story'), Bemyoda (Musician), Editi Effiong (CEO, Anakle – creators of the Bride Price app), Logor' Oluwamuyiwa (Photographer and curator of the Monochrome Africa Project) and Seye Kuyinu (Poet and author of Things I Wanted to Tell You in other words).
Date: Sunday, November 8, 2015
Time: 5 PM
Venue: The Lean Hub Library. Number 34 Awudu Ekpegha Street, off Admiralty Way, Lekki, Lagos
---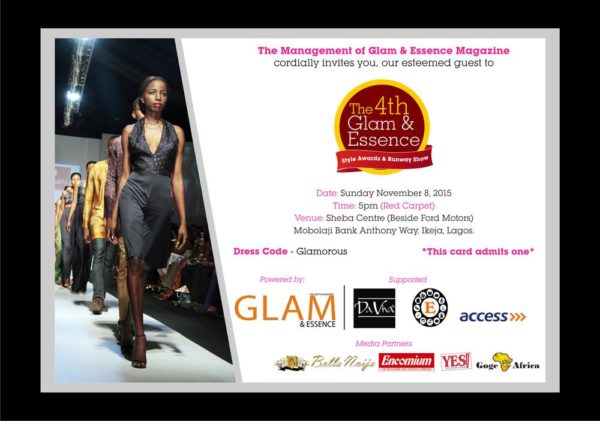 4th Edition of Glam and Essence Style Awards
Susan Eyo Honesty, the Glam and Essence Magazine team will host the Fashion industry's bigwigs, style personalities, designers and Entertainment personalities at the 4th Glam and Essence Styles Awards and Runway Show.
Date: Sunday, November 8, 2015
Time: 5 PM
Venue: Sheba Centre, Mobolaji Bank Anthony way, Ikeja, Lagos
__________________________________________________________________________________________
BellaNaija.com is not responsible for the organization or further promotion of these events, neither do we have a stake in their sales or popularity. Inclusion in "Events This Weekend" is Free. Contact – adsales (at) bellanaija.com on or before Wednesday every week if you will like your event to be included. Note that BN reserves the right to choose which events are featured. "Pay to attend" parties attract a fee.