Supermodel Oluchi Orlandi is featured on Vogue.com and in the online magazine she talks about how Lagos women prep for those well-documented OTT weddings, how New York influenced her own approach to personal style, and the one thing fashionable New York and Nigerian women can agree upon.
Her interview is quite interesting.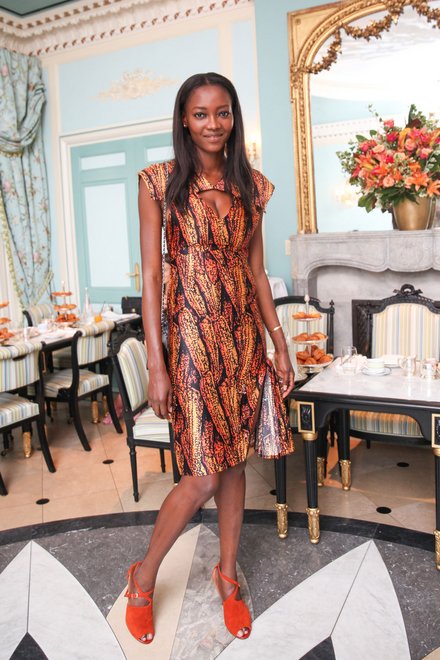 Read excerpts below.
On fashion being a huge part of her life growing up: I spent most of my after-school hours at a local fashion house called Henrietta Design Collections. She specializes in made-to-measure traditional Nigerian and Western outfits for her clients. I would hang around, watch, and assist her with errands. Those were my early associations with fashion. She actually introduced me to modeling.
On the style of New York women vs. Lagos women: Ah! I immediately noticed the sneakers, jeans, T-shirts, and denim jackets of New Yorkers. As the season changes, their casual uniform always stays the same.
On the difference in style between New Yorkers and Lagosians: The style of New Yorkers and Nigerians couldn't be more different. New Yorkers are effortless and cool, while the Nigerian woman is more feminine and embellished. However, we all wear the same accessories: Hermès, Chanel, Céline, Saint Laurent, Givenchy. Lagos women also flaunt their culture unapologetically, even when two women walk in a room with the same outfit and accessories. Where they are from locally has a lot to do with how they style their garments.
On how a Nigerian woman shops: She does it all! The retail experience is changing in Nigeria, so most of the international designs are either purchased online at a retail outlet like Mall for Africa or at the Palms Shopping Mall in Lekki, Lagos. Others shop at the luxury concept fashion store Alara or Temple Muse. And for a range of designs made in their native country, Nigerian women shop at Grey Velvet. With local stores and boutiques like these competing with the price points of their counterparts abroad in London, Milan, New York, and Paris, the days of flying to shop is coming to an end. Nigerians now shop with a sense of pride and confidence, knowing that the product they would normally buy a travel ticket to get is now available in their country, and they can trust that it's all original.
On Nigerian weddings: Weddings are a huge tradition in Nigeria. Our clothes are mostly customized with authentic local fabrics like aso-oke and lace. These are always elaborate and glamorous. Apart from the actual outfit, which is usually made from exquisite embroideries, we would usually wear a head wrap and lots of jewelry. Gowns from brands like Valentino are now being worn to traditional events, as they fit the aesthetic of our clothes. The shoes and other accessories tend to be from top international brands.
Photo Credit: Vogue.com