All About Fashion! Toju Foyeh, Leslie Okoye & Aisha Igbinovia cover Vanguard Allure
The business of making other people look good and feel better about themselves has really created a multi-billion naira industry in this part of the world.
From what to wear, Toju Foyeh is at the helm of it, what right product to use on the skin: Leslie Okoye is championing the movement to the bam accessories to make statements with; Aisha Ugah Igbinovia of Nicole by Haguanna brand is on top of it.
This week, all 3 strong women share their unique stories on the cover of Vanguard Allure.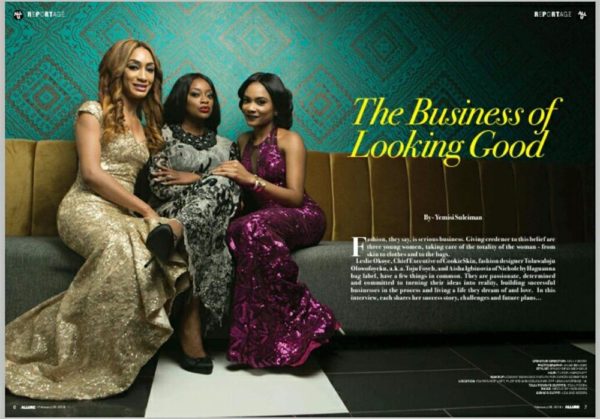 Credit:
Creative Director: Nelly Mesik
Photography: Aham Ibeleme
Stylist: Ifan Michaels for ThinkIfan
Makeup: Evelyn and Joanne for Zaron Cosmetics
Hair: Tj for HairCraft
Outfits: Toju Foyeh, LDA, Moofa
Location: Fahrenheit Loft, VI, Lagos