Hey BellaNaijarians, I am diabanjo from BellaNaija Weddings team and this is the final part of my #BNAmsterdam trip – click here to find out how this journey began!
Firstly, I would like to say a big thank you to my Host International Royal Dutch Airline KLM,  Marco and Bart representatives of KLM headquarters, Arthur and Adetola representatives from the KLM commercial marketing directing team in Nigeria and the city of Amsterdam as a whole.
The first day in Amsterdam was cold and windy with small drizzles throughout the day, although I still made an effort to have my first gander around the town center – there were bikes everywhere "no not okadas lol"  but bicycles all across town, a cool tram with public WiFi, loads of fresh produce stores and a lot of bars and food joints. In the evening as a group we went out for dinner to a nearby restaurant, most of the city has an amazing memorable picturesque, from the tall narrow buildings to the frequent canal bridges and beautiful historic landmarks.
After meeting Nigerian film producer Kunle Afolayan on my flight I was graced with the presence of Nigerian actress and director Ajoke Silva who also gifted me with an inspirational message in my scribbles book – "Lucky me!"
On Wednesday 27th April, 2016 history was made in the City of Amsterdam –  King's day was a hit!
The cast of HEAR WORD! flew in to perform their unique all female cast drama on conventional topics about women in Nigeria, on the 30th April and 1st of May 2016, having previously performed in Harvard University,  a few days before. They attended in their bright and colourful Aso-ebi all the way from Nigeria to be in-sync with the traditional King's day colour scheme.
King's day 'Koningsdag' formally known as Queen's day for several years is the Dutch celebration of the King's birthday, a public holiday for the city of Amsterdam and also a display of appreciation for their ruling monarch. The colour orange is added to the traditional blue, white and red dutch flag because Orange is one of the many surnames of their King – he has a lot of names!
For the first time ever Amsterdam were privileged to welcome a full boat of honourable Nigerians  during the street/canal festivities, it was also the coldest King's day and monarch's birthday since 1989.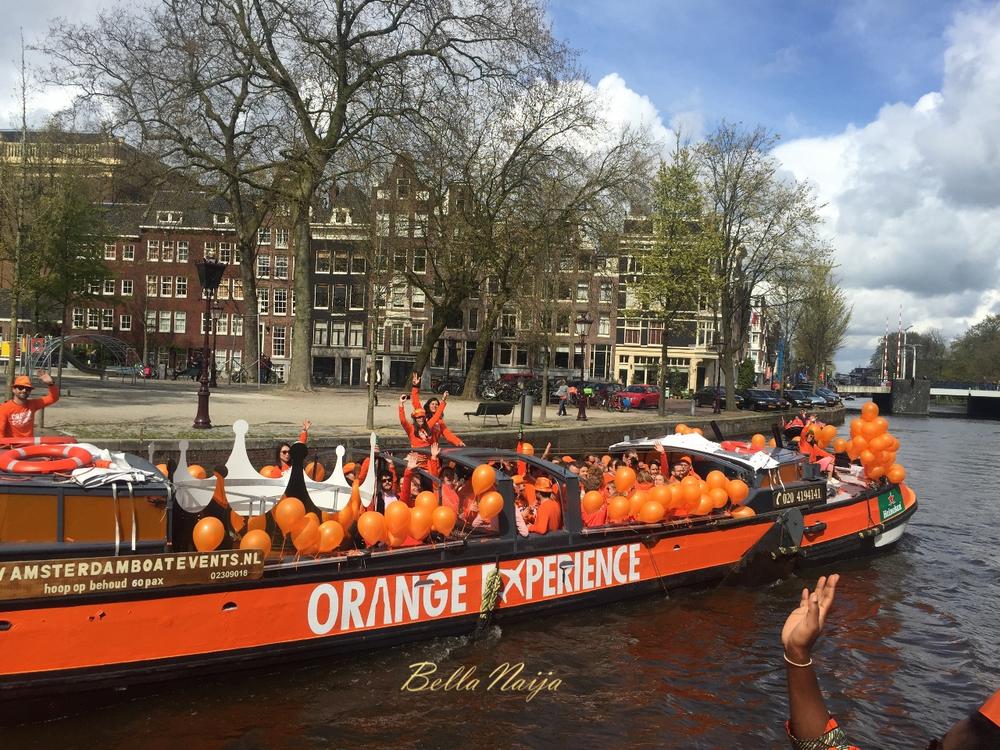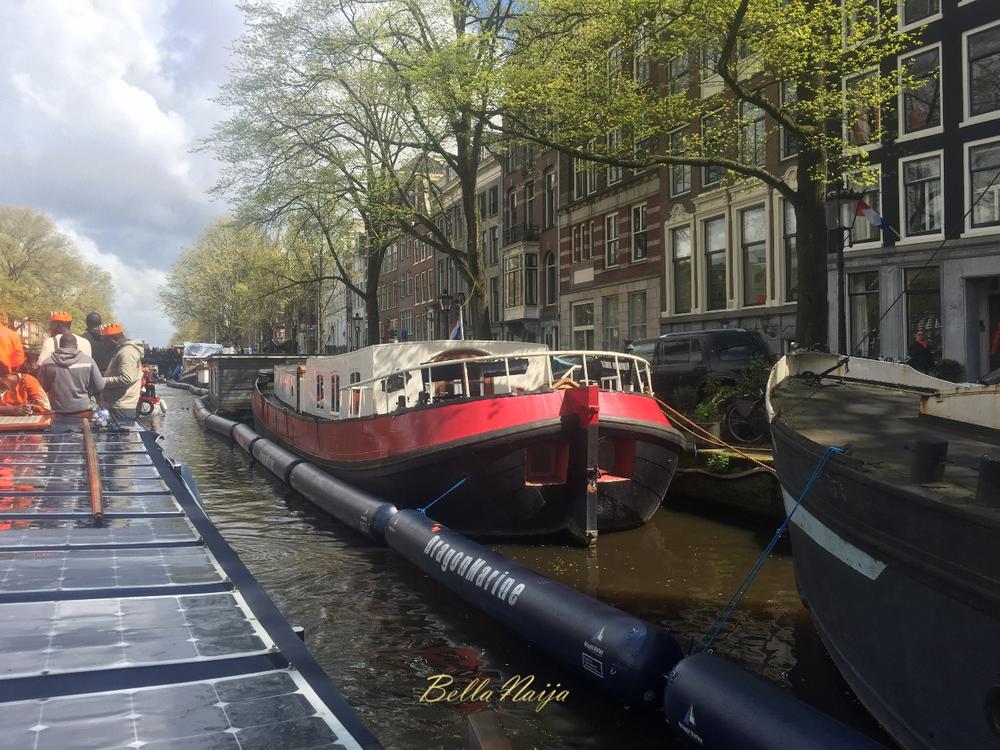 Our boat sailed into the canal a little after half 11 in the morning, we had drinks, suya, stick meat and pepper soup served on the boat with comfortable seats and heating. We began the festivities with a nice cultural performance from the percussionists of HEAR WORD! alongside music from Dj Dynamite and TRT Media.
In attendance were KLM staff Marco, Arthur, Bart, Adetola and Heidy, Nigerian Film producer Kunle Afolayan and his film crew, the cast of HEAR WORD!, Taiwo Ajai-Lycett, Joke Silva, Bimbo Akintola, Ifeoma Fafunwa, Dakore Akande, Ufuoma McDermott, Odenike, Deborah and many more –  Have a look at more King's day photos here!
Shakitibobo was an all time favourite for both the Dutch and Nigerians on our boat.
Sadly, I had to say goodbye to the City of Amsterdam yesterday and returned to the warmth of Nigeria with KLM in the evening in that ever so comfortable full-flat bed, I enjoyed a three course meal on the flight back with an extra House from The KLM Houses collection and another new complimentary toilet bag to take home – I think the bag is a really nice new addition to their gifts collection.
I loved every minute of this trip, the hosts were very accommodating from the flight to the daily activities. It has definitely been an eyeopening experience culturally and also an enlightenment of  things to do when you make a trip to Europe, I am also aware that their are several other locations to visit, different foods to try and loads of activities to engage in – So…when next you plan to fly away, "Dam" will be more than happy to welcome you during your stay.
I hope to share more stories soon, thanks for following the #BNAmsterdam trip.