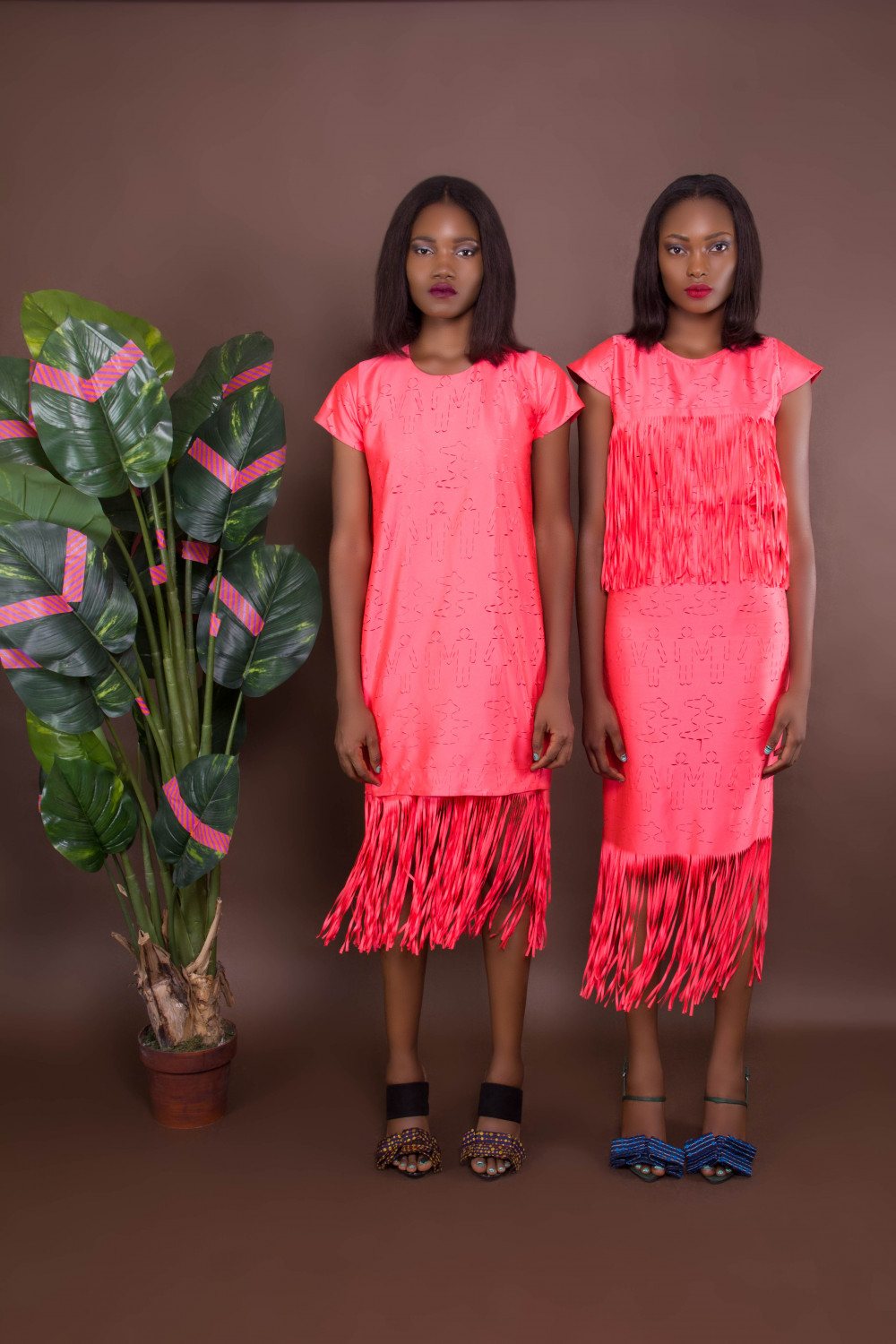 Richard: I'm super excited about this week mainly because of the interesting collections that we featured last week and of course, those that we unfortunately left out before. So, where do we start?
Eki: The one we left out, Tesslo!
Richard: Wonderful. Yes, I remember it! Partly because the designer's husband modelled the collection which I thought was really cute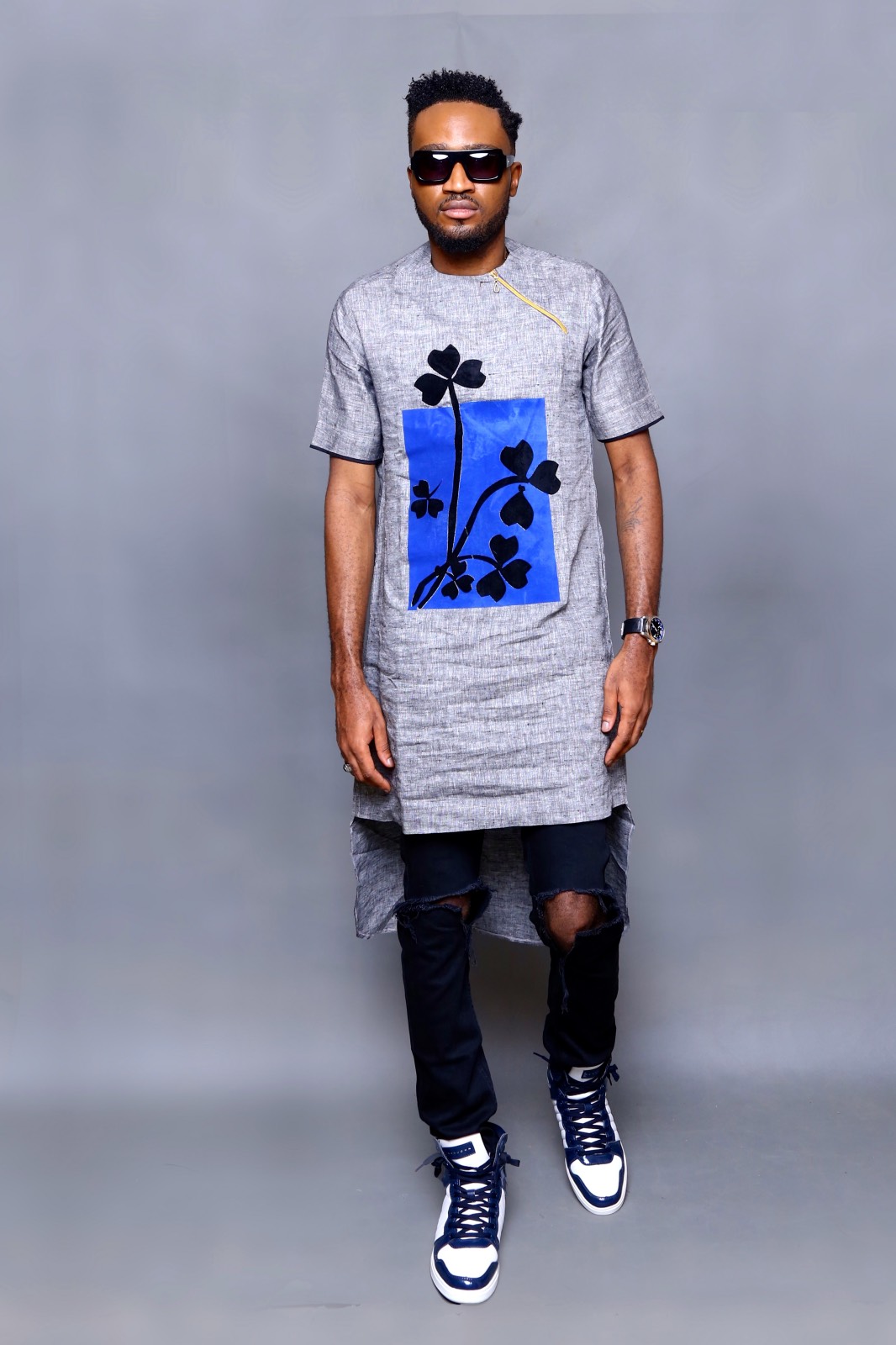 Eki: ?yup and I didn't mind it, you know me I like menswear and I like the mix of African fashion into it with kaftans and ankara.
Richard: I'd have liked to see a little more coordination and cohesiveness. It seemed a little off, like having suits and then that. Like two different collections merged into one
Eki: The only thing I would say is the trousers with ankara half way up, I would've liked to see it in a darker ankara print. The yellow is quite bright but I understand the concept of it so I'd have liked to see it in another variation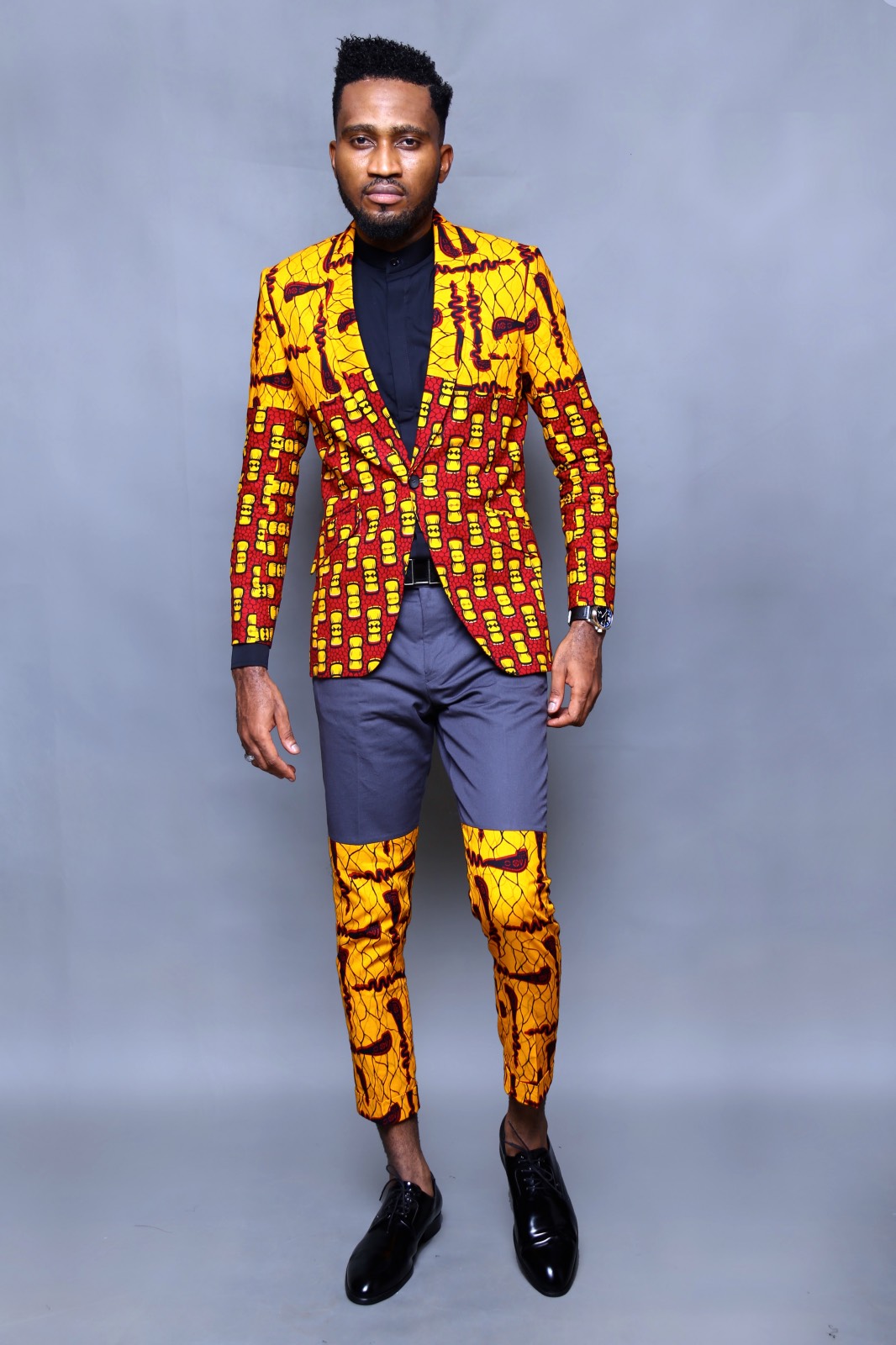 But are we not in Naija? Do you see our men wearing suit up and down? I don't mind that they cater to all aspects of menswear in Nigeria, this place is hot.
Richard: But there are better ways of doing that without making look the way it did. I mean, in summary, the collection could have used some fluidity
Eki: We should agree to disagree ?
Richard: Hahaha, Yes darling. That being said, my best look is ironically the ankara pant and bomber jacket. I thought it was the most refreshing piece in the entire collection
Eki: The confusionist has come again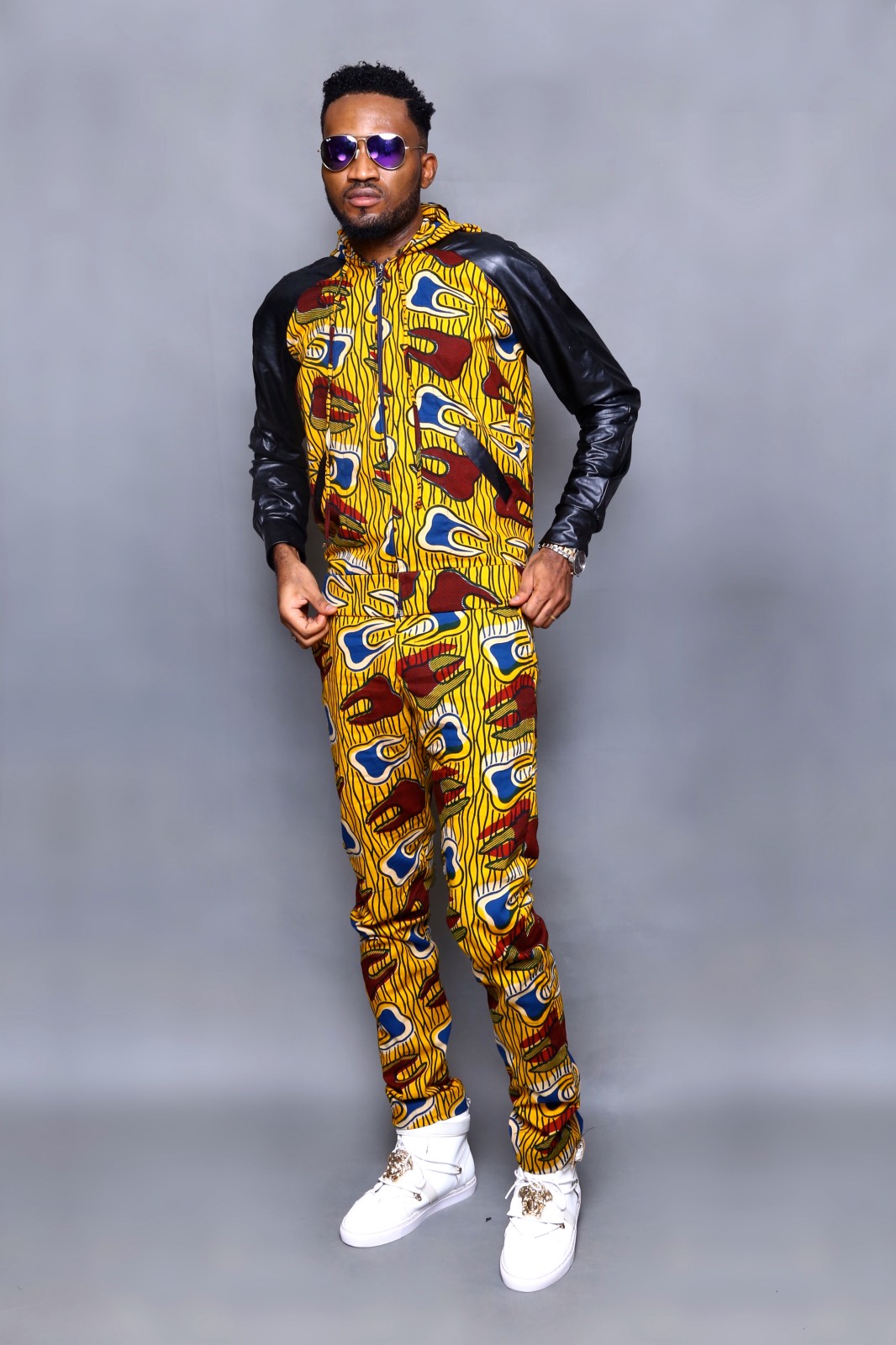 Richard: Hahaha. No, wait. If the designer had gone in that direction, without those plain blazers and pants. You know, made it a quintessentially print collection, then it'd have been everything for me. But dropping two print pieces into a predominantly plain collection didn't look smart
Eki: Ok I see what u mean now, I get it. My faves are the pin striped kaftan and Agbada
Richard: Ehen!! That agbada looked good too but didn't push the boundaries for me because of how "pure water" it is. Hahaha, I learned that phrase from you
Eki: Lol, You want BellaNaijarians to insult me again lol It's not pure water tho I think it's a Nigerian classic ?
Richard: Hahaah No they won't. I'm sure they know we mean well
Eki: Next up Salmah Guzel featuring Olajumoke Orisaguna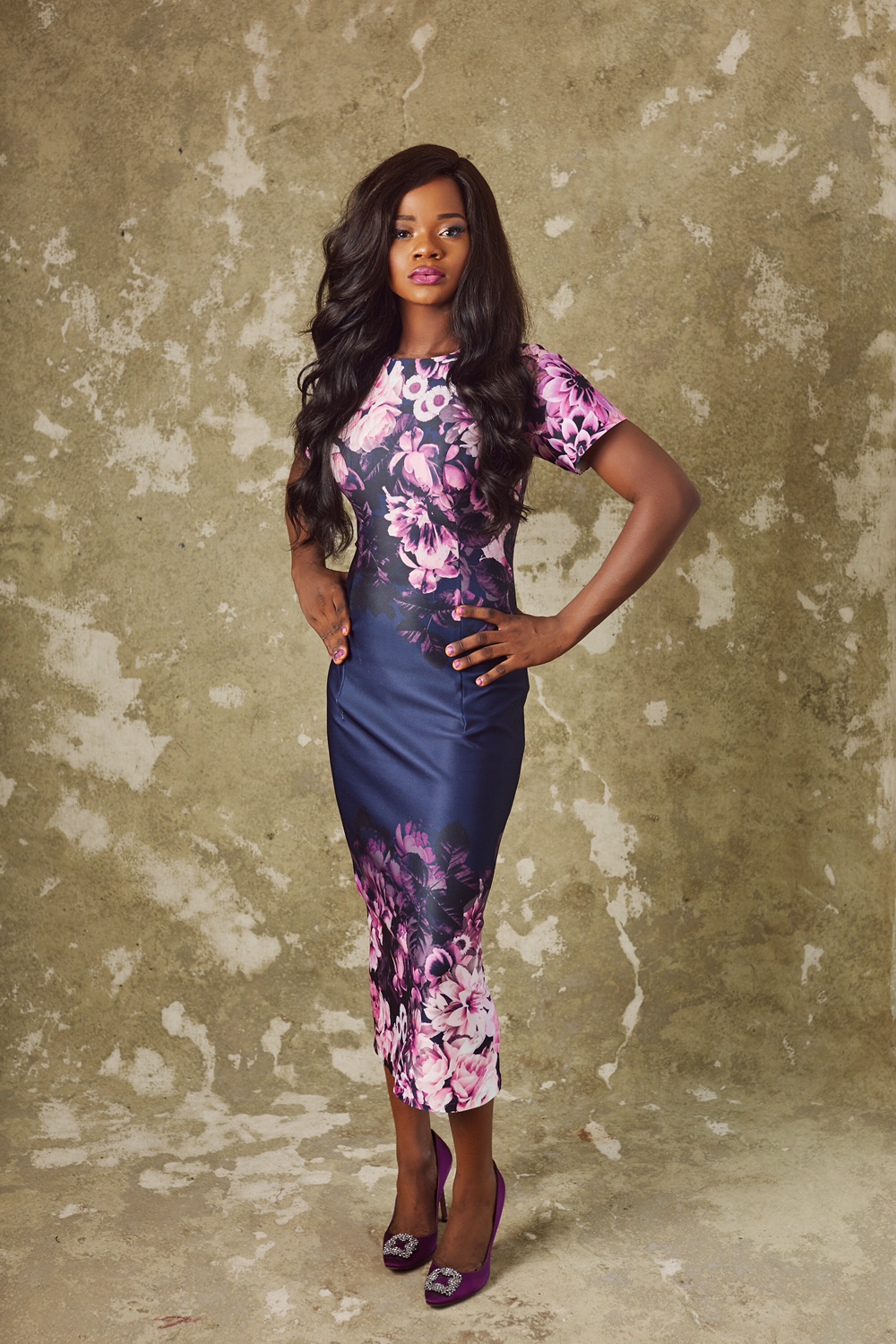 Richard: ??? Now, I had such a nice time looking carefully studying that collection. The fabrication was rich, very rich in exquisite liquid jewel tones. Fit and finishing were quite spot on too. On a scale of 1-10 I'll give the collection a 7
Eki: 9 for me, I want everything can't even pick a fave. But I see a trend with this bell bottom trousers, Maki Oh had something similar
Richard: I swear, I feel you. But I can pick my fave, faves rather. I love the liquid gold set and the sequinned midi skirt paired with the see through kimono-esque blouse. Oh and the flared short dress with the cape/cap-like sleeves, very beautiful.
Eki darling, I know you like everything, but can you atleast make up your mind on some?
Eki: I'm trying. My faves are the peplum dress, cuz peplum is my best friend and the colour is lovely
And the floral maxi just because it's a floral maxi
Then the fit and flare dress with a dead forest print, I don't know why but the print reminds me of one of Solange's dresses she wore for the MET gala last year.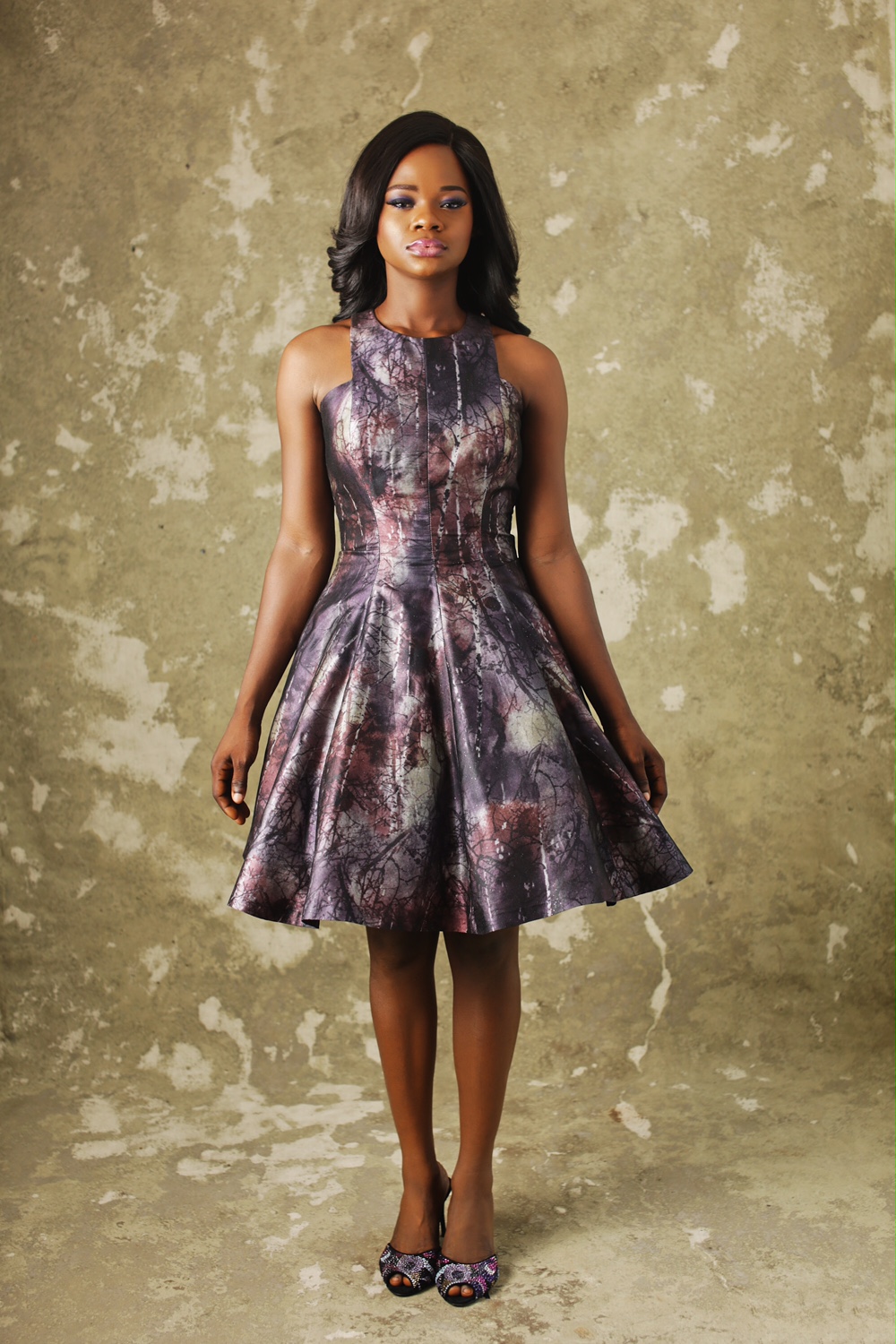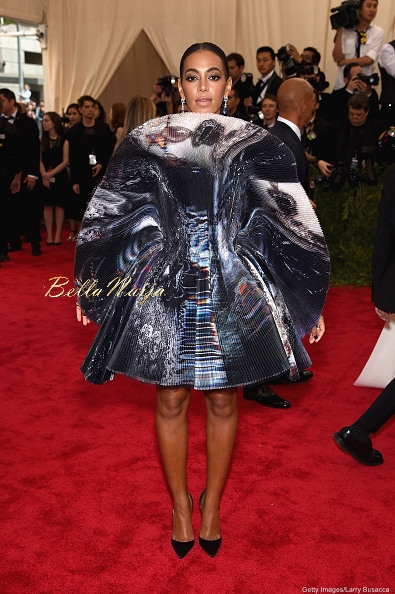 Eki: Moving on! Mae Otti
Richard: Absolutely stunning simplicity. Clean cuts, simple silhouettes with a banging effect
Eki: Yes I like the print & colours and he use of it as the background too
Richard: Well, I thought I loved the print too until BN commenters mentioned it looked like a bed spread
Eki: As in bed sheet? ?
Richard: Yes! And then, I couldn't help but lean a little towards what they said. But over all I thought it was a well done collection
Eki: Omg, now I see it but I still like it ?
Richard: My point exactly ??
Eki: Yes when things look clean and well made, it gets a pass from me. We all want to buy Nigerian but are we buying quality? Spoke to a designer about that recently. They have to be well made, bed sheet or no bed sheet ?
Richard: Perfectly said. Are we buying quality? That's the million dollar question!
Eki: Yup and I really love that most pieces here can be mixed and matched for fresh outfit. My fave is the long white dress with a high slit paired with print shorts but I'd most likely wear it with the print pants, I don't wear shorts very much.
Richard: That's my favourite as well, the long white dress and print shorts too. Very chic and simple. What's next?
Eki: Ok next is Selly Rabu Kane. Senegal bringing it!
Richard: Oh yes! Absolutely, with that much embroidery that can last a lifetime. Obviously some pieces were it, while others just fell flat. Like that red skeletal piece, what was that about? Is that supposed to be an after dress or the main dress?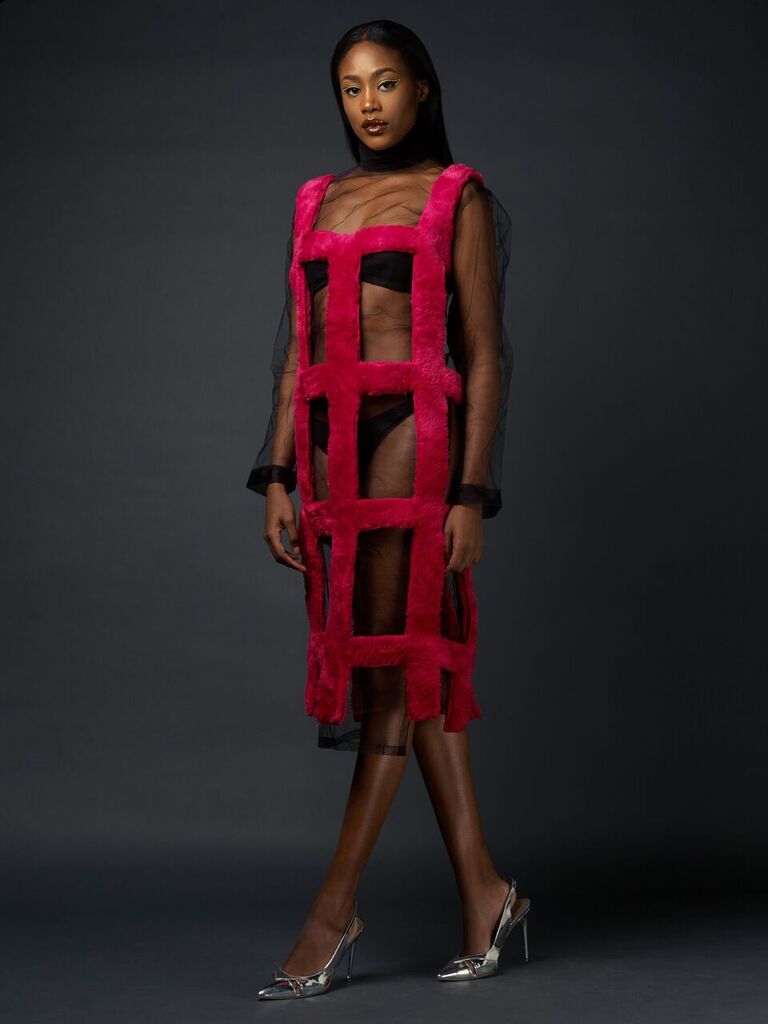 Eki: Ahah aren't u the one always asking them to push boundaries? The boundary has been pushed
Richard: Hahahha.. Hahaha. No, now that's a typical case of overdoing it.
Eki: There is no pleasuring Richard Akuson
Richard: Trust me darling, there is! Hahaha
Eki: I like the crayfish/shrimp details though, they're known for it seeing as they're near water. And the Senegal fabric too, I almost though the black ones were faux leather.
Richard: The rest of the looks were quite commendable, especially the pink shearling and denim jacket. True that! The long black coat with the eye-like embroidery looks good too. Without the exaggerated collar of course.
Eki: Richard don't lie you like the collar. You too dey change mouth. My fave piece, the print/embroidered jacket.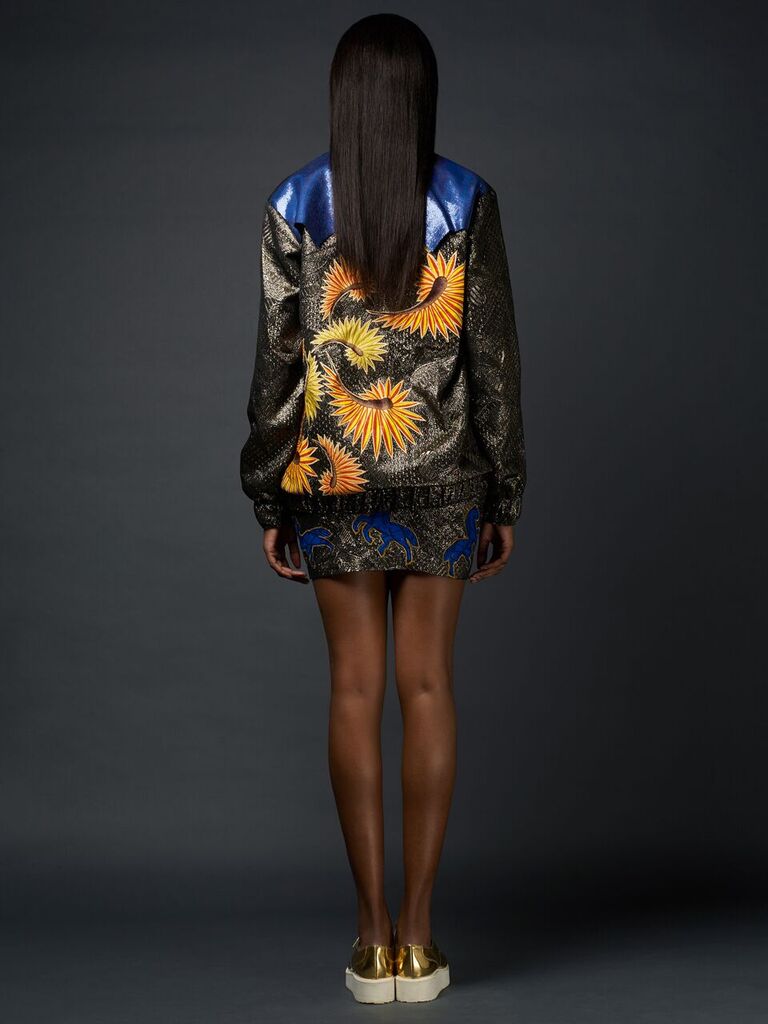 Richard: Hahaha. Yes, the faux leather bomber jacket and mini skirt is everything! I can see Temi Otedola doing good justice to it paired with some loafers or kicks
Eki: Yea I love the embroidery especially the ankara cut outs on the skirt, with the horses. You know that print right?
Attention to details. Love it!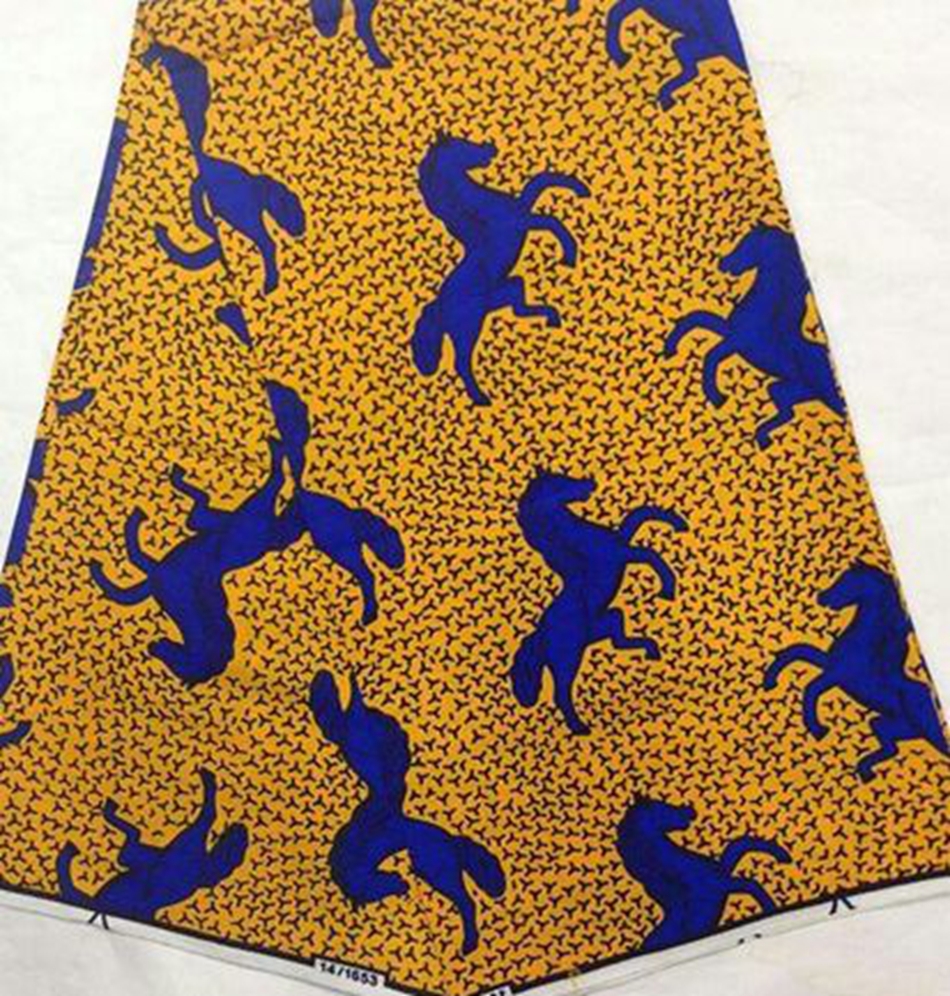 Richard: Exactly, love that too. Who do we have next??
Eki: Greeeeeeeeeeeey!!!! ???? (Grey)
Richard: Hahahahhaaha Shoot! You clearly love love the collection
Eki: U know me I don't speak too much fashionese all I can say is… I want it all ? (as usual). Also, I see a trend repetition with the fringe here and Selly Raby Kane.
Richard: Yes, I do too. Plus the ruffles are quite similar to Maki Oh's. I like how subtle and kind modern the prints look.
Eki: I love the prints and colour mix and u can tell every detail was thought of down to the shoes. Speaking of, Maki Oh's lookbook shoes didn't cut it for me but these ones from Grey I love. I saw the pieces in person recently and the fabric is perfect
Richard: Oh, I wasn't a fan of Maki Oh's mules too. Looked too dainty. The best thing about this collection is that it transcends nationalities. I can see Alexander Chung wearing the hell out of one of these and at the same time Mo'cheddah killing it too. Like every body with the right panache can really rock these and that's a rare thing to have a globally appealing collection
Eki: Yes to global appeal! Mostly because that quality factor I mentioned earlier is there. Notice the trousers with two different prints? Looks similar to the one from Tesslo that I wasn't sure about. But I like these ones cuz they're in a darker print, see what I mean?
Richard: Oh yes, I think why the mixed prints works here is because like you mentioned they're subtle colours and somehow compliment nicely
Eki: But these laser cut outs are bae. Mules ke? Wasn't it slippers the models had on?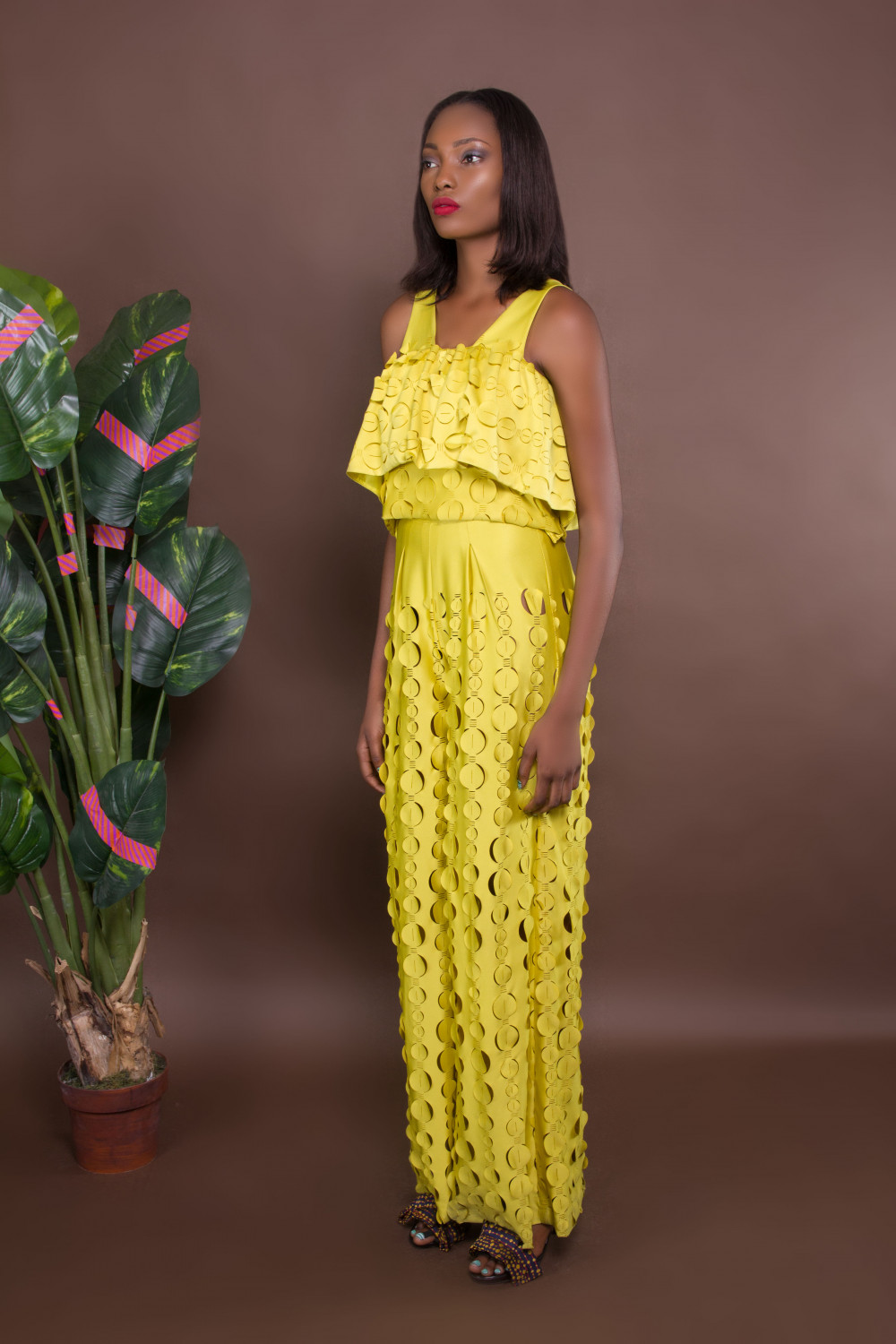 Richard: Haha. Yes, slippers. But also called flat mules
Eki: OK, makes sense. I've learnt something
Richard: Everyday, we never stop!
Eki: Let me just tell you now, I have no faves so don't even ask me biko
(a second later)
Richard: Can you even makeup your mind on your fave piece?
Eki: Ehen I caught you
Richard: Hahahaha Omg I knew it!!
Eki: Everything is my fave down to the shoes ??
Richard: Well, luckily I am not as awe struck as you right now and I can makeup my mind ? I like the flared blue dress with the green over jacket with accents of white on the sleeves
Eki: Yup I like it too, obviously Lol. Lastly, we have Jason Porshe
Richard: ???? You know, it's very interesting how Jason Porshe has grown as a designer and a brand. I remember my very first review of the brand wasn't so pleasant. And we talked about it, and what was most interesting is how open he was to constructive criticisms. And I can proudly say that the brand has really come of age. They expertly balanced their womenswear offerings with their stronghold – the menswear. And shockingly, for me though, the womenswear is the highlight of this collection. That red trench coat is everything and before you ask, I'll wear that pale mustard two piece suit within a heart beat! It is everything I look for in a suit and more.
Eki: Yup gorgeous. I don't have much to say except; I like menswear, his ideas were well executed and I'm still hungover on Grey ? I might not jump at his womenswear but I know a bunch of people who'd do it justice better than I ever could and my fave piece is the blue outfit Praiz has on because it reminds me of denim and I love denim but I really like everything else to be honest.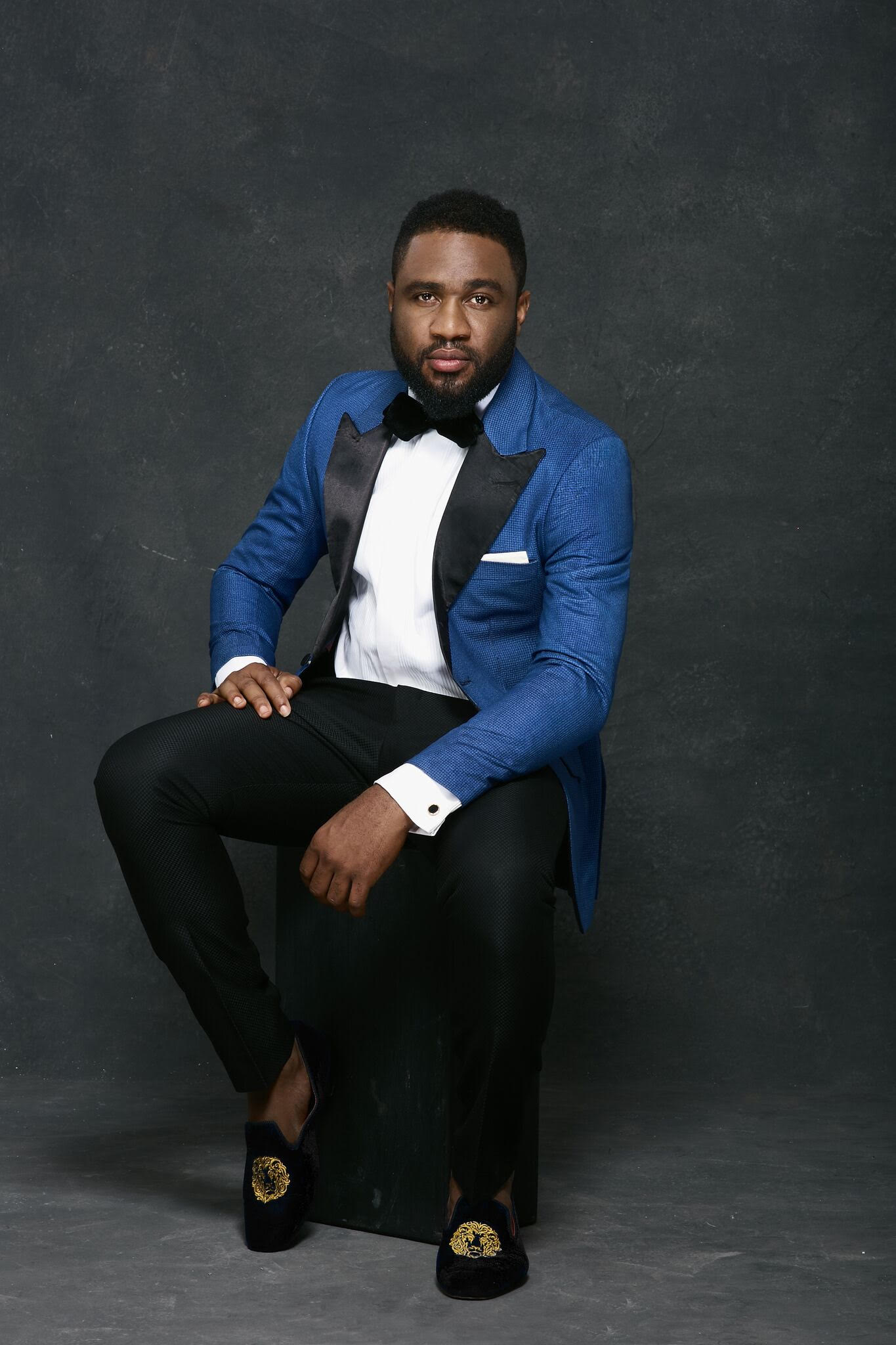 Richard: Hahah, you're definitely a Grey girl!!  Yea. I do too. Over all it's safe to assume we both had a blast with last week's collections. Good tailoring was key for a lot of them
Eki: And they keep coming in. Sorry for the backlog guys Yes!!! Good tailoring is very important, we can;t stress this enough.
Richard: They got their firs right too, and like you mentioned somewhere earlier, they really did well with their execution which are some of the important elements that we consider when talking about collections
Eki: Yea. Ok Richie ✌? Till next week or rather this weekend cuz we're late!
Richard: Yes darling. Had a blast as always ?????
***
The title of this post was inspired by the repetition of fringe in both the Grey and the Selly collection, the prints present in all but one collection and the reference to a certain print looking like bed sheets.