EME's First Lady Niyola walked in for her interview with no airs; so simple in everything –clothing, makeup and even her relationship with everyone around.
Since she released her first official single "Toh Bad" with EME in 2013, Niyola has reaffirmed her vocal presence as a female entertainer time and again and in more recent times has endeared herself to our hearts with her positive social media presence.
Here's what she had to share with BN;
One of your followers recently commented on the fact that even though other celebrities "bake" their faces and go all out with their outfits, you choose the simpler approach. Why is that?
One major reason is because I don't feel like I need to do that, or do you feel like I need to do that? It also depends on the individual; I'm very comfortable in my skin. I'm very minimalist, in the stuff that I do. I like to always keep it simple. Even when I cook, I don't like to overdo with spices. I always want the natural taste to remain and for the spices to just complement the dish not overpower it. And that's how it is in everything I do. When I sing, I don't overdo my singing and my adlibs, that's pretty much my outlook towards life. It shows in every aspect of my life. It's not that those people are not confident in themselves, it's just who they are.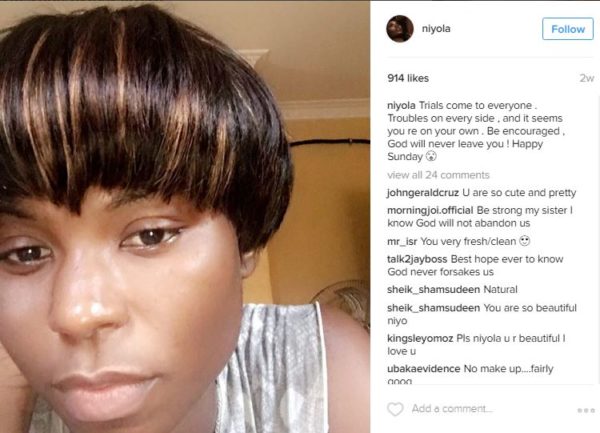 What are the things you can't do without?
Lip gloss, mascara and a fresh fragrance.  I cannot leave my house without them!
What body feature are you most vain about?
I think the only thing I'm really vain about is my lashes. When I eventually get to makeup I spend so much time on my lashes. I take my time to brush it out and I love when people ask if they're false!
How does it feel being EME's only female artist?
Its nothing special really. Maybe because I have a lot more male friends than female friends. I'm used to being in environments where I'm the only female. I grew up in a house with a very strong male presence – siblings and cousins. Nobody treats me different. It's a great feeling. Although they can be overprotective sometimes, but it's cool
Any new music projects?
I'm working on my album. I have always been working on it. It was supposed to have been released in April but I didn't think it was ready and nothing was really going on the industry. I didn't want to put out an album for the sake of putting out an album. Even the economic situation has everyone on the edge. I want my album at a time when it will be more receptive. I also felt like one or two elements were missing. On the plus side I'll be putting out a new video in a few days. About three videos. But now it looks like my album will be out at the end of the year thing.
What should we expect from the music videos?
I like to make fused music, so I featured Pasuma on a song from the album it's an EDM/R'n'B/Fuji sound. The other one is a remix of a song and it has Falz & YCee on it.
What's the theme of the album?
Basically about life… I don't want to give too much away but it's worth the wait.
Have you ever thought of mentoring or bringing in someone to the EME Label?
Thankfully, I do a lot of mentoring already. I believe I have a gift to be used to strengthen and mentor people and it's just something that comes naturally to me. I have a lot of people, both girls and guys, that I mentor and they give me the strength I need to keep going on. Whenever I feel like giving up, they remind me that I'm the reason they haven't given up. I intend to do it on a larger scale when I have the means and resources to do that. That's my way of giving back to the society.
What's your outlook on the place of music and musicians?
Music is my platform to make people see that there's more to life, Some people say "you're so lucky, you have a talent" and I tell them you have something inside of you that God has deposited that makes you very unique. There are times when I feel like down, for example when you start to get envious of those in the corporate sector talking and looking so serious, I have to come to realize that everyone has a role that they play in life, when the corporate person is tired, he will need music to unwind. When they're sick they go to a doctor. Everyone has a role to play in life.
What's your love life like right now?
I'm not dating. I'm very single.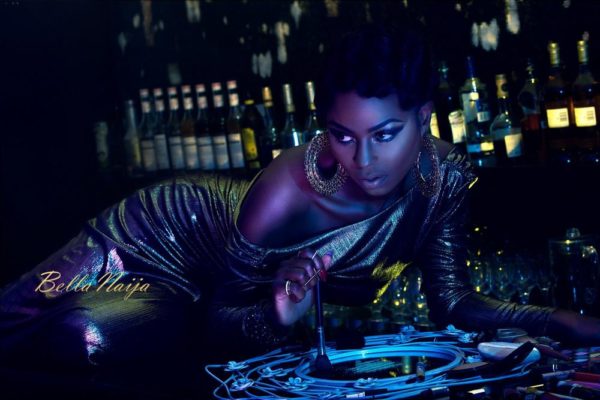 Can you shed more light on Your Pet Projects?
I really want to give a voice to the women. The truth is we are in a society where women aren't as appreciated or celebrated as they should be and it starts from within. If you know who you are as a woman and you're not being celebrated. Your strength can still help you pull through. One thing I've learnt is that 8 out of 10 women probably don't know their worth and it makes them do certain things that makes the society wonder if women are worth celebrating. I will also like to build skill acquisition centres, have seminars, these are things that I'll be working on for next year after I drop my album. I know people in their 30's or 40's who are still clueless, growing up, it was my dad that helped me out with my life choices. Its bigger than the music for me. Music is just a tool.
Last Words for Your Fans…
God has given each everyone something that differentiates you from the next person because we're all placed on earth to help each other. If people could understand that whatever you have is not meant for you and in using what you have for others, you'll eventually find the reason why you're on earth. That's what gives real meaning to life, if not life would just be a meaning less cycle filled with one struggle or the other. What makes life worth it is what you leave behind once you're gone. that's the only way you can live forever. That's what keeps me going. The only thing that can make life with is when you make something out of it. A purposeful life. That's why I use all my social media platforms to motivate people everyday.
Listen to a snippet of Niyola's Song "Never Gon Stop".
Credits:
Photos: Remi Adetiba | Niyola
Styling: ChynaBee