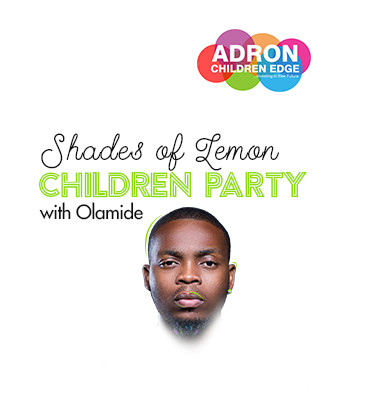 A great way to secure the future of your children is by making solid investments that will benefit them in the long term. Landed properties have proven a wise investment choice as they always appreciate year on year.
Adron Homes is committed to helping people realize their dream of becoming home owners and the company is offering all customers the opportunity to save 27% on all properties with a minimum N50,000 down payment, to celebrate this year's Children's Day.
Also, customers who subscribe to any of Adron's Property plan will get tickets to the Adron Shades of Lemon Children's party happening in Lagos and Abuja that will be headlined by the YBNL Superstar Olamide.
SHADES OF LEMON PARTY DATES
Lagos: Saturday, 28th May, 2016
Abuja: Sunday, 29th May, 2016
Contact Us
Phone: 08180751462, 08150848319, 08150848317, 08150848318, 08150848315, 07055786841
Website: adronhomes.com
Facebook: http://facebook.com/adronhomesnigeria
Twitter: @adronhomes_
Instagram: @adronhomes_
______________________________________________________________________________
Sponsored Content