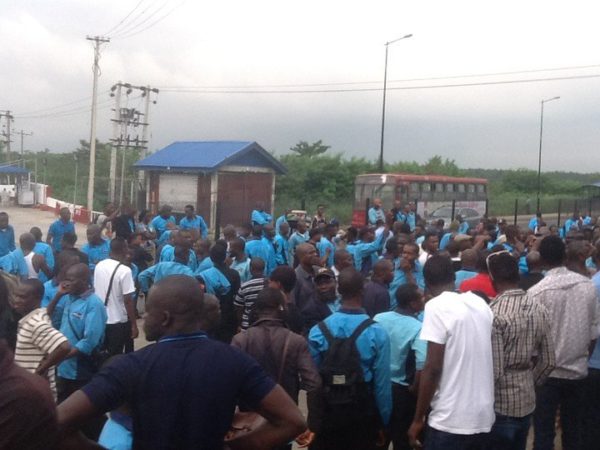 Drivers of the Lagos State's Bus Rapid Transport (BRT) on Tuesday protested against non payment of their salaries.
The News Agency of Nigeria (NAN) reports that the scheme, being operated by Primero Transport Services Ltd., provides bus services along dedicated lanes or corridor in the Lagos metropolis.
The company, which began operation in November 2015, has 434 buses in its fleet and more than 2,000 staff.
Some of the drivers told NAN that they were protesting delayed salary payment, alleged unfavourable conditions of service and poor welfare.
When NAN visited the Majidun, Ikorodu depot of the transport company, hundreds of drivers had converged on the bus corridor and barricaded it to prevent movement.
Also, buses belonging to the company were seen parked outside.
A driver, Julius Adejire, told NAN:
For the past days we have been waiting for our salary for July but up to this moment we have not received alert for the payment.

The funny thing is that as at Monday evening, we discovered that some other staff, including the engineers and ground staff have been receiving alert.

But the drivers have not received ours; can we drive this bus with an empty stomach?

The policy guiding our job is another issue; we are working like slaves because as a driver you cannot stop to ease yourself or have break time or hour.

We are supposed to be doing 40 hours in a week but they said we must now be doing 48 hours; and only one day off instead of two days.

We have been tolerating them before now because we believe this a new project and we thought it needs to be supported, but now the situation is becoming tougher.

We don't even know where we are heading; the buses are still new, is it when the buses go bad that they will pay us?

In our appointment letter they said we will receive N60,000 as basic salary and N20,000 as performance bonus.

Suddenly, after five months they changed it to N40,000 basic and N40,000 bonus with a lot of conditions attached to the bonus.

For instance, a driver will be denied the bonus pay if he or she is late to work for at least three times a month.

With the conditions attached to it, if care is not taken, 85 per cent of us cannot get that performance bonus.

You are trying to instil discipline, but there is no staff bus for drivers who come from as far as Sango Ota, Badagry and Agbara without accommodation arrangement.

We have pleaded with them to give us a place, but that is not forthcoming. So, what we are saying now is that they should pay us our salary as well as revert to the first appointment letter we were given.

They should also tell us the exact day of the month we will be receiving our salary. This is the only job we depend on but the salary is often delayed, so how do we survive; we don't collect pension even if you work for 10 years.
NAN reports that attempts by the company's Managing Director, Fola Tinubu to have the protesting drivers resume work proved abortive as the drivers denied being calmed.
Fola Tinubu said the delay in salary payment on an error on the part of the banking institution handling the disbursement of the salary
"What is happening according to what they say is that we did not pay them on time, but it is really due to an error and we've corrected it. The money was paid yesterday; so why they are doing this now beats me because the money should be in their account by now and I have been trying to tell them," he said.
On the allegation of reviewed salary structure, Tinubu said the company's management took the decision to review the salary to instil discipline in the protesting drivers.
"When I took over, they were being paid a basic salary of N60,000 and bonus of N20,000, but nobody was being paid the bonus. So, the moment I took over, I thought it was unfair for them not to pay their bonus and I made sure they get their bonus.

But what we discovered that majority of them are not conscientious and when they take the buses out they just park somewhere and don't work.

So, we decided to shift the salary to N40,000 and the bonus to N40,000; it is exactly the same amount. We are not trying to take money away from them but we don't want to pay people that will not work.

The only people that it will affect are people that refuse to work and we don't want those people in the system anyway. What we've done is to incentivise them to work and we are not asking them to work any harder. The way the country is today you cannot expect us to be paying people that don't want to work, so that's the genesis of the whole, issue," he said.
The managing director added that the management would not rest on its oars to ensure that workers got their entitlement and reward hard work.
"We've even laid a very generous path for them that show that if you get your bonuses consecutively for six months you get an automatic pay increase. I am even talking to some people to see how they can build a hostel for them near our office here that they will pay for. So, there are so many things we are doing to make their life comfortable, but this (protest) is not going to help because of loss of revenue," he added.
Following the development, the Lagos Metropolitan Area Transport Authority (LAMATA) has said it would leave no stone unturned to resolve the impasse between the drivers and their employer.
Photo Credit: Twitter – @iamfatdon