Ever wanted to change the look or shape of your nails but always found it hard to figure out which one to try next? Or the name of the nail shape you saw on your favourite celebrity recently that you'd like to try out? BN Beauty is here to help, here's your personal Nail Shapes Dictionary!
Before we get into it, note that using nail extensions makes your nails look longer and more feminine because it emphasis the length of your nails and adds a few inches to your fingers. Nails with a thin/rounded tip also add to the length of your fingers while shapes with a wide tip could make your fingers look a little chubby.
Let's get started!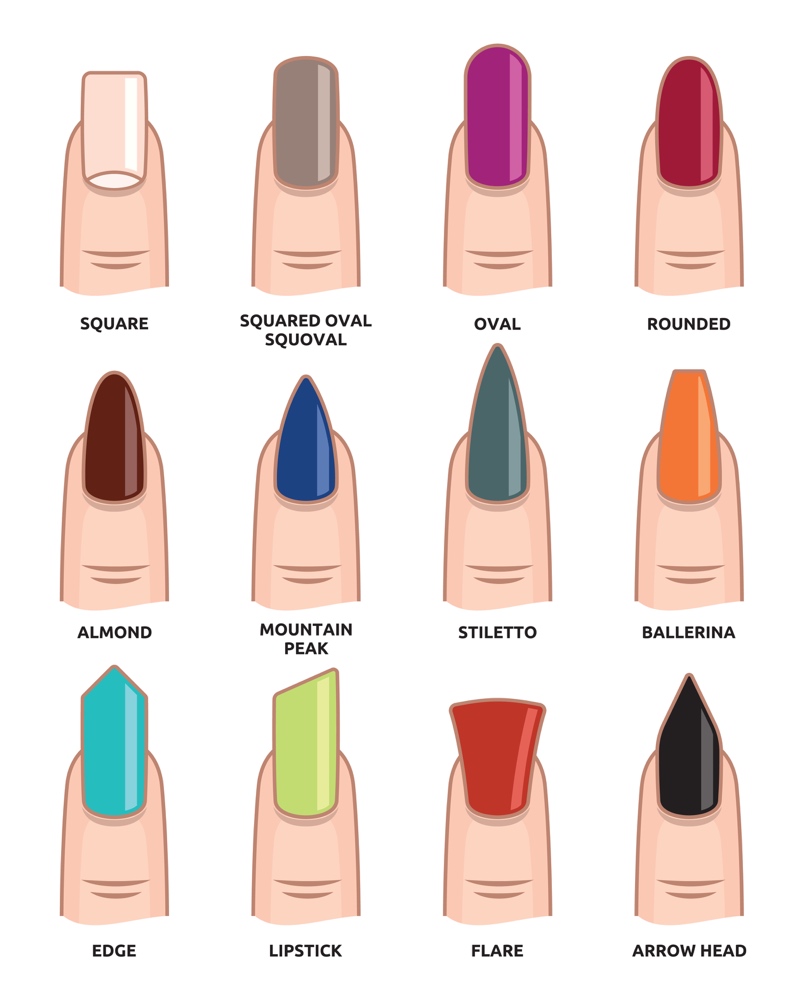 Square:
As the name says, this is a perfect square with no soft edges. It requires a bit of maintenance because the edge could break off and ruin the Square shape but it's great for those with short nails who aren't into a round shape.
Squoval/Soft Square:
This shape is just like the square, but the edges are a lot softer and rounded.  It's a good compromise between Square and Oval, it's great for those who want the Square shape with the comfort of rounded nails. It's easy to maintain on shorter nails.
Oval:
Oval is very similar to the shape of the almond, but the tip is soft and much more blunt. Oval and Almond shapes look better with longer nails.
Round:
The round shape is really popular and it's great for people who think of their fingers as short or chubby. Round and Almond shapes elongate and makes hands look more slender.
Almond:
Almond and oval nails are a very common pick for celebrities. With almond, the nail is slender on the sides and wide on the base, coming to a peak—reminiscent of an actual Almond nut.
Stiletto:
A big misconception is that almond is stiletto, but the stiletto shape has a much more drastic point. Plus, the stiletto is not possible on natural nails because they don't have enough strength to hold the shape, meaning that the nail might very well break off in a couple of hours. If you want this look, opt for nail enhancements.
Mountain Peak:
This is a short version of a Stiletto shape.
Ballerina/Coffin:
This shape is similar to stiletto, but with a squared off tip (that makes it look like a coffin, or in a slightly less macabre description—a ballerina slipper). This is a favorite of Kylie Jenner, and is a cool shape if you want to try something different. You can pull the coffin look off with a natural nail, but it will hold up a lot better with false nails and make your fingers appear longer.
Arrowhead:
This shape is similar to Stiletto but it has a more triangle shape on the top with sharp edges on the sides while the Stiletto is more rounded on the sides.
Edge:
This shape is a shorter version of Arrowhead.
Lipstick:
As the name implies, this nail shape looks just as a new tube of Lipstick is shaped. The sharp edges are similar to a square only that this one is slanted.
Flare:
This is an extended version of a Square. Instead of keeping the sides straight, you flare them out most likely with nail extensions.
So whats your favourite shape and which will you try out next? Let us know in the comments section.
And just incase your nail technician doesn't know the names of these shapes, you can always show them this post!
Source & Photo Credit: Dreamstime, Marie Claire