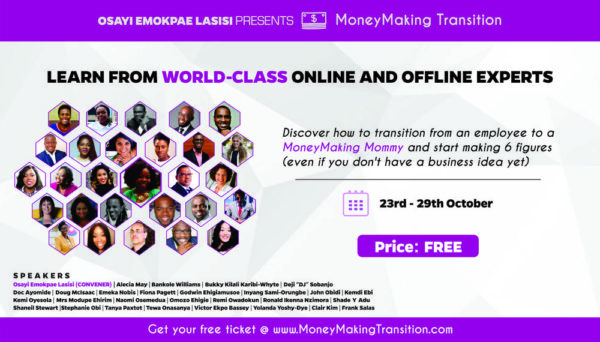 With the recent batch of massive layoffs and people wondering what to do next, an exciting new program has been introduced – The MoneyMaking Transition Virtual Summit. During the Summit the speakers will help women transition from employees to business owners and build successful businesses.
This Online event valued at $937 is being offered at no cost to all those who preregister for the week-long event on the website – http://www.MoneyMakingTransition.com
Some of the speakers during the event are Dr. Godwin Ehigiamusoe, MD/CEO of LAPO Microfinance Bank and he will be talking about how to start their business with little or no money, and how to continue going in their business when things get challenging; Stephanie Obi, who will be talking about how to start a profitable online business so that you can get your message to the world and start getting paid in dollars; Bankole Williams who will be talking about Creating a Business where you get paid for your passion, so that working in your business is a joy and not a hassle; Clair Kim, the Buzz expert, John Obidi, The Social Media Guru, Frank Salas, the Lifestyle Entrepreneur expert, Mrs. Modupe Ehirim, The Right Fit Marriage Coach, Inyang Sami-Orungbe of Averti Professional Managers, Mrs. Tewa Onasanya, of Exquisite Magazine, Victor Ekpo Bassey, founder of the Highly Paid Experts Network and so many more amazing World-Class Experts.
The online summit is FREE during the week of 23rd-29th of October, and there are many freebies and bonuses available to help anyone who is interested in starting a business to create the most profitable business that they can in the shortest time available.
This online summit is hosted by Osayi Emokpae Lasisi, the Managing Director of Mindshare Communications and Founder of the MoneyMaking Mommies Academy.
You can find out more: http://www.MoneyMakingTransition.com