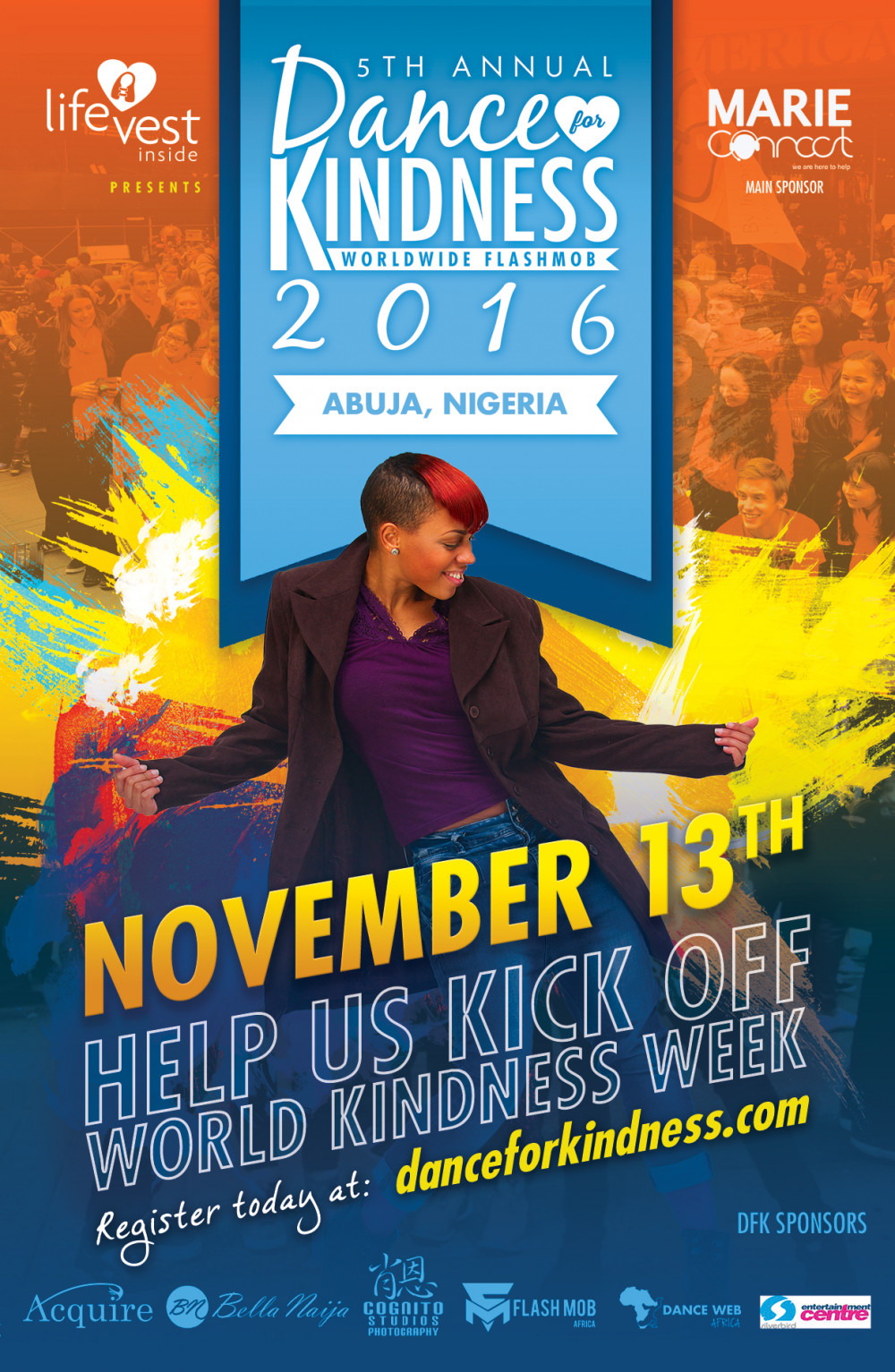 Every year on the occasion of World Kindness Day, thousands of people come together to spread the message of kindness in humanity in their own special way across the world.
In lieu with the occasion of spreading this special message, Life Vest Inside (LVI) in association with Kindness Africa is organizing Dance for Kindness, a Worldwide Freeze Mob/Flash Mob event, open to everyone, at Silverbird Entertainment center, Abuja on 13th November 2016 by 3:00pm.
It is LVI's 5th Worldwide Freeze Mob/Flash Mob event that will happen in over 50 countries and 120 cities where people will come together to dance on the same music leaving behind their caste, creed, religion, age and gender. According to Kunle Lawal, group leader for Dance for Kindness and Osi Alimikhena Co-Founder of Kindness Africa "In this hour of mutual distrust and disharmony, we can take this small step to spread the message of unity, love and hope. It is our imperative duty to spread this message in every way we can. We need people to come together and look beyond the vices in each other. The message of peace should go loud & clear, defying all the negativity."
The planning committee is thankful to have the support from the following sponsors who have helped make the planning and execution of this event possible: BellaNaija, Maristopes Nigeria, Silverbird Entertainment Center, Flash Mob Africa, Acquire Limited, Cognito Studios Photography, Kindness Africa, Circumegi Ltd and celebrity kindness ambassador Keren-Happuch.
Date: Sunday, November 13th, 2016.
Time: 3PM
Venue: Silverbird Entertainment Center, Abuja, Nigeria
To register yourself click here: Register to Dance
_______________________________________________________________________
This content has been published for free as part of BellaNaija.com's commitment to youth, education, healthcare and community development as part of our corporate social responsibility programme.