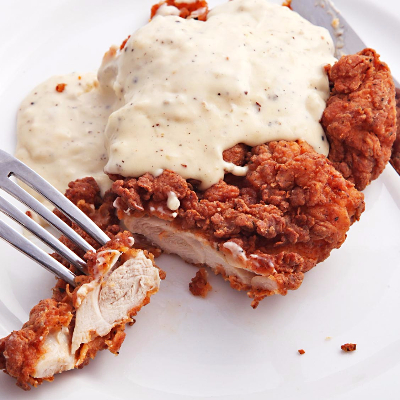 This is one chicken recipe that is worth the wait. The flour mixture coating gives it a very interesting texture. And you definitely can't go wrong with fried marinated chicken. This time, it's chicken-fried chicken with cream gravy. Yum!
Ingredients
4 pcs boneless chicken
2 tsp ginger powder
2 tbsp garlic powder
3 tbsp ground black pepper
2 tbsp paprika
2 cups full cream milk
1 tbsp vinegar
1 tbsp salt
3 cups plain flour
1 tsp baking powder
1 pc eggs
5 cups unsalted butter
2 pcs garlic
1 pc onions
1 cup whipping cream
1 tsp chilli powder
Method
Firstly prepare the buttermilk by mixing 1 cup of milk and 1 tablespoon vinegar and allow to stand until the milk and cream separate.
While the buttermilk is left to stand, chop the onions and mince the fresh garlic. Ensure the chicken is boneless and skinless and each weighs about 230 g.
In a large bowl, combine the garlic powder, 2 tablespoons of black pepper, ginger, paprika and ½ tablespoon of chilli, mix then set aside. Sandwich each of the chicken between two plastic wraps and pound with a meat pounder.
In another large bowl, mix the egg, buttermilk, 1 tablespoon of the spice mixture together. Add the chicken and mix to coat. Transfer the chicken mixture to a gallon-sized zipper-lock freezer bag and refrigerate for about 4 hours or overnight turning occasionally to ensure the content coats evenly.
To make the gravy, heat 2 tablespoons of butter in thick bottom non-stick frying pan over medium heat until foamy. Add the chopped onions and cook for about 4 minutes. Lower the heat and add the minced garlic and cook for about 30 seconds.
Add 2 tablespoons of flour and stir constantly for about a minute. Add 1 cup of milk and whisk constantly, add ¾ cup of whipping cream and continue to whisk for about 3 minutes until thickened. Season with salt and black pepper as desired. Keep warm.
Combine 2 cups of flour, baking powder, 2 tablespoons of salt and the remaining spice mixture in a large bowl. Add 3 tablespoons of the marinade in the zipper-lock bag and mix thoroughly with fingertips. Remove the entire chicken from the bag and toss in the flour mixture. Ensure it is well coated then place on a large plate.
Heat about 4 cups of butter over medium heat in a non-stick frying pan, add the chicken and fry, flipping it over continuously. Continue this process until the chicken turns golden brown.
Transfer the chicken to a towel-lined plate to drain for about 30 seconds.
Serve with the cream gravy. Yum!