Olori Wuraola is on a Mission to change the Society's attitude towards Domestic Violence & Sexual Abuse against women
The queen of Ife, Olori Wuraola Zaynab Otiti Ogunwusi says that she will not rest until she has contributed her quota towards changing the way the African society views violence against women. The world class monarch and highest queen in South West Nigeria had recently shocked the world by marching on the streets of Lagos to condemn and raise awareness against the scourge of gender based violence and sexual abuse victimizing women in Africa. Her campaign called #1in3Africa was to be the first time ever a globally renowned monarch was to be involved in such a grassroots activism to fight a social malady that is fast growing to point of a pandemic.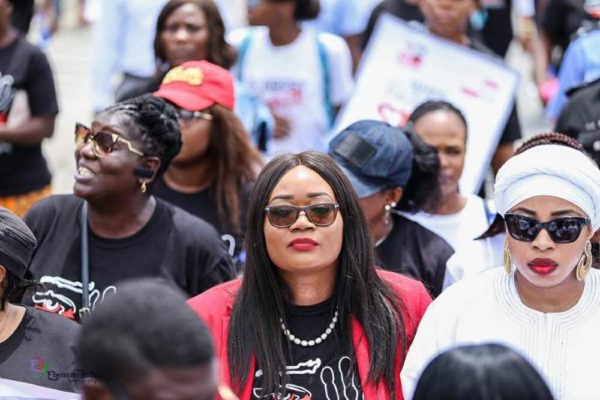 Now she has revealed that this is the beginning of the struggle and anyone who views this act as horrendous should join in the eradication of this epidemic. The March in Port-Harcourt and in Abuja dates are yet to be disclosed. She also hopes that through this process will start a proceeding towards having a bill passed that will accord more protection for Nigerian women at the hands of potential abusers. She says her organization will set up help lines for women undergoing abuse to obtain help, create communication systems to create awareness against the crime and also employ other means such as counseling and rehabs to restore women who have suffered abuse. She also plans to drive for more arrests and prosecutions of more offenders.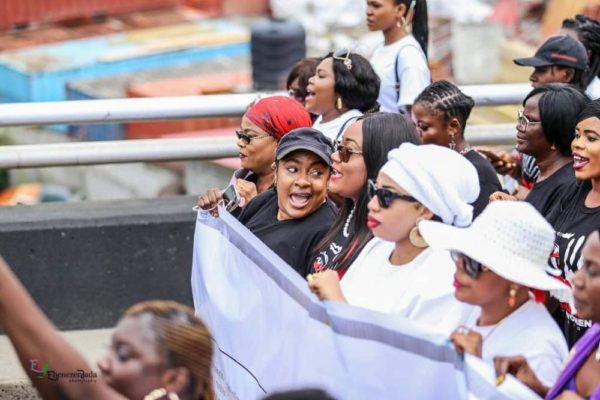 In explaining her motivation for getting involved in such activism, Olori Wuraola said: "Many people have expressed shock that a queen will get involved in a street march of this nature. But then, that is the whole point! I have been so shocked by what I see the society turning into that I am left with no choice than to march in the streets to raise awareness against this malady, if that is what I have to do. People can be quick to condemn flimsy things without condemning injustice I run a foundation that cares for rural women. I have seen women who are so afraid of their husbands that they are afraid of coming out to receive economic empowerment, preferring to remain in abject poverty, rather than be subjected to battery by overbearing husbands, who want them to remain in subjugation. A man you should love and respect suddenly wants you to be scared of him. Marriage is partnership and that's how it works. I find it so hard to believe that such a deep rooted evil in our society will be existing and people are going about as if nothing is going wrong!"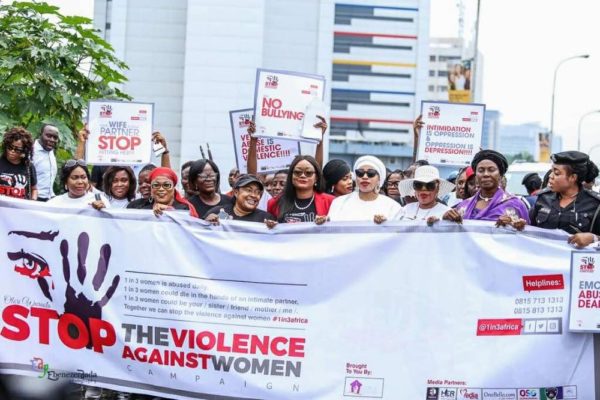 She is alarmed that society treats violence against women as "family matters" while thousands of young women are dying daily as a result of injuries inflicted by battering husbands and lovers. She believes that gender based violence and sexual abuse against women is a crime and should be treated as such.
According to her:  "The most troubling aspect of the whole issue is that these women suffer from a soul-deep emotional trauma and it robs them of their self-esteem, they become permanently damaged psychologically and they do not even know it. These women see themselves as undeserving of aspirations to a better life and future. And it impacts on their children who are conditioned to see themselves as inferior people, devoid of the right to ambitions!"
Olori wuraola strongly believes that emancipating women from domestic violence will free the real potentials of Africa and enable the innate human capacities that will take the continent to the next level to be unleashed. She advocates that economic empowerment of African women should begin with social emancipation of African women from Battery and abuse.
#1in 3 Africa campaign march took place on Friday 30th June 2017 at 10AM, from Falomo to Bar Beach across Akin AdesolaStreet in Lagos. It featured a large throng of women from all walks of life, with highly illuminating presence of celebrities among the crowd.
The march has had the support of a- list celebrities such as Ooni of Ife, Emir of Kano, Muhammad Sanusi II, Nollywood actors like Tonto Dikeh, Mercy Aigbe, Kate Henshaw, Ini Edo, Monalisa Chinda, Uche Jumbo, Funke Akindele, Adunni Ade, and Annie Idibia. Other celebrity partners include; Seyi Shay, Ndidi Obioha (Enthyst), HRH Queen Chika Acholonu, Onari Duke, Dare Art Alade, Ifeoma Williams, Yutee Rone, Toke Makinwa and many more.
————————————————————————————————————————-
Sponsored Content