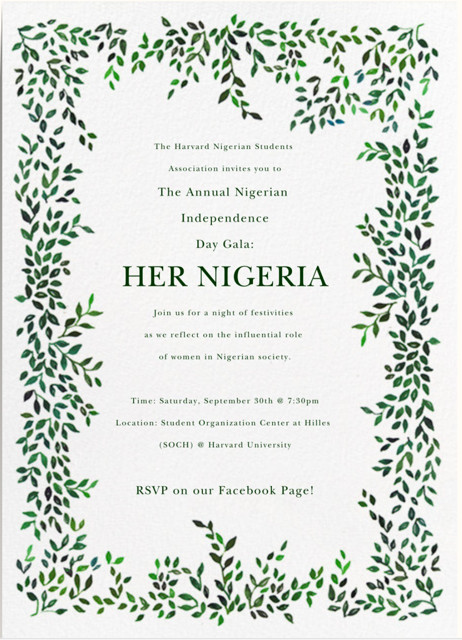 The Harvard Nigerian Students Association invites you to celebrate with them at their Annual Independence Day Gala on Saturday, September 30th at 7:30 p.m on Harvard's campus at 59 Shepard St. Cambridge, MA, 02138.
Come for delicious food, riveting performances, music by DJ Nix, Chidinma Osuagwu as the host, and keynote speaker, Ifeoma Fafunwa, creator of 'HEAR WORD! Naija Women Talk True.'
Most importantly, part of the proceeds will go to Women for Women International charity organization and specifically their work in Nigeria.
Ticket Sales:
Harvard Students (Bring HUID):
Admission to Gala – $12
Afterparty – FREE
Non-Harvard Students:
Admission to Gala ONLY – $12
Gala + Afterparty – $15
Afterparty ONLY – $5
RSVP HERE