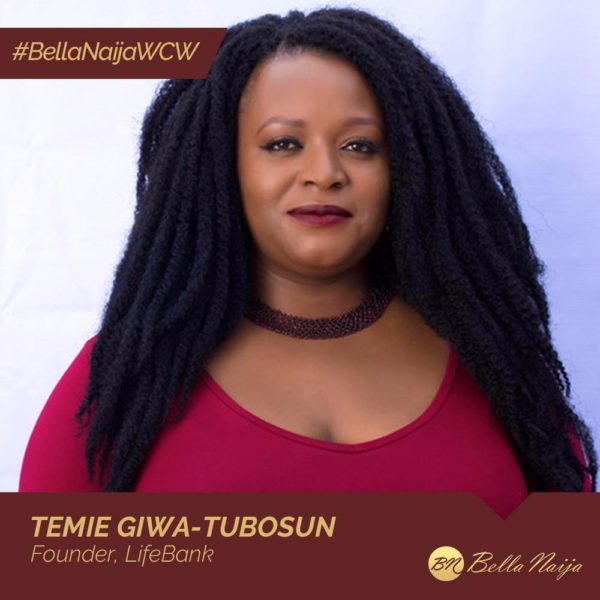 Whether it's due to unavailability of transportation services, lack of necessary materials or unavailability of medical personnel, thousands of lives have been lost in Nigeria due to poor emergency health services in the country.
With the new breed of innovative and gritty entrepreneurs, that narrative is changing and one of those at the forefront is our #BellaNaijaWCW today, Temie Giwa-Tubosun.
In 2011, after the bomb blast which tore through the United Nations Building in Abuja, Nigeria, which left 21 dead and 73 wounded, the national hospital ran out of blood and several patients were left helpless.
Not wanting this to happen again, Temie, with the help of some friends decided to build an organisation to solve this problem. That led to the creation of a non-profit initiative One Percent Project or One Percent Blood Donation Enlightenment Foundation in 2012.
That was not the only defining moment in Temie's life. In 2009, while interning for the Department of International Development, she had an encounter with a poor mother called Aisha whose protracted labour convinced Giwa of the problem of maternal mortality among Nigerians.
The One Percent Initiative metamorphosed into LifeBank Nigeria – a social enterprise – in 2016. Temie founded the organisation following complications from the birth of her first child.
LifeBank is a platform that makes blood available when and where it is needed in Nigeria to save lives. It is a social enterprise using technology and smart logistics to match blood to patients.
The company mobilises blood donations, take inventory of all blood available in the country, and deliver blood in the right condition to the point of need.
Through the LifeBank App, the company mobilises and inspires committed Africans to donate blood to save lives in their communities and get exciting rewards.
LifeBank also operates the LifeBank Plus program, which is an enterprise marketplace for hospitals and blood banks. The app helps our clients to source for the best blood and blood products that patients need.
Temie has over 10 years of work experience in global health, and has worked as a Global Health Fellow at the United Nations Development Project Millennium Village in Ruhiira, Uganda; for the World Health Organization (WHO) and DFID in Switzerland and Nigeria respectively, as well as in the Ministry of Works in the Lagos State Government as Operations Manager.
Temie is an alumni of the Middlebury Institute of International Studies.
In 2014, Temie was named by the BBC as one of the 100 Women changing the world. She was the third Nigerian on the list, along with veteran broadcaster Funmi Iyanda and former education minister and civil rights champion Obiageli Ezekwesili.
She is also a Global Health Corps Alumni. Temie's vision is to save lives across Africa by building smart health systems and we are absolutely rooting for her!