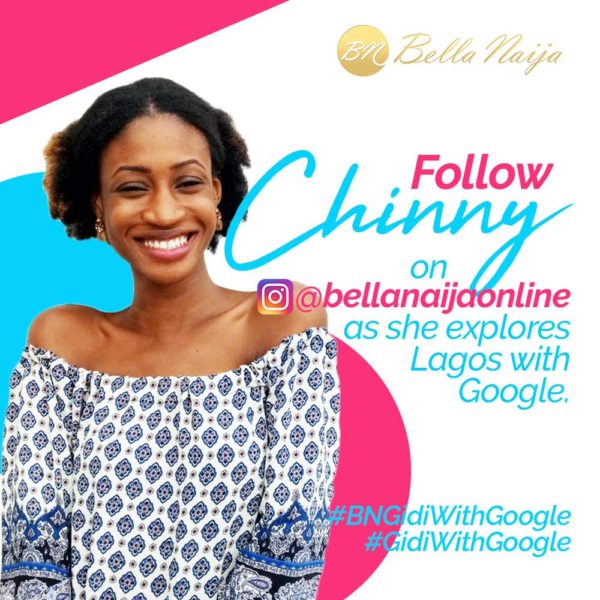 Guess who's gonna be living the best Lagos life for the next few days!
It's Chinny Francis! I am a designer and I run a personal blog here. I also work as part of the BellaNaija team. It's so exciting to join other African media influencers to experience the best of Lagos. You know how it is when you live in a city but you're just always going to the same places and you don't really know all the city has to offer? Well, get ready to see some really beautiful parts of Lasgidi that will get you going out more.
Every year, Google brings media influencers together to explore a particular city using the specialized Google apps for travel. This time, it's #GidiwithGoogle. The official hashtag for the event is #GidiwithGoogle and to make it easier to follow my updates on @bellanaijaonline, you can just search #BNGidiwithGoogle. The first thing I did to prepare for this trip was download some vital Google Apps for tourists.
It's my first time using Google Trips (Android/iOS) and it gives you useful and reliable information about the city you're visiting. You can also manage your reservations, keep a personal itinerary for each day and get recommendations of the fun places in the city. The Google App (Android/iOS) is your personal assistant and helps you search for every and anything plus the Voice Search feature is so cool. When in doubt, check Google Maps (Android/iOS) and don't forget to back up your photos on Google Photos because these are memories to live for.
For the next four days, I'll be lodged at The George Lagos located in Ikoyi which is really beautiful. To kick off things with other tourists on the team, we'll all be going out to dinner and I can't wait to share the photos with you.
Make sure you follow all the live updates on @bellanaijaonline with the hashtags  #BNGidiwithGoogle and #GidiwithGoogle.