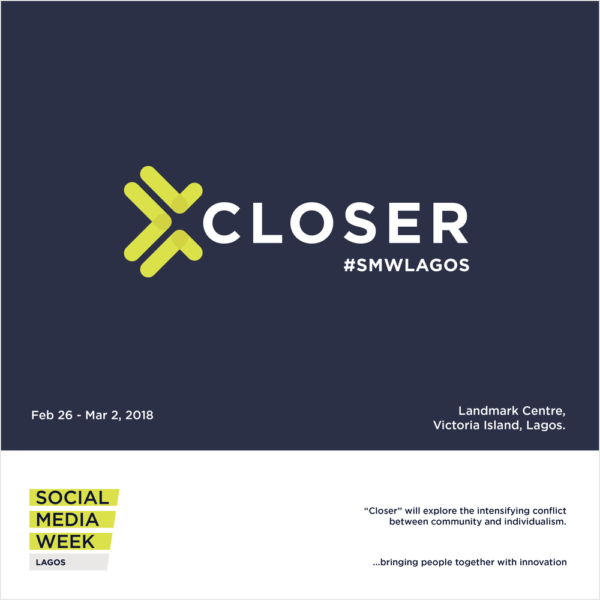 Social Media Week Lagos heads into it's 6th year after a successful 2017 edition that saw over 15,000 attendees across the week and had a global online reach of 454 million. The annual conference now considered Africa's largest digital media and tech event returns.
Date: Monday, February 26th to Monday, March 2nd, 2018
Venue: Landmark Centre, Victoria Island, Lagos.
New in 2018.
'Launched in Africa'. #launchedinafrica is a platform for African led early-stage startups to showcase products/services that are disrupting industries across the continent. 16 featured startups participate in the #launchedinafrica pitch event and digital demo space.
artHERE. #artHERE is an initiative in collaboration with local and international African artists. Using public space as their canvas, #artHERE collaborators bring art to the people through visual, experiential and audio artworks displayed throughout the SMW Lagos Campus.
AfricaNXT Pavilion. Located on the SMW Lagos Campus the #africanxt pavilion is where African creatives take center stage. Through conversations and immersive programming #africanxt showcases African ingenuity in its many iterations.
2018 Conference Theme.
The global theme for SMW 2018, "Closer," will explore the intensifying conflict between community and individualism. The conversation will bring together a diversity of perspectives to discuss the most productive ways to harness these forces to drive innovation, improve consumer experiences and bring people together.
SMW Lagos 2018 programming will in part focus on how technology drives individualism, while also looking at how platforms and apps bring people "closer" and foster community.
"As Africa moves rapidly towards digitization across sectors, we must ensure people remain a part of the equation. Inclusion and our ability to innovate collaboratively locally and across borders is of the utmost importance. Our prosperity as a continent depends on it." –Ngozi Odita, SMW Lagos Executive Director.
In an effort to include as many voices and perspectives in it's week-long dialogue, SMW Lagos invites the African and global community to join the conversation.
How to get Involved.
[1] Become an event partner. Submit a session proposal. Click here
[2] Become a brand partner. Your brand takes center stage at Africa's largest tech and innovation event. See more details here
[3] Showcase your startup. Apply to be 1 of 16 early stage startups included in the #launchedinafrica pitch session and installation. Apply here
[4] Attend the conference. Event registration opens on the 17th of November.
For more info on SMW Lagos 2018 visit: www.smwlagos.com.
——————————————————————————————————————
BellaNaija is a media partner for SMW Lagos 2018