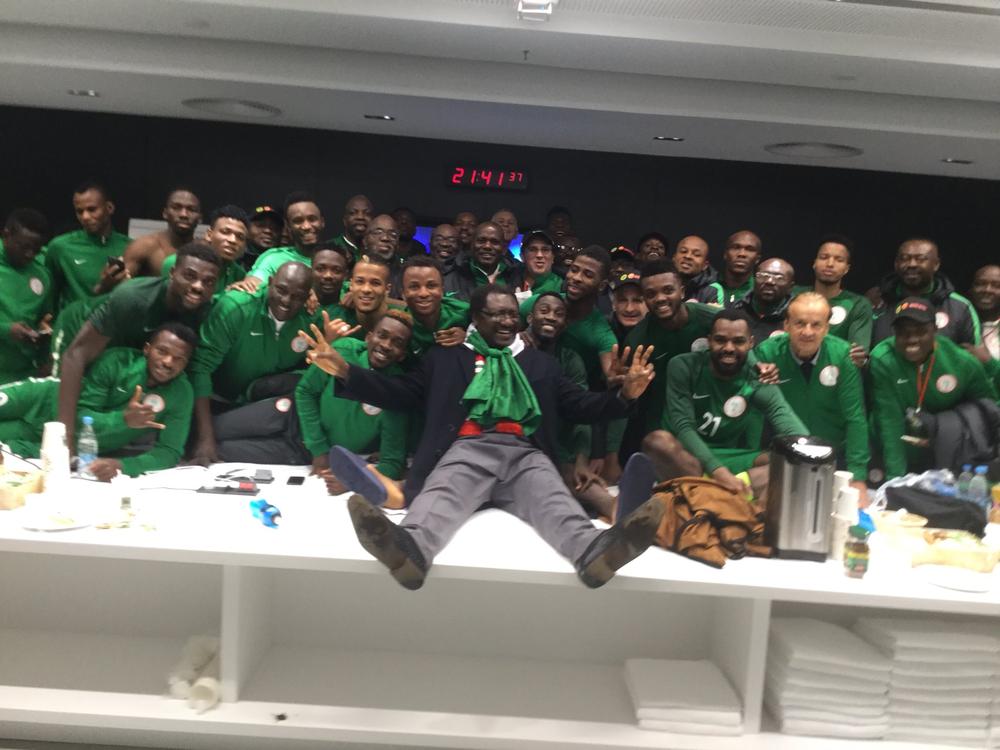 The Super Eagles came from a 2-goal deficit to defeat almighty number-4-in-the-world Argentina 4-2. Yasssssssssssss!
With a brace from Alex Iwobi and one goal each from Kelechi Iheanacho and Brian Idowu, Sergio Aguero and Ever Banege's goals were rendered redundant.
And, along with everyone else (except the Argentinians ?), TwitterNG is having a field day.
From asking for statues for coach Gernot Rohr, to memes of Messi crying, and, of course, the ever present surely required Ghana disses, here are some of our favorite tweets.
First, watch the four goals:
Nigeria in first half vs second half ??❤❤ boyss!! ???? #ARGNGA pic.twitter.com/ifP1pqsNY4

— Daddy CHO (@Chidubem__O) November 14, 2017
Whenever Argentina try to score

Nigeria defense: pic.twitter.com/5oFasdy5Kl

— Black Or White (@Yink1234) November 14, 2017
I think Gernot Rohr deserves a statue in Imo State, the Governor should setup a committee to look into this. #ARGNGA

— Talabi Abisola (@blackmiamy) November 14, 2017
Nigerians tweeting in first half and Nigerians tweeting in the second half #ARGNGA pic.twitter.com/P5Dp7ER6ye

— Ola the Boss? (@Lurd_Yinka) November 14, 2017
Argentina going into the game against the Super Eagles of Nigeria

vs

Argentina leaving the game after receiving four heavy blows from the Super Eagles of Nigeria #ARGNGA pic.twitter.com/1onxEd8DP6

— 9jaWitches ?‍♀️?? (@badgalmaddie_) November 14, 2017
Africa has a worthy (exciting) representative in next year's world cup. Ghana and South Africa can keep watch over the continent while we are away making Africa proud.

House rules: No one corner dance. No mhdgajdheieje ?#ARGNGA

— Kelvin Odanz (@KelvinOdanz) November 14, 2017
That fourth goal is not really my concern…But how Alex iwobi beautifully made mascherano to dance one Corner ??‍♂️??‍♂️??‍♂️#ARGNIG #ARGNGA #ARSENAL

— Toni Sean (@sean784) November 14, 2017
Incase yhu missed the #ARGNGA match, here's the full highlight , go SUPER EAGLES? @Gidi_Traffic @trafficchiefng pic.twitter.com/6OhJhmm5tv

— IKORODU PR (@iCraze6) November 14, 2017
It's true that Lionel Messi wasn't included in the Argentine squad that lost to the Super Eagles of Nigeria.

It's also true that Victor Moses wasn't in the Nigerian squad that won against the La Albiceleste of Argentina.

The Argentines were just too un 4 2 nate #ARGNGA ??? pic.twitter.com/THc2yvNcdP

— 9jaWitches ?‍♀️?? (@badgalmaddie_) November 14, 2017
Anytime way mascherano see colour green ? #ARGNGA pic.twitter.com/B2d30iNP8M

— EPL in PIDGIN (@EPLinPidgin_) November 14, 2017
Argentina fans today pic.twitter.com/BOoe4HKJSf

— Troll Football (@TrollFootball) November 14, 2017
Messi play o, Messi no play, that one no consain me, na Argentina we flog like computer village thief

— Daddy (@Yemzine) November 14, 2017
The super eagles when they come back to 9ja after beating Argentina #ARGNGA pic.twitter.com/kCTbDBzGGD

— Chikwendu Bryan (@BryanChikwendu) November 14, 2017
Nigeria after beating Argentina pic.twitter.com/HNegCdv9UC

— Holy Grail ® ™ (@ODMendel) November 14, 2017
Argentina before & after the game with our Super Eagles ? #ARGNGA pic.twitter.com/8g5wYZr44B

— BILLION (@BillionTwiTs) November 14, 2017
When you score twice to help @NGSuperEagles?? beat Argentina…#BIG17 pic.twitter.com/FwUuWgkmRz

— Arsenal FC (@Arsenal) November 14, 2017
Argentina before the match VS Argentina after the match #NGAARG pic.twitter.com/PtMI9f07q9

— G.O.A.T. (@thatudiboy) November 14, 2017
⏰ 43': ?? Argentina 2-0 Nigeria ??

⏰ FT: ?? Argentina 2-4 Nigeria ?? pic.twitter.com/MRg9DWFLB9

— SPORF (@Sporf) November 14, 2017
Photo Credit: Super Eagles