Looking back at 2017, it is safe to say it is not just any other year, but THE YEAR!
Over the next few days, BellaNaija will be taking a retrospective look at the year that was 2017. We are introducing BellaNaija's "The '17 Series" which will feature lists comprising of so many conversation points this year – from social media topics to stories that shook the Nigerian entertainment scene, amazing music and, let's not forget, politics.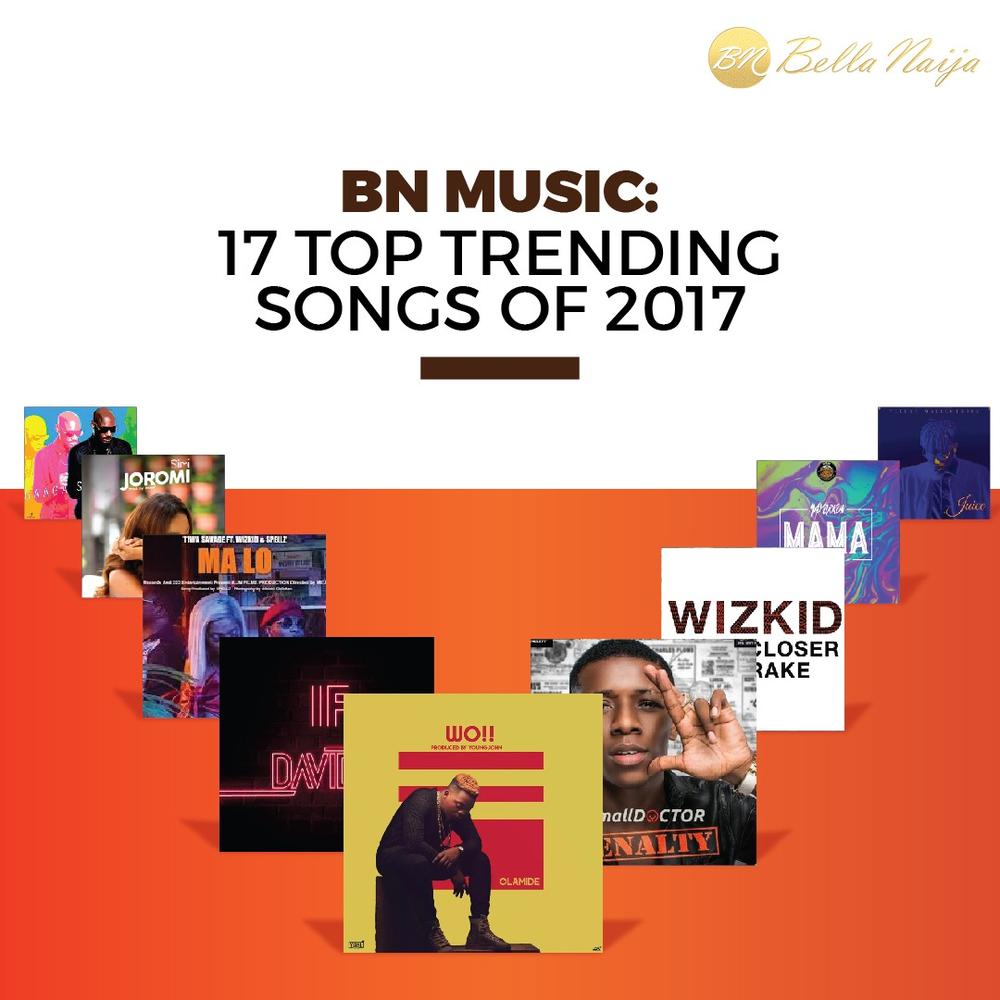 Wow! Another year is coming to an end. 2017 has been nothing short of glorious on the Nigerian Music scene. The gospel of Nigerian music has certainly been preached far and wide this year and we have the tenacity and drive of our artists to thank for that. It makes you imagine what 2018 would be like.
There have been a lot of chart topping and bank breaking songs released this year and compiling this list of 2017's top trending songs has been no mean feat at all. In fact, here is what is going to happen. Some artists had more than one trending song this year, but we'll pick the best one and run with that to give space for others on the list. Cool? Great. Whatever comes after that can be added to the list of honorable mentions at the end.
One more thing, this list is in no order, just 17 songs that really trended in 2017. Let's get into this, shall we?
***
If you hear "Taati Billion for the account oh!" and you're not singing it at the top of your lungs, are you really Nigerian? There's no doubt that 2017 has been a great year for Davido. This particular song crossed far and wide leaving the shores of Africa to push Davido into the global market. And to think, just last year he called off his Sony deal because he wanted to do his thing without external influence. He has certainly done well for himself.
---
Wizkid – "Come Closer" feat. Drake

Let's hear it one time for Starboy International! We already know Wizkid is one of our biggest exports presently in terms of music. Last year, he featured on Drake's massive hit single "One Dance" as well as co-writing the song. 2017 kicked off for him with this hit song "Come Closer" which features Drake as well. He went on to release his "Sounds From The Other Side" mixtape including features from international acts like TY Dolla $ign, Trey Songz, Chris Brown, Major Lazer and more. Let's not forget the iconic selling out of the Royal Albert Hall in London. He's definitely blessed.
---
Simply because everyone need some time to put aside their home training and groove to some street jam. Any party that the DJ has not played this jam is a get-together. Play this song at any gathering till today and watch the most timid of people display their inner "omo adugbo". Agege stand up! 
---
Olamide once again proved his mettle this year as the undisputed street king! Before this single, her had dropped three which had barely made regular rotation. Yet, we can be certain that he delivers every year, which he did once again with "Wo". Series of Instagram dance videos later, he drops the video and the rest as they say is history. Say Baddo!
---
Ycee – "Juice" feat. Maleek Berry

No other artists quite define the new school sound like these two and they team up to devastating effect on "Juice", off Ycee's "The First Wave" EP which dropped around April. From that time till now, the terms "juice" and "sauce" are still in circulation.
---
Tiwa Savage "Ma Lo" feat. Wizkid & Spellz

"Ro bo ske ske ro bo ske ske" issa national anthem at the moment. If you know, you know! What do you expect when you have Wizkid & Tiwa Savage on a track? Their previous collaboration "Bad", trended for months. Now add serial hitmaker Spellz to the mix and you have a jam for days.
---
Arguably 2017's undisputed favorite love song. A refreshing departure from the Mayorkun we saw on "Eleko" and "Sade", two songs fans complained were too similar. The latter which was also released this year did quite well but pales in comparison with "Mama". The DMW singer is definitely onto great things.
---
One sure way of making your mark on the music industry (or any industry for that matter) is to create a unique style for yourself . In the case of Niniola, she has created an entire genre for herself and is reaping the full benefits. "Maradona" ticks all the right boxes for a mega-hit.
---
Falz – "Wehdone Sir"

Nobody does "musicomedy" better than Folarin "Falz" Falana. He has been one artist that has been consistently known to challenge societal norms. The phrase "Wehdone Sir" is used on people who engage in illegal or questionable dealings in the society. Falz uses his easily comic nature and the "Wehdone Sir" dance to create a hit track that still borders on satire. Wehdone Sir!
---
Speed Darlington – "BangDaDaDang"

We know what you're thinking. How? Well, we don't know as well but somehow Speed Darlington aka Speedy Baba aka Irregular Speedometer aka Energy has managed to make almost everyone talk about this song. Yes, we know it's not the same quality as others on the list but it's a list of 2017's top trending songs and this one fits that bill quite perfectly.
---
Flavour – "Most High" feat. Semah

Who did not cry on watching this video? Flavour collaborates with a visually impaired boy Semah G. Weifur who happens to be one of his biggest fan and his voice is probably the best thing you will ever hear. This song and its video makes you want to give thanks to God over and over again. The perfect worship song this year.
---
We all love 2Baba for his love songs but no one quite does dance tracks the way he does it. "Gaga Shuffle" is a classic any day. The song also comes with a dance of its own, the "Gaga Shuffle" dance and it is definitely on every DJ's playlist for the December festivities.
---
Nigeria's darling Simi came through on this one. "Joromi" details a girl's crush on a guy which most ladies can relate with. The video which was released barely 24 hours after the release of the audio further solidifies the message being passed. We see Simi "shooting her shot" in her best possible way.
---
M.I – "You Rappers Should Fix Up Your Lives"

One major discourse on the Nigeria hip hop scene is the reason why a lot of Nigerian rappers feel the need to go mainstream rather than sticking to their main genre. This topic and more was addressed on the episode of "Loose Talk Podcast" which featured M.I. Soon after he comes out with this track, lambasting rappers for always looking up to him to lead the way while they are "getting killed by the south". The track sparked a chain reaction with many rappers coming up with replies and talking about it on their social media pages.
---
Reminisce delivers a track that tells the story of domestic violence. Special props to Odunlade Adekola and Lota Chukwu for bringing life to the video as well.
---
The man with the best album last year came through this year with two banging singles, but this particular one stood out as a fan favorite. The audio and video is reminiscent of a 70s vibe and gets you dancing even if you don't want to.
---
Major Lazer & DJ Maphorisa feat. Nasty C, Ice Prince, Jidenna & Patoranking – "Particula"

This one makes the list as a result of the Nigerian presence on the track with Ice Prince, Jidenna and Patoranking. The hook by Ice Prince might very well be the best we have heard all year. Nasty C has also got bars for days.
---
Honorable mentions go to songs like;
Davido – "Fall" & "FIA"
Runtown – "For Life"
Tiwa Savage – "All Over",
Wizkid & Mutay – "Manya"
Kiss Daniel – "Sofa"
Timaya – "Telli Person"
Dice Ailes – "Otedola"
Niniola – "Sicker"
Humblesmith – "Focus"
Reekado Banks – "Easy (Jeje)"
…and so much more. 2017 has been a great year and we can't wait for greater things in 2018. See you there!