We all remember Oprah Winfrey's speech when she received the Cecil B. DeMille awards at the Golden Globes that made social media users giddy with excitement, excerpts from the speech even trended for days after the event and some people went ahead to start the hashtag #OprahForPresident.
Well, it seems like not everyone is having it, as British singer and songwriter, Seal on his Instagram aired his thoughts about Oprah.
He posted a photo of Oprah and Harvey Weinstein, who has been accused of sexual assault by several women in Hollywood, at the 19th annual Critics Choice Movie Awards in January 2014 alongside another of Oprah, Harvey and another lady with the meme captioned "When you have been part of the problem for decades… but suddenly they all think you are the solution".
He posted the photo with the quote:
"Oh I forgot, that's right…..you'd heard the rumours but you had no idea he was actually serially assaulting young stary-eyed actresses who in turn had no idea what they were getting into. My bad. #SanctimoniousHollywood"
Seal seems to have reason to believe Oprah does not deserve all the accolades she's getting, hinting that the media mogul might have had an inkling about Harvey's indiscretions. He however, did not post any proof of his allegations.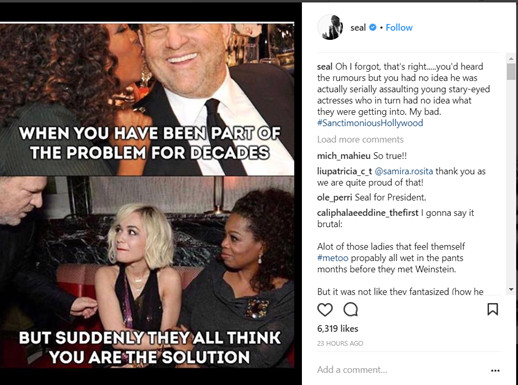 Oprah is yet to comment on Seal's post.
Photo Credit: Instagram – @seal