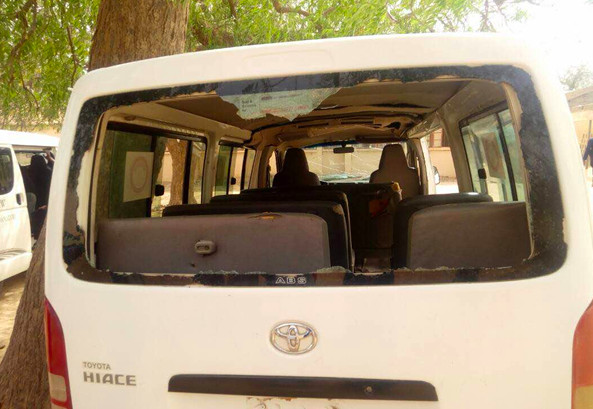 Officers with the Yobe State Police Command are reportedly arresting parents of the missing girls in Dapchi.
The parents had pelted stones at the state governor Ibrahim Gaidam's convoy after he informed them their childnre have not been found, contrary to his earlier claims.
The governor had previously stated that some of the girls missing after Boko Haram insurgents raided the Government Girls Technical College, Dapchi, had been found.
On a visit to the town, however, the governor had informed the parents that their children were still missing, angering the townspeople who threw stones at his convoy.
In a tweet by BBC reporter, Stephanie Hegarty, it has been revealed that policemen have been ordered to arrest the parents.
A parent who spoke to Hegarty reportedly told her he's currently hiding from the police, and another parent has been arrested.
An order for his arrest has been issued, the parent told Hegarty. She wrote:
A parent in Dapchi called me to say he's in hiding after an order has been issued for his arrest. One parent already arrested. For attacking convoy ostensibly, though they fear gov trying to prevent them from talking to the media. Police not answering calls. #Yobe

https://twitter.com/stephhegarty/status/967025071465394176
Hegarty tweeted that the police have refused to comment on the issue.
Police response – no comment yet.

https://twitter.com/stephhegarty/status/967030624413503488