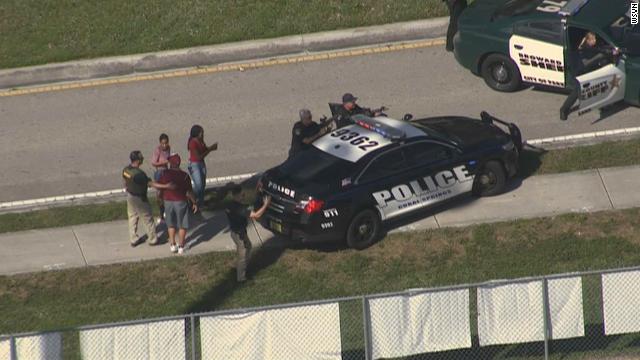 At least 20 people are reportedly injured in a shooting currently taking place at the Marjory Stoneman Douglas High School in Parkland, Florida.
According to developing reports by CNN, an aerial footage showed a number of people lying on the ground outside the school while being treated for injuries and moved into ambulances.
The shooter however is still at large and the Broward Sheriff's Office is actively launching a manhunt for him.
One of the students at the school recounted the experience to CNN;
We all thought it was a fire drill because we had one previously today. And we thought it was so no one was that nervous, but then word started going around that it was shots and not just like something else, everyone just started running towards the canal.
The Governor of Florida, Rick Scott has responded to the development assuring residents that he is working actively with all concerned authorities to handle the situation;
I've spoken with @BrowardSheriff Scott Israel, @browardschools Superintendent Robert Runcie and FDLE Commissioner Rick Swearingen regarding Stoneman Douglas High School. We'll continue to receive updates from law enforcement.

— Rick Scott (@FLGovScott) February 14, 2018
Lissette Rozenblat, a parent at the school said she thought it was just a hoax until her daughter started texting her frantically throughout the shooting;
At first, we thought it was a hoax, because in today's day and age, you just never know. It's just absolutely horrifying.
Photo Credit: Twitter – @CNNbrk