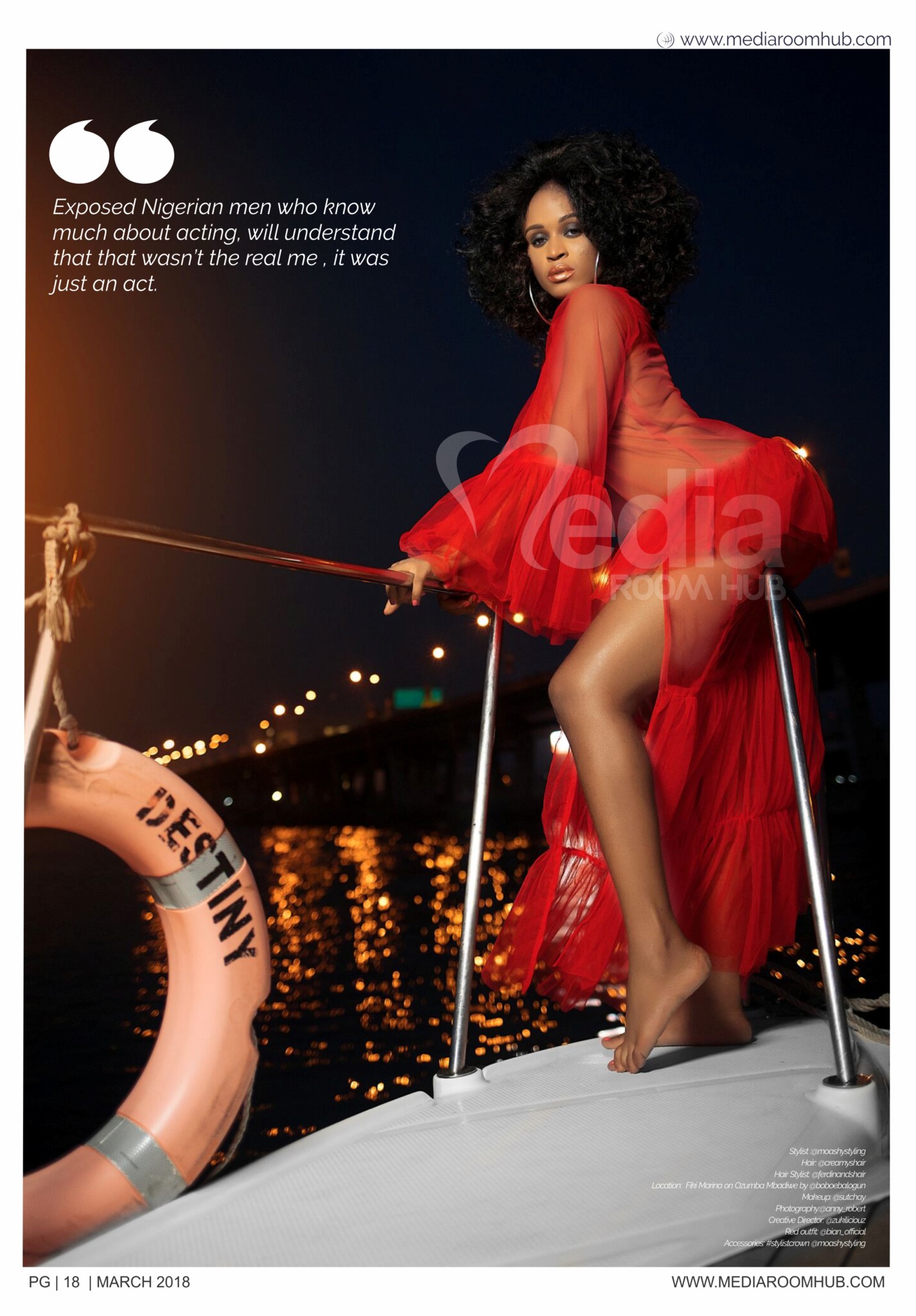 Marvelous Dominion, an Oxford Brookes University/London Academy of Media Film and TV trained actor and model, is a fast emerging entertainer who has embraced an unconventional way to break cultural boundaries and live life as freely as possible.
The actor, presenter and model is on the cover of MediaRoom Hub's latest magazine issue and her decision to pose nude for the magazine has had social media buzzing today after the cover was released.
Before making it on the cover of MRH, Marvelous acted in a stage psycho-erotic play called "3Some" and her role required her to appear nude on stage. She described her decision to go nude as her own interpretation of art.
Her role in the play raised some interest and encouraged MRH's editor, Azuka Ogujiuba, to reach out to Marvelous for her story.
Talking about her decision to go nude on stage, boldly defying Nigeria's conservative expectations, she says:
I didn't really think about it because I am a Nigerian, of course we have our own cultural beliefs in this country, the only thing I thought of was just what makes me happy. This is what I want to do, and in the film school I went to, we were being taught that you might be asked to come out to work as a nude actress. So it only takes a daring actor to imbibe the character. I went through the story and I realized it was an interesting and a very daring story. If it wasn't daring of such, I wouldn't have gone for it.

My parents were aware of this. Firstly, I came from a beautiful family, my parents have been very supportive, especially my career and passion for acting. Acting is what I have always wanted to do from childhood. When my mum heard the story line and my role in the play, though I told her later that I was going nude onstage, and the only thing she said was, are they going to recognize you in reality onstage, then she said anyways as long as it makes you happy and you know what you are doing, you have our full support. My dad was like, oh it's good.
On being a victim of domestic violence, she says:
Presently, I don't have a serious boyfriend; I used to have a boyfriend but not anymore. I had a five years relationship which was supposed to lead to marriage, but we had so much issues and then again I suffered domestic violence. He was overly protective and stuff like that so it's a long story, but we're still cool though. So, I'm trying to stay on my own for a while, I want to get myself back in order, it's not like I am a saint but I need to get myself together and focus more on my career. He was overly protective, he did a lot of things to me and he was always hitting me for some petty reasons. Initially, I never knew it was like this, along the way my eyes opened to some deep things and I realized I was in a wrong relationship. At first I didn't know what to do because I was stupidly in love. When he came back to Nigeria and we both stayed in my own apartment. On his birthday, he acted really crazy and hit me again, that was the day I decided to leave the relationship for good.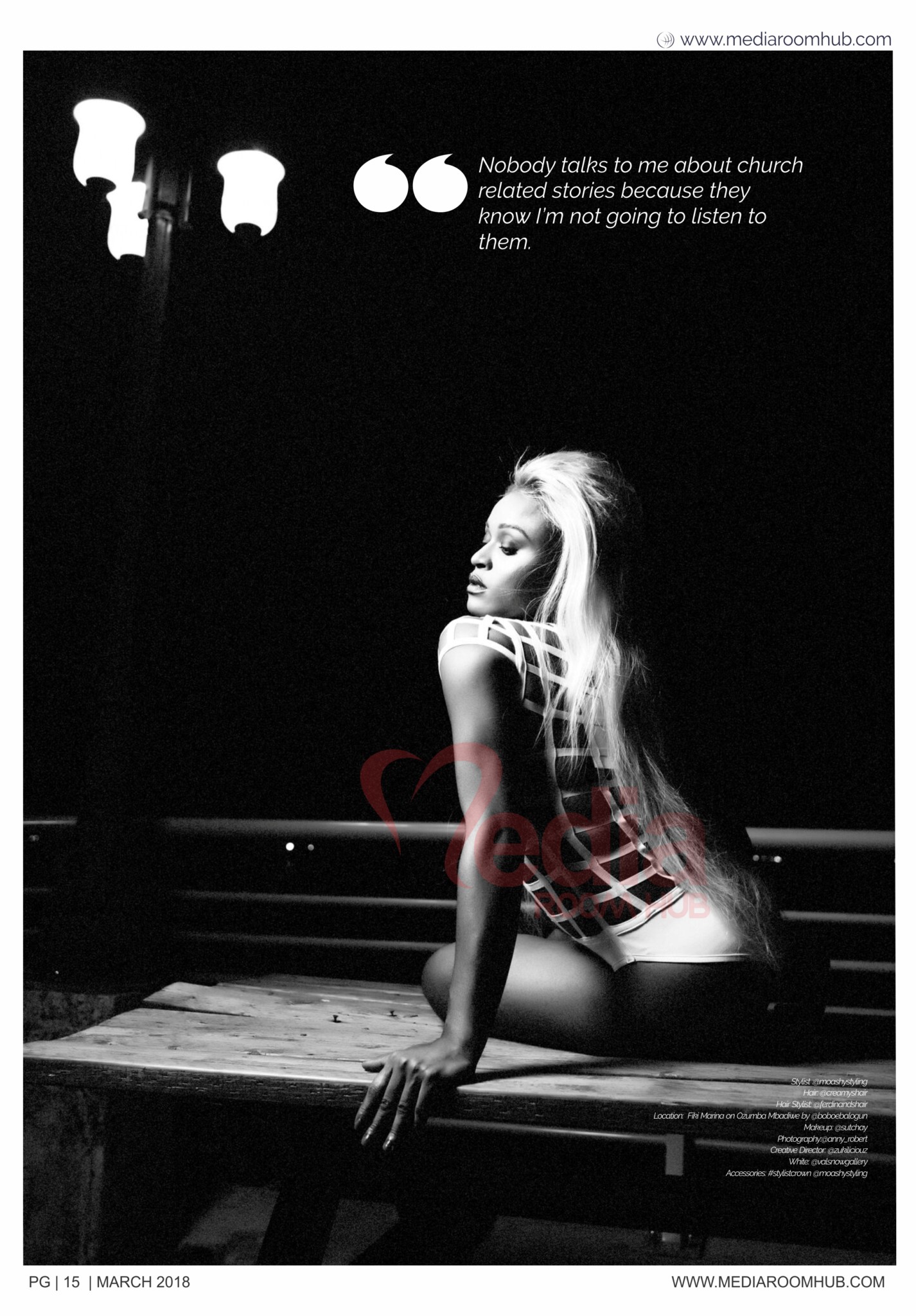 With a lot of international celebrities like Jennifer Lawrence, Halle Berry, Salma Hayek, Drew Barrymore, Julianne Moore, Kate Winslet, Angelina Jolie and more not being strangers to nude acting as well as nude shoots, it is an aspect of the Nigerian movie industry as well as Africa at large has shied away from.
With Marvelous Dominion's bold step, do you think Nigeria is ready to break away from those cultural boundaries?
Read her full interview here as well as the editorial spread.