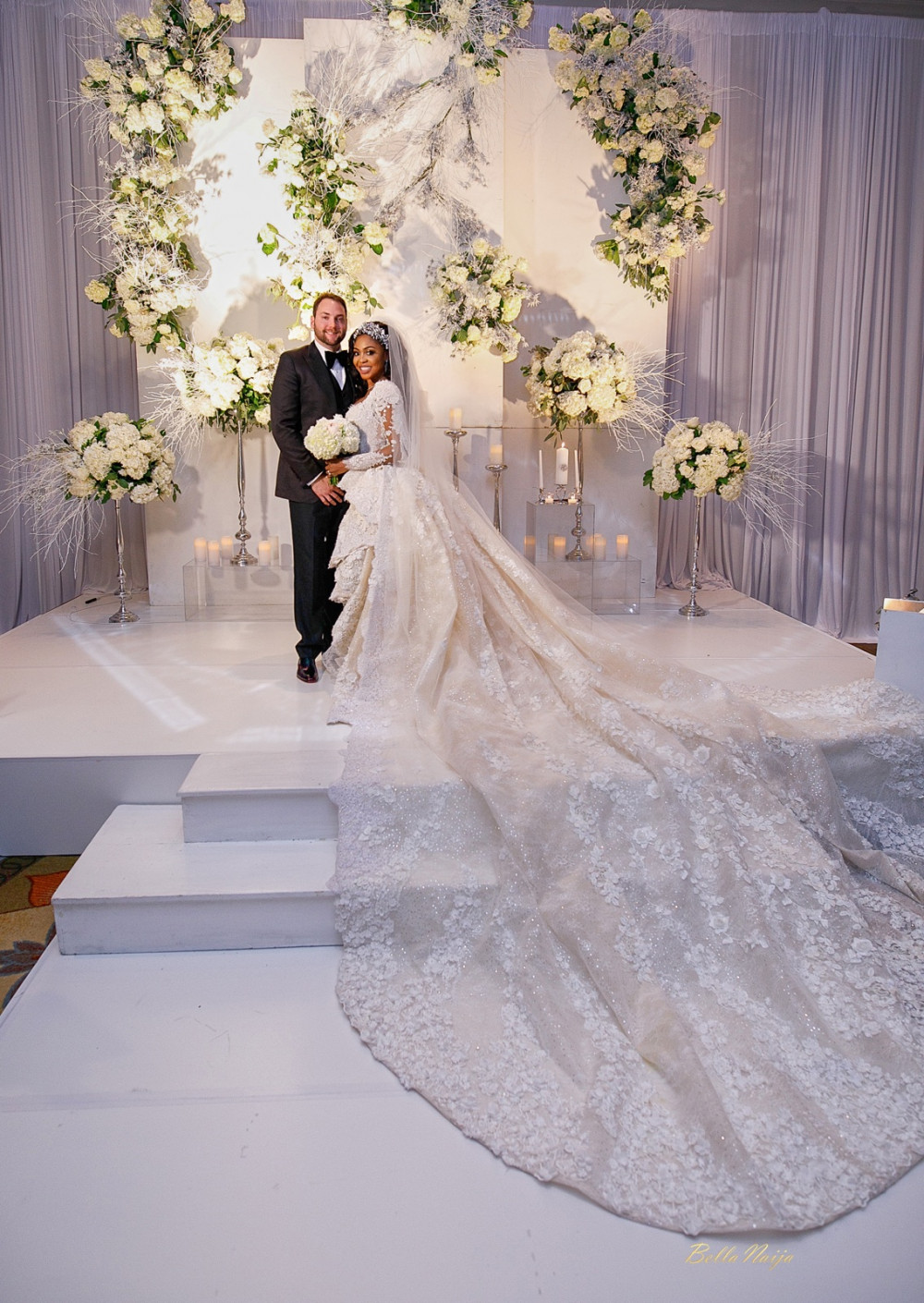 Esé the founder of Esé Azénabor clothing company tied the knot with her love Eric a real estate practitioner and CEO of Grembowski Investment Group on the 31st of December 2017. Talk about a romantic way to step into the new year. The couple met on a social media platform which they both joined for different interesting reasons. From the first date to a romantic new year's eve hangout, they both knew they had met the one. They had a traditional pre-wedding party at the Hall space in Esé Azénabor Show Room in Dallas which had the couple representing Esé's Nigerian heritage.
The designer bride made all her wedding dresses which were all showstopping by the way. According to Esé, "My wedding dress took me a year to complete. Mostly because we had to keep stopping to finish our brides and client's dresses."  She also made all 11 of her bridesmaids' dresses and her mother-in-law's dress. Eric wore a Tomford black tuxedo. His suit was a cool embossed texture which was my favourite suit of his. For the after party, he changed into a custom-made white Tuxedo by Dada Custom Clothing to match his groomsmen's colour.
Here is a little backstory of how they met. Look out for the bride's lovely advice to brides-to-be and grooms-to-be.
BellaNaija Weddings wishes Esé and Eric lots of love together.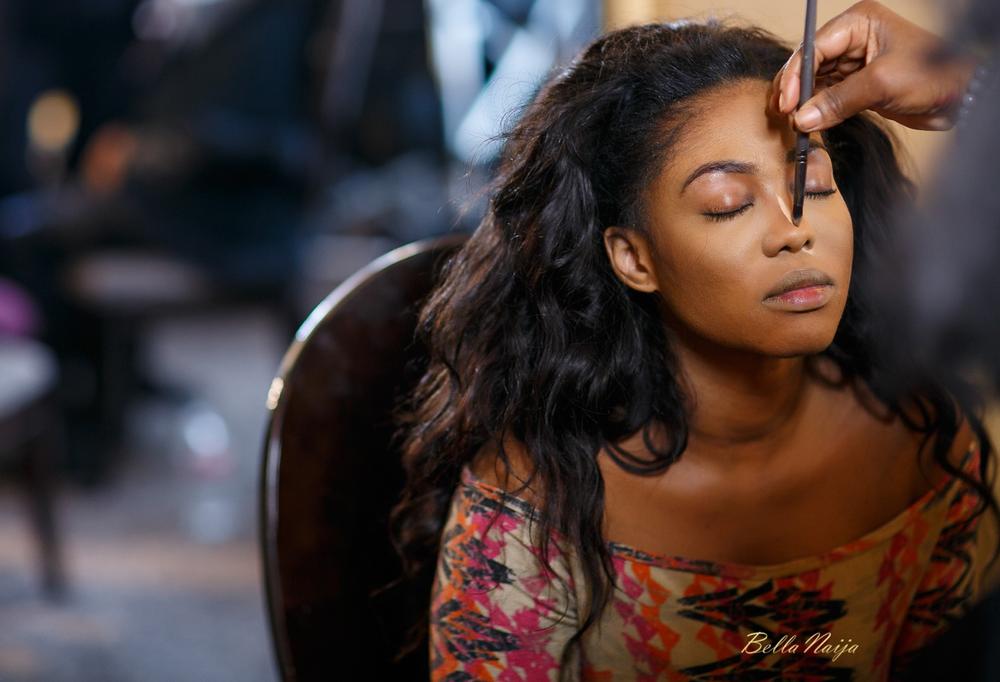 How We Met
By The Bride-To-Be, Esé
Eric and I met online, Zoosk to be specific (I am not sure if it still exists). Eric joined Zoosk because he thought it was a site to expand his network in his Developing and real estate business which I found extremely funny. I joined because a friend signed me up and wanted me to get out there and start dating again. In 2013, I was still new in the fashion industry and I needed to focus on work and I wanted to put dating on a back burner. I never went out, I was always home working and trying to develop my brand.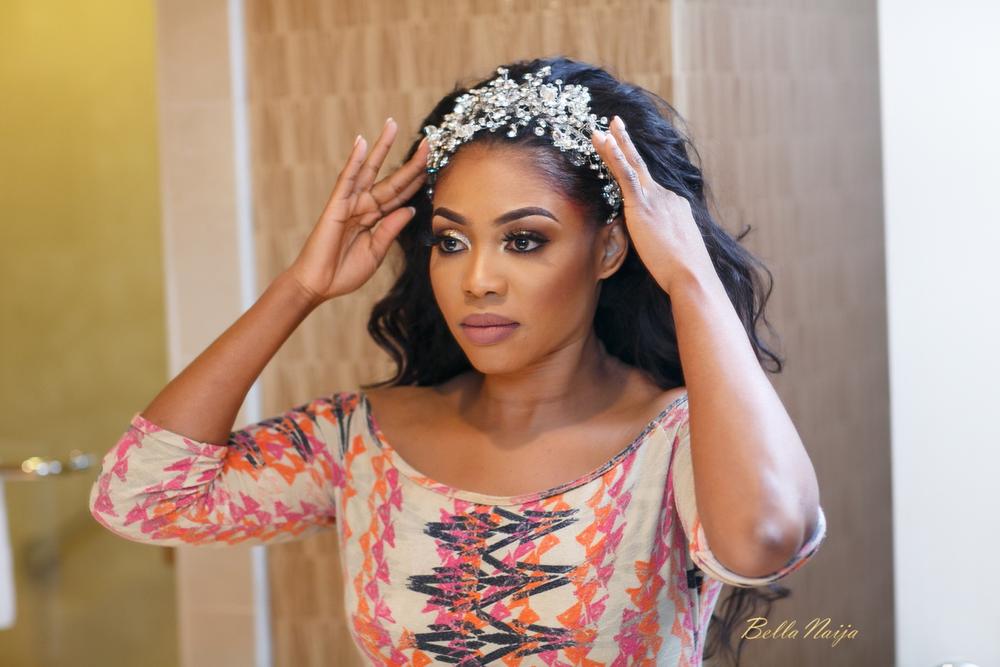 Eric had seen me on Zoosk and decided to add me on facebook and send me a message. This was in November of 2013. We talked online for about a month and decided to meet face to face for sushi. I will never forget our first meeting. As we ate and talked, I just knew 100% that this man seating in front of me was going to be my husband. I don't know how to explain it. His charisma, the way he talked, his intelligence, his point of views and his values were just so on point to me, it almost freaked me out. This has never happened to me before. I have been in serious relationships before Eric but I have never felt like "this is the one" until I met Eric. I had a wedding to attend on NYE of 2014 and I asked Eric to be my date and we made it our "official first date". After we rang in 2014 together, we were never apart since then. Eric says he knew I was "the one" on NYE 2014.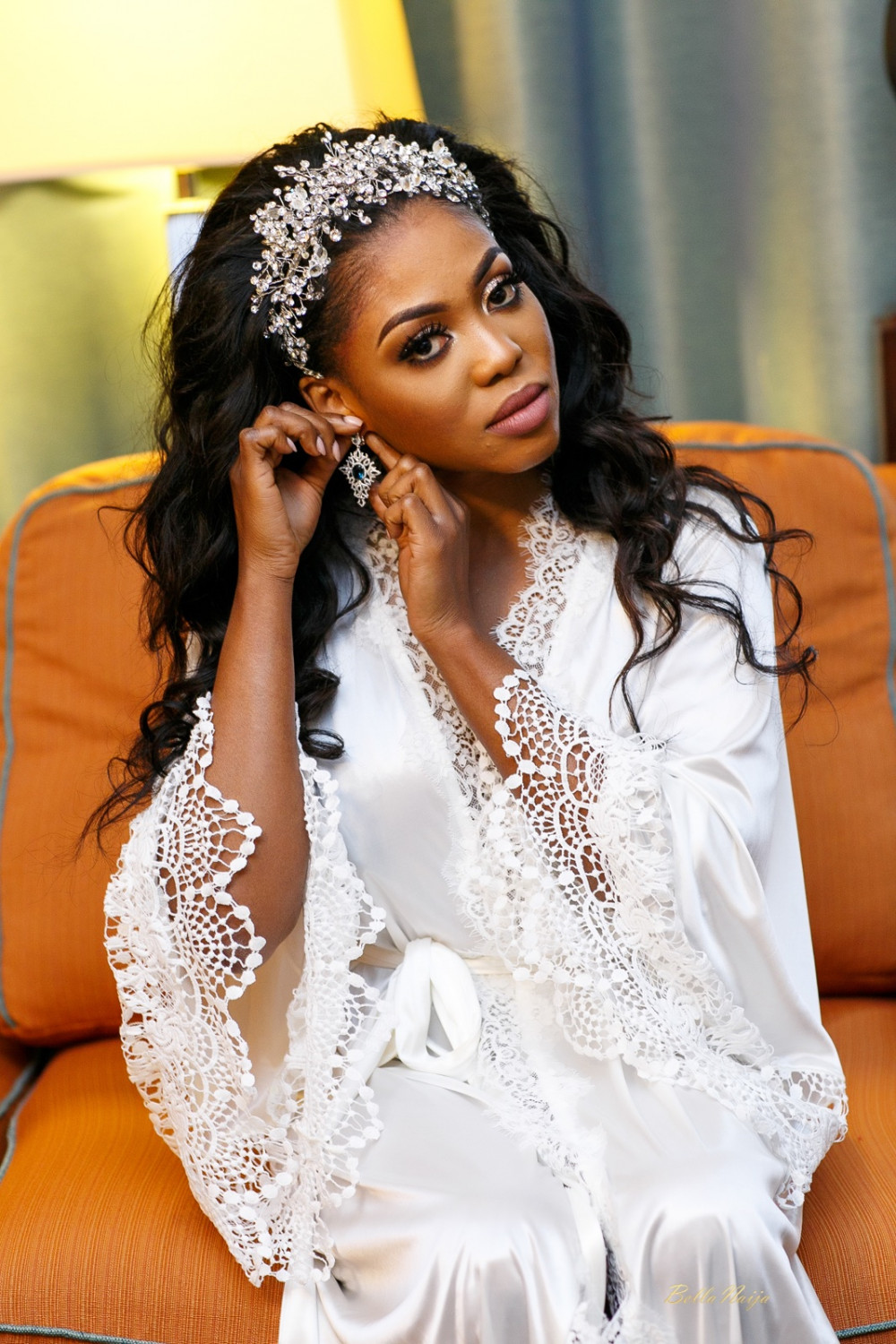 Our Proposal
 Eric Proposed to me January 21, 2017. This was a day after my birthday. He planned a surprise birthday party for me and it ended up being an engagement party. I am Type A person and I still till this day do not know how he planned it without me finding out. He invited all my friends and family. I was truly surprised. One of the best moments of my life.
Let Your Wedding Day be Personalized
My advice to brides-to-be and grooms-to-be are: Firstly, Don't fuss about the irrelevant things. Think about the things that are very important to you and make sure it shows on your wedding day. Secondly, Try to personalize your wedding day the best way you can. Guests enjoy personal details of the couple. To me, it sets the day apart. Thirdly, I know planning a wedding is very stressful and you want to be as involved as possible, but try to take one day a week off wedding planning. Don't talk about the wedding that day. Just hang out with your husband-to-be. Go to the movies, go see a play, go have dinner and drinks. It makes a whole difference. I am so lucky to have had amazing people around me including Chioma of Dure Events. She went up and beyond to ensure Eric and I had a wonderful and memorable wedding day. I truly felt like a queen.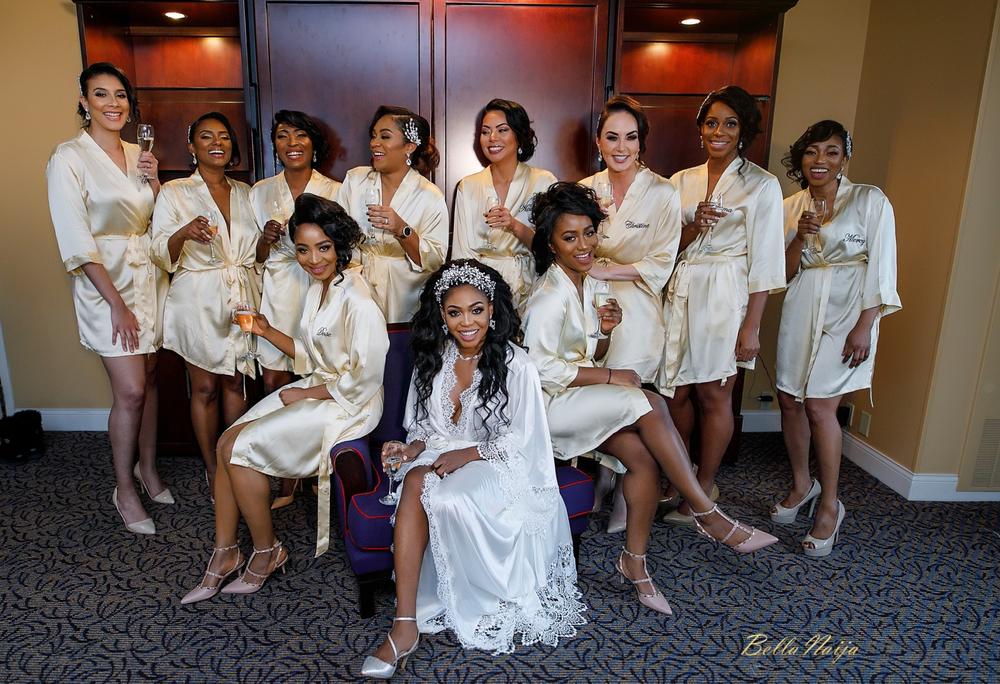 Why We Chose To Get Married on New Year's Eve

Our white wedding was held on December 31, 2017. We choose New Year's Eve because Eric and I's major first date was at an NYE wedding and it was literally both of our best dates ever. We always talk about that date, it was such an amazing experience and I love the meaning of walking into a new year as man and wife. It was perfect for us. Our white wedding ceremony was held at Hilton Anatole. We had a horse carriage that took us from the ceremony to '7 for Parties' where the Cocktail hour, Reception and NYE after party was held.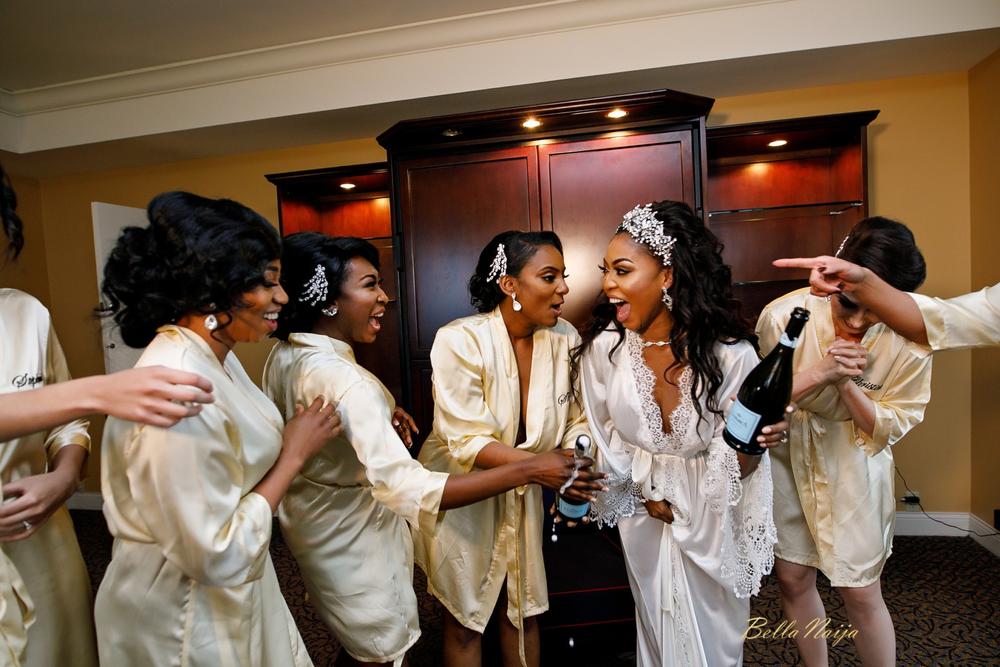 It's All in The Detail
I was inspired by my love for Chantilly lace which I accentuated with beading and 3D details. It has two detachable trains. Both trains were attached during the ceremony. The shorter was floor length with layers. The material was Chantilly lace covering in Swarovski crystals and 3D lace appliqué. The second train was 15 feet long and it went over the layered (ruffled) first train for extra length. Also, Chantilly lace that has been structured and covered in Swarovski crystals and 3D floral lace appliqué. The inside of my dress was a fitted mermaid gown. Illusion sleeves with a corset lace up back closure.
My dress was also a Chantilly covered in tinny hand-beaded Swarovski stones and floral applique.During the reception, the 15 feet train came off and left me with the shorter train to dance in. During the cutting, if the cake, my second train came off and I was left with a fitted sexy mermaid gown, which was Eric's favourite look. The entire dress took about a year to complete, weights about 50 pounds. I have always loved the romance of Chantilly and I always wanted to incorporate Chantilly in my wedding dress and I am so glad I never changed my mind. I wanted to look like a queen on my night. For our after party which was the NYE party, I changed to a different gown. A hi-lo sparkly dress with ostrich feather hemline and a beaded bodice. The entire dress was also fused with Chantilly within its structure.
White Wedding