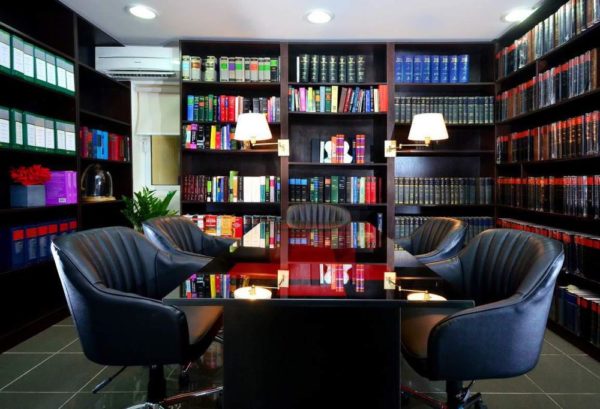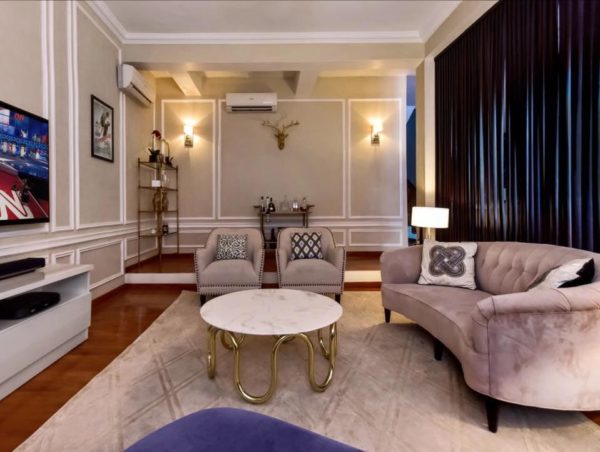 The first ever Pan-Africa Interior Design (PAID) Virtual Summit will be presented from March 19th till 30th. This completely online summit will allow creatives and designers from all over the continent and diaspora to participate in an immersive digital experience. Over 20 different interior design practices will be represented, over 40 participating interior designers and professionals, 3 studio tours and experienced professionals from over 18 different countries with 25 specially curated lectures and discussions.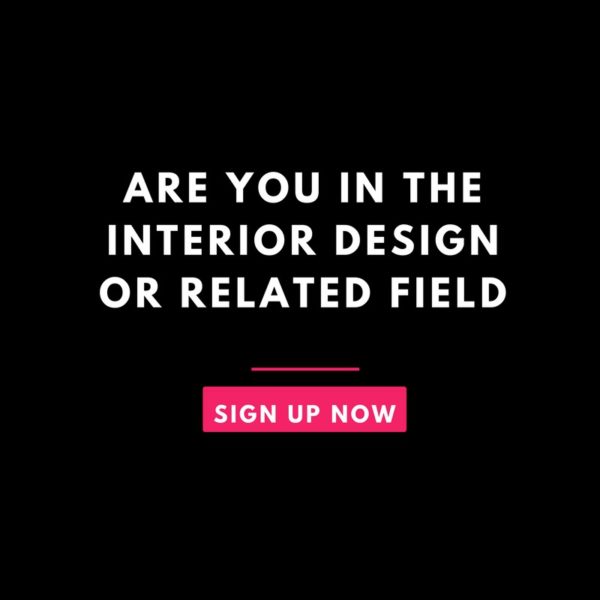 Hosted by E-terior Spaces, a revolutionary online design consultancy, the PAID Virtual Summit is excited about using technology to not only empower thousands of aspiring interior designers but to also enrich experienced design professionals. With a wide range of discussions and tours planned, The PAID Virtual Summit will allow for all the benefits of a physical summit by creating avenues for Live Q&As and private networking groups where participants can take their discussions further.
Jump start your career with The PAID Summit now by registering to take advantage of the FREE sessions or Purchasing an All Access Pass (even after The Summit officially begins). This will grant you access to a wealth of learning from the top interior designers in the world. Registration is FREE and allows viewers free access to over 120 hours of curated lectures and interviews.
Date: Monday, March 19th – Friday, March 30th
Eight Days of Interior Design
The PAID Virtual Summit is organized around eight packed weekdays, each with a focus on salient and timely topics in for the African Interior Design professional or enthusiast.There will be a break before the Live Q&A session.
Day One: 'Introduction to Interior Design'
Day Two: 'The Career'
Day Three: 'Finding Your Place'.
Day Four: 'Design and People'
Day Five: ' Design Africa'
Day Six: 'Building Your Profile'
Day Seven: 'Virtual Tours'
Day Eight: Live Questions and Answers
Register NOW for The PAID Summit
Participating Interior Designers and Teaching Professionals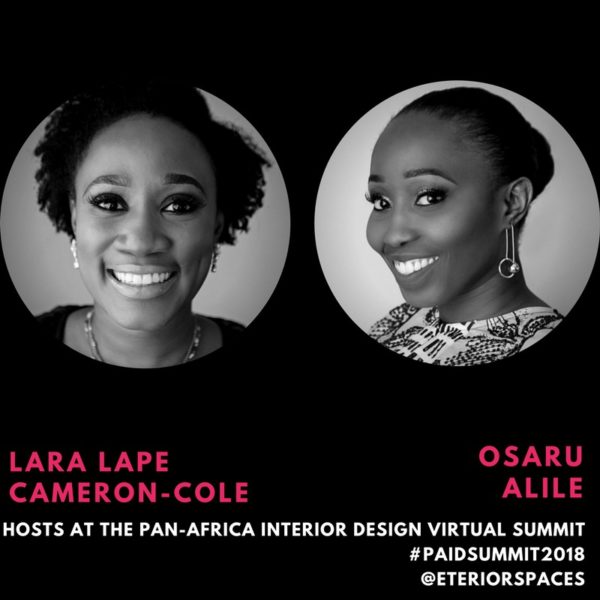 The Summit will be Hosted by the amazing Award winning Lagos Interiors designers Lara Lape Cameron-Cole and Osaru Alile of Eterior Spaces and CC Interiors Studio. With over 40 Interior designers and teaching professionals participating in The PAID Virtual Summit, the breadth and depth of their collective experience will help to shape the careers of participants of The Summit. We are pleased to have on board, One of New York's favorite, Interior Designer Professor Jack Travis, the versatile, highly sought after interior designer to the stars such as Spike Lee. Titi Ogufere, one of the bastions of interior design in Nigeria and the President-elect to IFI (International Federation of Interior Architects/Designers). Also in attendance will be Lanre Olusola, Life Coach to some of the most successful entrepreneurs in Africa, Reni Folawiyo, founder of luxury concept store Alara, Horace Pan, a widely celebrated designer (who has won over 100 prestigious Interior Design awards) and lecturer at The Hong Kong Polytechnic University School of Design, and so many more talented designers.
Other Speakers at The Pan Africa Interior Design Summit include Jeremy Stewart (South Africa), Nana Spio Garbrah (Abidjan), Tolu Odunfa Dragone (USA), Sandra Edoho (Nigeria),  Paula Nascimento (Angola), Jordan Awori (Kenya), Banke Kuku (Nigeria), Doyin Abiola-Tobun (Nigeria), Tola Ojuolape (UK), Rachael Awe (Canada), Chika Uwazie (Nigeria), Heather Nokta (USA), Jacqueline Aki (Nigeria), CY Wilson (USA), Toluwanimi Osinowo (Nigeria), Tomilayo Aluko (Nigeria), Paris Forino (USA), Susan Skotkis (USA), Omon Anenih-Mordi (Nigeria), Lyna Vuong (USA), Lilian Olubi (Nigeria), Constancia Mangue Lima (Equitarial Guinea), Natalie Anderson (Ghana), Tola Akerele (Nigeria), Tope Edu (Nigeria), Bolanle Williams-Olley (USA), Abu-Yusuf  Ibrahim (Nigeria), Chrissa Amuah (UK), Seun Oduwole (Nigeria), and Michael Adams (USA), Lani Adeoye (USA), Ricardo Nabholz (USA), Tope Edu (Nigeria), Kristen Fagan (USA), Titilope Fowora (Nigeria), Dorothy Van't Riet (South Africa), Remul Johnson (USA).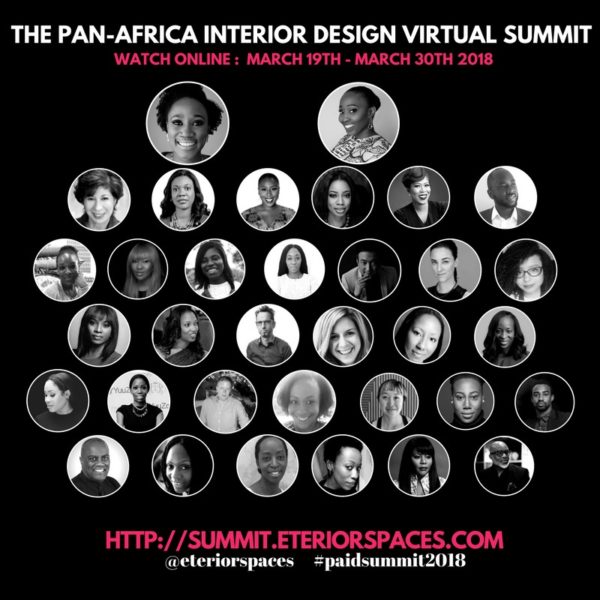 Register for The  PAID Summit  to learn from renown interior designers.
 Testimonials
Hear what participants have to say so far about The PAID Summit!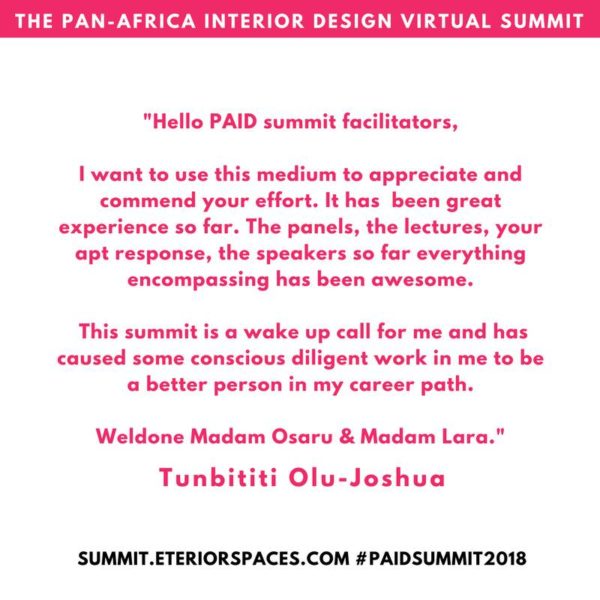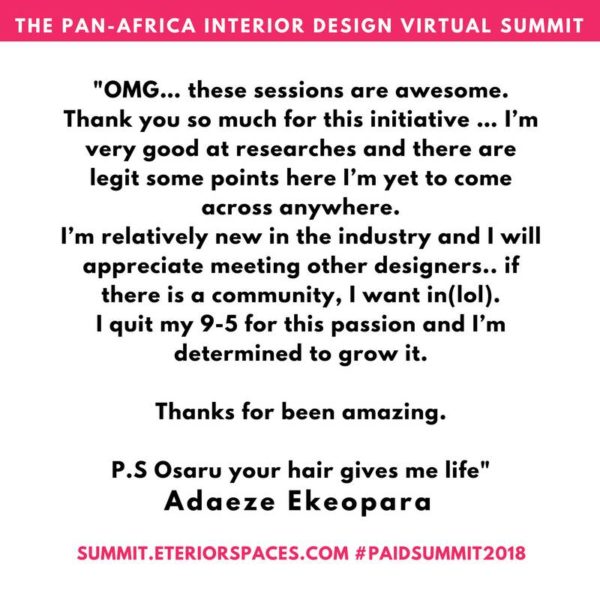 —————————————————————————————————————————————————————————
Sponsored Content