NIKON Nigeria has a Series of Events specially curated to Improve your Photography Skills | May 31st & June 1st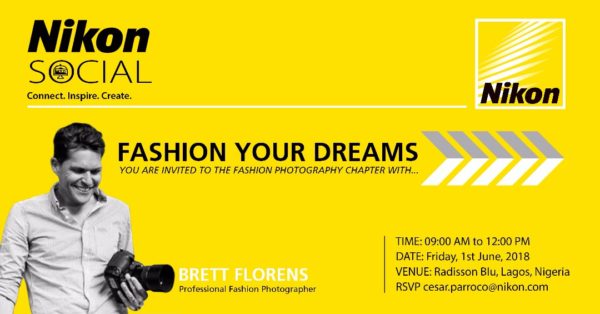 NIKON Nigeria will be running a couple of events below:
NIKON Nigeria Photo and Video Summit.
This is a free learning opportunity to the talented and passionate photographers in Nigeria.
Date: Thursday, May 31st, 2018
Time: 9.00 am to 5.00pm
Venue: The Welcome Center Hotels – Multipurpose Hall, 70 International Airport Road, Ikeja, Lagos
NIKON Nigeria Video and Influencers Meet-Up Event.
Join Brett Florens and other amazing people at Nikon Nigeria Photo and Video Influencers Event powered by NIKON Social. This event features a gathering of some of the finest photographers, videographers, and content creators in Nigeria.
Date: Friday, June 1st 2018
Time: 9.00 am to 1:00pm
Venue: Radisson Blu, Ikeja (Alvan Ikoku Hall), 38/40 Isaac John St, Ikeja Ikeja, Lagos.
These events are specially designed to be as intimate as they are informative, each chapter is led by influencers who are at the forefront of online publishing. Also, in focus will be the Nikon D3400 and the D5600, the cameras that allow you share your world with constant connectivity.
And as an added treat, there will be a Shootout Challenge led by Brett Florens and Kelechi Amadi-Obi. Amazing prizes lined up!
The Art Of "I Do" by Brett Florens (brettflorens.com)
Learn how to immortalize life's most beautiful moments through your images! Brett will teach you the essentials on wedding photography. From time-tested techniques such as setting up your shots, managing light, and post-production to key operational knowledge such as marketing your services and dealing with clients, Brett's class will set you on your way to having a rewarding career in photography!
Fashion and Editorial Photography by Kelechi Amadi-Obi
As Nigeria's premier fashion photographer, Kelechi's immense wealth of knowledge and experience is admired by visual artists and editors all over Africa, and even the Middle East! Want to learn how to capture fashion at its highest? Join Kelechi's class and gain valuable insights such as lighting techniques, art direction, working with models, and how to bring out the best in any garment through your lens!
———————————————————————————————————————————————————————————-
Sponsored Content