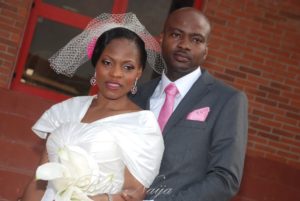 Its wedding season in Nigeria at the moment. Almost everyday, another couple takes the plunge and solemnizes their love. However, no matter how many weddings there are, each one is truly special!
The beautiful union of Taiwo Oniru and Babajide Akintokun took place at the British International School in Lagos on the 19th (traditional engagement) and 20th of December (religious ceremony and reception). Both days were truly special and a sterling representation of the deep bond of the couple.
The traditional engagement ceremony was an exciting celebration of love and culture. With guests dressed in the couple's colours of bronze, mint and orange. It was colourful and so much fun! The bride, Taiwo stood out in her fuchsia pink iro and buba while her groom complemented her in blue with hints of pink.
For the white wedding, Taiwo looked stunning in her white dress and channeled classic old school hollywood glamour with an elegant birdcage veil and a single flower in her upswept hair. Her bridesmaids including the bride's twin, Kehinde brightened things up with their fuchsia pink dresses with grey waistbands while the groom and groomsmen looked great in their grey suits. It was a really lovely day for the couple, their family and friends. Wishing them the very best in love and life together.