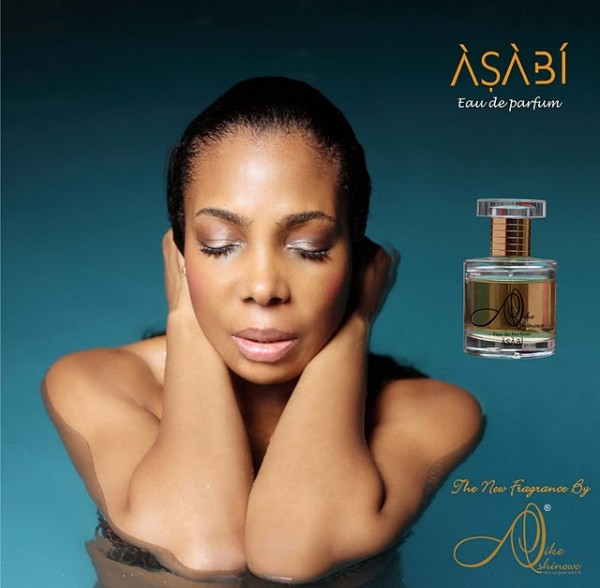 A few weeks ago, the official campaign image for ex-beauty queen/entrepreneur Nike Oshinowo's fragrance "ÀŞÀBÍ" hit the web.
Shot by Ty Bello, the image features Nike emerging from a pool of water. The stark simplicity of the image mirrors the minimalist perfume bottle and packaging.
Last year, the Nike Oshinowo brand entered the lifestyle arena with the "Fit, Forty & Fabulous" Fitness DVD. Now the fragrance which is described as "a magical oriental fragrance with chocolate, candid orange and a mandarin scent that gives the perfume an elegant but spirited character with an undertone of soft woods and warm balsamic resin."
According to Nike Oshinowo, "ÀŞÀBÍ was inspired by the different smells of her favorite holiday spots". The name ÀŞÀBÍ was specially chosen by Nike as well! ÀŞÀBÍ is her native name – what the Yorubas refer to as "Oriki". ÀŞÀBÍ the Yoruba word, translates to 'of a special birth'. The perfum is packaged in a 50ml round bottle with a gold neck detail. The gold neck "simply denotes the slim and long neck of the African woman."
Other celebrity fragrances which have hit the Nigerian scene include Tara Fela-Durotoye's "Be Inspired" and a signature fragrance by Ashionye.
ÀŞÀBÍ will be available in stores from June 1st 2011 and will retail for N5000 for a 50ml bottle.
Great to see Nigerian lifestyle brands emerging and celebrity being leveraged for commercial value. We hope to see more Nigerian celebrities exploring this arena and wonder what to expect next…