Lagos is in for a great night of chemistry between Fashion and Music as 'Music Meet Runway' brings on an amazing fusion between the best of both fields in the same show on July 9 2011 at the Expo Centre of the Eko Hotel and Suites in Victoria Island.
Music Meet Runway is to be hosted by Banky W; Another interesting angle to the 'Music Meet Runway' show is the amazing performances expected from the fabulous line-up of some of Nigeria's hottest artistes like; Dr Sid, Wizkid, Sasha, Naeto C, Duncan Mighty, D' Prince, Shank, Show Dem Camp and Davido.
Also at the 'Music Meet Runway' show, fashion will be taking a ride to its zenith as Tsemaye Binitie, Vonne, Meena, Viv La Resistance, Toju Foyeh, Babushka, Grey, Virgos Lounge, Obsidian and Republic Of Foreigner; the 10 haute designers outlined for the show, will be showcasing diverse and trendy styles ranging from lingerie wears to haute couture.
Organized by La Reve Events, a foremost event company in Nigeria, 'Music Meets Runway' is poised to create awareness for the laudable and fledgling growth the Nigerian fashion industry has recorded in recent times. It will be a great networking opportunity for fashion industry, professionals including educators, retail buyers, fashion journalists, trendsetters and consumers. Tickets on sale at Eko Hotels.
Meet the designers who will be showcasing their fabulous collections at the event


Isoken Ogiemwonyi is Creative Director of the fashion label Obsidian. A multihyphenate in training, making a play for 'masstige' brand success. Obsidian is a fashion label launched officially in Fall 2009. The creative director of the brand aims to create a fashion culture built on the brand customers' desire for effortlessly eye-catching design.Obsidian currently produces two well edited collections a year, offering looks which exemplify individualistic yet timeless looks for assertive, chic women. The Obsidian woman is ultra feminine, cosmopolitan, strong and self assured. She is inspired by life and cultural experiences but she doesn't take herself too seriously, she has a sense of humour and is the epitome of cool, and can interpret a trend in a way that stays true to her personal style.
___________________________________________________________________________________________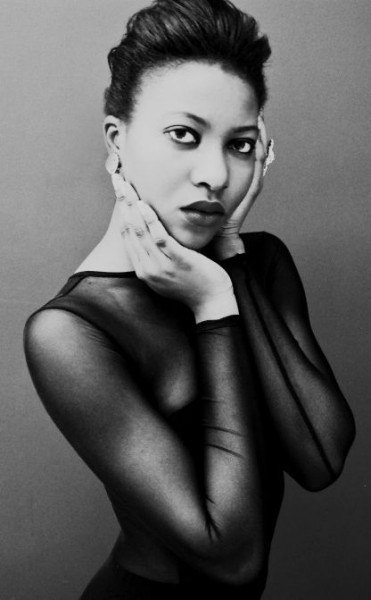 Babushka by Simi Osinubi
After graduating as a lawyer from the University of Wolverhampton, I started the label 'Babushka' about a year and a half ago. The line is mostly minimalist, sophisticated tailoring targeted at the modern, stylish woman. Babushka has been featured in several editorials in magazines such as FAB and Complete Fashion.
___________________________________________________________________________________________


It began with putting pen to paper and the desire to show the world her creativity. Upon completion of her University education at the University of Hull, Mo Alatise enrolled for courses in Fashion Design at London College of Fashion and Central St. Martins. Following which she moved back to Nigeria and proceeded to fulfill her life long dream, when she launched the fashion label Viv La Resistance ("VLR") in January 2010.
The VLR brand is about the freedom of self expression, channelled through unique, funky, contemporary clothing and accessories employing the use of unique novelty fabrics for the fun loving fashion forward young woman.
To Mo, individuality is at the heart of fashion. She describes the fashion label as "quirky, fun, contemporary, some times dark and most importantly edgy".
There are currently two distinct Collections: VLR's debut collection ''The Art of Fashion in War" which was inspired by medieval body Armour, Structure and Shape and the Ready to Wear collection "Lucinda Lace".
VLR's designs have been described as bold, unapologetic, built from a fresh concept and an intriguing point of view, championing the movement of a woman who engages with fun refreshing fashion, whilst choosing to stand out in a crowd.
___________________________________________________________________________________________



•French born designer, Yvonne Nwosu is the Creative Director behind the fashion line 'VONNE'.
•Her love for fashion began since she was young, making clothes for her miniature dolls.
•Her passion for clothes blossomed into something more when she decided she wanted to become a fashion designer.
•Vonne as she is fondly called in the fashion industry is known for her edgy and daring clothes and jackets.
•Her style is unique in every sense and true to her tag line 'invokes the daring goddess in every woman'.
•Another unique aspect of Vonne's fashion line is that she uses Damask fabrics which comes from the word Damascus which was sold in common 21st century market in Damascus.
•This unique use of Damask gives Vonne's pieces a very timeless look.
•Yvonne Nwosu has appeared in various publications and was recently nominated for "Best Designer" at the Future Awards 2011.
___________________________________________________________________________________________


Tsemaye Binitie (Shey-ma-yeh Bee-nee-tee-ay) launched his namesake label in 2010. It is a contemporary fashion label characterised by exquisite clothing encapsulating a love of luxury and innovative design. Meticulous cut, indulgent fabrics and sartorial construction permeates the delivery of sharp, refined and timeless pieces. Featuring dynamic, draped and body conscious silhouettes with a deep desire to communicate a new sense of elegance and a modern glamour.
The ideal woman will be a modern icon of strength, beauty and glamour. The collections will appeal to her as she has a strong understanding of self, she will appreciate the complex hidden details behind the simplicity of the pieces.
The current collection is called 'Sade' and was inspired by a nostalgic memory of my mum. I took her from the early eighties and made her more relevant to today. She was going on a trip to Paris, packing pieces that made her feel distinctly Nigerian but allowed her to blend seamlessly into European society. I focused on my Nigerian heritage, taking inspiration from our use of vibrant colours, texture and prints in our attire.
The collection features our signature structured body conscious dresses and separates in a dark palette infused with shots of colour. Textured Italian wools, Cashmere, Silk, Guipure lace and Leather come together seamlessly bringing to life the designer's vision.
The label has been chosen to show its forthcoming S/S 12 collection at Lincoln Park – New York fashion week in September 2011.
___________________________________________________________________________________________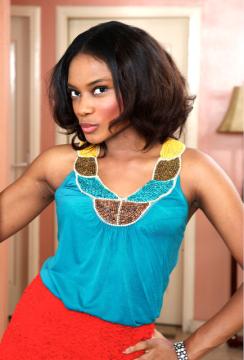 Born in the late 80's, "Toluwaloju Olowofoyeku" (Toju Foyeh) developed a passion for fashion at a young age.
Growing up, she was surrounded by several family members who were into fashion. In the early '90's, her mother sold unique fabric pieces and her grandmother was a designer who attended the London College of Fashion. Putting Education before her passion, she obtained an LLB Law from the University of Reading, UK and an LLM from the University of Manchester, also in the UK. Determined however to make a name for herself in the fashion industry, Toju embarked on a degree programme at the world famous Instituto Marangoni in Milan, the fashion capital of the world. She enjoys turning her ideas and sketches into distinct high fashion pieces.
Since entering the Nigerian market after relocating last year, her label has caught the attention of several high profile fashion magazines and her pieces have been featured in countless fashion shoots. Her appreciation for a woman's silhouette and superior craftsmanship combined with a natural talent for creating show stopping pieces has made the Toju Foyeh label one worth patronising in our highly competitive fashion industry.
Some of her work includes dressing cover girls in WOW Magazine's previous editions as well as fashion spreads in Genevieve Magazine, Bella Naija and YNaija magazine. Toju has also become the official wardrobe couturier for the pop sensation Tiwa Savage's current album tour and yet to be released videos. Tiwa and Toju have worked together on the celeb's red carpet choices several times in the past, photo shoots and live performances at high profile events. In addition, Toju was among the 50 designers selected from across Africa to participate in the recently concluded ARISE Magazine Fashion Week(AMFW) that took the entire continent by storm. Following her huge success at the show, Toju was commissioned by the continent's fashion bible, ThisDay Style, to create dresses from newspaper that would be worn by the cover personalities of that edition.
Her most recent collection L'OR was inspired by The Golden Woman who she describes as Bold, Sexy and Elegant.
She gets her inspiration from the likes of Valentino, Karl Lagerfeld, Elie Saab and Deola Sagoe.
___________________________________________________________________________________________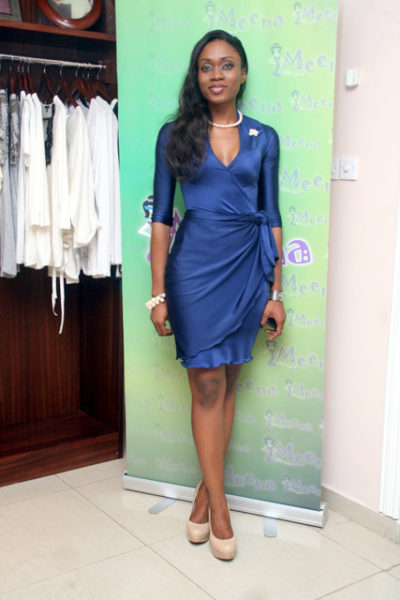 Meena is a cosmopolitan brand, which deals to a large extent with ready to wear. The image of Meena is high fashion and high quality yet affordable and unpretentious.
The label is functional and gives a fresh spin on fashion; this is our unique vision.
Meena is synonymous with neoclassicism, taking elegance to its zenith.
A Meena lady is adventurous because she refuses to follow trends but rather carves out a niche for herself which she exhumes confidently yet retaining its ingenious and transcendental nature; conservative because she does not want her femininity to be portrayed wrongly.
Think Meena as an ageless, citified lady with graceful aplomb.
___________________________________________________________________________________________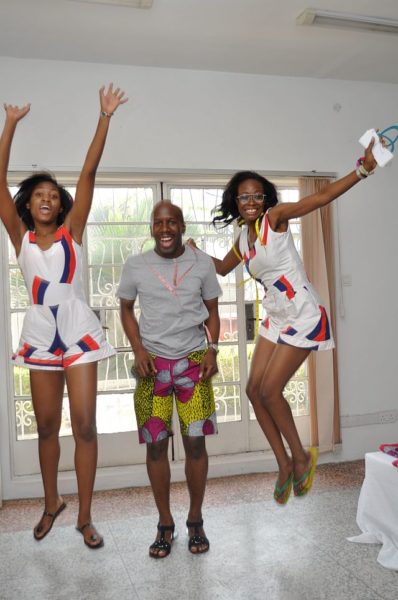 Grey is a young, (pocket) friendly addition on the fashion scene. Bright, happy, clothes that fit into every closet for work, play or lazy days, we have them at Grey in easy to live in fabrics.
This is our first big foray into the menswear space (we offered a limited collection of shorts during the last holiday season) as we continue to expand the brand.
___________________________________________________________________________________________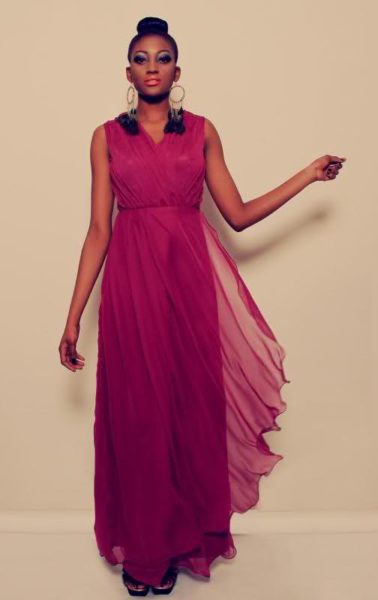 Virgos Lounge is a womenswear fashion brand established in 2008 by founders, Fioye Akinsola, Oyeyemi Wemi-Akinsola and Nike Ajanaku. The trio whose shared zodiac sign inspired the name of the label, prioritize on constantly discovering and creating pieces for those individuals who are trend savvy but still take pride in the uniqueness of their style.
The brand provides vintage inspired clothing designed and created by the Virgos Lounge team as well as unique, quality, individually selected vintage clothing at affordable prices.
___________________________________________________________________________________________

Sisters, Carmen and Selina Sutherland, are the creative forces behind Republic Of Foreigner (ROF), a Nigerian fashion brand. Their designs are inspired by folklore, Afrobeat culture, vintage relics, and exude a mutual love of film, art, and design. Operating from their hometown of Lagos, Nigeria, this bohemian inspired fashion duo produce eclectic designs for the modern hippie.
___________________________________________________________________________________________
In case you missed it, here is the update on the "Amber Rose" situation
Here is a press release from the Music Meets Runway PR representatives – the press release was issued on the 4th of July 2011.
Early this morning, one of the major headliners of the highly anticipated show, Music Meets Runway, Amber Rose tweeted that she will not be coming to Nigeria to host Music Meets Runway 2011.
Due to recent developments of Amber Roses nude photos that surfaced on the internet last week, we were in discussion as to what to do about the situation with some of our sponsors who had understandably shown some concern (brand affiliation).
We were still working to accommodate Amber when we read Amber Roses tweet about her not being booked to host Music Meets Runway.
Amber has indeed been booked and paid for through a reputable international booking agent and we were shocked as anyone to see the tweet.
This situation is under investigation and details will be passed as more information comes.
The show, Music Meets Runway WILL STILL HOLD comes Saturday, July 9 at Expo Center, Eko Hotel and Suites in Lagos.
Music Meets Runway is an event poised & designed to create awareness for the laudable and fledging growth the Nigerian fashion industry which has been placed on the international map in recent times.
The event won't be all about fashion as 10 musical artistes will also grace the runway, dishing out hits after hits.
It will be a great networking opportunity for fashion industry, professionals including educators, retail buyers, fashion journalists, trendsetters and consumers.
We want to assure the public that we are bringing you a great show with some of the most amazing Nigerian Artists and Designers and that this event will be nothing short of a phenomenal experience.