Good Afternoon, BellaNajiarians, Happy Thursday.
It's that day of the week, when yours truly, BellaNaija.com – Africa's pace setter for all things entertainment, fashion, lifestyle, music and more, keeps you updated with all the most buzzed about events and places of interests to be spotted with your loved ones.
For this weekend, BN searched high and low, near and far, just to get all the events that will keep you fully entertained from now till  Sunday. So grab a drink, sit back and relax as you see for yourself where you need to be.
Academy Award Winning American actress, Audrey Hepburn once said "Nothing is impossible, the word itself says I'M possible". So, as you go on with your various activities this weekend, keep in mind that nothing is impossible for you to achieve, don't feel down that things are going as planned, just keep dreaming BIG!
Stay safe, always show love and see you next week.
Ciao!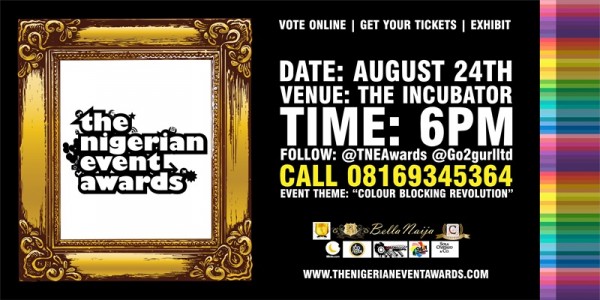 The Nigeria Event Awards
Tomorrow, the 2nd edition of the Nigerian Event Awards will take place in style at the Incubator, Victoria Island, Lagos. The event organised by Go2gurl Ltd to honour, acknowledge and support events as well as the Nigerian entertainment and hospitality industry, will kick off by 10 AM with a mini exhibition, where attendees can shop for lots of items as well as win amazing prizes and browse for free. By 6 PM, the award show themed "Color Blocking Revolution" will kick off with a red carpet session. Hosted by Brownie of Rhythm 93.7 and N6 of Cool FM, the awards will be presented by DJ Jimmy Jatt, Kolade Ajayi, Elohor Aisien, Victoria Pepple, Sunny Steve, Linda Ikeji, Ezinne Chinkata, Banke Meshida-Lawal, Tosyn Bucknor, Karen Igho, Monalisa Chinda, Dj Zeez, Kore Brown, Chika Ike. The Minister of Commerce & Industry Jubril Martins-Kuye will also be present at the award show.
Date: Friday 24th August 2012
Time: Mini Exhibition 10 AM | Dinner 6 PM
Venue: The Incubator, Ligali Extension opposite City of David Church, Victoria Island, Lagos
Ticket Prices: Regular ₦3000 | VIP ₦ 10,000 | Tables ₦ 200, 000 – All tickets can be purchased online at www.TheNigerianEventAwards.com/BuyTickets 
Contact: For more info and general enquiries, call 08169345364 | 07089094474 | e-mail [email protected] | follow them on Twitter @TNEAwards | @Go2GurlLtd | Log on to their Website
________________________________________________________________________________________________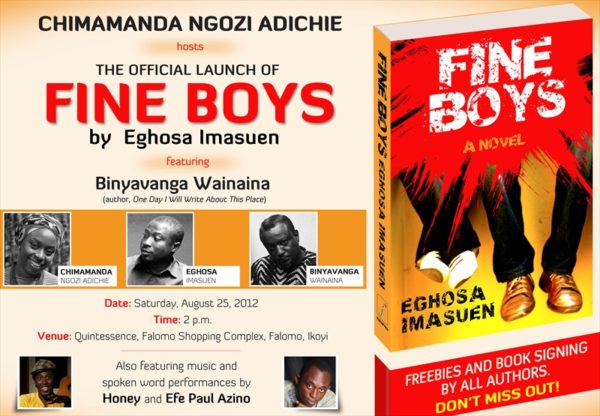 Farafina presents its Trust Literary Evening and the Official Launch of Eghosa Imasuen's "Fine Boys"
To mark the end of the 2012 Farafina Trust Creative Writing Workshop, Farafina Trust will hold a literary evening. This event will feature Veteran singer and actress Onyeka Onwenu and writers, Binyavanga Wainaina, Rob Spillman and Jeff Allen, who will be reading their works. Purple Hibiscus and Half of a Yellow Sun author, Chimamanda Adichie will also be present. Then on Saturday, Eghosa Imasuen's latest novel "Fine Boys" will officially launch to the public. The event will be hosted by Chimamanda Adichie and features spoken word and music performances by Efe Paul Azino and Honey Adum.
Farafina Trust Literary Evening
Date: Friday 24th August 2012
Time: 5 PM
Venue: Grand Ball Room, Eko Hotel and Suites, Victoria Island, Lagos
The Official Launch of Eghosa Imaseun's "Fine Boys"
Date: Saturday 25th August 2012
Time: 2 PM
Venue: Quintessence, Falomo Shopping Complex, Falomo, Ikoyi, Lagos
__________________________________________________________________________________________________
The Future Awards 2012
The long awaited 7th edition of The Future Awards show, will be held this Sunday in Port Harcourt. Kicking off on Saturday 25th August 2012, the event will see in attendance all the shortlisted nominees and the keynote speaker, Tony Elumelu. You can watch the award show live on Sunday 26th August 2012 by 2 PM on www.YNaija.com/TheFutureAwards
Date: Saturday 25th August 2012 – Sunday 26th August 2012
__________________________________________________________________________________________________
You are Cordially Invited to ReeFine
REEfine – an intensive finishing class aimed at refining an individual's image and mannerisms for success – will be held this Saturday. Attendees will be taught on the Overall Image Analysis, Impression Management, Grooming and Dress Sense, Communication Skills (Verbal and Non-Verbal), Life and Time Management, Social Grace (Etiquette), Toxic Traits and more. This first class is open for individuals between the ages of 13 and 22.
Date: Saturday 25th August 2012
Venue: Reeneiz Office, 26 Harold Shodipo Crescent, GRA, Ikeja, Lagos
Fees: Teen Class N10,000 | Adult Class N20, 000
Contact: For more info and general enquiries, call 08028737875 | 07065280008
_________________________________________________________________________________________________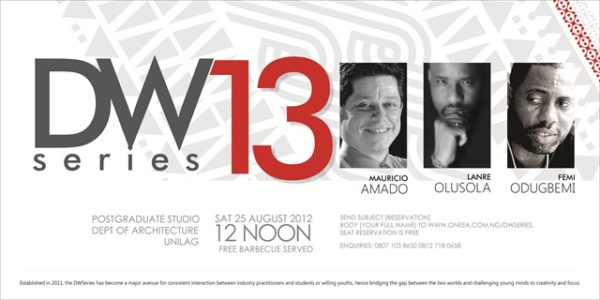 DWSeries 13 with Lanre Olusola, Femi Odugbemi and Mauricio Amado
The organizers of the Designer Workshop Series are delighted to announce the confirmation of Lanre Olusola mind catalyst, life coach & modern philosopher, Femi Odugbemi, Director of the iREP documentary film festival & founding content producer of Tinsel and Mauricio Amado, Mexican-American architect and educator as speakers for the 13th edition of the DWSeries. Attendance has been fully paid for by the facilitators – ONE EA but seat reservations need to be made, visit the website- www.oneea.com.ng/dwseries and fill the online reservation form.
Date:  Saturday 25th August 2012
Time: 12 Noon
Venue: PG Architecture Studio, University of Lagos, Akoka, Yaba, Lagos
____________________________________________________________________________________________________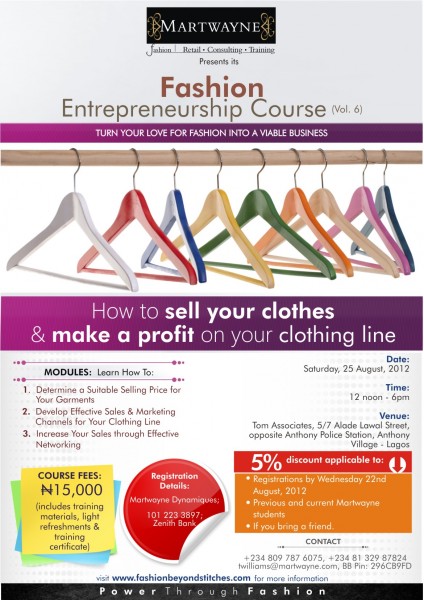 Martwayne presents How to sell your clothes and make a profit on your clothing line
Fashion training outfit, Martwayne will hold another exciting edition of its fashion entrepreneurship courses at Tom Associates, Lagos this Saturday. Themed "How to sell your clothes & Make a profit on your Clothing Line" , this edition will see all prospective participants taught by skilled professionals on how to address one of the fundamental problems all fashion designers face – making sales and profit.The course fee is N15,000 and includes a folder with training materials, light refreshments and a training certificate – To register, be sure to get in touch with them.
Date: Saturday 25th August 2012
Time: 12 Noon – 6 PM
Venue: Tom Associates, 5/7 Alade Lawal Street (Opposite Anthony Police Station), Anthony Village, Lagos
Contact: For more info and general enquiries, Call 08097876075 | 08132987824 | Add BB Pin 296CB9FD | E-mail [email protected] | Log on to their website
_______________________________________________________________________________________________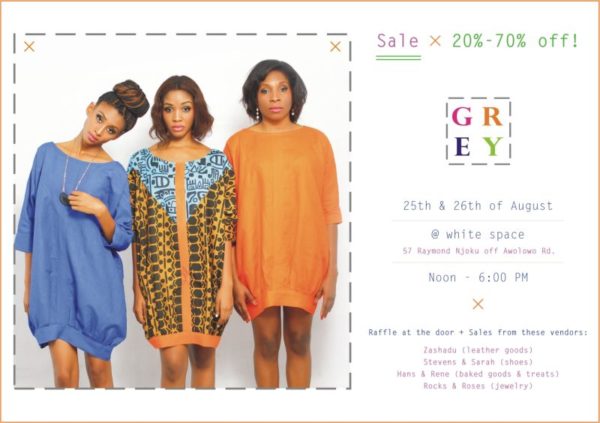 GREY Sales
One of Nigeria's hottest design labels – GREY, is giving you the chance to get 20-70% discount off  its fab pieces at their sales event taking place this Saturday and Sunday at the White Space, ikoyi, Lagos. Attendees at the event will also get the chance to shop for leather goods, shoes, jewelry and baked treats at a good bargain. Admission is free for all!
Date: Saturday 25th August 2012 – Sunday 26th August 2012
Time: 12 Noon – 6 PM Daily
Venue: White Space, 52 Raymond Njoku, off Awolowo Road, Ikoyi, Lagos
Contact: For more info and general enquiries, call 08059029102 | 08133282944 | e-mail [email protected] | follow them on Twitter @greyprojects
___________________________________________________________________________________________________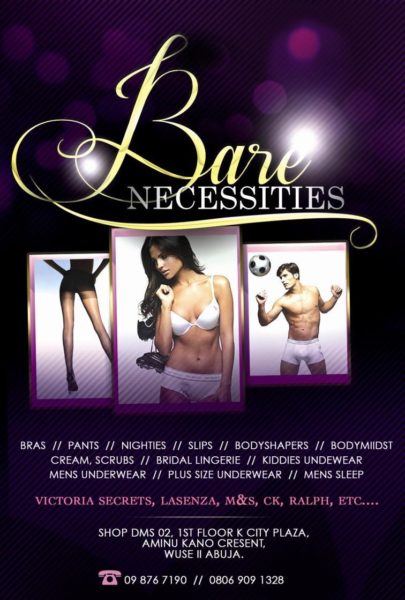 The Re-Opening of Bare Necessities
On Saturday 25th August 2012, Abuja will witness the re-opening of a one stop shop stocked with intimate apparel for women and men – Bare Neccesities. The boutique which provides an intimate setting in which customers can purchase high quality lingerie, promises outstanding customer service and showcases a selection of the finest dainties by several well known designers. Attendees will get a 10% discount off items bought at the re-opening. Admission is free for all.
Date: Saturday 25th August 2012
Time: 12 Noon – 8 PM
Venue: Bare Necessities, Shop BFF12, 1st Floor, KCity Plaza, Aminu Kano Crescent, Wuse II, Abuja
___________________________________________________________________________________________________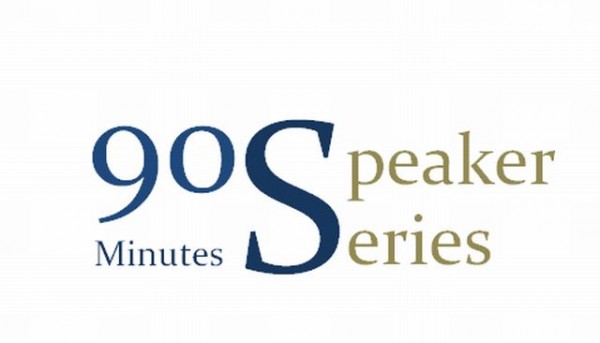 90Minutes Speaker Series presents Keith Richards
Experience the Managing Director of Promasidor Nigeria Ltd – a food and beverages company – Keith Richards live at the 90 Minutes Speaker Series event set to take place at the Bogobiri House, Lagos. Keith who was honored with the Order of the British award by Queen Elizabeth in 2011 for his Nigerian-British commercial interests and charitable work, will speak on his career over 30 years, his time at Guinness Nigeria Plc, his book "Outsider Inside" and many more. Admission is free for all.
Date: Saturday 25th August 2012
Time: 1PM
Venue: Bogobiri House. 9 Maitama Sule Street, off Raymond Njoku Street, off Awolowo Road, Ikoyi, Lagos
Contact: For more info and general enquiries, send an e-mail [email protected]
__________________________________________________________________________________________________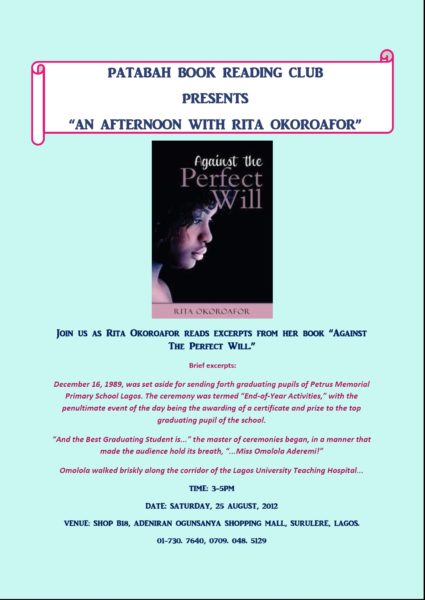 Patabah Book Reading presents An Afternoon with Rita Okoroafor
Join Rita Okoroafor this Saturday at the Patabah Store as she reads from her Christian book "Against the Perfect Will". It promises to be insightful and interesting. Admission is free for all.
Date: Saturday 25th August 2012
Time: 3 PM – 5 PM
Venue: Patabah, Shop B18, Adeniran Ogunsanya Shopping Mall, Surelere, Lagos
___________________________________________________________________________________________________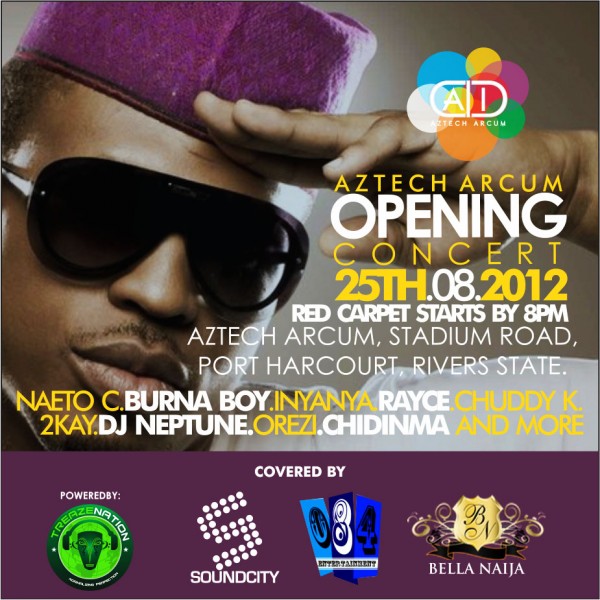 Aztech Arcum Opening Concert
This Saturday, an ultra modern events centre, Aztech Arcum in the Nation's oil rich city – Port Harcourt – will open to the general public in grand style with a star power packed music concert. The line up for the music concert includes some of the biggest names in the Nigerian music industry such as Naeto C, Iyanya, Burna Boy, Chidinma, Rayce, Mr 2 Kay, Chuddy K, DJ Neptune, Orezi and many more. The Aztech Arcum located on the ever busy stadium road, Port Harcourt, Rivers State, is a must see beauty for all, with a sitting capacity of over 2000, it offers an ideal state of the art facilities for executive conferencing, seminars, retreats, workshops, music concerts, weddings and exhibitions. Admission is strictly by invitation, to attend, simply follow @treazenation on Twitter for more information.setting as well as enjoy the fun packed music concert. 
Date: Saturday 25th August 2012
Time: 8 PM
Venue: Aztech Arcum, Stadium Road, Port Harcourt, Rivers
___________________________________________________________________________________________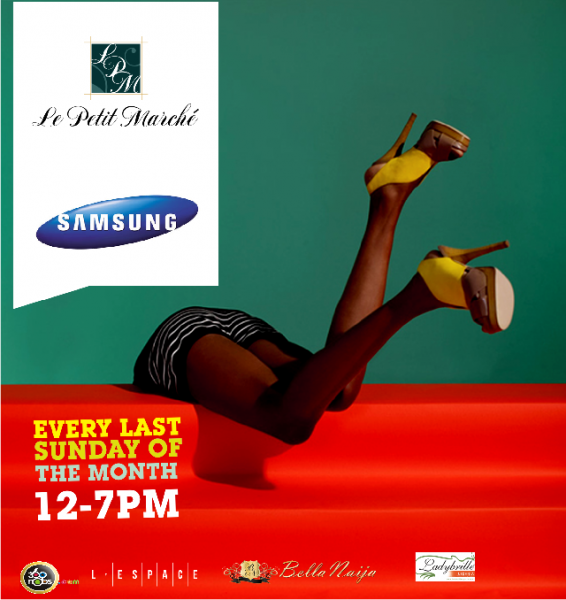 LPM August 2012
Get your purses ready for the August 2012 edition of the fun filled and exciting edition of Le Petit Marche taking place at the GET Arena on Sunday. Attendees will shop for clothes, shoes, bags, jewelry, home wares, sweets and so much more from numerous vendors stocked with items from Nigeria and beyond. The Spice TV crew will also be making their first appearance at LPM, so you are definitely in for a treat.
Date: Sunday 26th July 2012
Time: 12 Noon – 7 PM
Venue: GET Arena, Oniru, Victoria Island, Lagos
_________________________________________________________________________________________________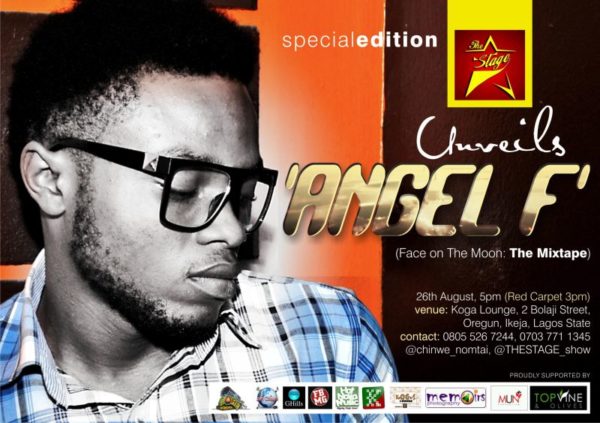 The Unveiling of Angel F at The Stage Special Edition
Budding Nigerian soulful singer, Angel F will unveil his mixtape Face on the Moon at the Stage Special Edition this Sunday. The artiste dubbed as the new African sensation who plans on taking music to the next level, promises to thrill all. Admission is free for all!
Date: Sunday 26th August 2012
Time: Red Carpet 3 PM
Venue: Koga Lounge, 2 Bolaji Street, Oregun, Ikeja, Lagos
Contact: For more info and general enquiries, call 08055267244 | 07037711345
________________________________________________________________________________________________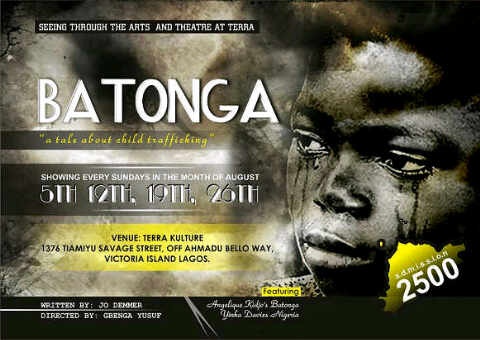 Batonga – The Tale of Child Trafficking
Experience Jo Demmer's stage play "Batonga – The Tale of Child Trafficking" live at Terra Kulture, Lagos this Sunday. The play which features Yinka Davies, promises to be fun and interesting from beginning to the end. 
Date: Sunday 26th August 2012
Time: 1st Show 4 PM | 2nd Show 6 PM
Venue: Terra Kulture, Plot 1379 Tiamiyu Savage Street, off Ahmadu Bello Way, Victoria Island, Lagos
Ticket Prices: N 2,500
___________________________________________________________________________________________________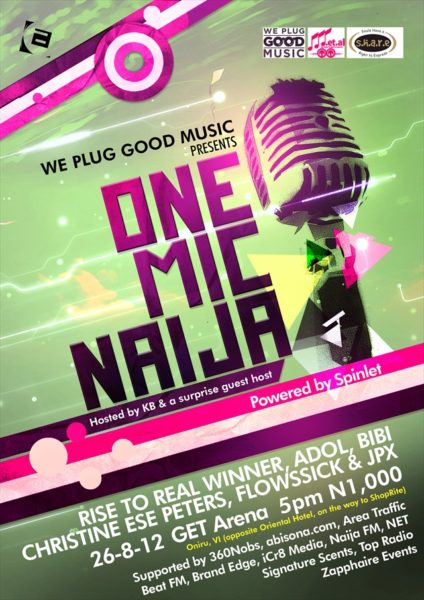 The August Edition of One Mic Naija
After delivering a stellar One Mic Naija session in June, the creative One Mic Naija team is bringing another packed edition of the regular artiste showcase to GET Arena, Lagos this Sunday. Performing on the D-Day are Flowssick, Adol, Bibi, Christine, Ese Peters, JPX and #RiseoftheReal. The event which will be hosted by Kel and KB Bello, promises to be an evening of fun, networking and powerful live performances.
Date: Sunday 26th August 2012
Time: 5 PM
Venue: GET Arena, Oniru, Victoria Island, Lagos
_________________________________________________________________________________________________
The Official Launch of Pink Zee's 2012 Fashion Showcase
Abuja based brand Pink Zee will unveil its 2012 collection at the Sheraton Hotel Abuja. After the showcase, an official after party will be held at the Grotto Fashion Club. Admission to both events are free for all.
Date: Sunday 26th August 2012
Time: Fashion Showcase 7 PM | After Party 10 PM
Venue: Fashion Showcase Sheraton Hotel, Ladi Kwali Way, Maitama, FCT, Abuja | After Party Grotto Fashion Club, 911-Mall, 70 Usuma Street Maitama
Contact: For more info and general enquiries, call 08036246174 | e-mail [email protected]
_________________________________________________________________________________________________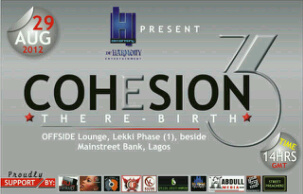 De-Harmony Entertainment presents Cohesion 3: The Re-Birth
The stage is set for the 3rd edition of the monthly music event – Cohesion this Wednesday. This edition majorly targeted at celebrating and creating a platform for up-coming stars to showcase themselves and meet with their favorite celebrities, will see in attendance renowned artiste NoMoreLoss and Executive producers of Soundcity Olumide and AK1. The event also features one-on-one interaction between upcoming stars and top personalities in the Nigerian entertainment world with budding artsites El-Phlex and Hemhex performing and Akan delivering rib craking jokes. Admission is free for all.
Date: Wednesday 29th August 2012
Time: 2 PM
Venue: OFFSIDE Lounge, Beside Mainstreet Bank,  Lekki Phase 1, Lagos
_________________________________________________________________________________________________
BellaNaija.com is not responsible for the organization or further promotion of these events, neither do we have a stake in their sales or popularity. Inclusion in "Events This Weekend" is Free. Contact – adsales (at) bellanaija.com on or before Wednesday every week if you will like your event to be included. Note that BN reserves the right to choose which events are featured. "Pay to attend" parties attract a fee