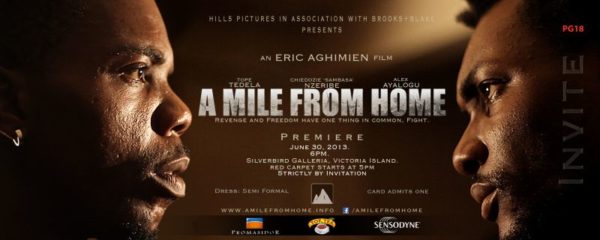 Movie lovers get ready as Producers, Hills Pictures brings to you a new Action/Drama film titled "A Mile From Home". The story, directed by Eric Aghimien, is about a student, Jude who joins a gang while trying to get revenge against Stone, a notorious gangster who forcefully dispossesses him of his precious watch (a gift from his father when he turned eighteen). He leaves his old life behind for a path he is not proud of, a path where there is no going back.
The movie stars Eric Nwanso, Chiedozie Nzeribe, Tope Tedela, Alex Ayalogu and Tolu Akinbileje and addresses themes of vengeance and reprisal violence, while enlightening the audience of its multiple effects but heralding forgiveness as the key to true happiness. The event is strictly by invitation.
Want an invite? Answer any of the questions below to win one of the 3 pairs of invites.
-Name one of the actors in the movie?
-A Mile from home was directed by whom?
Date: Sunday 30th June 2013
Time: 6PM  . Red Carpet: 5PM
Dress Code: Semi Formal
Venue: Silverbird Galleria, Vistoria Island, Lagos
Contact: For further enquiries visit www.amilefromhome.info and www.facebook.com/amilefromhome.
The Premier is powered by Promasidor makers of Toptea and Sensodyne from the stables of GSK Nig Plc.
_____________________________________________________________________________
Sponsored Content