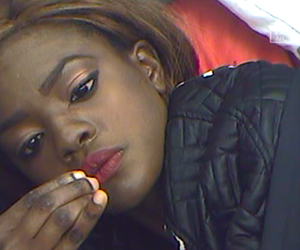 Beverly Osu is missing her main man.
If you didn't know about Beverly and Angelo's relationship, where have you been? Never mind we will keep you updated.
Few weeks back, the two Big Brother Africa: The Chase housemates started a relationship and ever since then, they have been giving viewers a whole lot of PDA.
Yesterday Sunday 18th August 2013, the South African contestant was evicted from the competition.
After the live eviction, cameras followed Beverly heading up the stairs into the bedroom. She cried under the sheets.
Later, the 21 year old Nigerian model got up and packed Angelo's clothes, and ironed his South African flag.  The model wasn't happy as two of her closest male friends in the house Angelo and Bimp from Ethopia were evicted.
Her fellow Nigerian housemate Melvin later came to console her. "You still have me. You will be fine. I will still be here for you", he says.  He also offered his bed to her, "My bed is the biggest the House. You can share it with me."
Watch the video