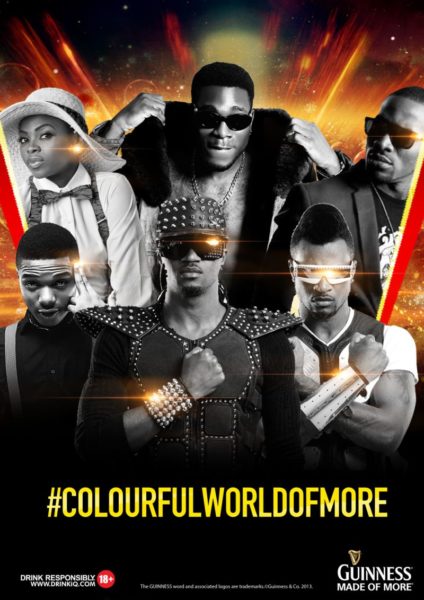 Have you been following the #ColourfulWorldOfMore campaign. Well there is something big happening.
The reason for all these beautiful and stylish people being tagged, why everyone #ColourfulWorldOfMore was trending on Twitter is because of a big & bold beer brand – Guinness.
All over social media #ColourfulfulWorldofMore has been trending, in fact people have been putting up pictures and posting videos of lucky individuals being tagged.
Soon, Guinness will present a big and colourful concert that will wow Nigerians. Where will you be when it happens?
The colourfulworldofmoreconcert will come alive in a spectacular way and it features the most amazing talents including: P-Square, Wizkid, Ice Prince, Chidinma, Waje, Olamide, Phyno, Davido, Burna Boy and D-banj.

Are you ready to enter a #ColourfulWoldOfMore where we celebrate Nigeria's vibrant, confident, self styled individuals who believe there's more to achieve, more to aspire to, more to hope for, more to win. It's a celebration for those who see the opportunities in everything, who know that there is More within…
So, have you been tagged by Guinness for the #ColourfulWorldOfMore concert? Last week a team of Guinness Bikers tagged all the amazing and colourful individuals they could find. Now, you can get tagged for your tickets to a colourful world of more by logging on to www.colourfulworldofmore.com, fill in your details and click submit.
You could get a special invite to an amazing event brought to you by Guinness. The tickets are so HOT that you only have 3 hours in a day to get your invites. Tagging on the website opens by 17.59PM and closes by 20.59PM. So log on to www.colourfulworldofmore.com now and you could be one of the lucky ones to rep your cool at the colourful world of more concert.
Date: Sunday 3rd November 2013
Venue: The Eko Convention Centre, Lagos
Remember, you have to be +18 to participate in the #colourfulworldofmore.